Today, March 12th 2022, is the 50th anniversary of Don Emde's calculated, cunning, come-from-behind win of America's most prestigious motorcycle race, the 1972 Daytona 200. Don treated a group of race fans (and racers) to a presentation of the events that lead up to his big day and how his premonition (or visualization) of the day's events came true.
Rather than attempt to tell Don's story here, you need to pick up his hard-bound book, The Daytona 200, The History of America's Premier Motorcycle Race. Don tells not only his story, but the long history of the famous event. It is on sale for only $20 and that's a steal when compared to the price of "special edition" magazines at the supermarket checkout.
Overcoming obstacles: Historians incorrectly frame Don's win on the bad fortune of larger-displacement bikes that suffered tire, fuel or mechanical issues. Don set the record straight today. "I still had to beat the 50 guys on Yamaha 350 TR3's behind me!"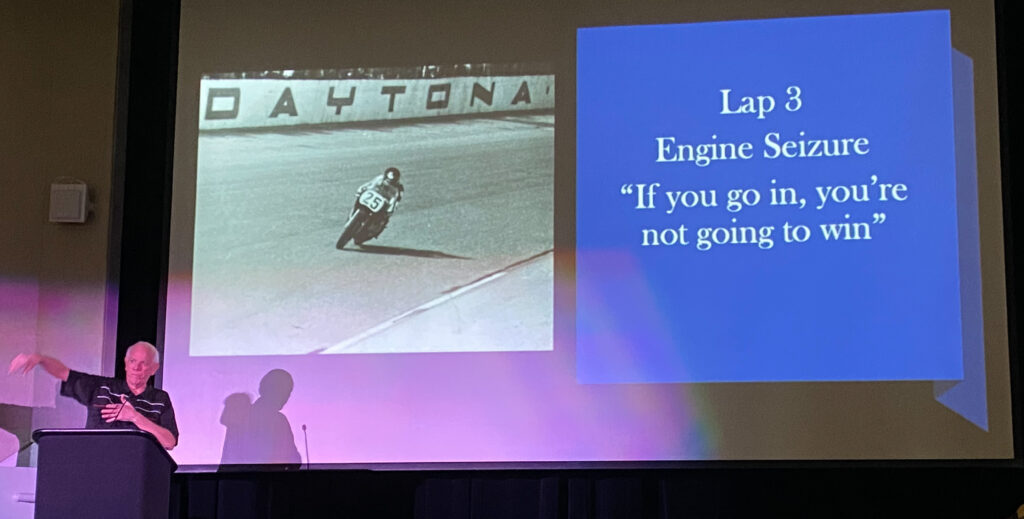 Attention to detail: The fuel tank from the winning bike shows a modification that brought its capacity up to 6.3 gallons (the legal limit). It is the little details that add up to big results in racing.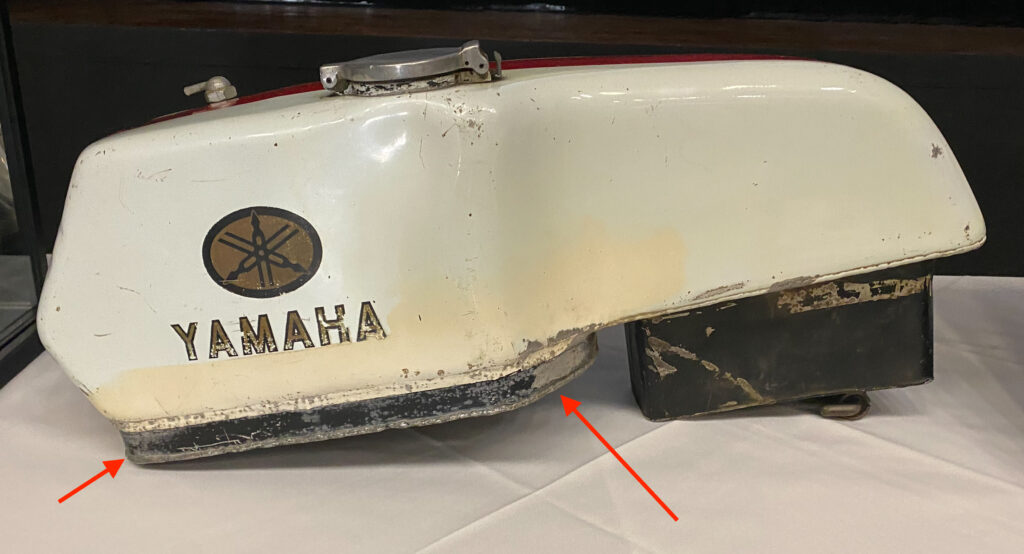 Squeeze play: How many racers can fit into their 50-year-old leathers? Not too many.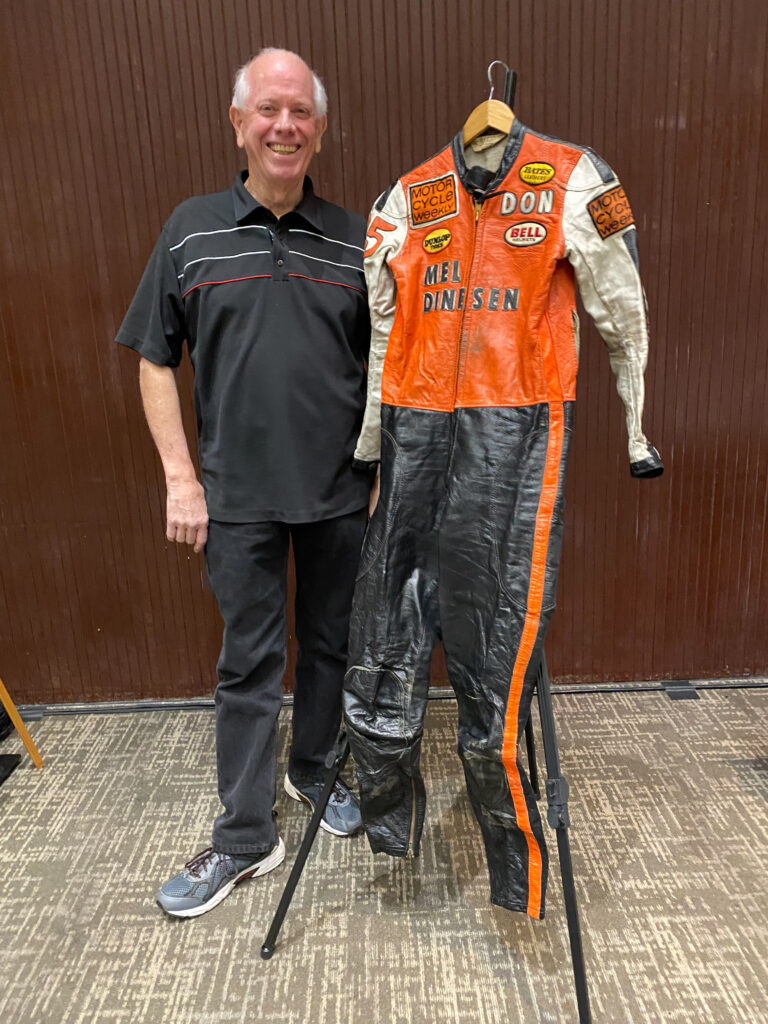 Don's sermon: The Carson Event Center had the feel of a church service because Don's stories kept everyone spellbound. Don's wife and book editor, Tracy, was joined in the audience by a large number of the Emde clan. By the way, Don's next anniversary celebration is being married to Tracy for 50 years!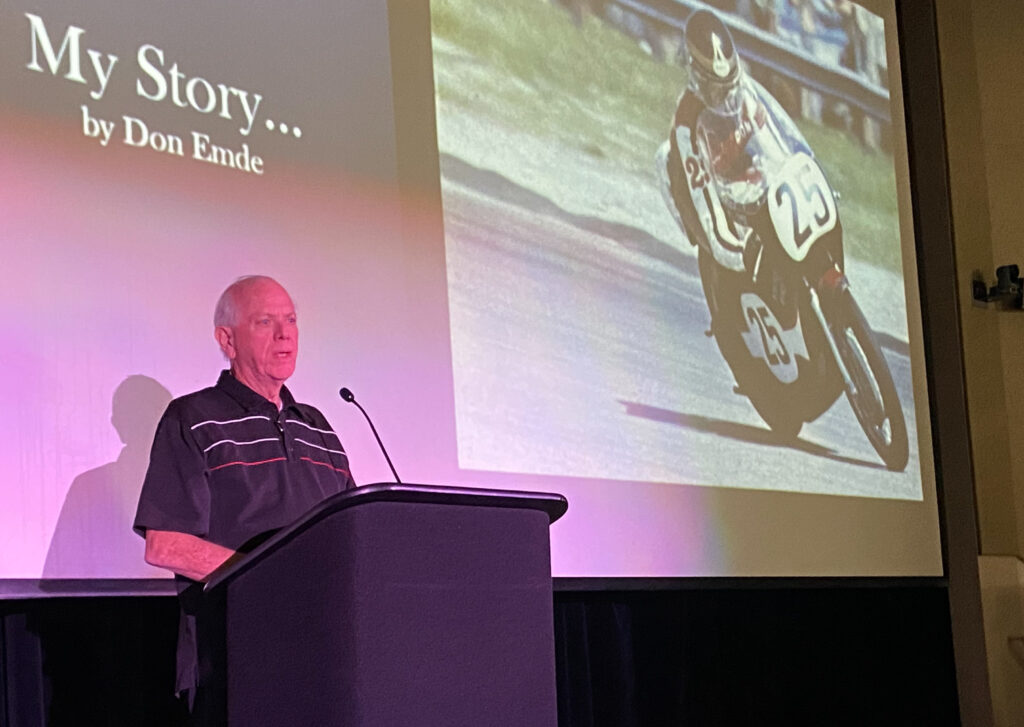 Out of luck: I put all my raffle tickets on this iron-on T-shirt transfer that Floyd Emde (Don's dad and also a Daytona 200 winner) produced back in 1972 to celebrate his son's win. Didn't get it! I'll have to start searching eBay. Or better yet, Don needs to print up Giant Killer t-shirts. It is an ultra-cool graphic that hipsters and race fans would rush to buy.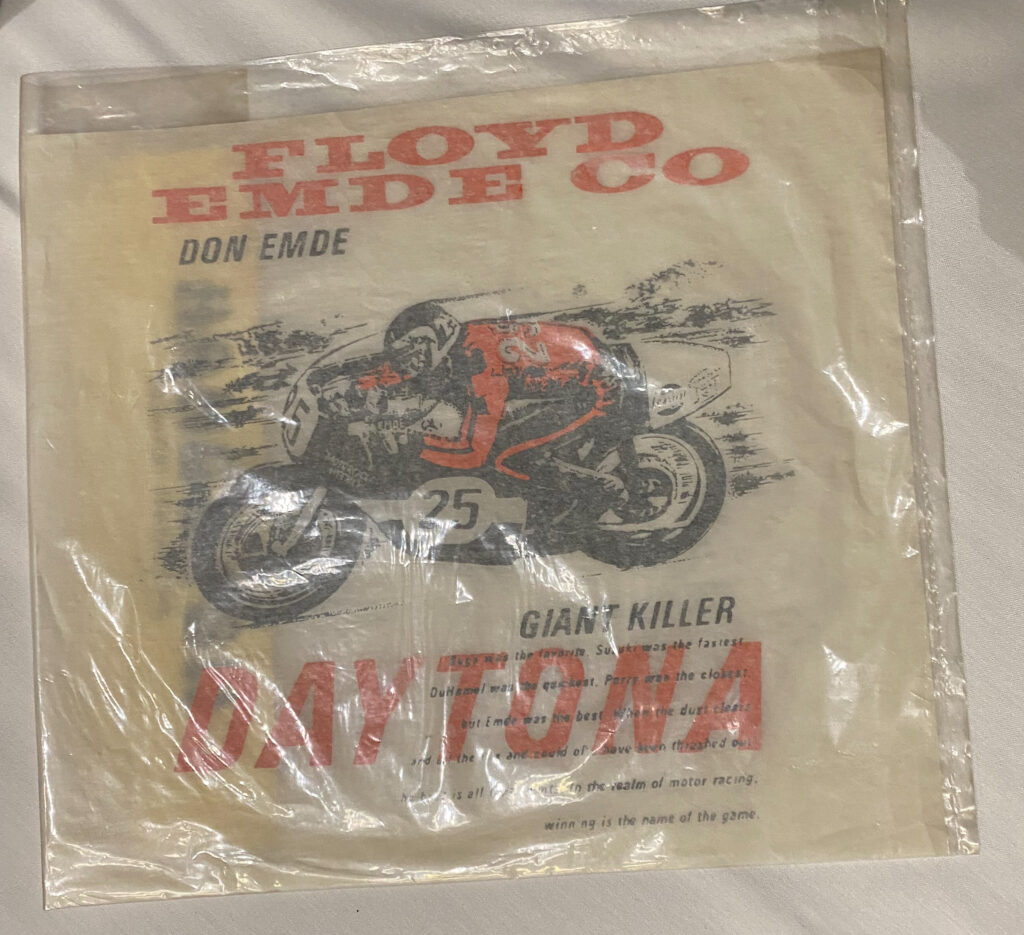 A fitting tribute: Artist Dave Maestrejuan with a then-and-now tribute painting of Don Emde. You can see more of Dave's art by clicking here.