Way back in January of 2019, I begged Elon Musk to pitch urban planners on using The Boring Company to build a network of bike tunnels in their communities. I don't know if he ever saw the post, but somebody in Norway might have.
CNN is reporting that Norway just opened a 1.8-mile cycling and pedestrian tunnel through the base of Løvstakken mountain. Construction of the Fyllingsdalstunnelen began in February of 2019 (right after the Norwegians read my story) and is said to have cost $29 million.
Unfortunately, the tunnel's length (too short) and cost (too high) will not have American urban planners rushing to construct their own cycling tunnel networks. Still, the revolution has to start somewhere. Maybe plugging in The Boring Company's cost-per-mile estimates would make the project more feasible to some American cities. Wouldn't that be awesome?
Multi-use Tunnel: The Fyllingsdalstunnelen is designed to handle pedestrians and cyclists (and I hope that includes bicycles and e-bikes). Can you imagine riding in a city without the worry of competing with cars, trucks and motorcycles?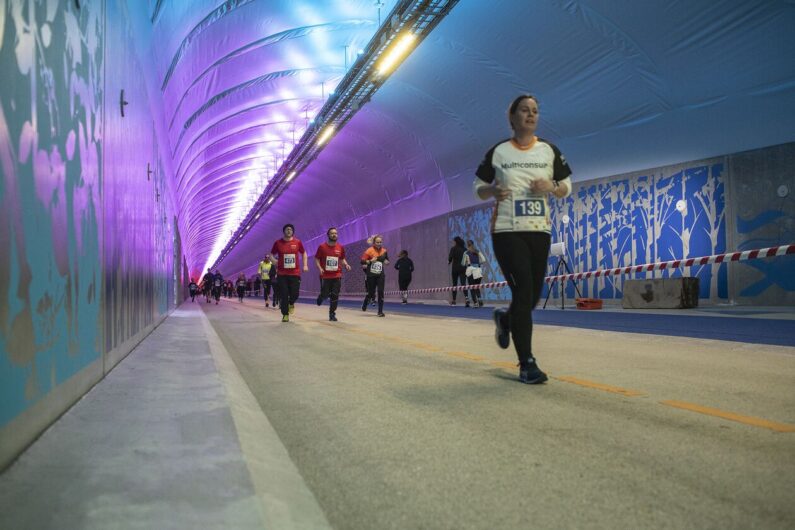 Bike tunnels USA: America already boast bike tunnels way longer than the Fyllingsdalstunnelen. Converted railroad tunnels now used for Rails-To-Trails routes are fun, but they are more for recreation than commuting. Tunnels under cities would solve so many problems. (Photo Jennifer Johnson)