The 2023 pilgrimage to Big Bend National Park marked the third year in a row that I traveled to Texas to meet riding buddy Lance Sallis and sample the natural-surface roads that the giant park has to offer. This year marked the completion of our discovery rides. We've covered all the established roads (riding off the designated roads is prohibited) and left the park satisfied while trying to stay in front of a freak snow blizzard. We didn't.
I still recommend riding in the Big Bend National Park, but after exhausting all our route options, it is time to move on to new Southwest dual-sport riding options. The plan now is to head to Silver City, New Mexico, for our next ride together (although I plan to ride the Oregon BDR solo later this year).
If I Can Just Get Off This Freeway: I leave around 4:30am to get out of the L.A. area cleanly but even the early hour doesn't guarantee a quick escape. Had to sit in traffic because this truck screwed up. I can make it to Terlingua in two days but it is better to stretch it to three.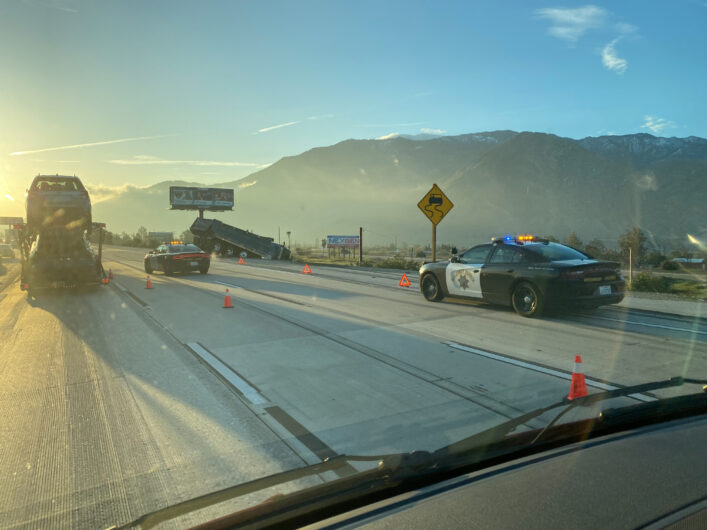 Outside looking in: It is sometimes tough to get a campsite inside Big Bend so our basecamp this year was Terlingua, a short ride from the park's Western entrance. From there you are on dirt roads right away. The mountain biking in this area is tough. Our neighbor was toast after a day of riding.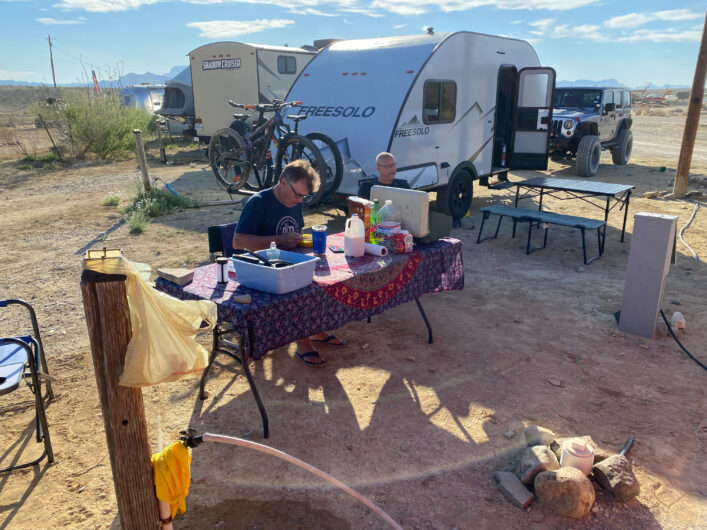 Good Grub: When you return to the same campsite each night, you don't have to haul a bunch of stuff on your bike (no bags!) and you can eat great. I supplied The Adventure Meals' Breakfast Skillet and Lance supplied the steaks. I think I made out on this one.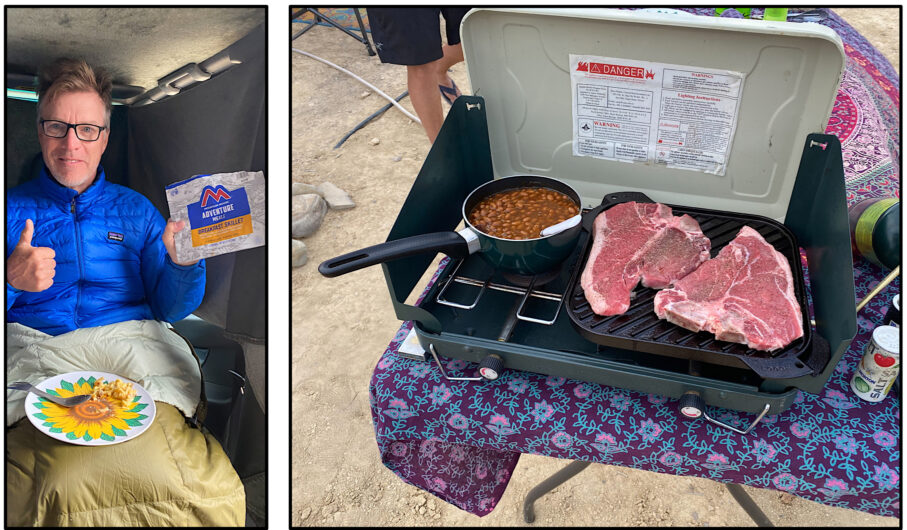 View to Mexico: You gotta stop at Santa Elena Canyon Trail at the end of Old Maverick Road. Motos get preferential parking there. Over our shoulder is Mexico. Hikers needed to wade through hip-deep water this year to hike the canyon. Past years it has been dry.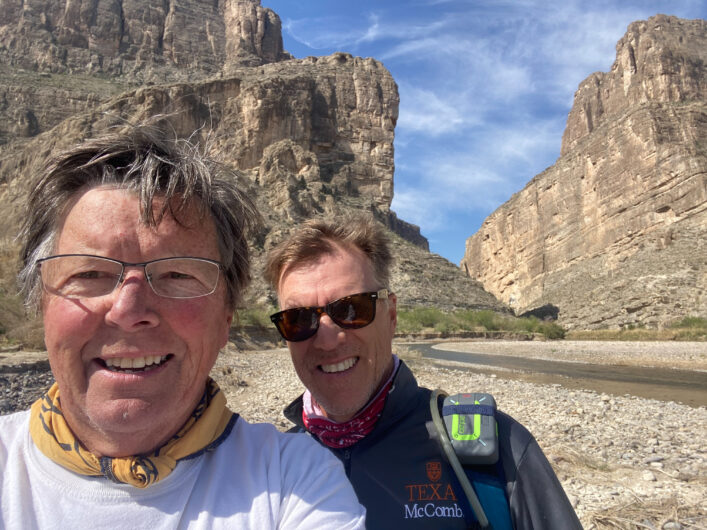 Smooth sailing: Not all the roads are this smooth. Riders need to stay alert or risk a puncture. Temps were in the 80s for our second day. Hard to believe we would be snowed out the next day.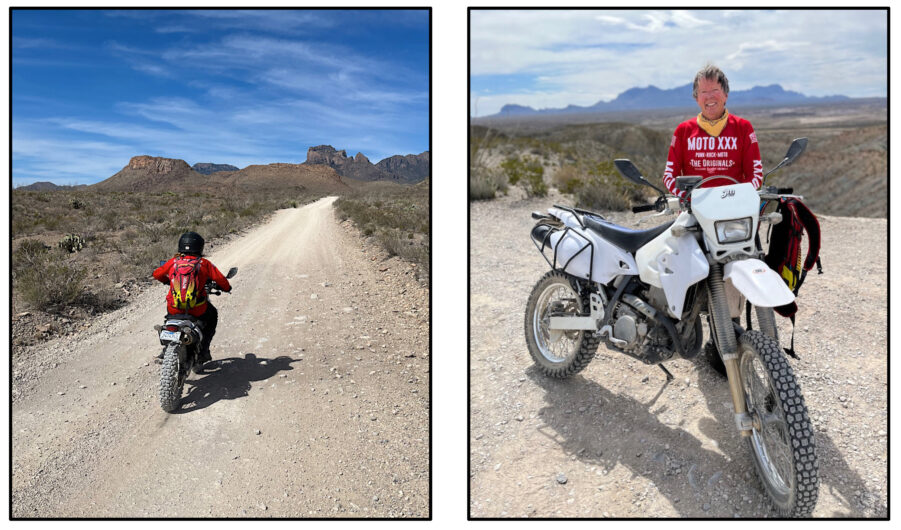 Fast company: Lance is way faster than me and that's a blessing in a place like Big Bend. The dust in most sections can be a issue. Lance gets far enough out front that I'm not eating dust or having to clean my air filter. A dust cloud ahead is warning that a jeep or moto is coming your way.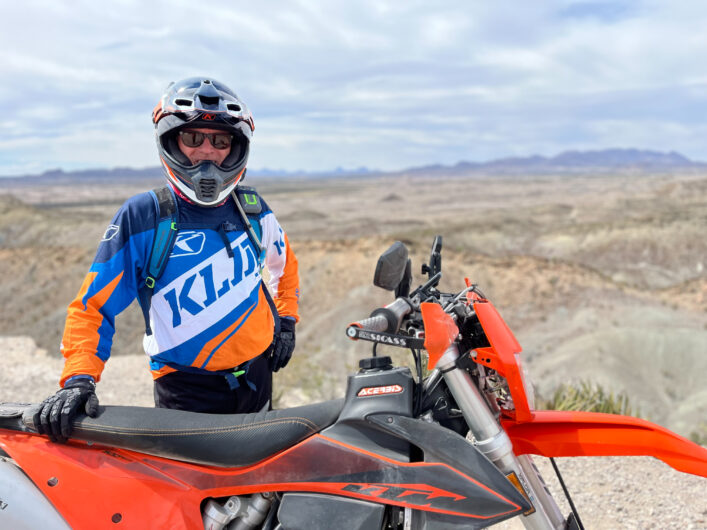 Find of the trip: We encountered this unique outcropping on the River Road East. I wish I had paid more attention in geology class. The sunlight would catch this cliff differently during the day so it never looked the same on each pass.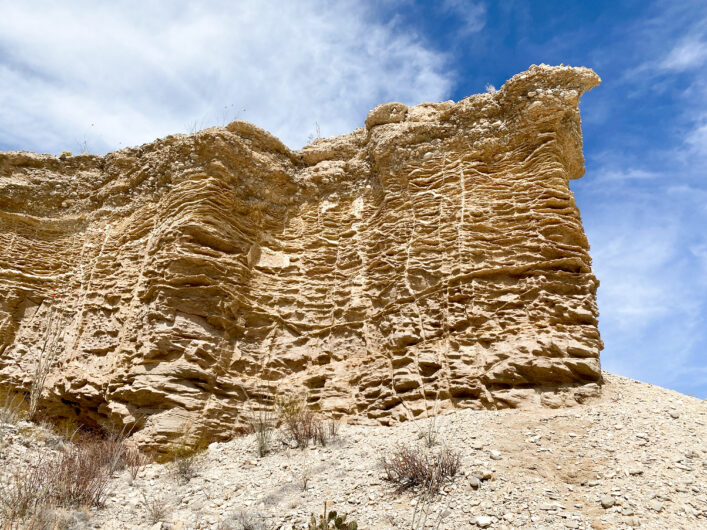 My Kind Of Town: Marfa, Texas, gets all the hipster buzz, but I'll take Alpine, Texas, over Marfa any day. The town is very livable with a giant college, cool shops, all types of restaurants and a signature West-Texas vibe. Marfa tries too hard. Alpine just lets it be.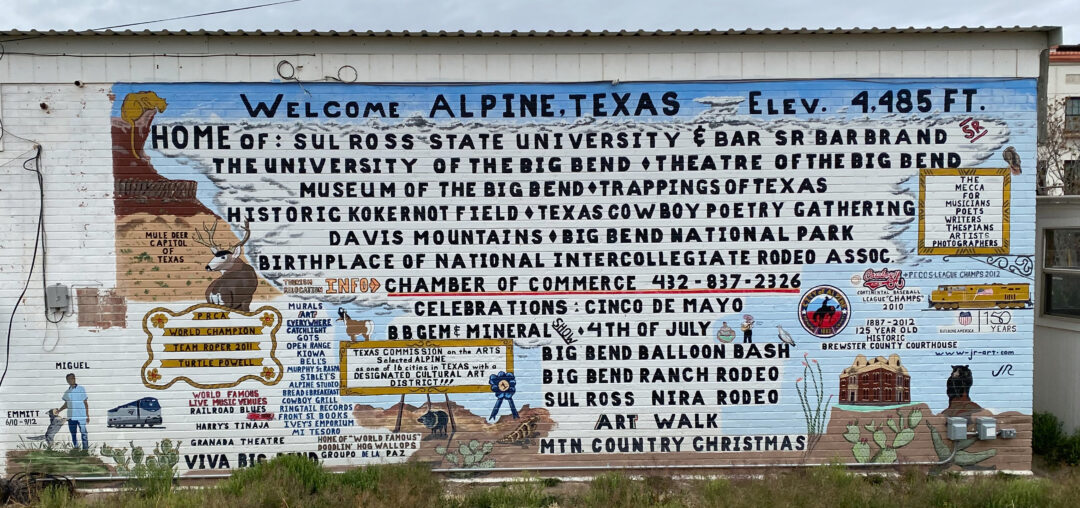 Best Eats In Town: La Casita is not on Alpine's main drag and it is easy to miss on East Avenue H (look for all the cars parked around a house). That doesn't hurt their business any. The place is usually packed.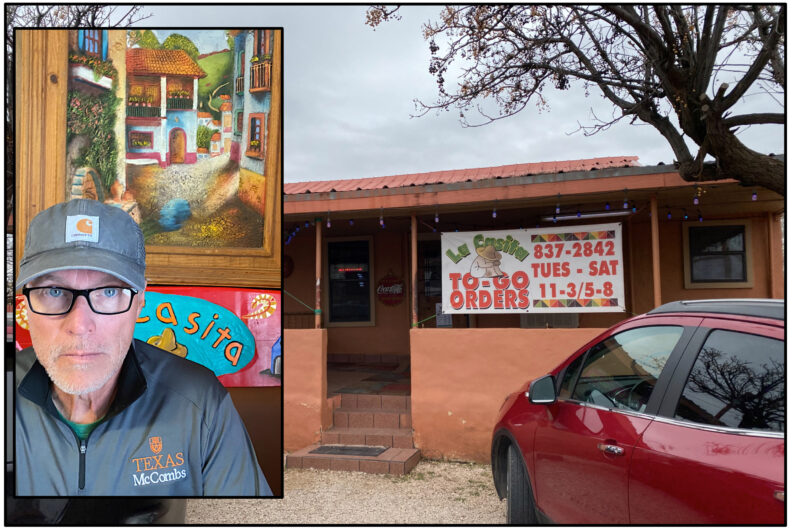 Mural Walk: Alpine has a series of murals around the city. This one caught my eye and we searched out the artist's studio. Tom Curry is a well-known illustrator and I came home with one of his prints, "Ghost Truck of Terlingua." You can check out his work by clicking here.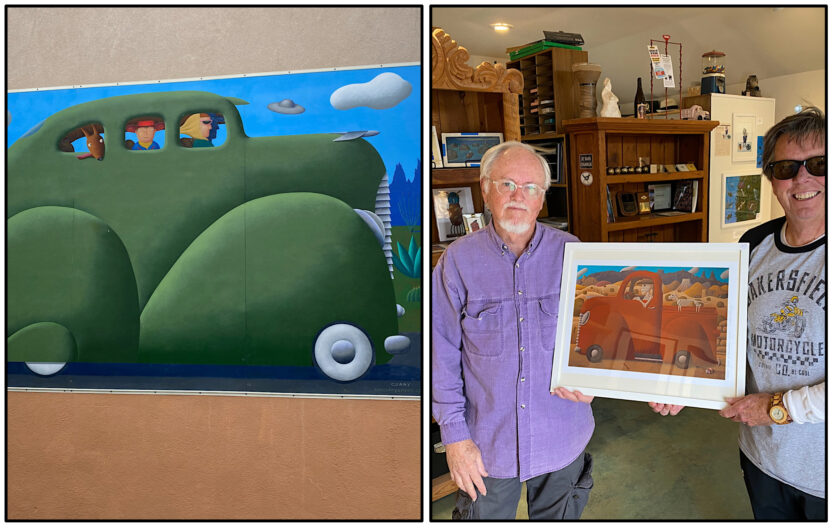 Deep In The Heart Of Texas: How many Texas musicians can you identify? I just saw Jimmie Dale Gilmore perform in Ventura. He is on there. So is motorcyclist Lyle Lovett. The late Nanci Griffith better be in there somewhere. That could be her to the right of Sly Stone.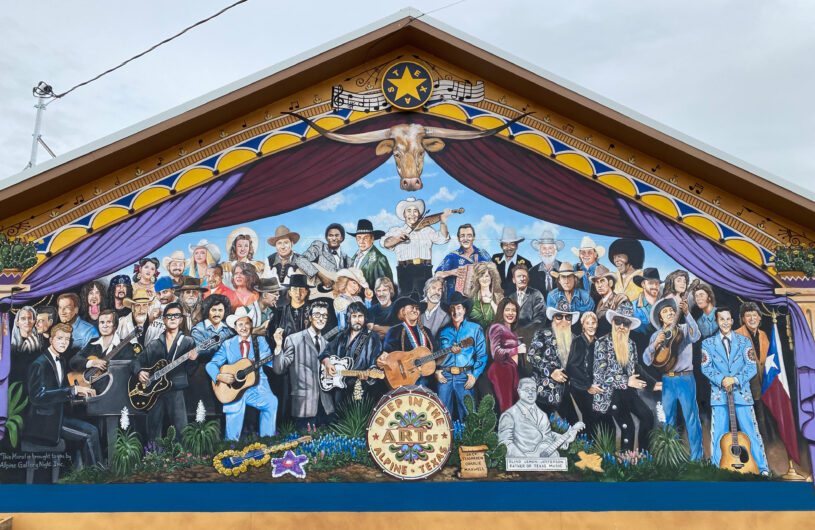 Changing Temps: A freak snowstorm ended our riding a day early. After a 190-mile day in Big Bend, we were ready to take a day off.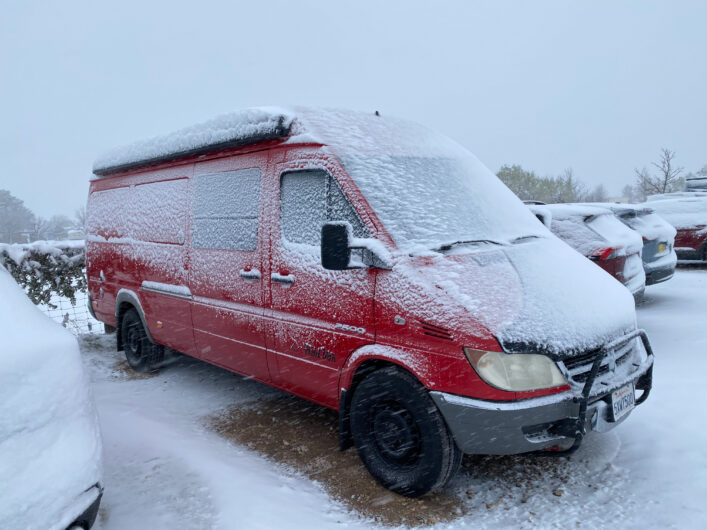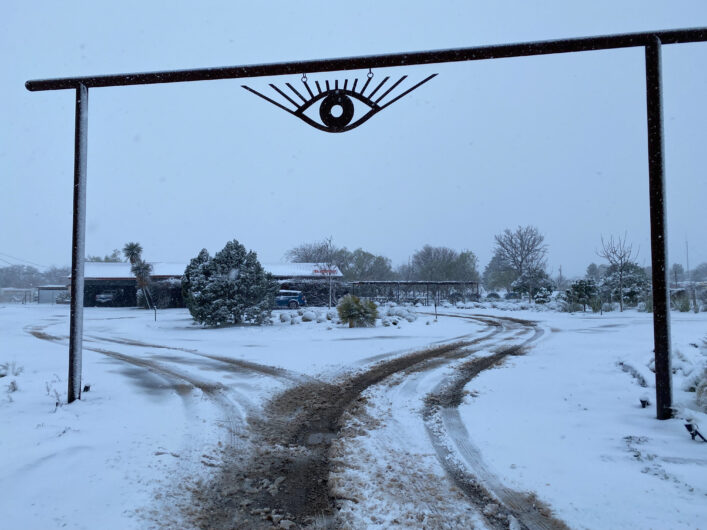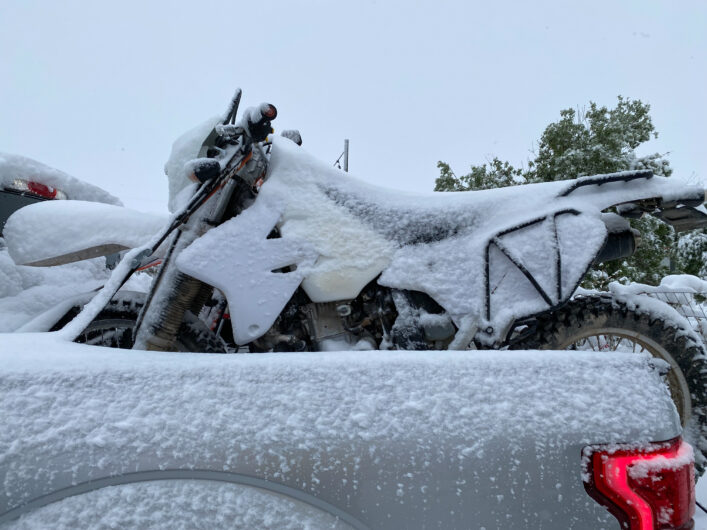 Out Of This World: I don't stay in hotels (Big Red is my hotel) but if I did, I would have stayed here in Gila Bend, Arizona.