There is something very special about the Edison Dye Lifetime Achievement Award. Unlike most inductions that take place at a banquet, museum or hall of fame building, the Edison Dye Lifetime Achievement Award is presented at a motocross race. The Dubya USA World Vet Motocross Championships at Glen Helen Raceway in San Bernardino, California, to be exact. The audience is made up of racers in their gear, taking a break from the day's events to pay tribute to an individual who has made a lasting impact on the sport of motocross. This year's recipient was Mark Blackwell and it is about time this pioneer of American motocross got his rightful place on the Glen Helen Walk of Fame.
You can read more about the Edison Dye Lifetime Achievement Award and watch a video in honor of Mark Blackwell at the Motocross Action Magazine website. Here are some of the old friends I bumped into at the ceremony.
Moto Rushmore: I kid that these guys are like looking at the Mount Rushmore of motocross. Actually, I'm not really kidding. Jody Weisel, Editor of Motocross Action Magazine, has done more for motocross than most people will ever understand, Lars Larson helped introduce motocross to America and has never stopped racing and Selvaraj Narayana, who I seem to bump into weekly, has devoted his entire life to motorcycles with the emphasis on motocross.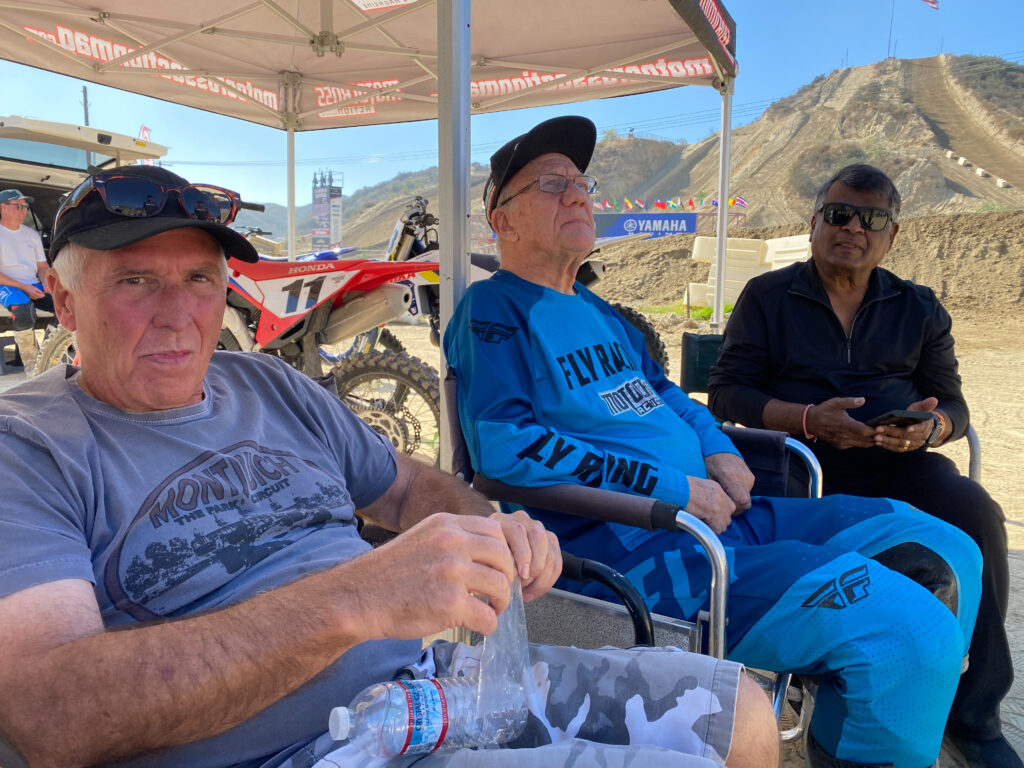 Dymond in the rough: I put Micky Dymond in an elite three-rider group that includes Marty Tripes and Ron Lechien. These three guys where the most naturally talented riders I've ever seen race a motocross bike. Micky never seemed to fight a track or bike. He just flowed. This is the first time I've bumped into him since he suffered a terrible bicycle crash and it was so great to see him in shape, happy and healthy.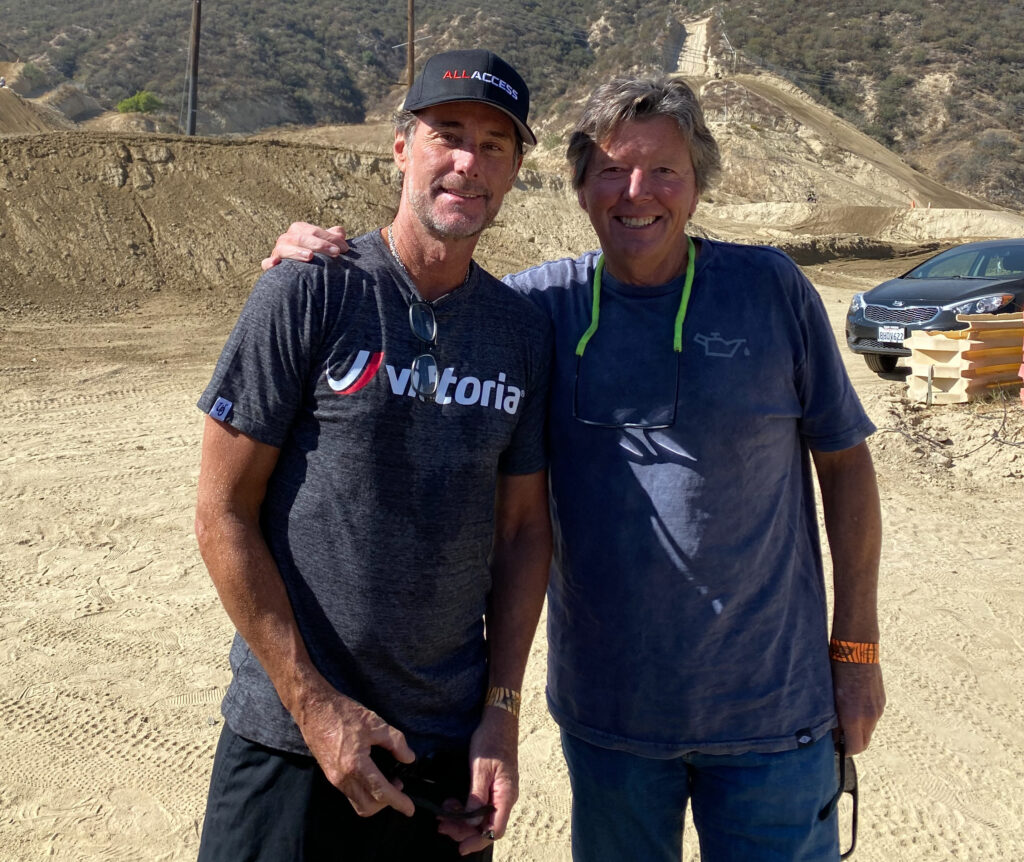 VIPs in the audience: Mark Blackwell was a big draw for the award ceremony this year. From left are Scott Boyer, Sally Weisel, Jody Weisel and Roger "The Man" DeCoster. Roger may be the only motocross racer in history who has not gained one ounce of weight in his entire career as a racer, journalist and team manager.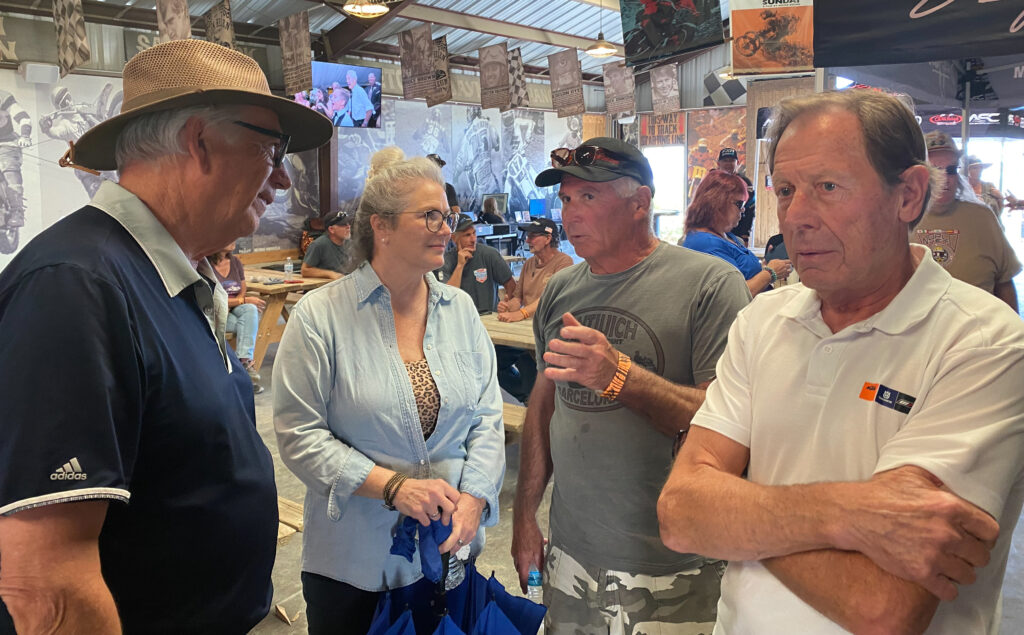 Awesome reunion: From left, Ken Boyco, yours truly, Patti Blackwell, Mark Blackwell and Broc Glover. I've known all these people for over 40 years! By the way, it was Mark and Patti's wedding anniversary today, making the Edison Dye Lifetime Achievement Award that much more special.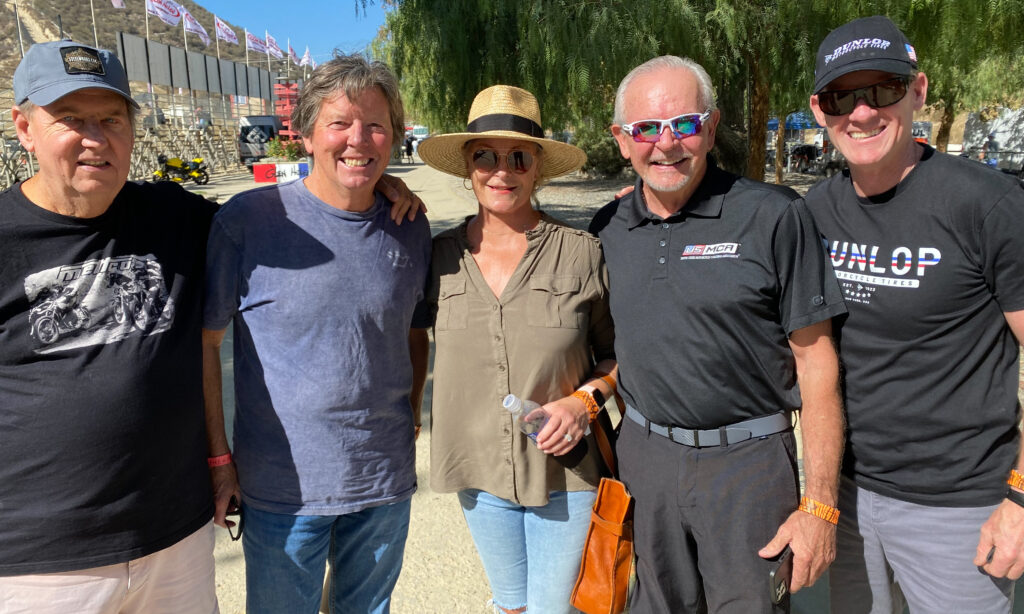 Sun of a gun: I once made the mistake of inviting Chuck Sun for a mountain bike ride in Sycamore Canyon. I should have known I was not going to be able to match the speed of former 500 National Champion (like Mark Blackwell) and Motocross Des Nations Champion. Chuck is gifted on two wheels with or without a motor. Nice Pivot mountain bike, Chuck.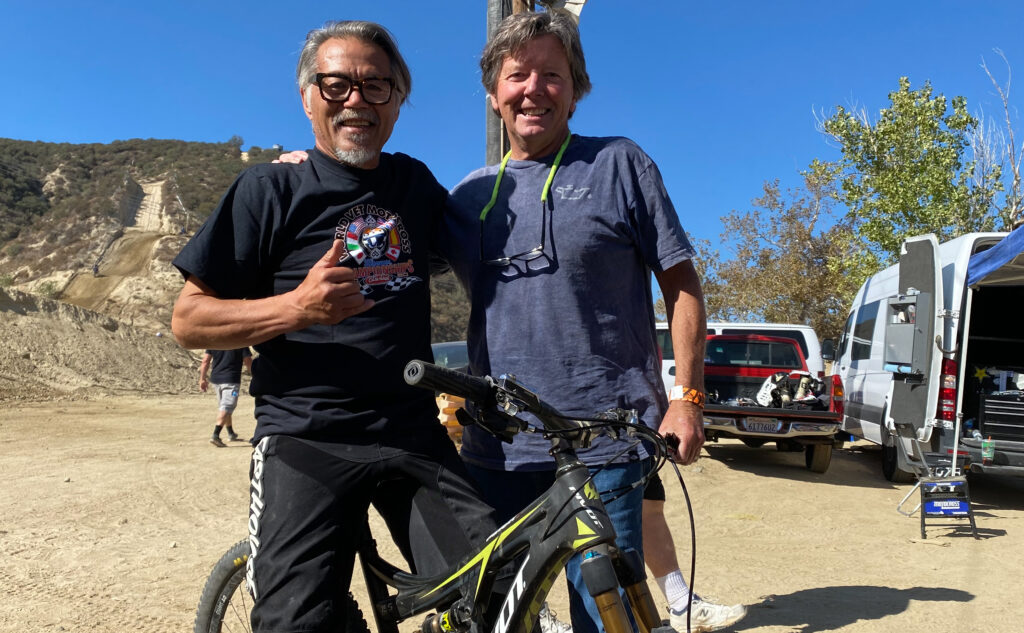 Three amigos: Jim Perry, Gary Jones and John Perry (see the family resemblance?) are all long-time friends who I don't see often enough. The Edison Dye Lifetime Achievement Award is a great time to reconnect with old friends and bump shoulders with motocross legends.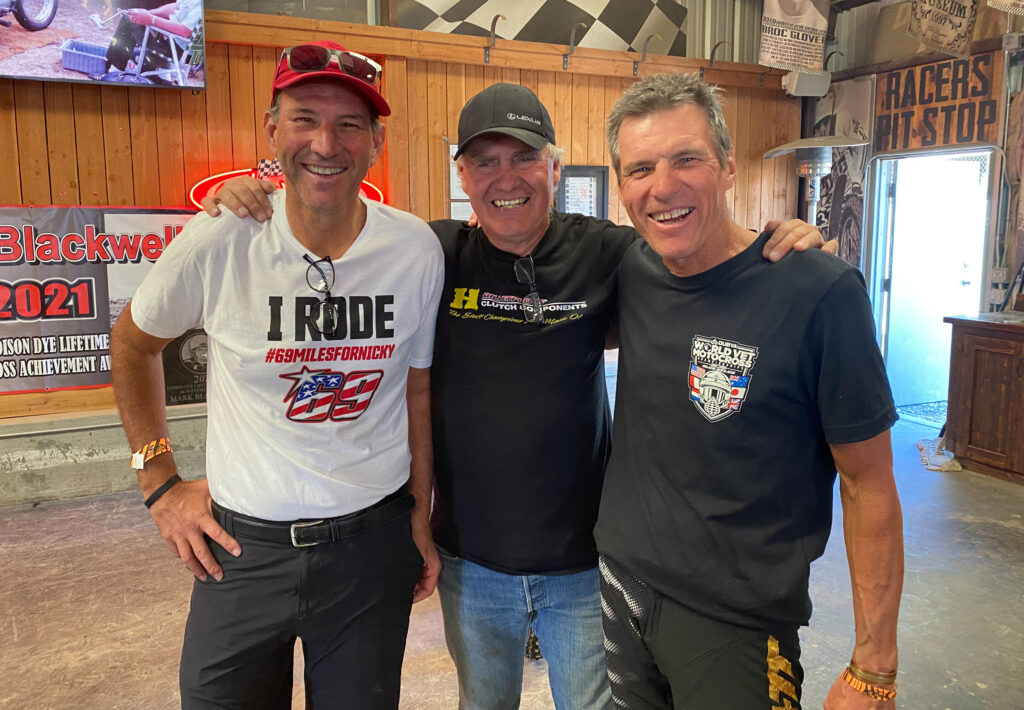 Top honor: The Edison Dye Lifetime Achievement Award recipients are a very select group and it is the most prestigious award a motocrosser can earn. From left, Mark Blackwell accepts his trophy from Kristin Anderson, Dubya's owner and daughter of the late Tom White, and "Doctor Bud" Feldkamp, owner of Glen Helen Raceway.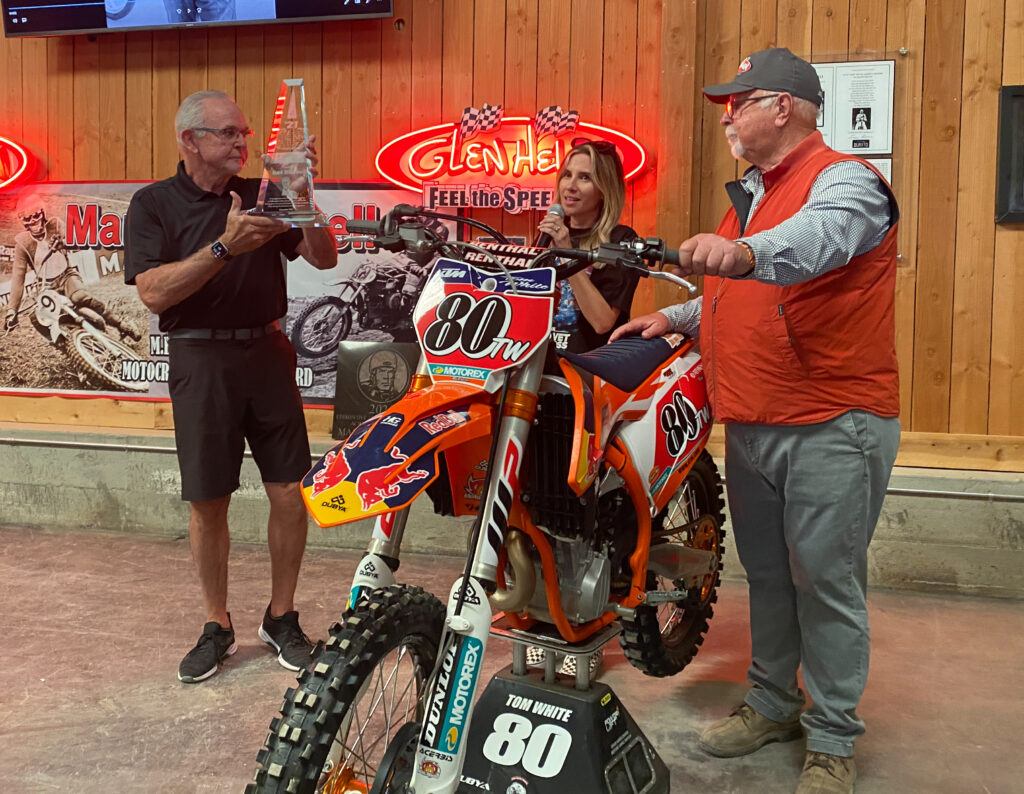 Collect them all: Race fans have the rare opportunity to get autographs from some big-name motocross celebrities. From the bottom, announcer Larry Huffman (almost out of the shot), Mark Blackwell, Troy Lee (flashing the peace sign), Broc Glover and I think that is Micky Dymond and Chuck Sun (I'm sure Gary Jones got in on the action after he finished treating fans to selfies).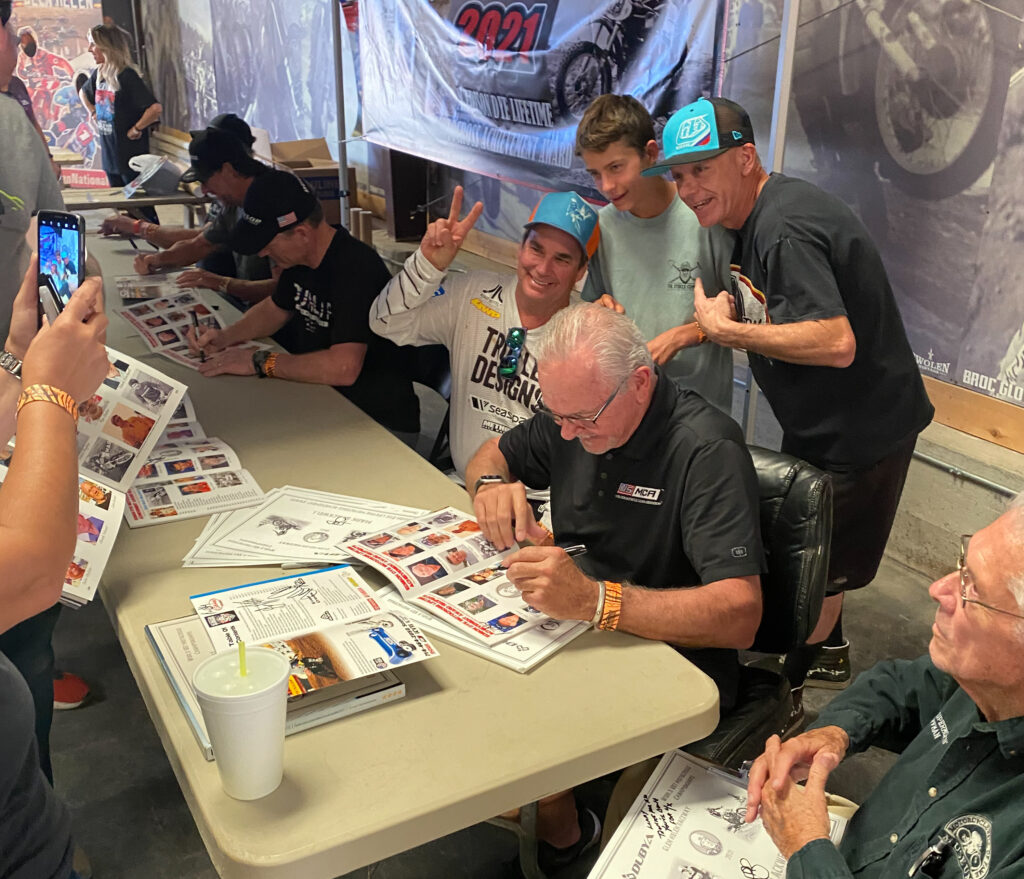 Words of wisdom: When Larry Huffman asked Mark what is the highlight of his career, Mark's answer was, "I hope I haven't had it yet." Mark has an intensity and energy level matched by few individuals. There are more achievements to come from this guy.