The 2022 MotoGP weekend schedule at the Circuit of the Americas didn't leave me a lot of free time but I had heard of a motorcycle museum in Burnet, Texas, that displayed an eclectic mix of drool-worthy motorcycles. I'd miss some of the MotoGP practice sessions on Friday but decided it was worth the risk of driving about an hour outside of Austin to see what made the Hill Country Motorheads Vintage Motorcycle Museum special. I'm so stoked I blew off practice to make the drive (actually, I talked Lance Sallis of Central Texas Restorations into chauffeuring me) because the Hill Country Motorheads Vintage Motorcycle Museum is well worth your time and the admission price (which is way too cheap).
The Motorheads collection speaks to baby boomers. If you are older, congratulations on still being alive. If you are younger, you probably won't get it. But if you were born, like me, in 1953 (or thereabout), and have a deep connection to motorcycles, this collection will amaze, entertain and connect to your heart and soul.
If you find yourself anywhere near Austin and you are a motorcycle enthusiast, you do not want to miss this museum. Here are just a few reasons why. Click on any photo to enlarge.
It all started here: Unable to afford a "real" European motocross bike, brothers Pat and Mike Hanlon purchased a Suzuki TS90 and modified it to race motocross. This is an exact replica of their first real motorcycle (they had a mini before this) and the perfect place to start your visit. Pat Hanlon is the man responsible for the museum.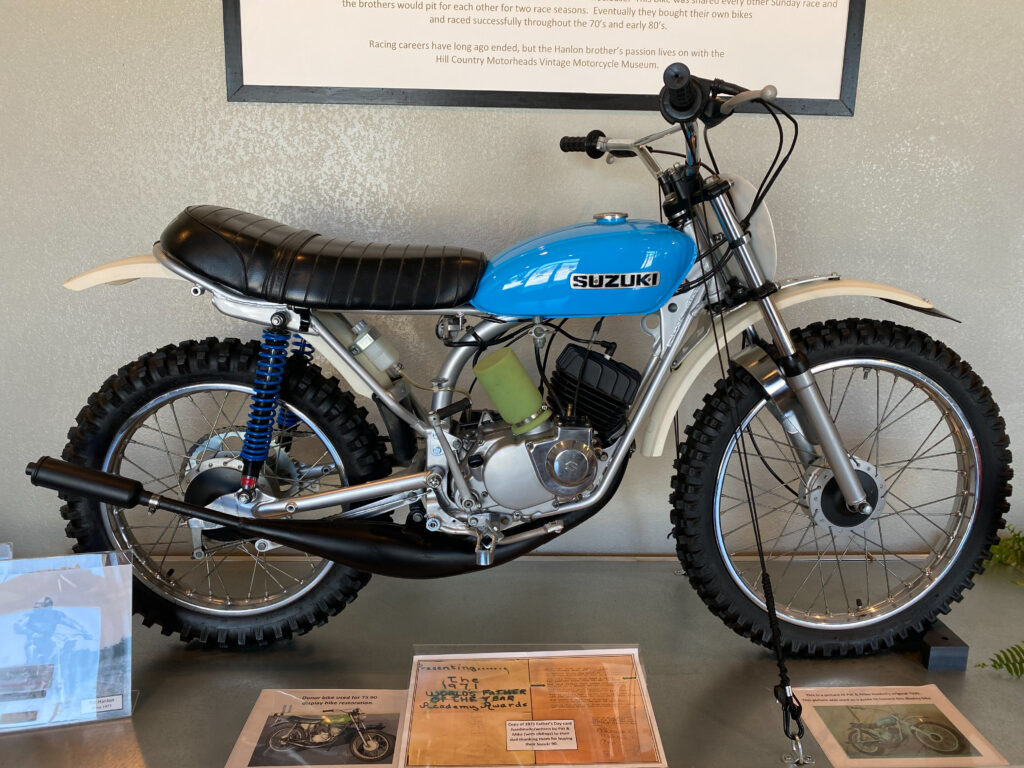 Low mileage: This Honda C110 is a 50cc four-stroke that was uncrated in 1966 with one mile on the odometer. It has never been ridden. I remember this model later became a 65. Honda knew that American riders have a bigger-is-better mentality so those 15cc's were added.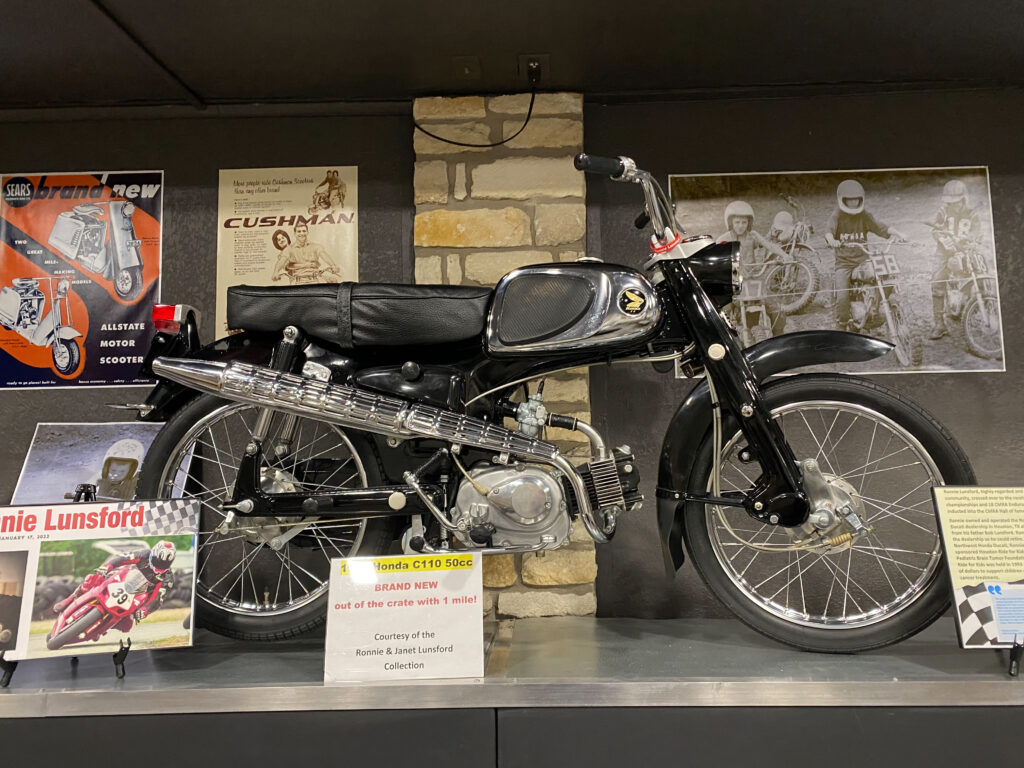 Minitrail fun: You won't believe what a 1978 Z50 Minitrail sells for today. These things pull in the same bucks as mid-60's Triumphs and BSAs at auction. They can still be found although they won't look this fresh. Honda sold containers full of them.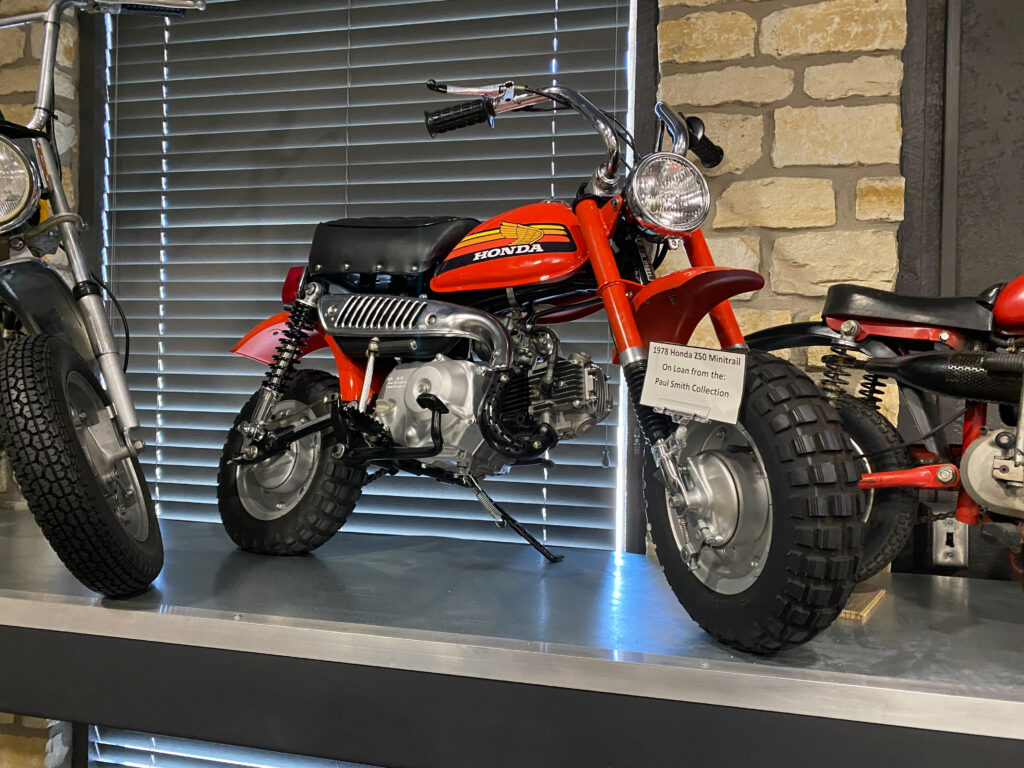 Steve tribute: What motorcycle museum is complete without a corner dedicated to Steve McQueen? Steve was (and still is) the best promoter the sport of motorcycling has ever had. Evel scared moms and Peter Fonda upset dads. Everybody loved Steve.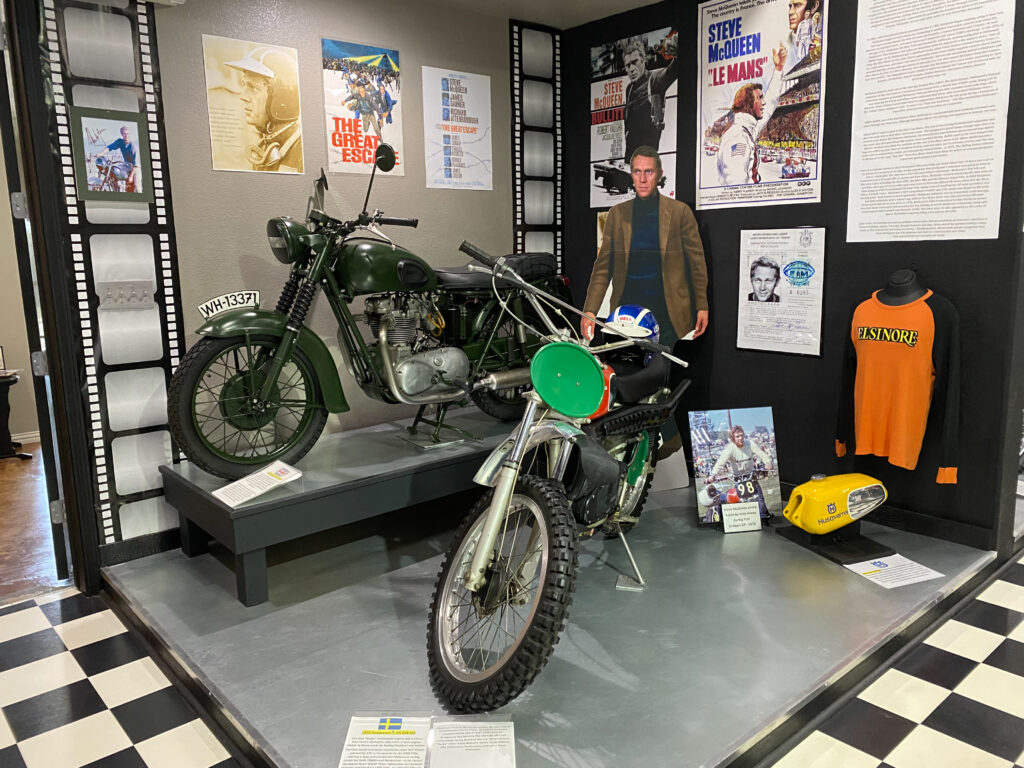 Flatheads: The Harley-Davidson KR 750 engines had a tough time against the British invasion bikes, but I don't care. They look so right. This one was set up for TT racing and it appears to still be raced at vintage events.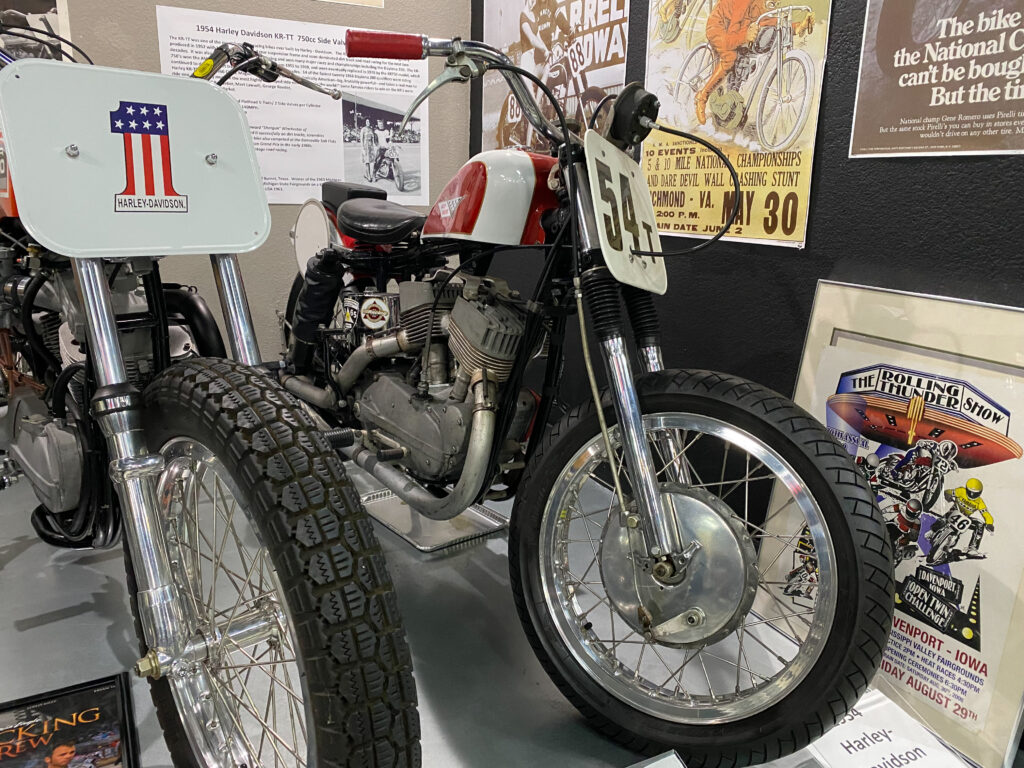 Not ready for prime time: Art museums call it their "annex." It is a storage area for art that just won't fit in the public display area. At the Motorheads Museum, they refer to it as "The Workshop." Pat Hanlon has some serious job security. Not that he thinks restoring these bikes is a "job." It is his passion.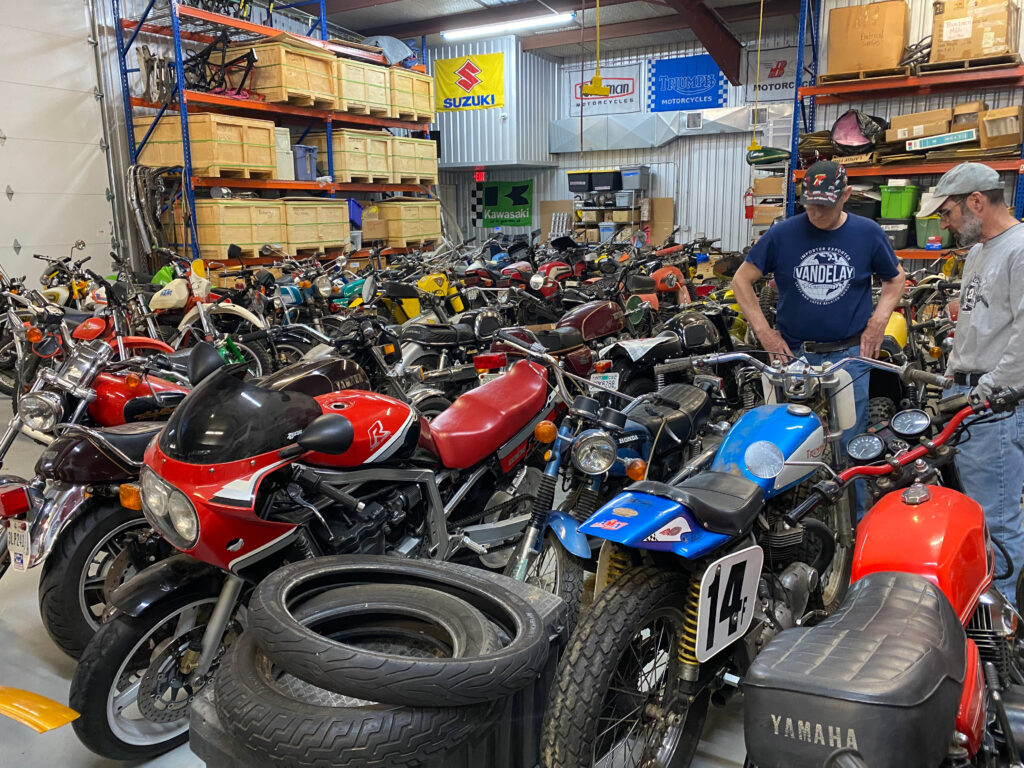 Mini Me: I dig flat track bikes and Bultacos rank at the top of my 250cc 2-stroke class. Somebody likes them even smaller and did a great job of making this Italjet minibike look like a Bultaco flat tracker.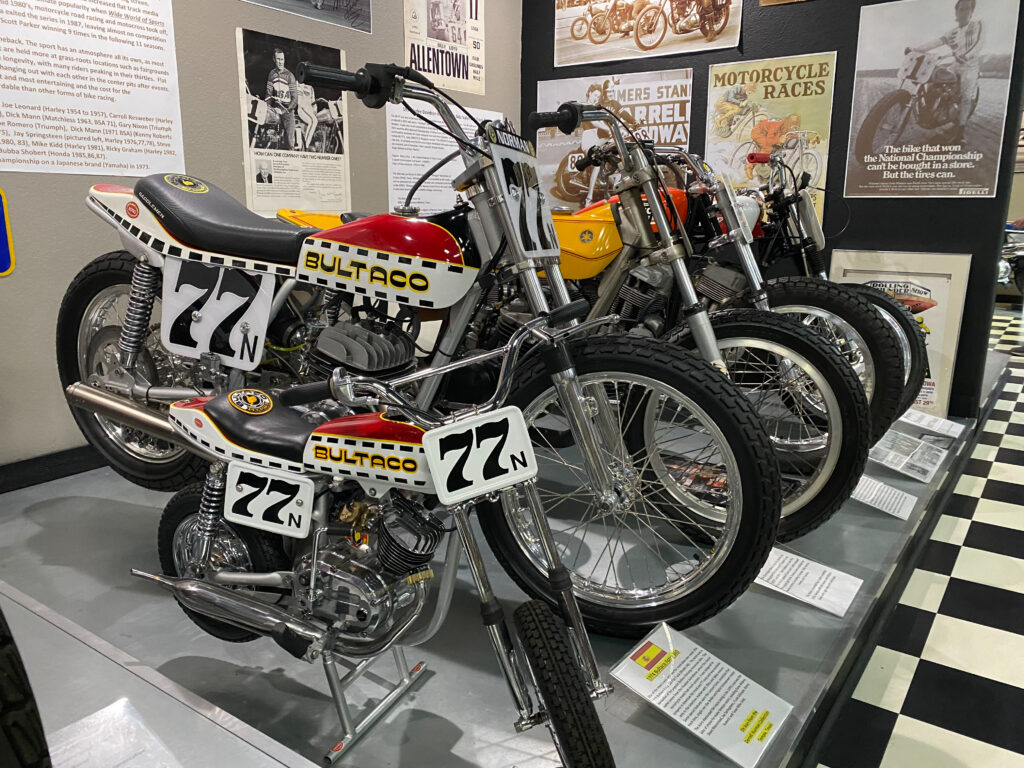 Read all about it: Picked up a copy of When Honda Went Dirt Track Racing just before visiting the Motoheads Museum so I haven't had the chance to read it all yet. This bike is Bubba Shobert's Honda RS 600 GNC Championship TT bike and it shows up on page 260 (it is a BIG book) being raced at the Peoria TT in 1986.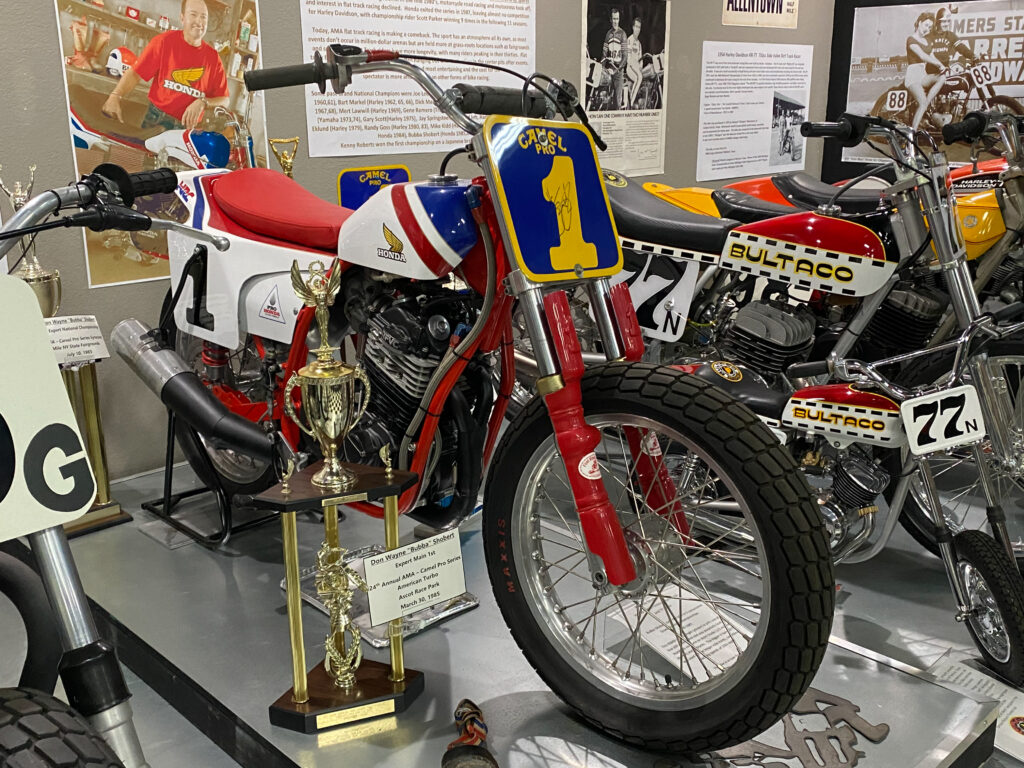 The little Harley-Davidson: Harley-Davidson's XR750 flat trackers had a little brother that didn't get much attention. When the H-D factory riders competed in short track events, they used Aermacchi powered bikes like this one. While not as sexy as the XR, the clean, simple design has always appealed to me.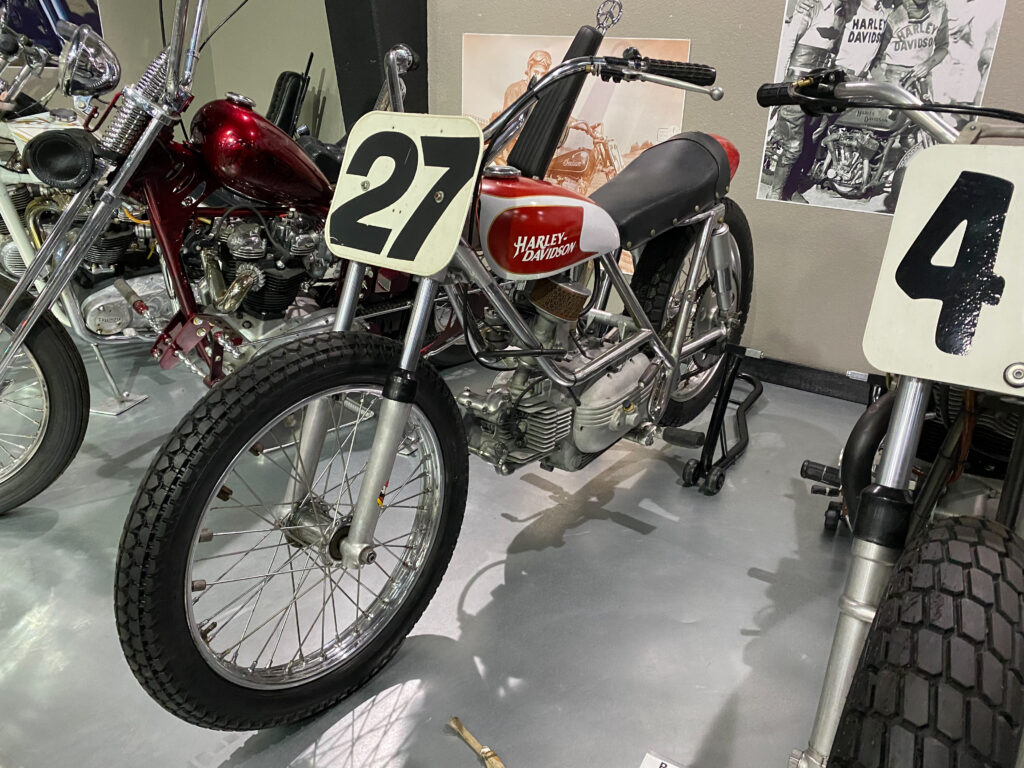 I'll pass on a test ride: I'd jump at a chance to ride any bike in the Motoheads collection except this one. It scares me just looking at it. The poster on the wall from R C Engineering has two young fellas who together would become a motorsports dynasty. Terry Vance and Byron Hines founded Vance & Hines.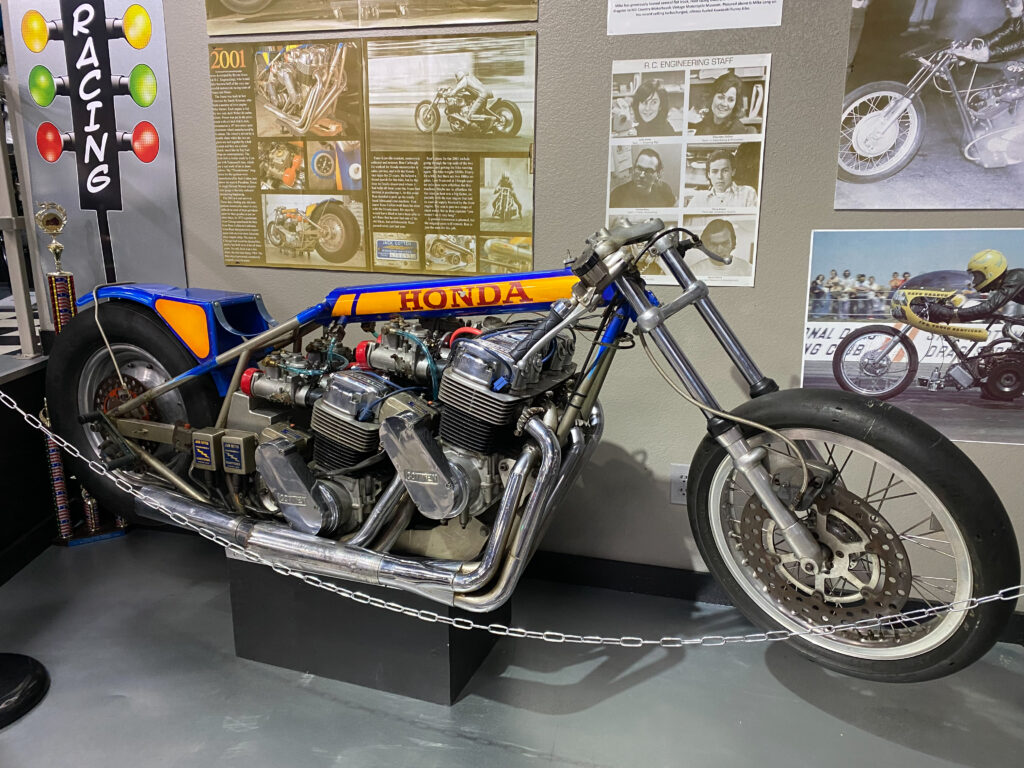 In with the chickens: There is something about this Harley-Davidson Sportster barn find that speaks to me. Sure, a craftsman (like museum owner Pat Hanlon) could sano it out but I'm stoked the museum is letting this bike age gracefully. I know this was loud in its running days.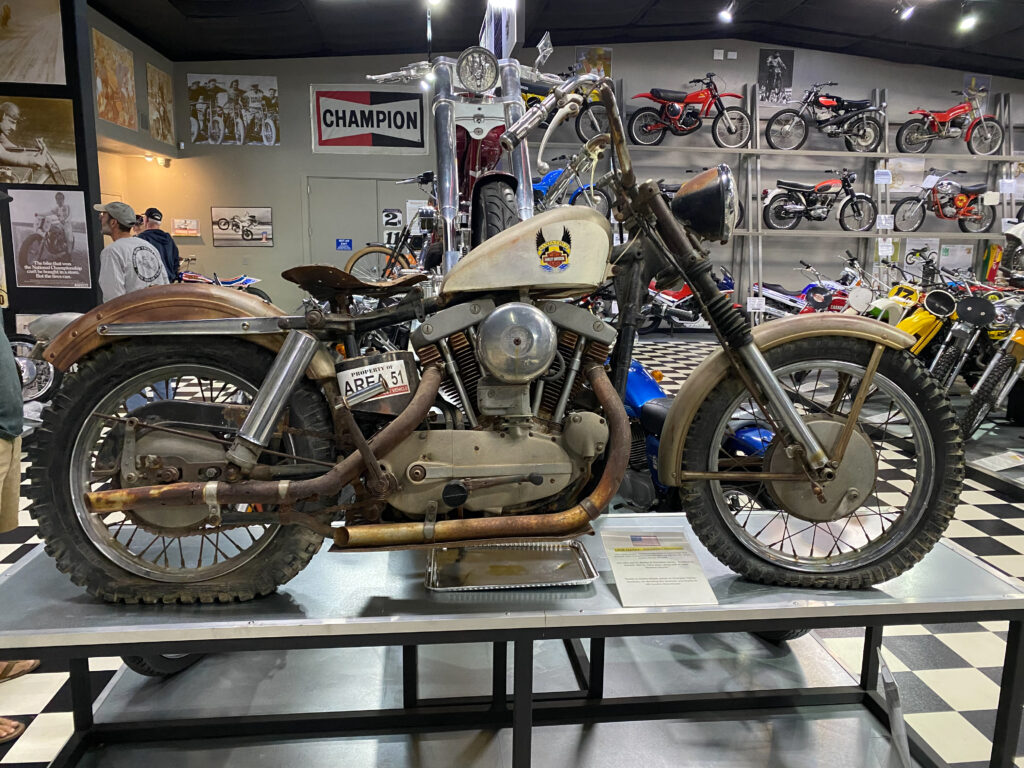 Cruising' with my baby: So many motorcycle companies have forgotten why most guys purchased their first motorcycle. That was to take your girl for a ride and tell her to hold on tight. I'd love to get Gail (my girl) to share the saddle on this Panhead while we cruise around the Texas hill country.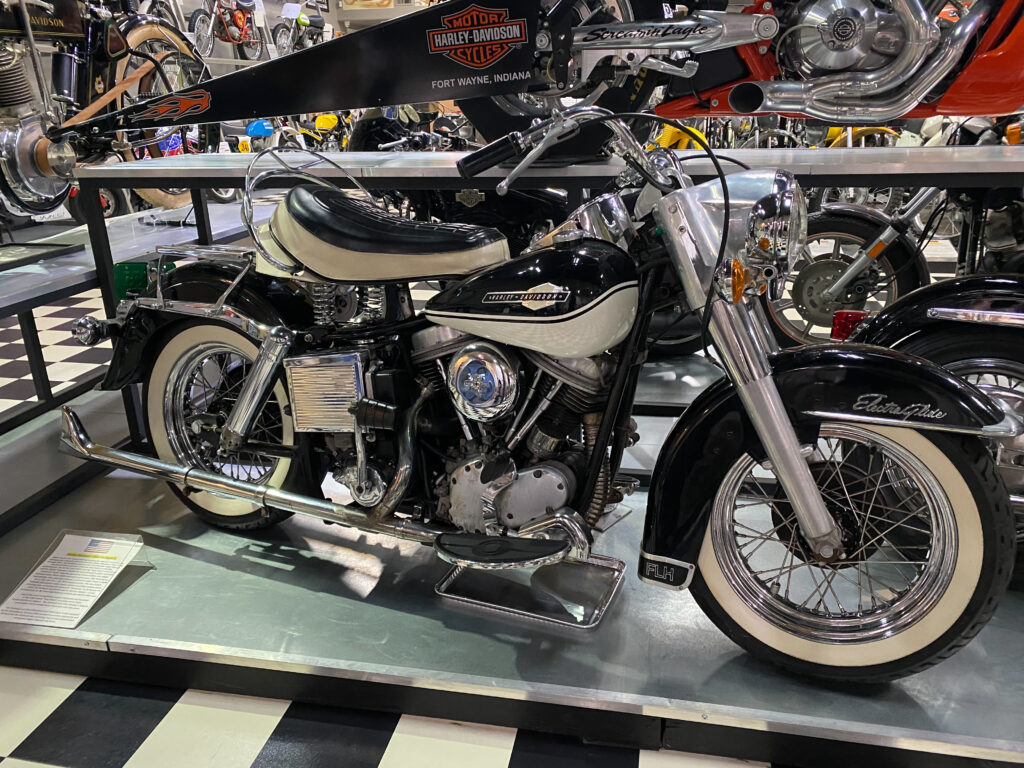 Motocross in the house: Maybe the coolest thing about the Hill Country Motorheads Vintage Motorcycle Museum is its diversity. The curator didn't limit the collection to one style of riding or racing. Pretty much every type of motorcycle is represented in the collection.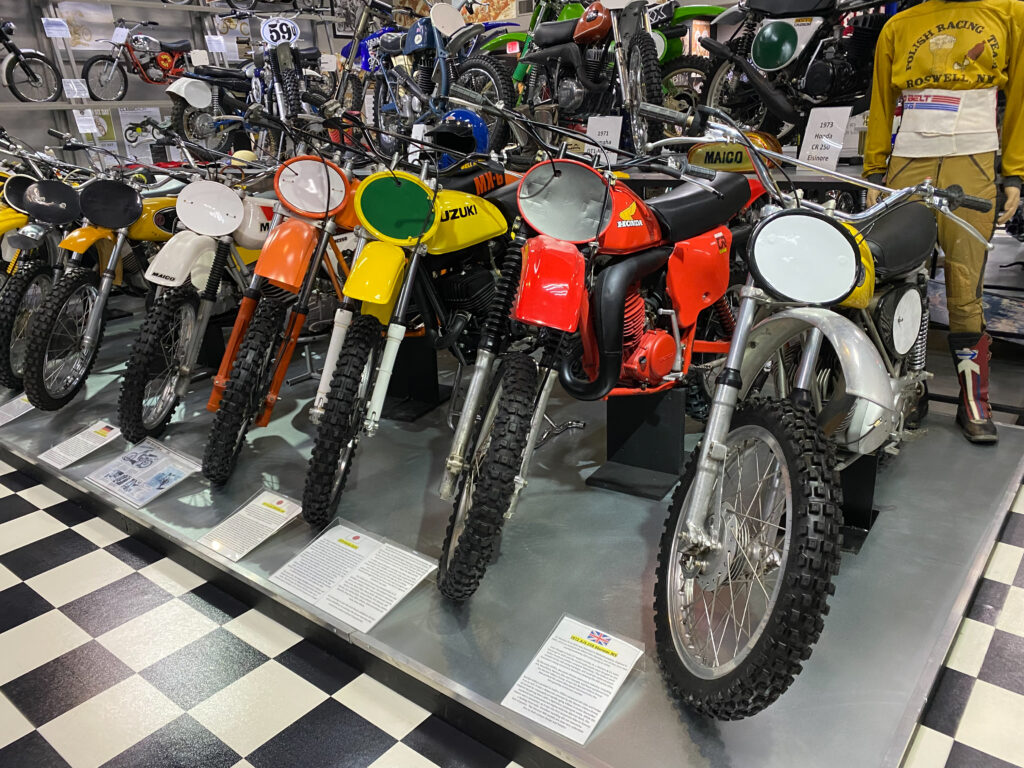 Early moto: Before motocross there was scrambles and in the late 50's, bikes like this BSA Gold Star were very competitive. This 1957 Gold Star was modified by the late, great Dick Mann to compete in vintage race bike events.
Prized possession: I just saw one of these at the Trailblazers Banquet that belonged to Motion Pro's Chris Carter and I saw another one in Tom White's The Early Years of Motocross Collection. I wasn't expecting to see one in the little town of Burnet, Texas. Read about what makes this Suzuki so sought after by clicking here.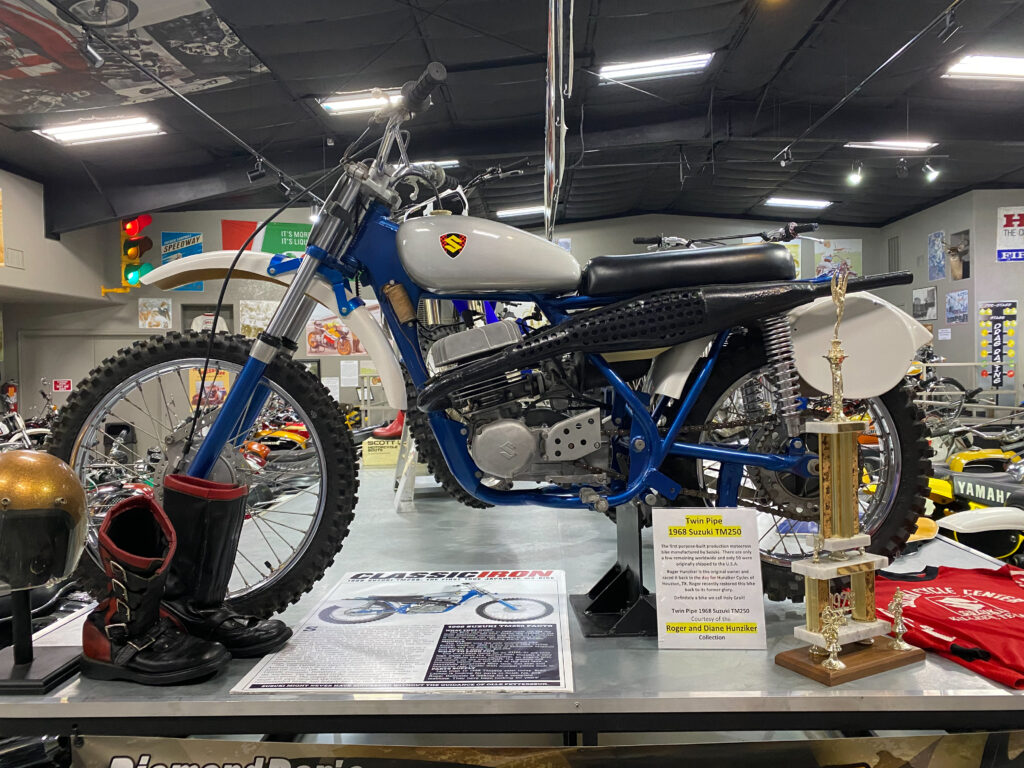 Budget lots of time: I was on a tight schedule during the MotoGP weekend or I would (and should) have spent a lot more time exploring the museum. There is just too much to see on one visit. Most motorcycles have their history printed on an information card. It would take hours to read them all.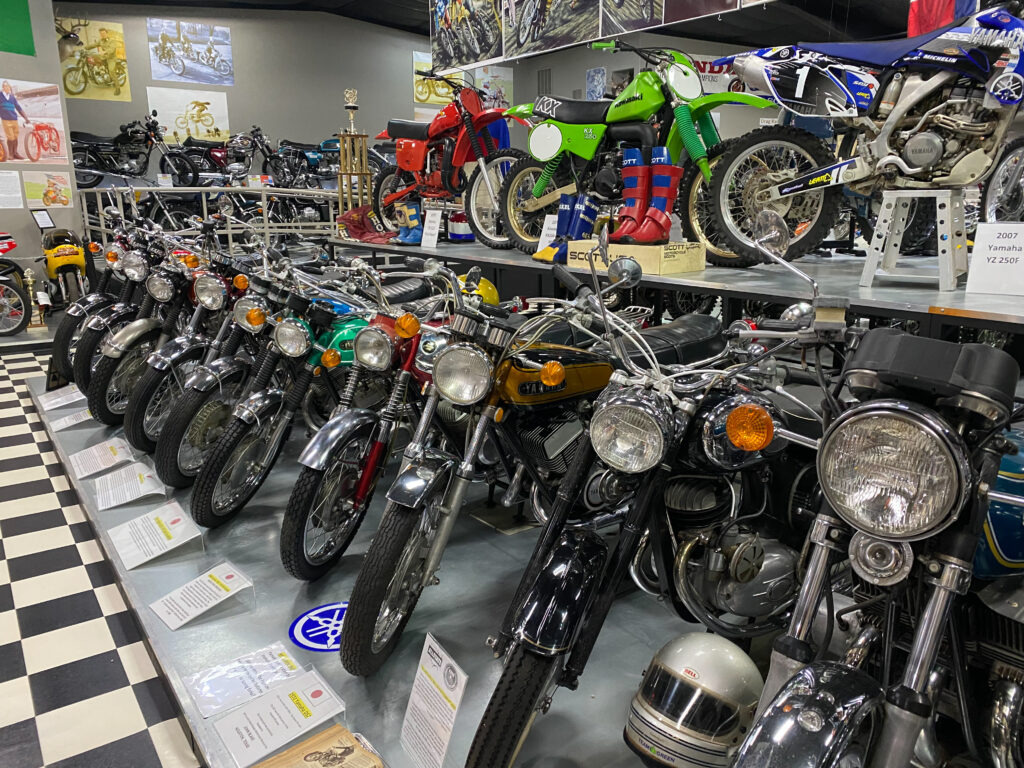 Wall of fame: I'm not sure where The Hill Country Motorheads Vintage Motorcycle Museum will fit bikes that continue to be acquired. Can you image the agony of deciding which bike has to be removed to make room for a new one?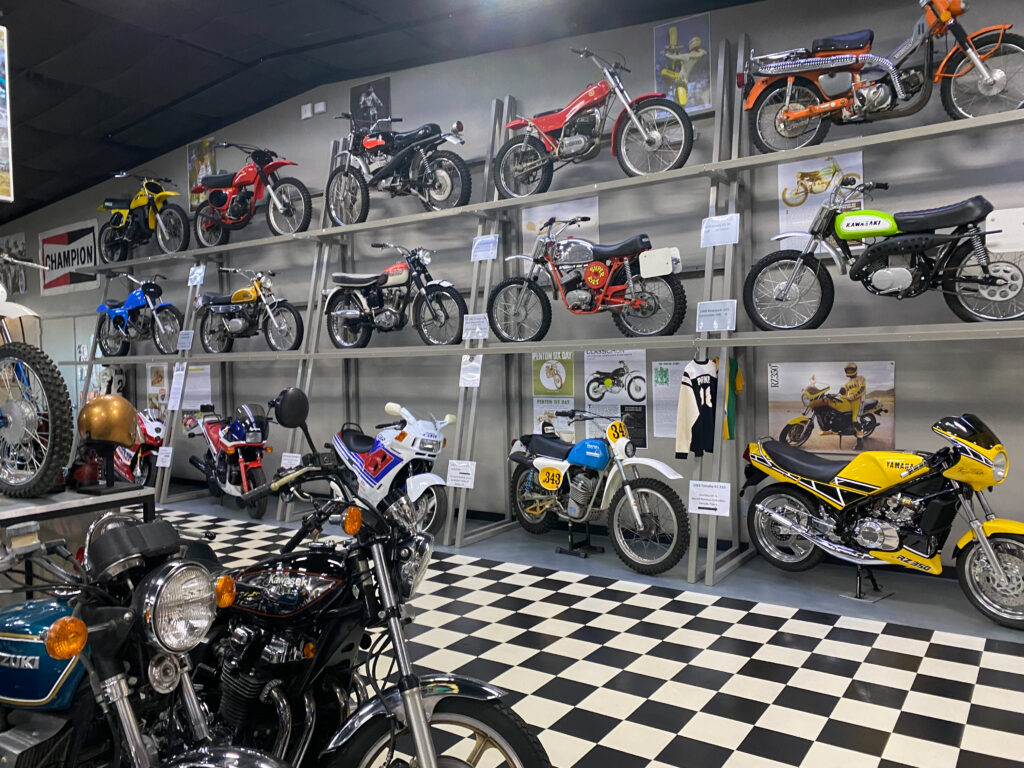 Fun bike center: A Ducati Scrambler, a one-off Yamaha 650 road racer (that I would love to pilot at a COTA track day) and a BSA B50MX. It is hard to turn your head without seeing something that speaks to your soul. Motocross Action Magazine's Vintage Iron series is the best place to find more information on any vintage motocross bike.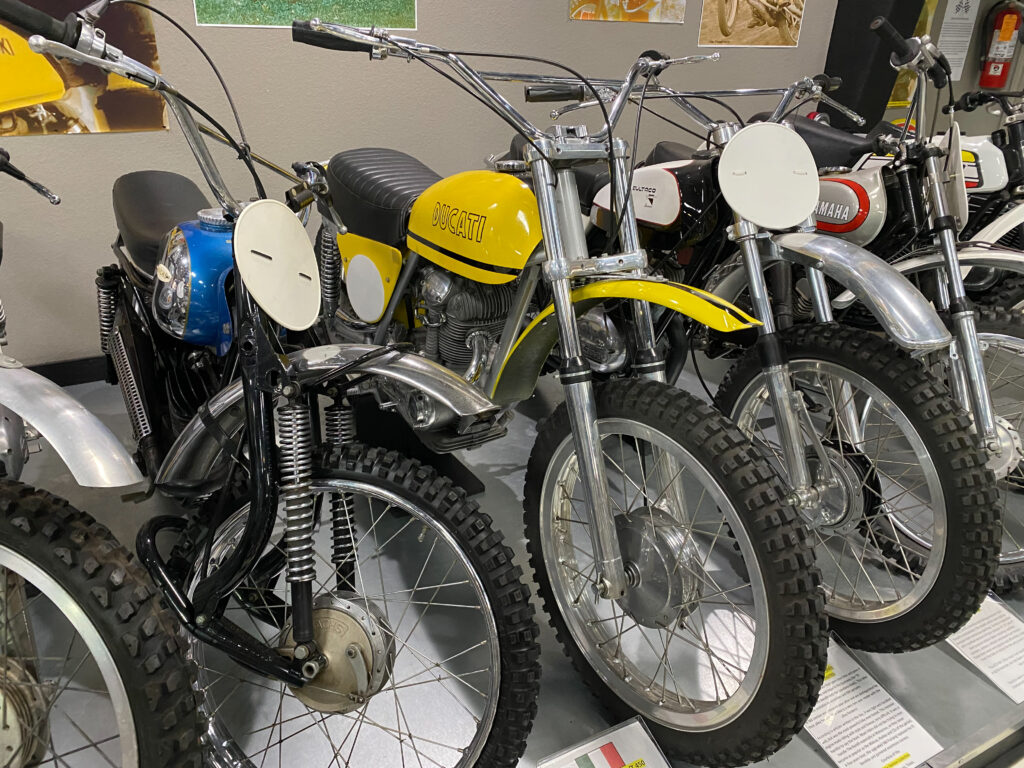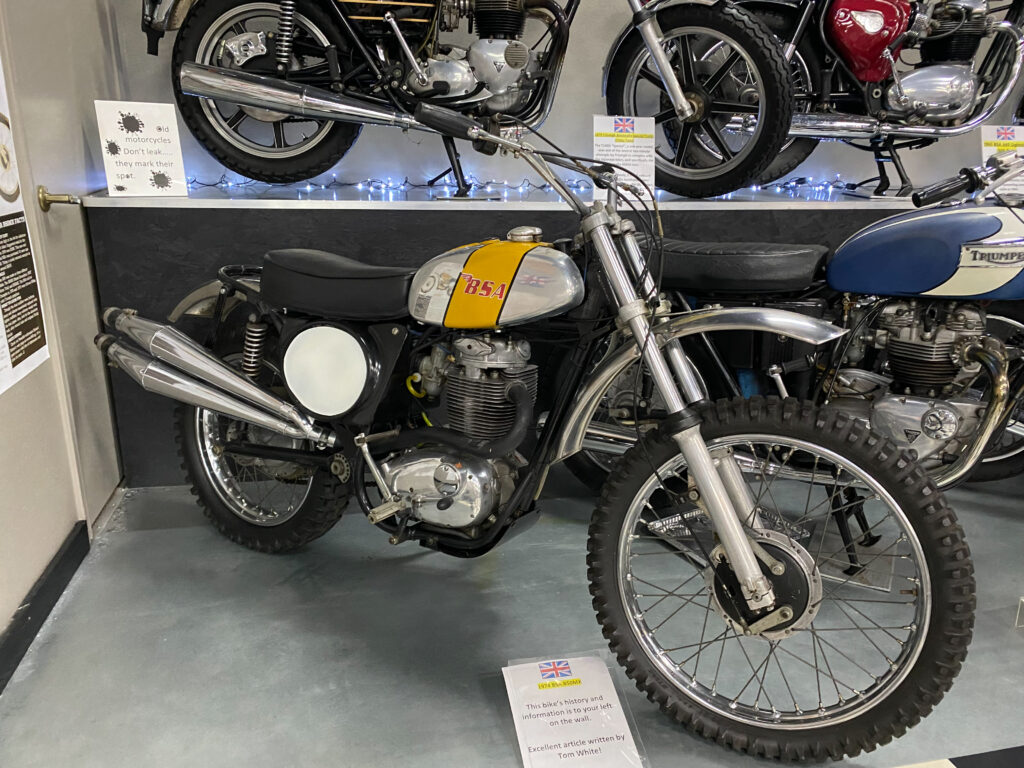 Moto memorabilia: There is so much more than motorcycles to see in the museum. Heck, you could spend a day uncovering all the memorabilia between the bikes. I know I'll be back for another visit.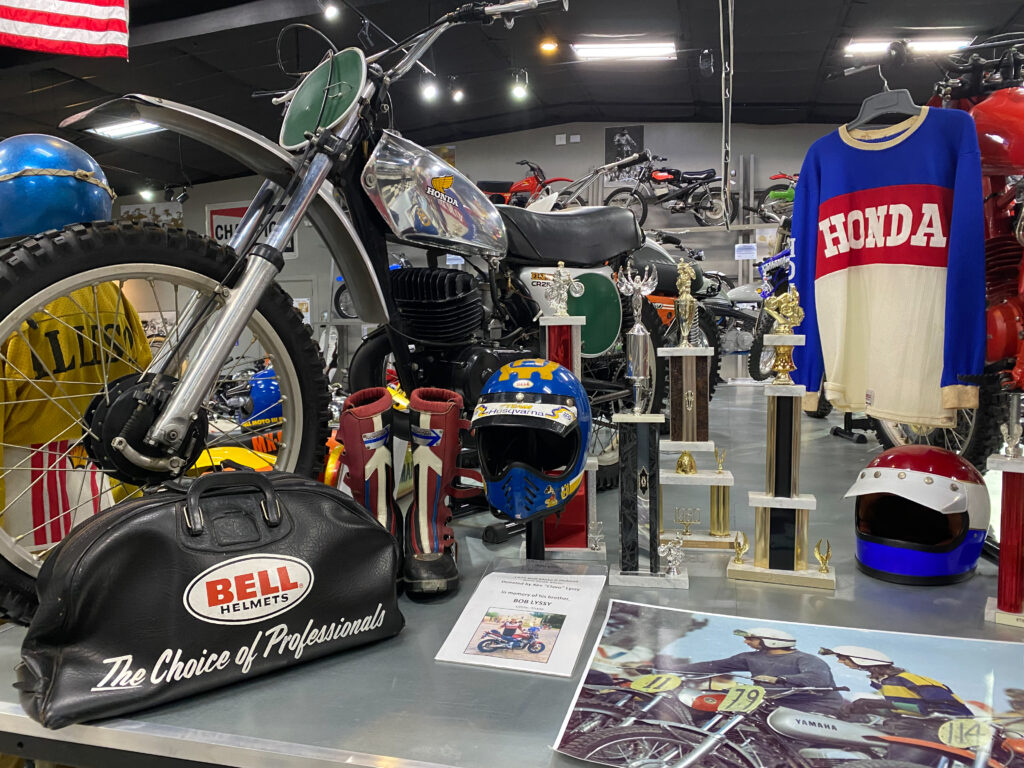 Another row: Just when you think you've seen it all, there is another section. I'm not complaining.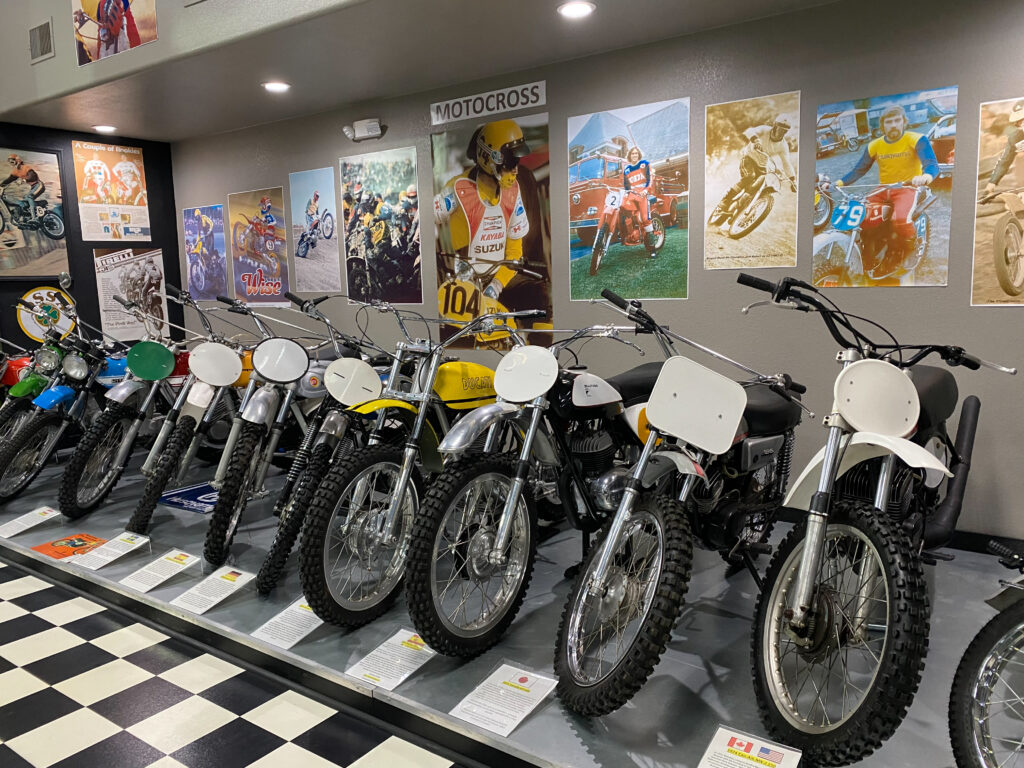 Kindred spirit: I lucked out that the museum owner/curator Pat Hanlon (left) was in the house and graciously shared a lot of his time to show me around his museum. If I had the determination (and resources) to assemble a motorcycle collection, it would look just like Pat's. But since he did it, I don't have to. Thanks Mr. Hanlon. (Photo by my chauffeur, Lance Sallis).