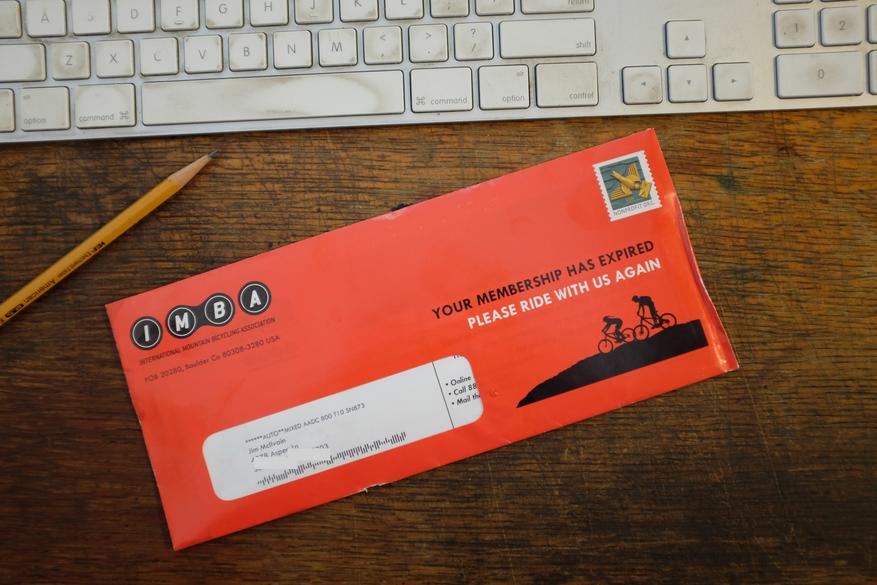 I feel the International Mountain Bicycling Association has recognized motorized mountain bikes as a category of mountain biking and I don't want to fund that direction. Instead, I donated directly to a local trail organization (and continue to donate to regional trail organizations when on road trips). My reasoning to leave an organization that has done so much good for mountain bikers? Read on.
EROSION of HUMAN MOTION
The International Mountain Bicycling Association (IMBA) has stated that "riding e-bikes on natural-surface trails is not mountain biking. Further, we state that e-bike regulation for off-road travel should fall under motorized land management policies and rules." I agree with that position. Problem is, this quote was lifted from a 2011 statement and since that time, IMBA has strayed from their position.
The first warning signal appeared in 2014. IMBA published a preposterous position by Chris Bernhardt that, as best as I could decipher, theorized electric motorized mountain bikes could be a good thing on trails because they might help reduce the popularity of Strava (an App that tracks a rider's speed and compares it to others among other features). Like Cliff said in the movie Lone Star, "It's always heartwarming to see a prejudice defeated by a deeper prejudice." Weird.
Next was in the summer of 2015 when IMBA announced they were conducting a study in partnership with two powerhouse bicycle trade organizations (who sell electric-powered mountain bikes). My heart sank. Even if IMBA's study was funded by the trade organizations (not my dues as they were quick to point out), they were using existing personnel and they were aligning themselves with motorized mountain bikes. It was around this time that I noticed IMBA using the sanitized "eMTB" abbreviation for electric motorized mountain bikes.
September 2015 IMBA releases "early data on impacts of eMTB use on trails." The "sneak peek" was just months after the study was announced. That is not enough time to obtain legitimate data, but it was just in time to put a favorable spin on electric motorized mountain bikes for a major trade show.
Another questionable IMBA move was to publish trail etiquette for electric motorized mountain bikes. Funny, I don't remember trail etiquette guides from IMBA for motorcyclists, hikers, ATV'ers or horse riders. So why for electric motorized mountain bikes? That seems at odds with their position that "riding e-bikes on natural-surface trails is not mountain biking."
The final straw is when they used my dues to share a "Guest Blog" to their membership in December of 2015 from an electric bike trade organization. The information, pertaining to California's Vehicle Code changes, was totally inaccurate. This was corrected by "pliebenberg" on May of 2016 in the comments section; six months after IMBA  disseminated the inaccurate info. Can I add one more to pliebenberg's corrections? The term eMTB doesn't exist in the California Vehicle Code. That's something the author and IMBA use.
IMBA or EMBA
Sorry, but you lost me IMBA. You may be on the right track for your organization by embracing motorized vehicle use on multi-user trails but I'm not going to be one to fund it for you. I don't have a warehouse full of electric motorized mountain bikes to sell and I'm not trying to generate income from a new user group. I'm just a guy who loves riding his mountain bike. IMBA's decision will limit where I can ride in the future.
So what did I do with my IMBA membership fee? I took the money (plus a little more) and made a direct donation to my local advocacy organization, CORBA. The donation was not a membership to CORBA because then they'd have to pay an IMBA tax (or maybe I should say EMBA, the Electric Mountain Bike Association). Instead, all my donation goes to a group who is looking out for my best interest instead of an industry's best interest.