Sometimes you just gotta know the right people and be in the right place. The right place was outside of Bristol, England and the right person was Chris Monk. I met Chris when he traveled from his home in England to attend the U.S.G.P. at Carlsbad Raceway. Don't remember the year, but it was a long time ago. We've never lost contact.
A visit to see Chris was part of our recent hot lap of Great Britain, Scotland and Wales. Chris welcomed us and immediately suggested we visit a friend of a friend who was rumored to have an impressive motorcycle collection. We had no idea what lay in store for us. I'm still in disbelief.
Come take a tour through what is the most amazing, unexpected and sacred motorcycle and memorabilia collection I've seen to date. Click on any photo to enlarge.
Hidden in plain sight: Dave and Janet purchased their farm 40 years ago after selling a sailboat that they had lived on for decades. Inside the nondescript walls of this decommissioned dairy farm lies a magnificent collection of motorcycles and motorcycle memorabilia. And a few neat cars.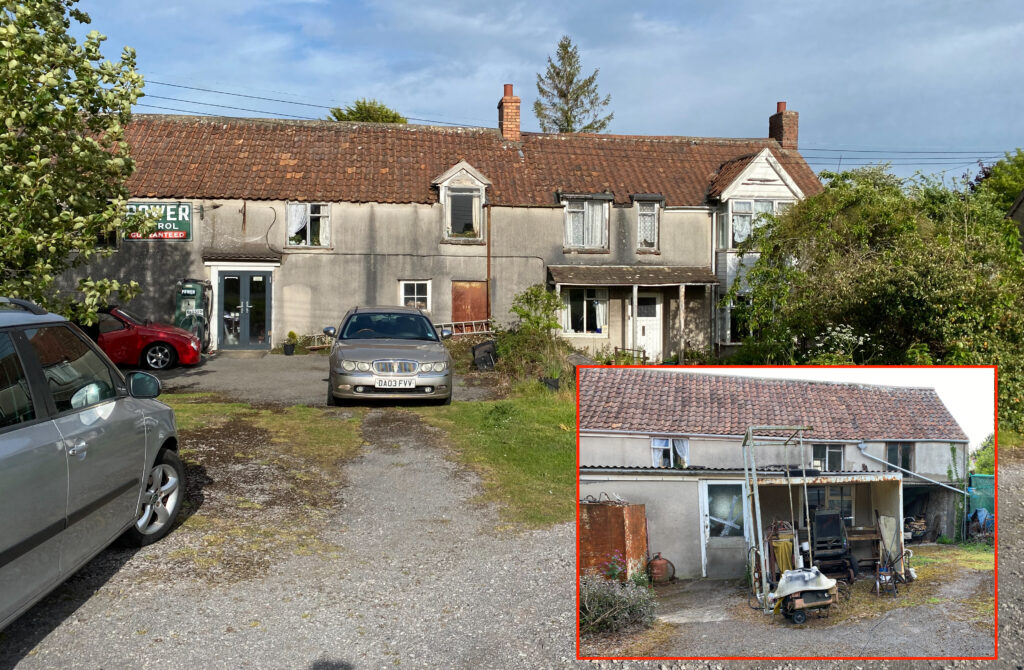 Sound check: Dave began the tour entering the expansive farm house/barn/dairy through a nondescript backdoor. The room's walls were padded and a room within the room had a glass window. I guessed it. Recording studio! An oddball mix included a 50's trials bike, a BSA, a Matchless military bike, a Velocette, a unique Velocette LE scooter/motorcycle and a very pretty golden Ariel take the place of where music used to be made.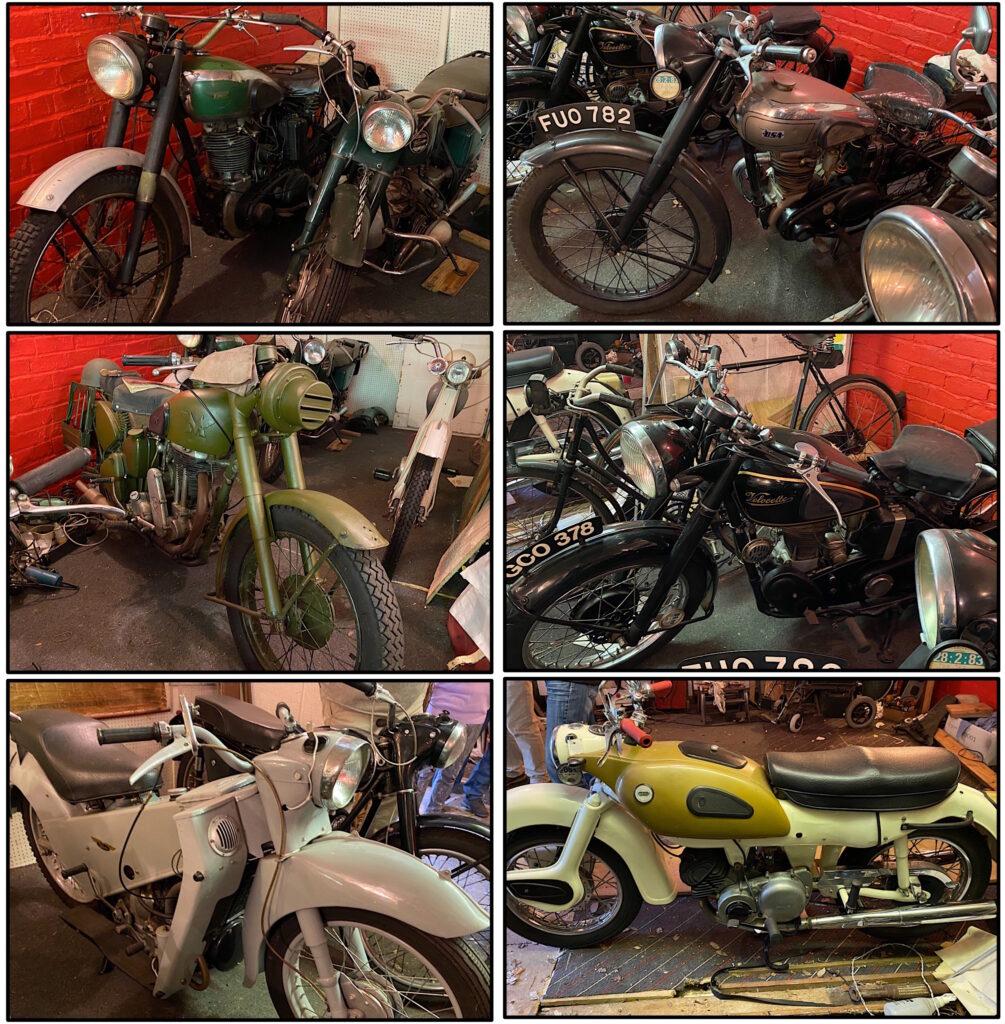 Lone Italian stallion: This is the only Ducati we came across on the tour and I'd love to have this little beauty in my garage. Most of Dave's collection have owners manuals, service manuals and documentation right there on the saddles. He sticks mostly with British motorcycles.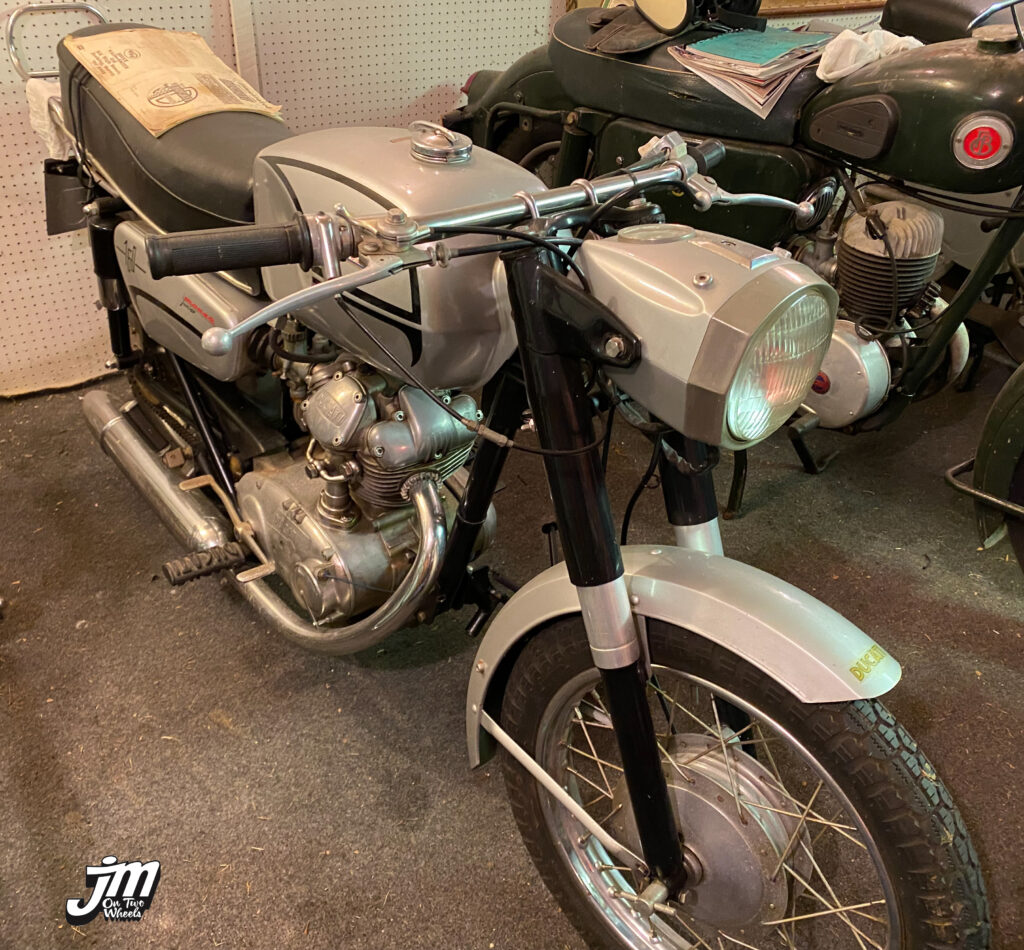 Flying high: I'd never seen a Francis-Barnett Falcon and I'm guessing this is a late 50's model. Everything sitting on Dave's motorcycles (like that helmet) have a story behind them. We just didn't have time to listen to every story.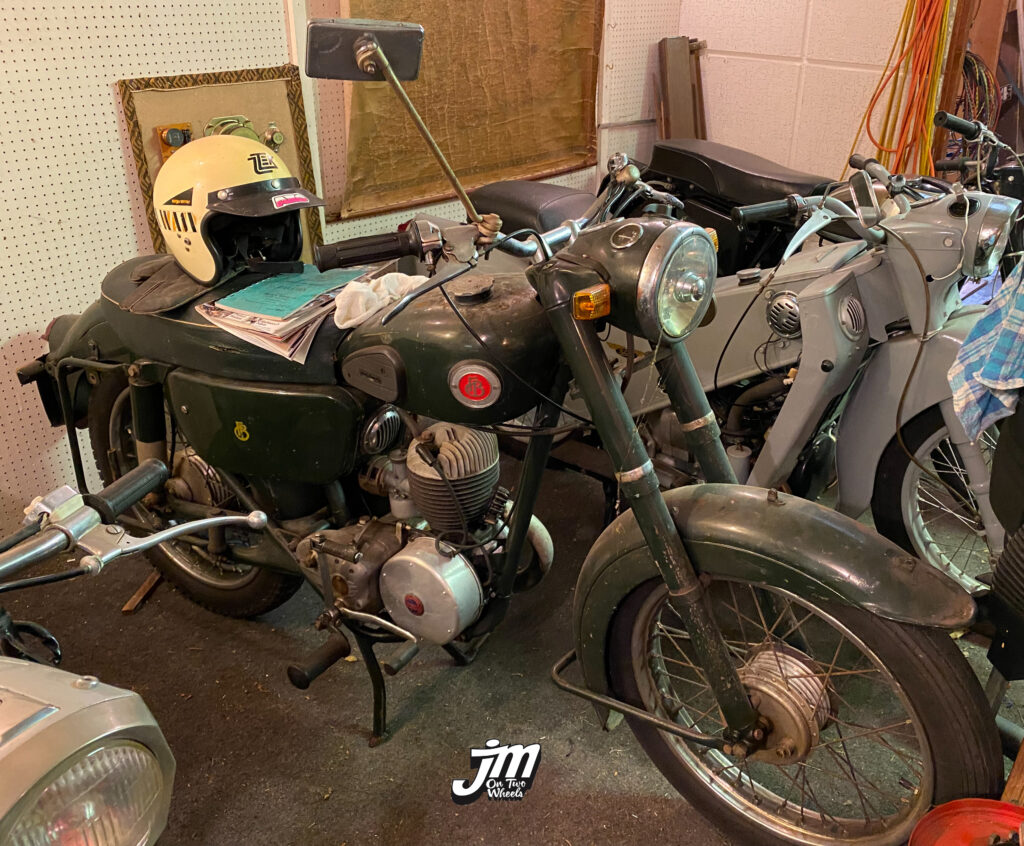 Moving right along: Dave had more. While walking from the somewhat sanitary recording studio through a long garage between buildings, we knew our adventure was just beginning. That first room was nothing more than a tease. We had just scratched the surface of Dave's collection.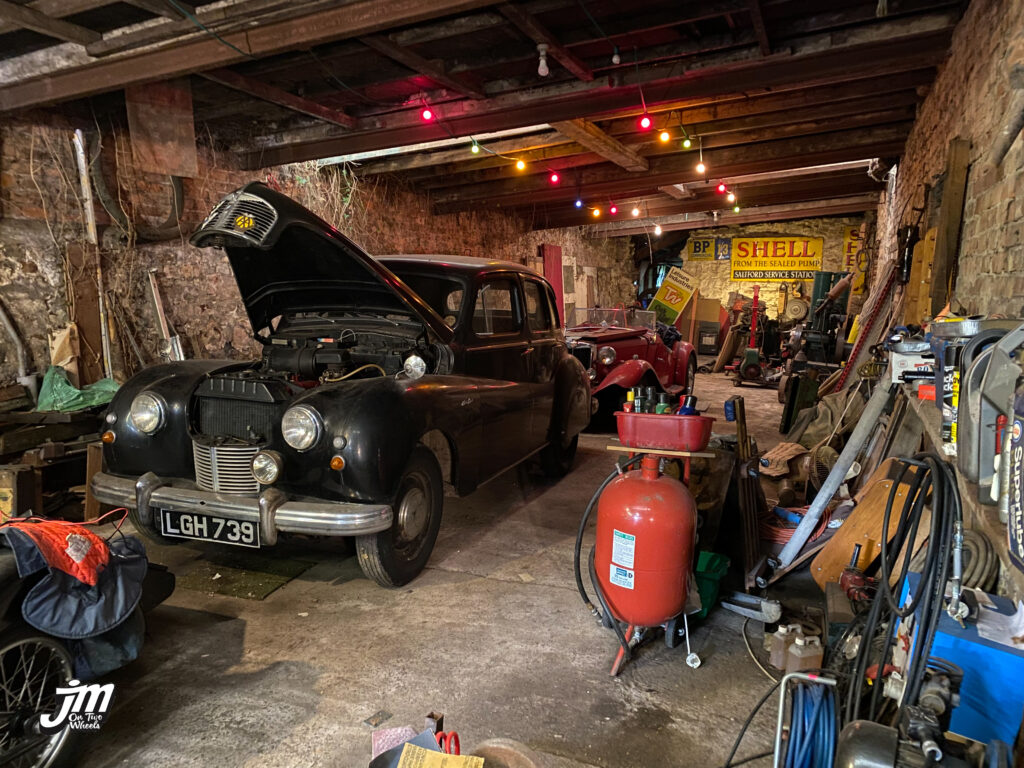 Next level: Dave, Gail (my wife) and Chris Monk (left to right) admire a motorcycle sitting behind four other motorcycles. Each room we entered had more motorcycles and memorabilia. Dave has a collection of unobtainable tools that he uses to work on his stable. His wall art and signage alone are worth a small fortune.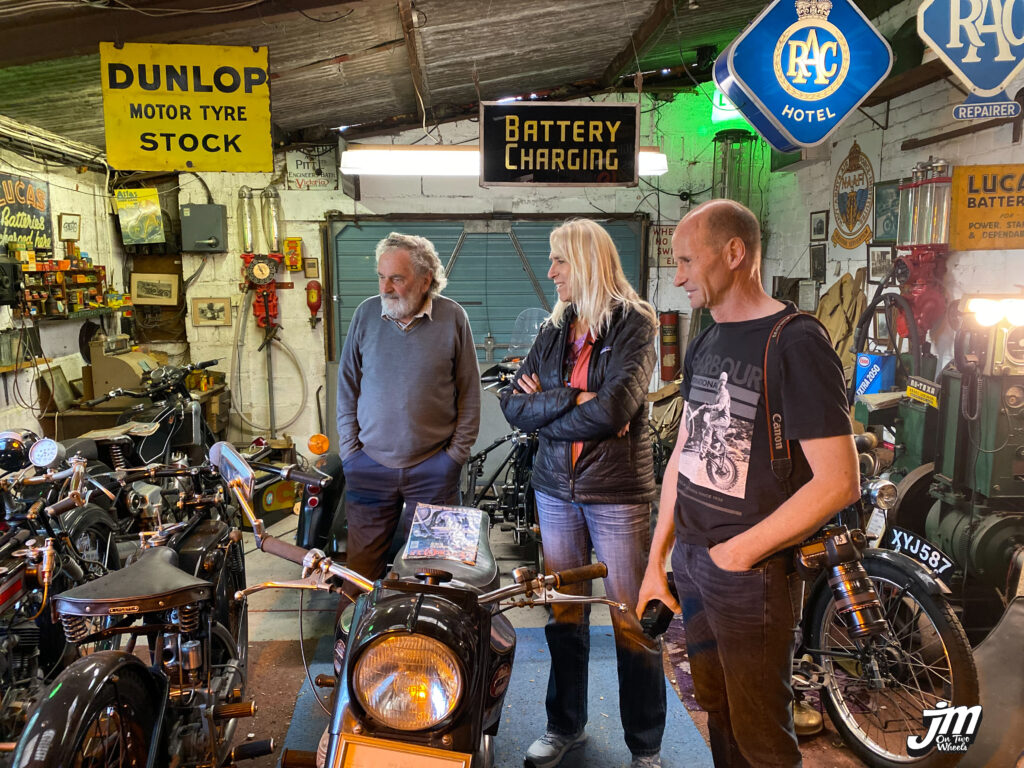 Take a spin: Many vintage collections are restored to better-then-new condition. The bikes end up looking like models or toys. Dave's motorcycles are authentic, old, and ride-able. There is nothing that Dave enjoys more than buying back a motorcycle he sold years ago. "I know it was put together properly."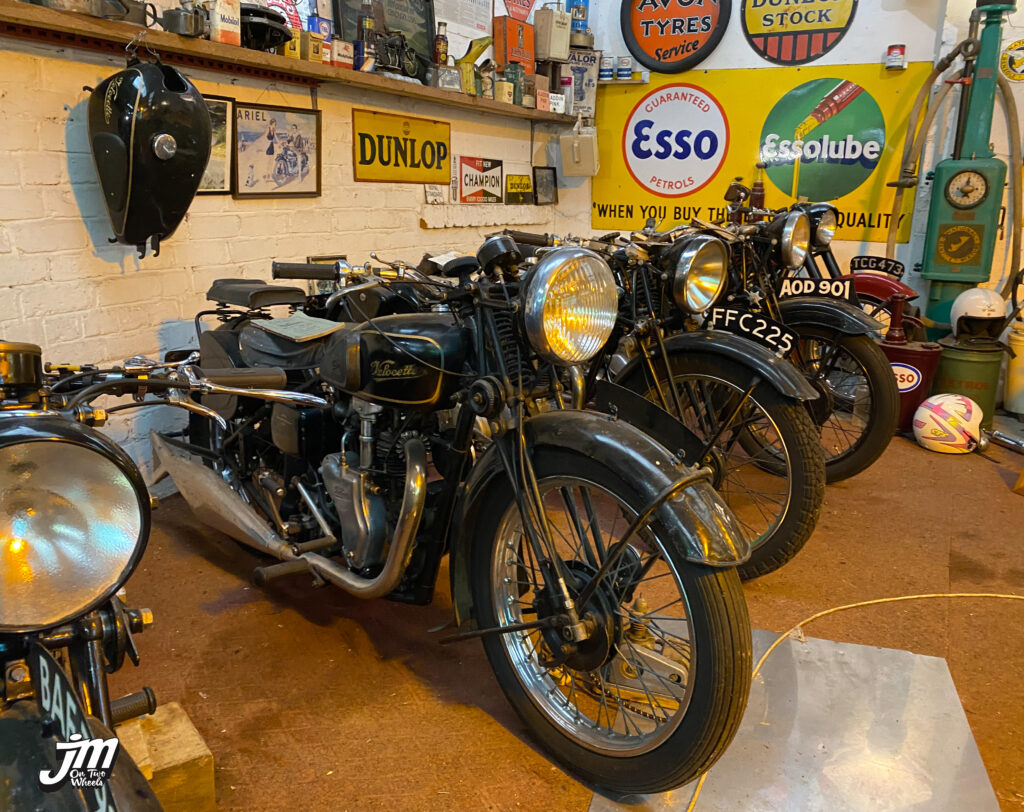 Overstimulated: A Douglas (with a super cool front brake) covers two Nortons. There was so much to take in that I know I missed a lot. Maybe I can visit again next year if I can get my Isle of Man trip together.
And in this corner: A wonderful Ariel that looks like it has only been ridden 25 miles since it was produced.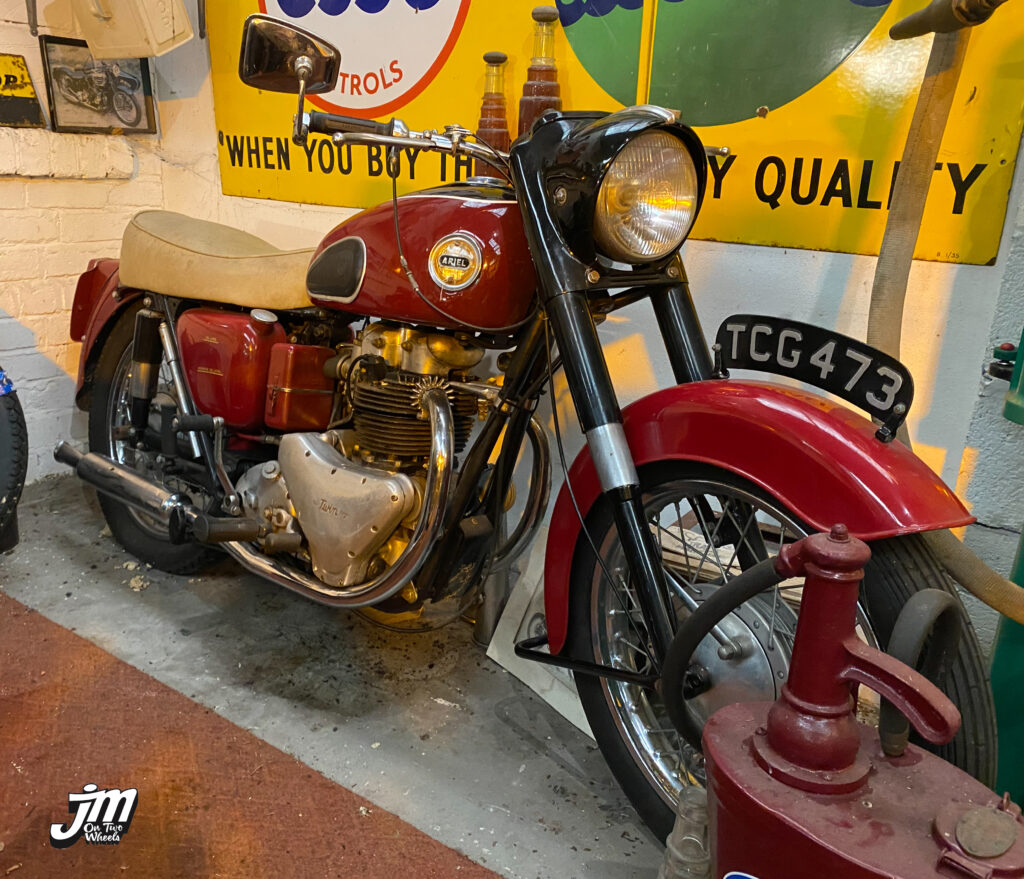 Missed shot: While looking at my photo of this clean Velocette (with the art deco muffler) I notice I missed the AJS right behind it. The collection is so plentiful and tightly spaced, it was easy to miss some of the attractions.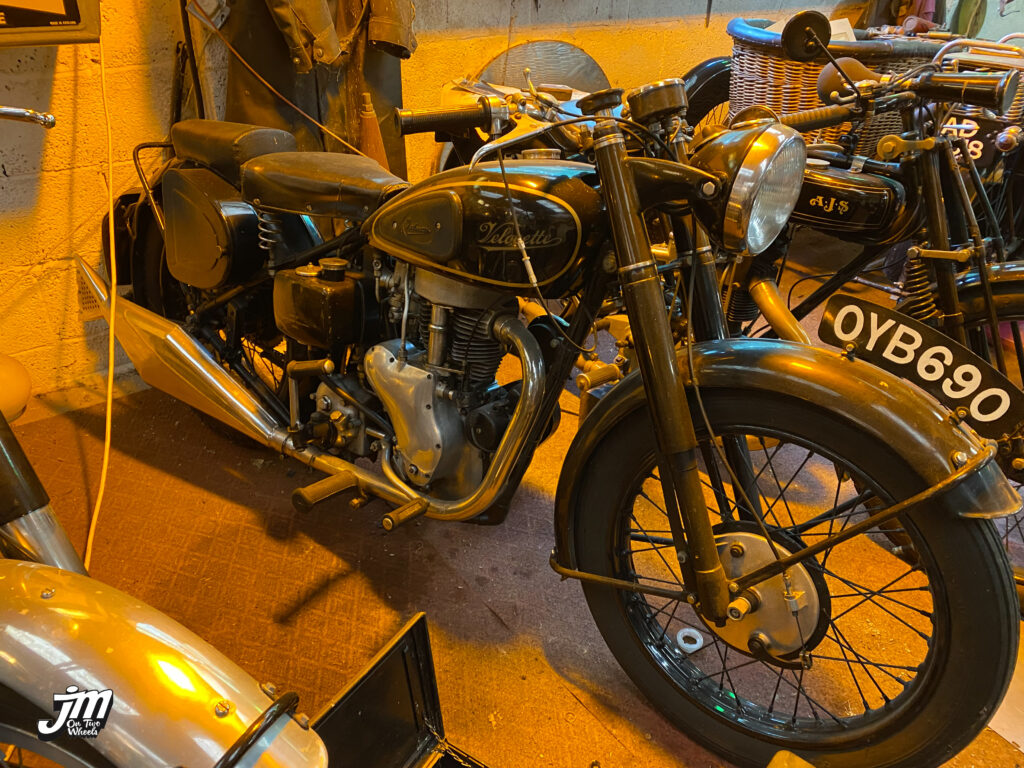 Top of the class: The British army had four openings for specialty motorcycle riders. Dave was one of over 100 riders who applied. His mom sent the commander all the clippings she had kept of Dave's riding accomplishments. He got the assignment. "The army went from the worst job in my life to the best job in my life after that commission," remembers Dave today.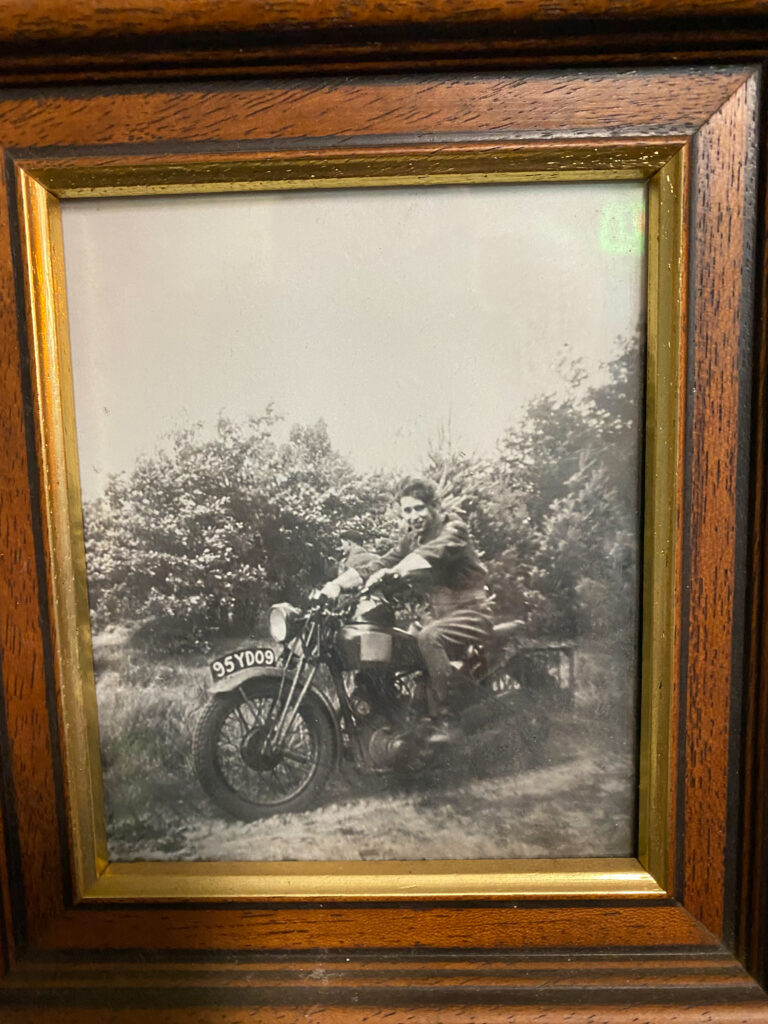 Great Scott: I'm guessing here but I believe this is a Scott Flying Squirrel. The Suzuki GT750 2-stroke borrowed some design cues from this motor. A rare beauty.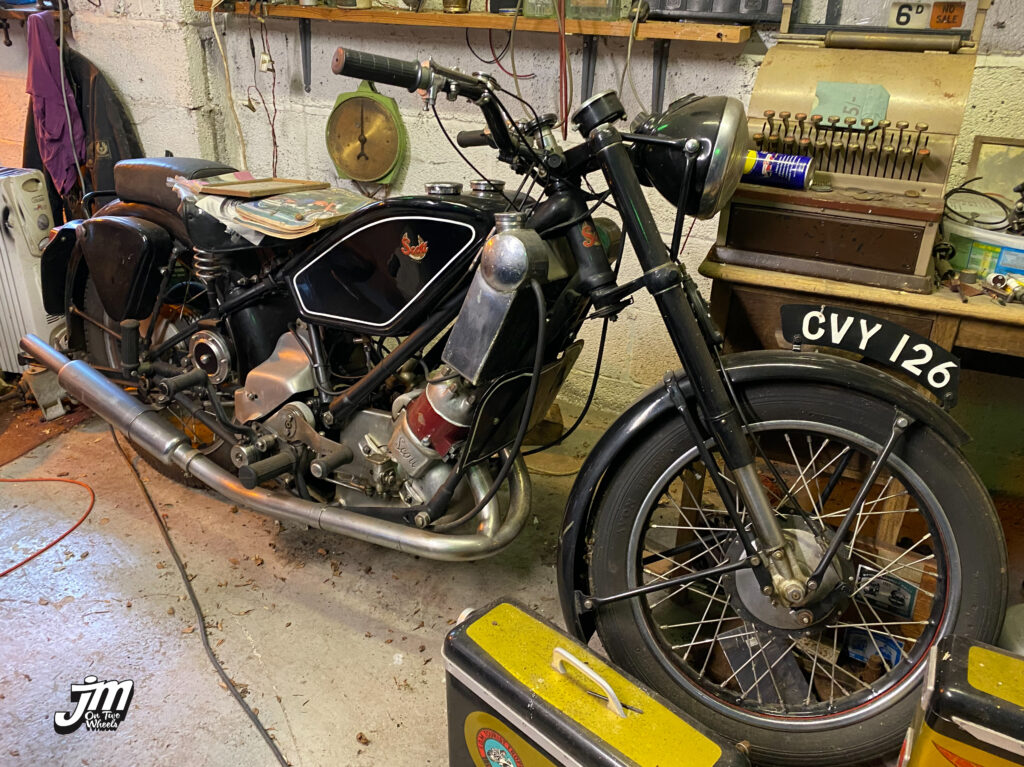 Wall of fame: Tire repair kits, spare parts never opened and Lucas electrical parts, all made before I was born, grace the walls of the catacombs. I don't know how you could begin to put a value on this inventory.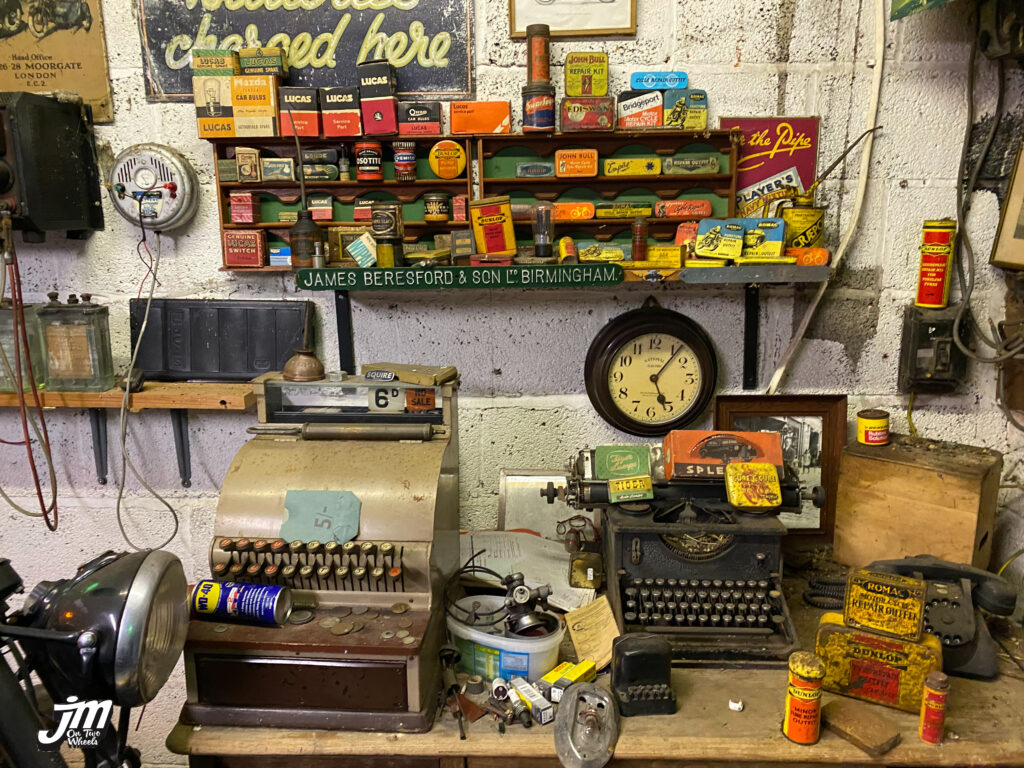 Overwhelming: This is just one room in the seven-room maze of motorcycles, memorabilia and mysteries. Three weeks later, the impact of seeing this collection has still not fully sunk in.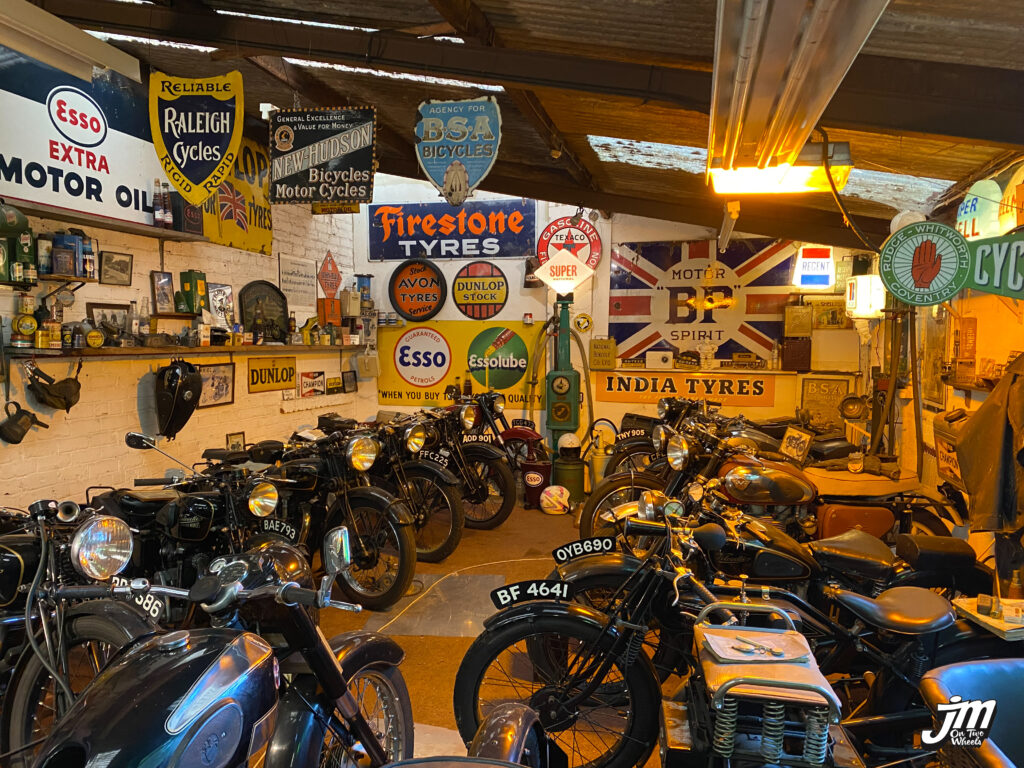 Early moped: The Excelsior Autobyk looks like a moped and was in production just before World War Two. They started production again after the war and the Autobyk proved popular with the British populous trying to get back on its feet.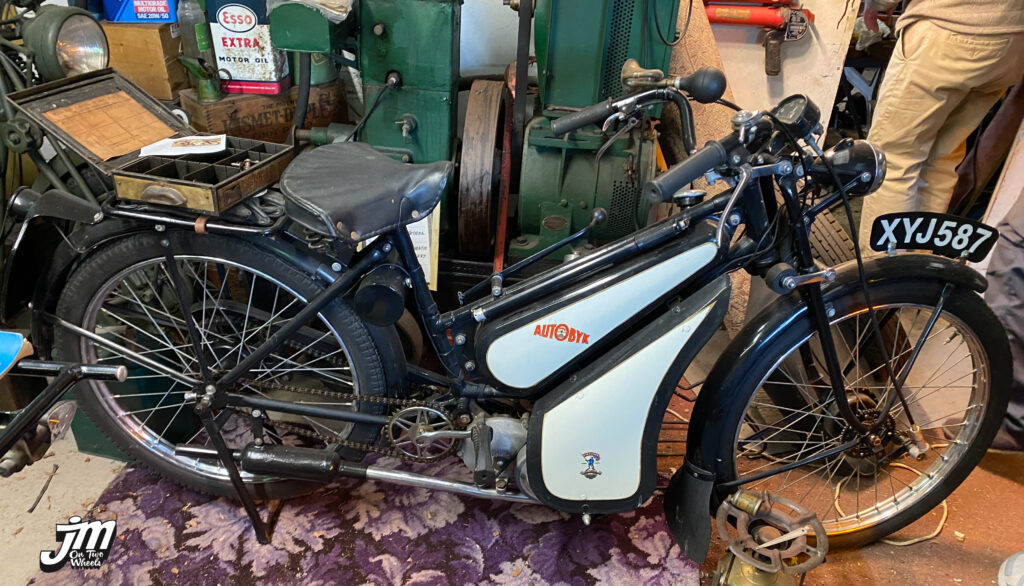 Another level: As we made our way through the maze of rooms, the bikes became more familiar. I think we were up to the 50's and 60's by now.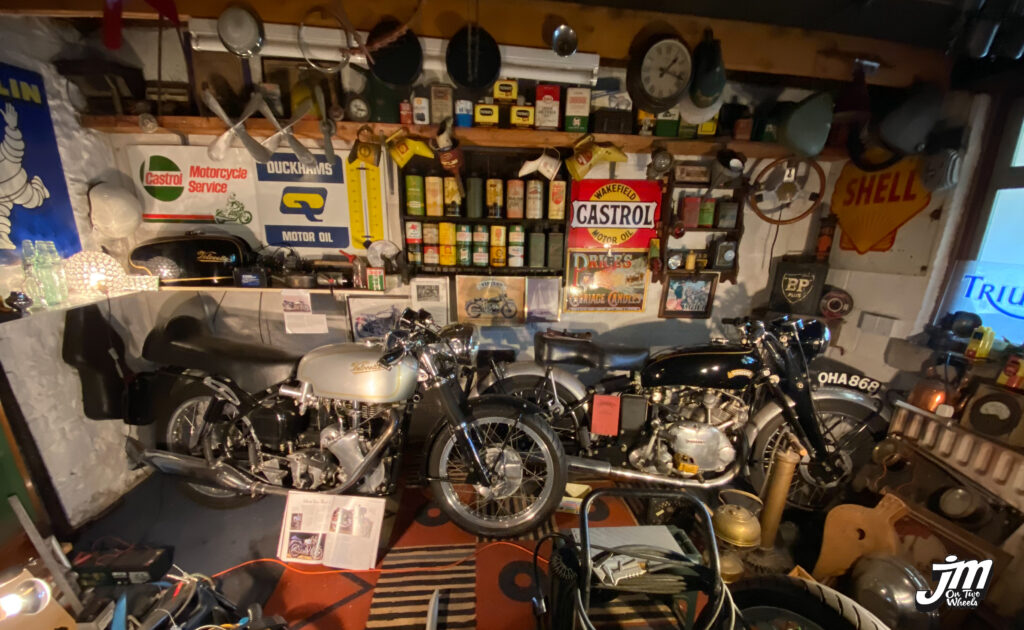 Triumphant exit: Closing in on the last room brought us to Dave's Triumph collection. The oil in the bottles on the wall is how oil used to be sold.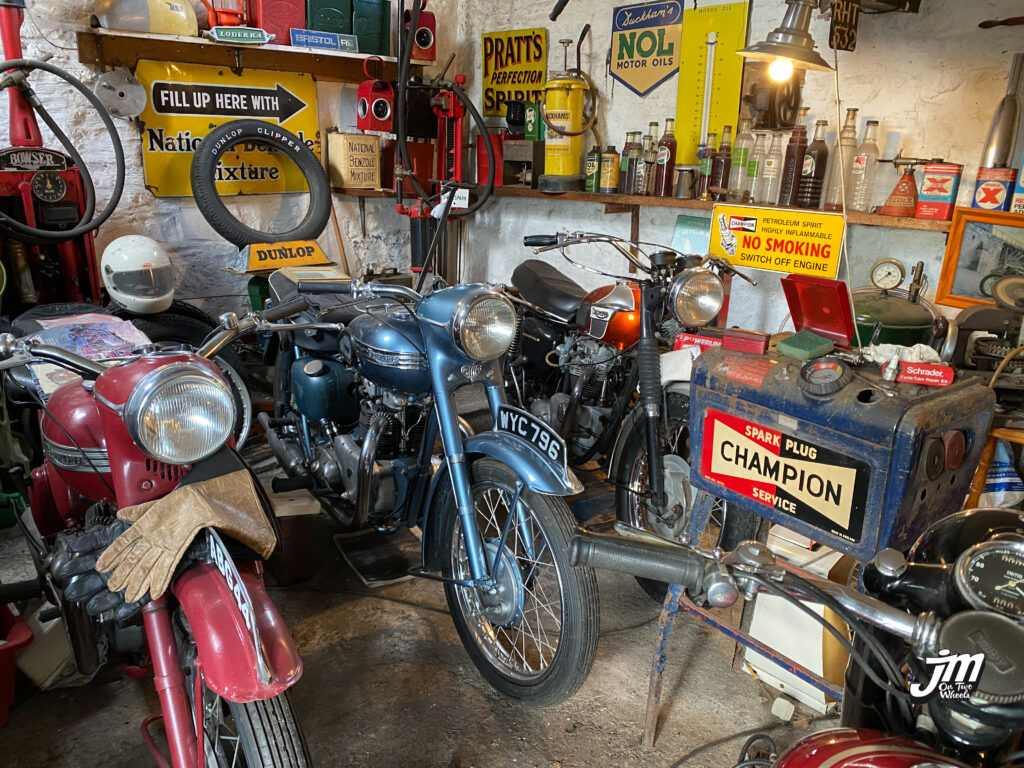 Saying goodbye: It was a privilege to be allowed to see this magnificent collection. This beautiful Norton seemed like an appropriate place to bid farewell and hope a return visit in the future might just happen.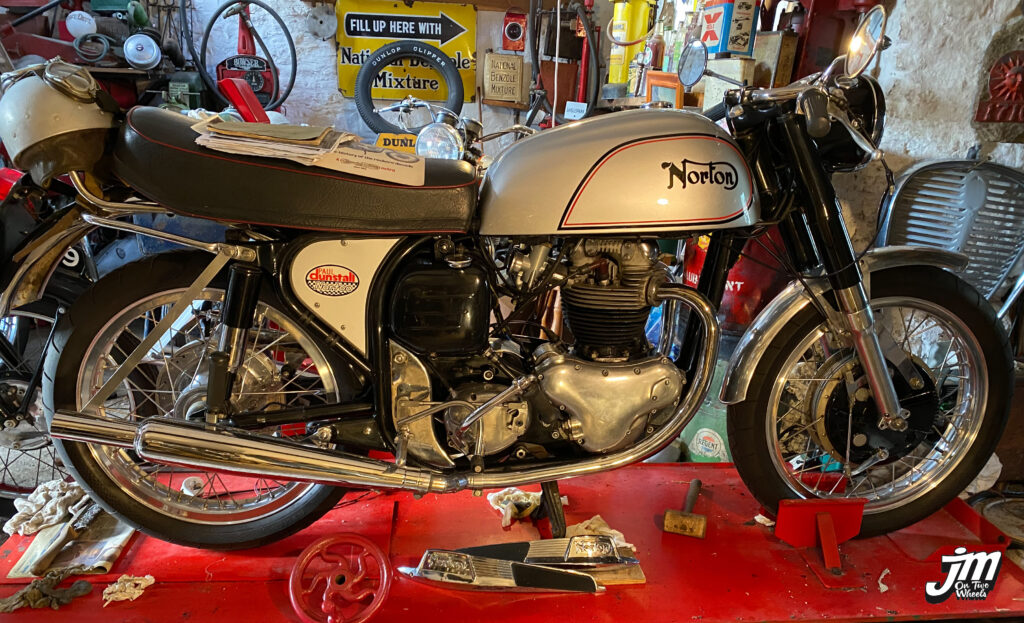 Thank you, Dave: Opening his collection to an American tourist couple was a gracious gesture from a welcoming host. Dave and his wife Janet invited us to come visit anytime. We are just going to have to take them up on that.