Motocross ranks a close second behind cycling as Belgium's favorite sport. Eddy Merckx (still considered the greatest road cyclist of all time) ranks as the top Belgian sports celebrity followed closely by Roger DeCoster and Joel Robert. When Joel won his first 250 World Championship, it was only natural that a cycling cap be printed with his likeness and the world championship stripes. These caps may be plentiful in Belgium, but they are a collectors item here in America.
To my surprise, there was a Joel cycling cap offered at the Trailblazers Banquet silent auction. There were bids in the $100 range but with the encouragement of friends ("You want it, get it." and "You only live once.") and because it is a good cause, I decided to go for it.
With less than 10 minutes left to the bidding, I bid $200 and figured the deal was done. Coming back to get my prize, I found that the owner of Motion Pro, Chris Carter, had snatched it from my hands with a substantially larger bid (at least he didn't insult me with something like a $205 bid). Hey, it is for a good cause but I still told Chris that I couldn't believe he stole it from me.
A few minutes later, Chris presented me with the cap as an early birthday present (I turn 70 in July). I graciously accepted before he had a chance to change his mind.
The epilogue: I know Chris has a signed Martini jersey presented to him personally by Joel Robert following a race in Northern California when Chris was still just a teenager. This hat belongs next to that jersey in Chris' collection and it will be. Just let me savor it for a month or so and then I'm donating it back to awesome Chris Carter.
Unanimous response: When I tell this saga to friends, they all have the same comment: "That's Chris Carter." The man, here with his wife Karen, has the rep as a generous and supportive friend. I certainly can't argue that.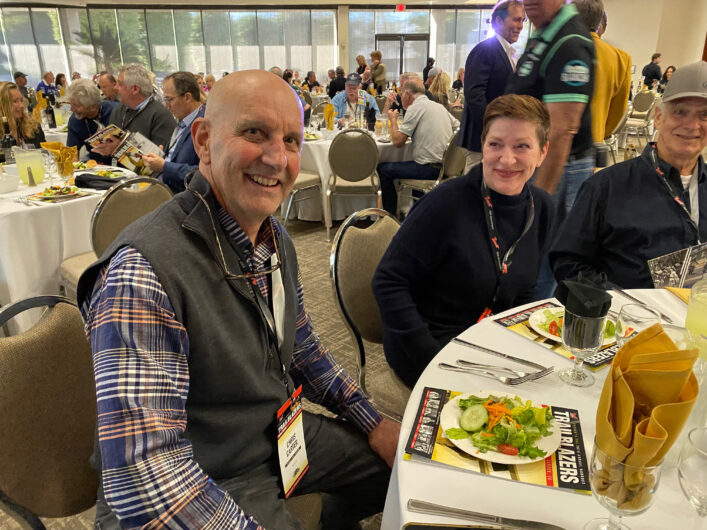 Stopped in my tracks: There were plenty of great items offered in the silent auction, but the Joel hat was the only thing I was ready to spend big bucks on.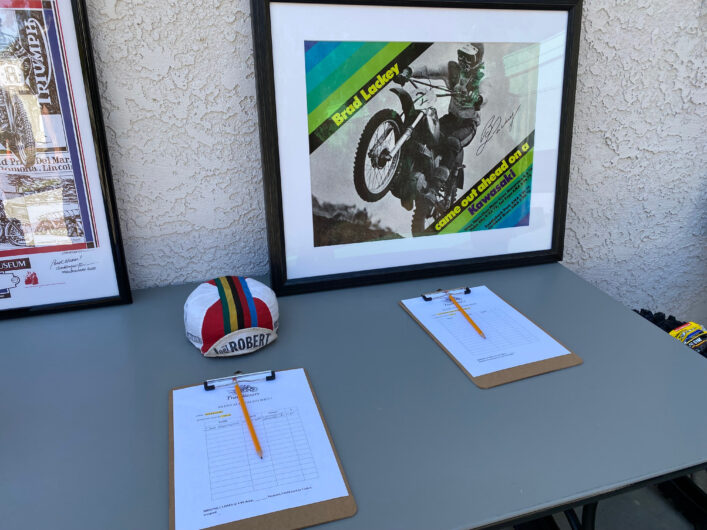 In the collection: This is the jersey already in the Chris Carter Collection. The hat will compliment it perfectly. By the way, if you buy any motorcycle tool that doesn't say "Motion Pro" on it, you are getting a second-rate product.