The first Trailblazers Banquet took place in 1940 (a few years before I was born) so I can't claim that the 2023 event was the best ever. I can say without a doubt that the April 1st event was one for the record books. There are a lot of reasons why.
The Trailblazers Banquet, the brainchild of A.F. Van Order, is an excuse for retired (and active) motorcycle racers, industry members, veteran motorcyclists and super fans to get together for the best bench-racing night of the year. The popular event sells out a few days after ticket sales are announced. It doesn't hurt that the event is held in Carson, California, close to the center of the motorcycling universe.
The Trailblazers also use the banquet to induct new members into their Hall of Fame. Now, I've attended "award ceremonies" that are boring, drag on too long and have every attendee swearing they will never go to another one. Not the Trailblazers. They do it right. The inductees are picked from a diverse group of racers and individuals who have left a sizable impact on the sport of motorcycling. Each new-member induction begins with a personalized video that serves as a mini-documentary and tribute to the inductee. The night's Master of Ceremonies, the Trailblazers' Executive Director/President Don Emde, keeps the program moving along. The event is paced perfectly.
Finally, a big shout out to all the Trailblazers members and Directors. It takes a ton of volunteered time and effort to pull off an event like this and you can tell the Trailblazers are not afraid to put in the required work to keep this event not only alive, but thriving 78 years later.
Cycle News has a great write-up on the event (click here) as does Scott Heibrink's Facebook page (click here). I tried to capture the event in the following photos but they don't do it justice. The Trailblazers Banquet needs to be experienced. Your best chance is to check out their website often (click here) and hope you get a ticket for the 79th event in 2024.
History lesson: Eric Jensen was a kick-butt Husqvarna dealer and that's how I met him. I didn't know of his previous racing success (three ISDE medals) and business accomplishments (the youngest Yamaha dealer) until his induction video. Massive respect!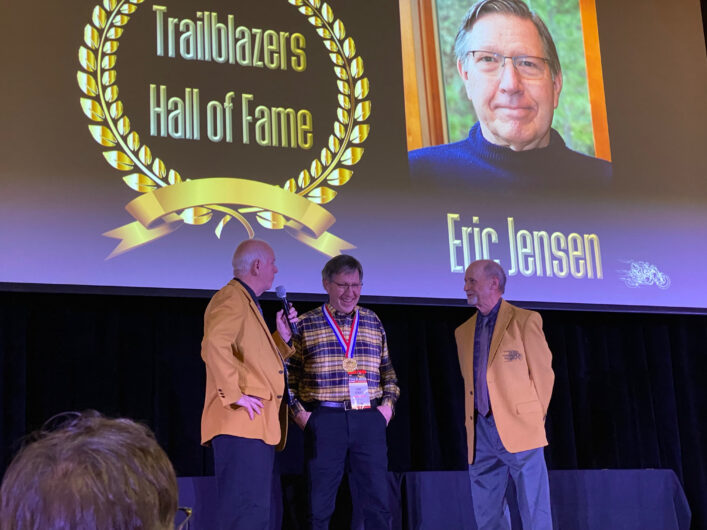 Man and his machine: Former Maico hotshoe, Gary Chaplin, showed off two beautifully restored Maicos. Gary says he has a few more he is massaging back to showroom condition.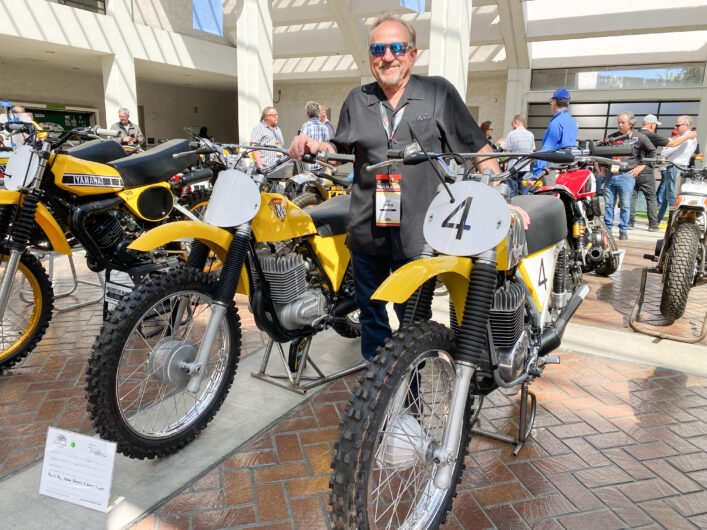 Fast couple: Scott and Debbie Burnworth are responsible for that SoCal Vintage MX Classics and Carlsbad Reunions. They are dedicated to keeping the spirit alive and are always supportive of events like the Trailblazers Banquet. Click here for Scott's Facebook page.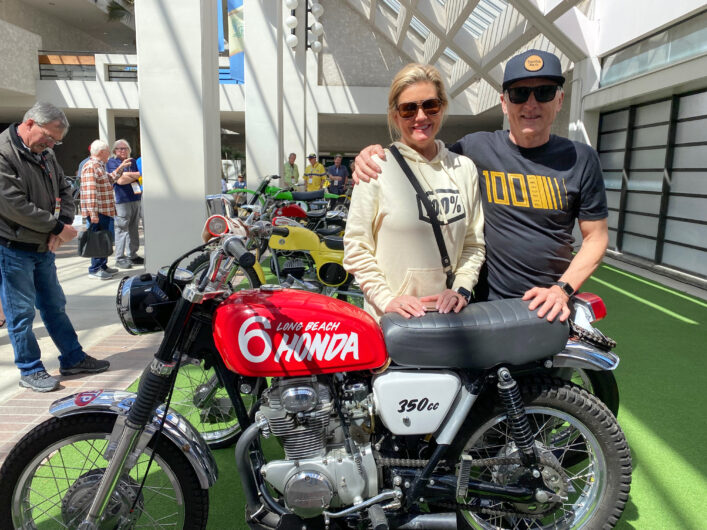 Tribute build: Ron Keefe built this wonderful replica of the Long Beach Honda that won the 1968 NORRA Mexican 1000 ridden by Larry Bergquist, Gary Preston and Bill Bell.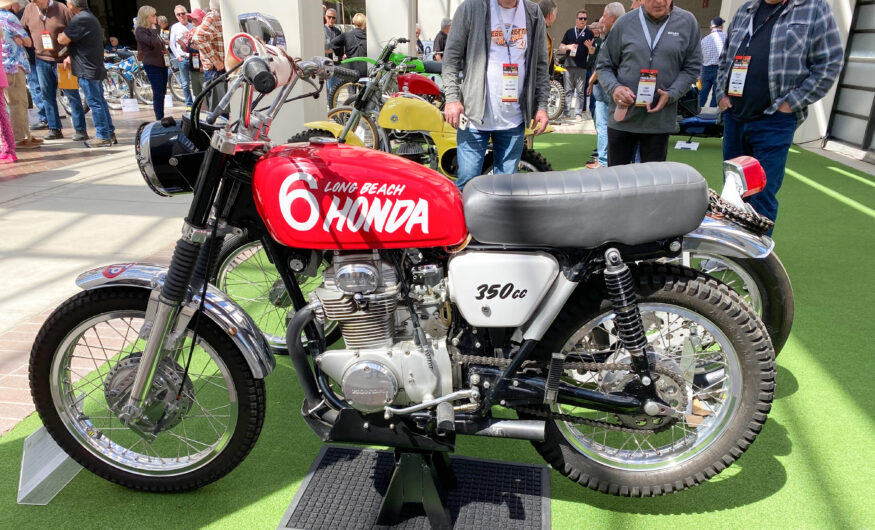 Remember when: The Trailblazers Banquet (and Tom White's Early Years of Motocross Museum Bike Show) is the perfect place to reconnect with old friends and relive those old races.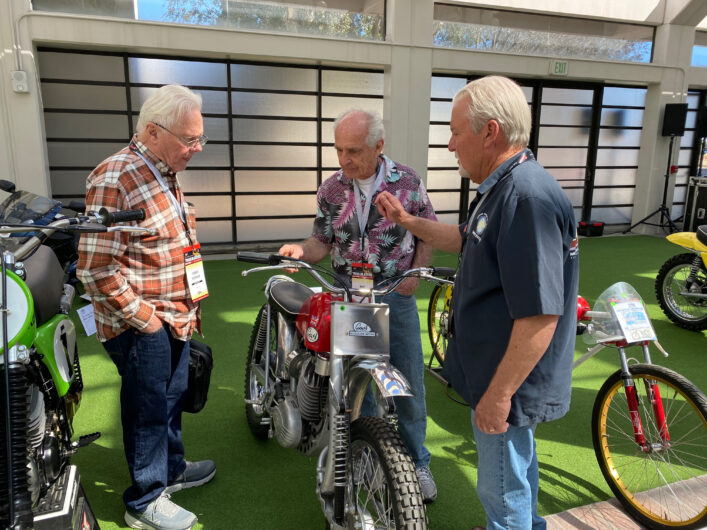 Good folks: Bruce Reynolds (left) of BR Bultaco and Dennis Kanegae, former flattrack racer and owner of 951 Marketing. Check out this video of Dennis from 1972.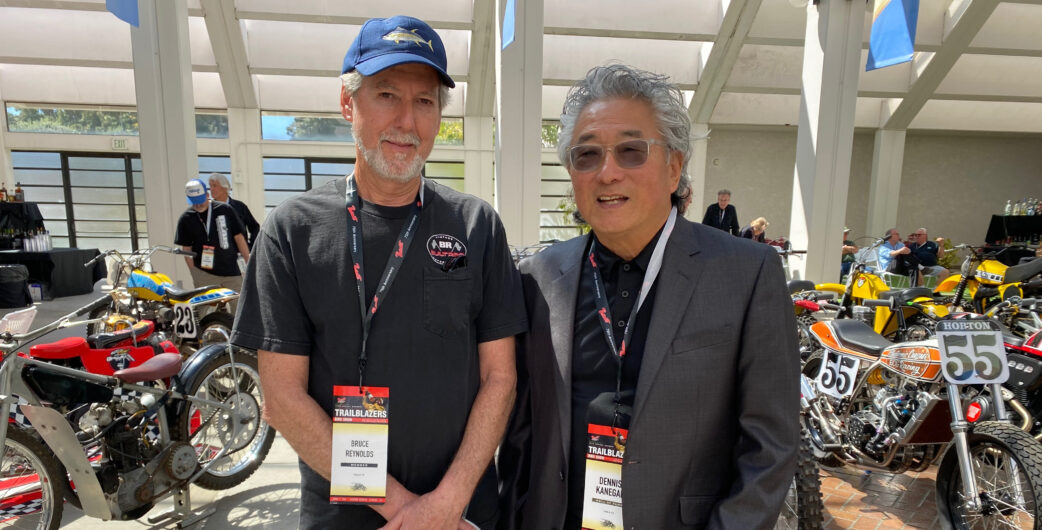 Vintage race bike?: Multi-time Supercross and motocross champion, Ryan Villopoto, had Dallas Nyblod build this 1974 Yamaha YZ250A into a potent vintage race bike. The bike uses a Maico fork, cone pipe, titanium silencer, Pro Circuit motor and a hydraulic clutch.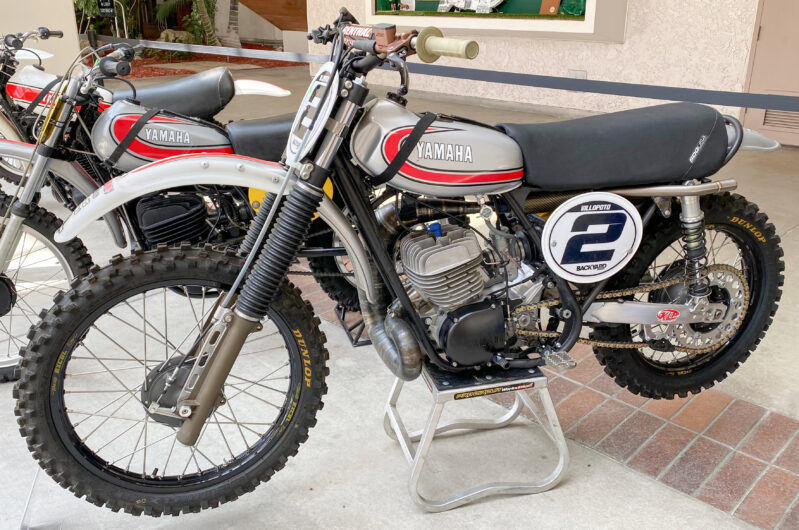 Repeat appearance: I ran this bike last year with builder, Ed Scheidler, standing behind it. This year, I got the bike's owner, Lee Fabry, in the shot. This one-off has to be one of the most-valuable vintage motocross bikes on earth.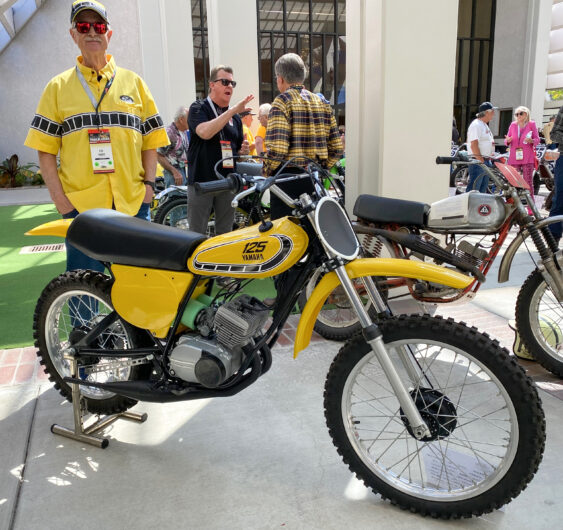 All is forgiven: John Pavich (left) forgives Bryar Holcomb for that time that Bryar parked him at the top of the Baymare Cycle Park's uphill. Or was it the other way around?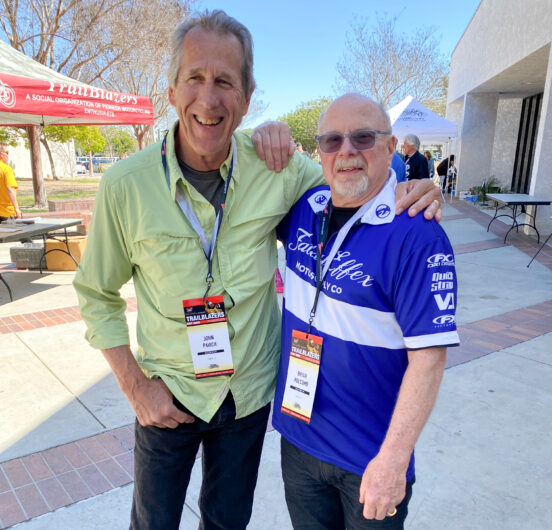 Cal Rayborn lives: Don't know if this is the actual bike or a spot-on replica, but it is a beautiful tribute to the late Cal Rayborn. Ascetically, a racing motorcycle doesn't get any better than this.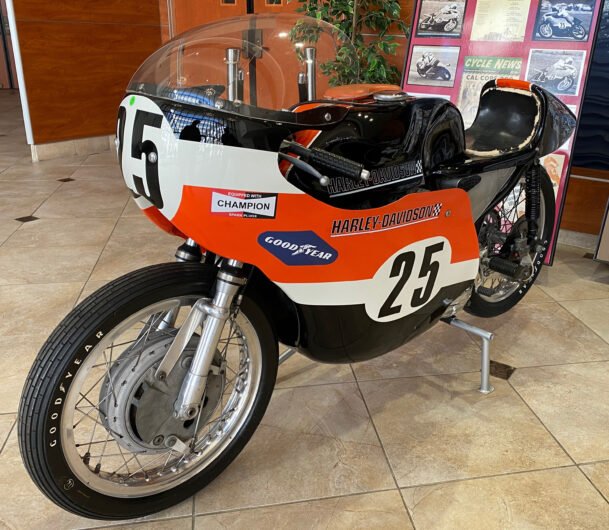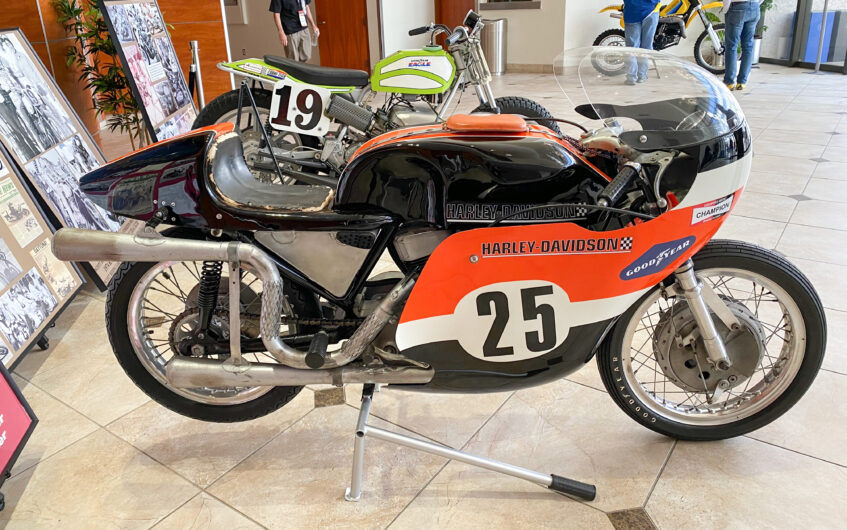 Reunion: Paul Schwab (left) was the parts counter man at Reggie Pink's Motorcycle shop in White Plains, New York, where I used to buy stuff for my Suzuki (1971?). Paul later worked as a sales rep and is an accomplished race photographer. A love of motorcycles has kept us friends all these years.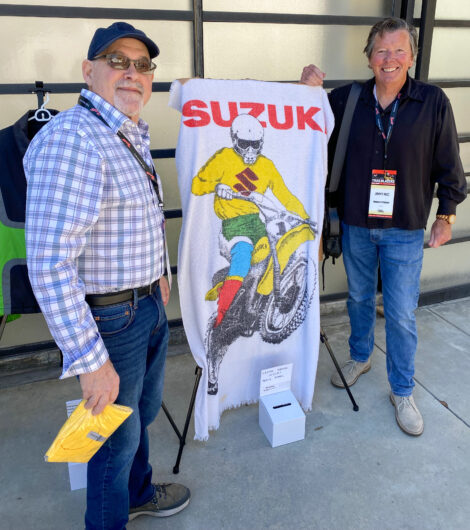 World-Champion inductee: Danny LaPorte was inducted into the Trailblazers Hall of Fame at this year's event. He attended the event with his wife Georgia, reconnected with his Suzuki mechanic Pat Alexander and is still listening to the wisdom of his mentor Roger DeCoster.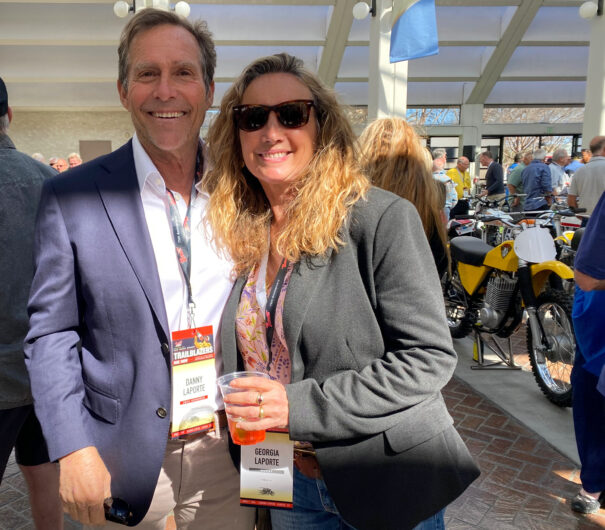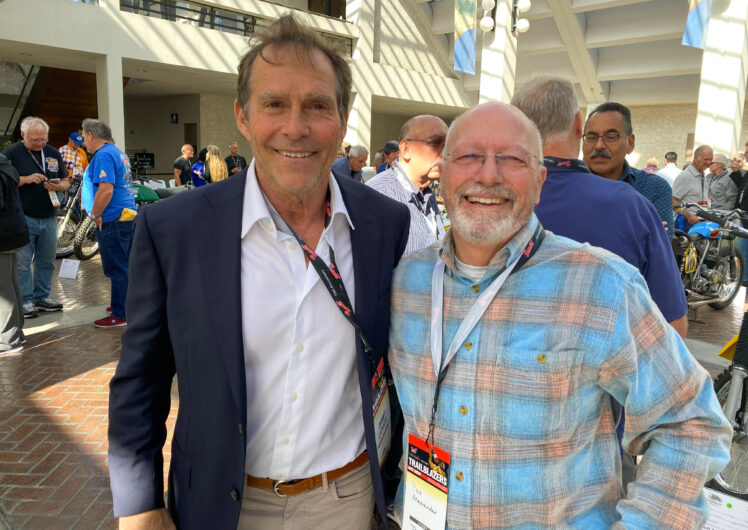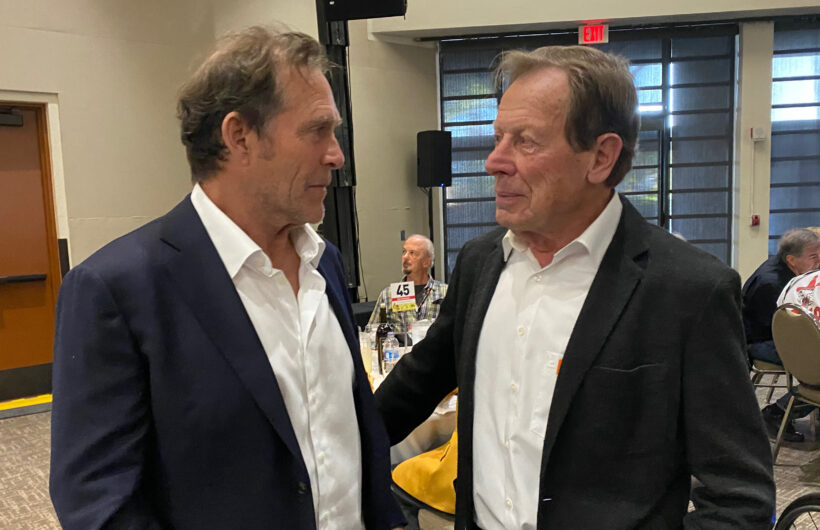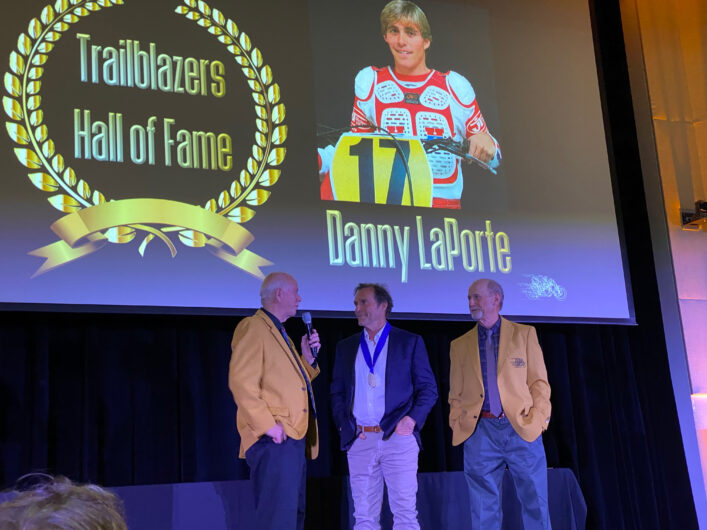 Unearthed photo: Here is a gift for Hall of Fame Inductee Ron Pierce. I shot this photo of Ron in the Laguna Seca pits. Not my best shot, but it has never been seen before.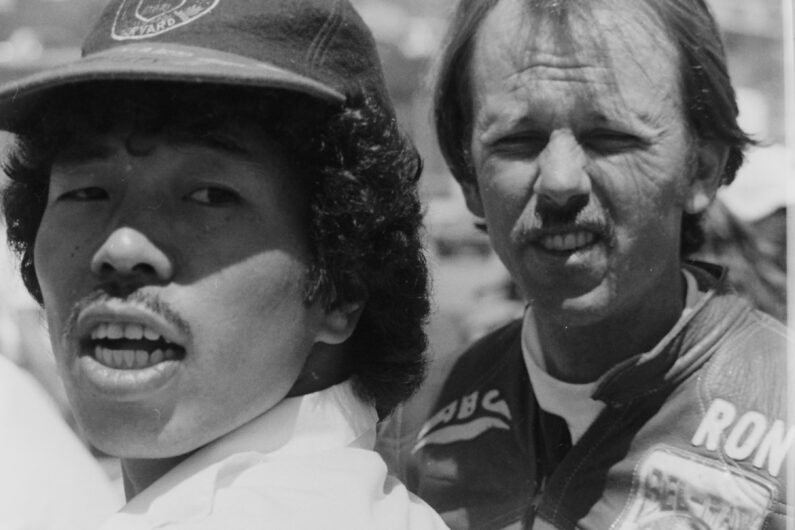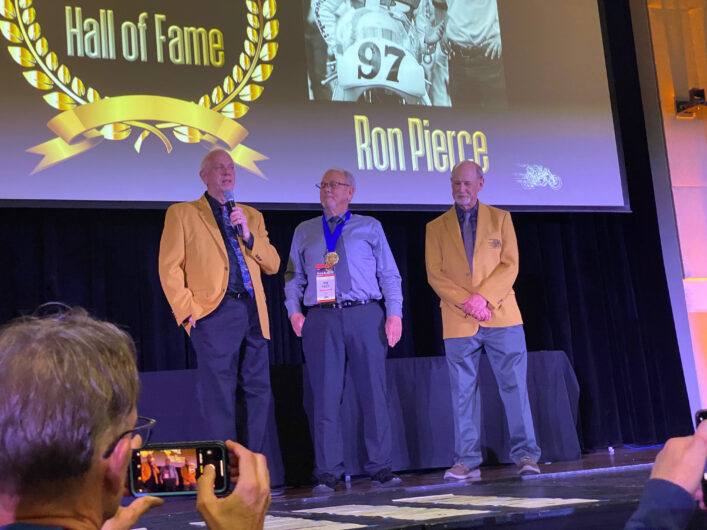 Fountain of youth: Broc Glover proves that motorcycling can keep you young.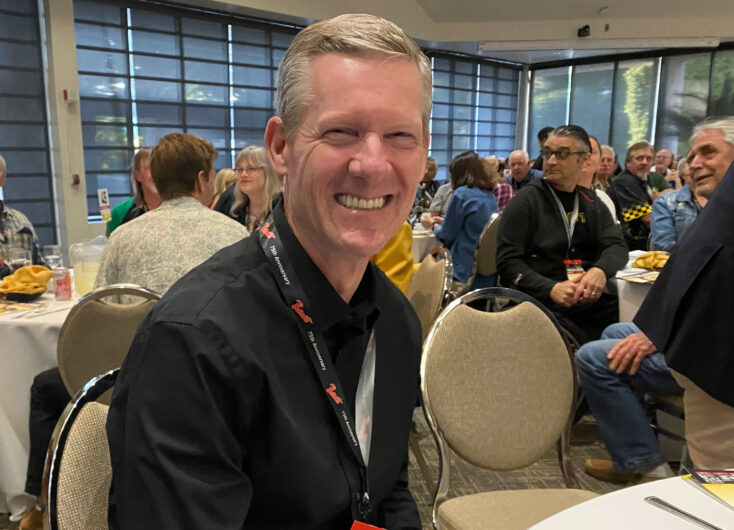 The Lackey Clan: Brad Lackey (sixth from left) got this year's Dick Hammer Award and celebrated with his extended family. The painting on the stage was part of the award.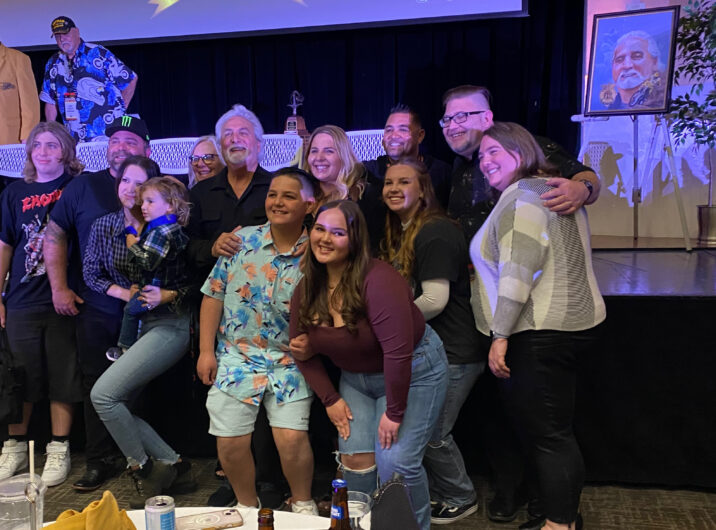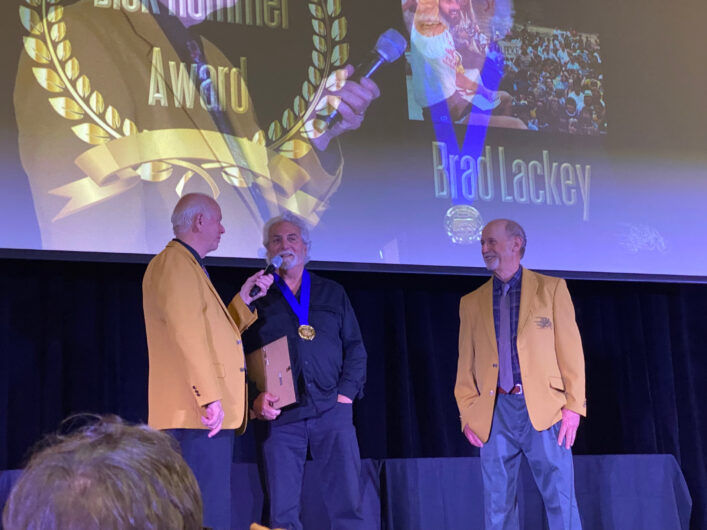 The stars were out: Always a pleasure to see Yamaha's Bob Starr (left). He just got new digs in Santa Fe, New Mexico (one of my favorite towns that even has a public motocross track!). Doug Dubach helped Yamaha develop their mini-cycle line when he was a youngster.
Amazing life: Ed Scheidler deserves all the recognition the Hall of Fame induction bestows. His comments from the stage were heartfelt and had the full audience's attention. I hope he attends the banquet every year.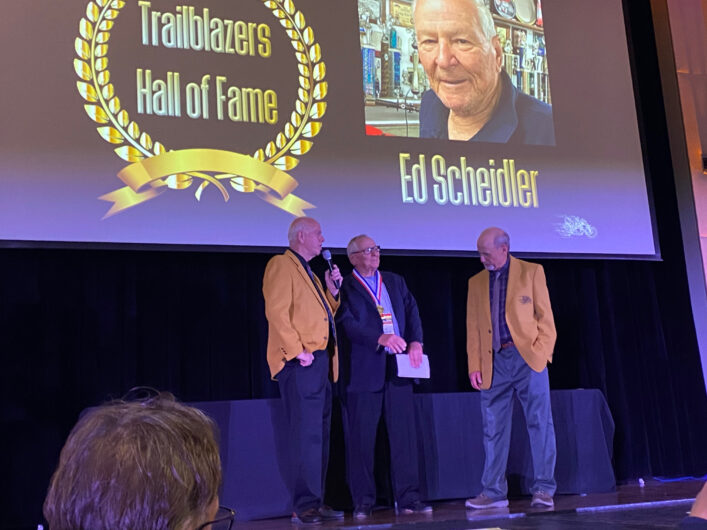 Master of Ceremonies: A final shoutout to Don Emde for keeping the evening on track and believe me, that it not an easy thing to do with a banquet hall full of motorcycle racers! Don works all year to make this event a success. Thank you.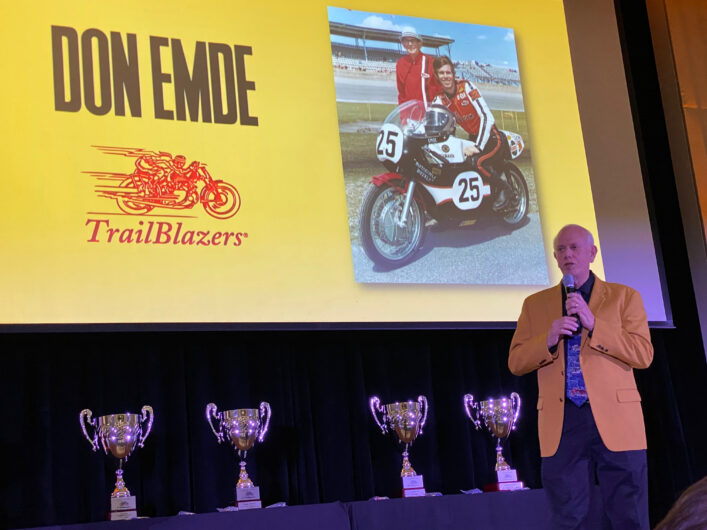 Turn off the lights: Inductee Shawn McConnell was the last one to leave the building. This year marks Mad Dog's 49th year as a speedway racer. Well done, Shawn.