Another Hopetown Reunion is in the books. The event drew a former World Motocross Champion (Brad Lackey, who won Hopetown as a young whipper snapper), a slew of former flat track, speedway, desert and motocross racers and plenty of current day motorcycle racing fans. It also attracted an impressive collection of vintage and collectable motorcycles.
The reunion was highlighted by a tribute to Preston Petty who left this mortal coil in January after living a life that no "normal" person could comprehend. The man was a racer, adventurer, aviator, inventor, innovator, programmer and, most importantly, a really great human being. Everyone who had the pleasure of meeting Preston has a story about him. I certainly do (that I'll tell at another time). I was stoked that it wasn't a solemn or sad tribute, but a real celebration. I think Preston would approve.
I'm just going to throw this out. Don't shoot me. Making the Hopetown Reunion an every-year event may be overkill. I understand that none of us are getting any younger so there is an urgency that requires getting the band back together as often as possible. Again, just an idea. Why not hold an Ascot Reunion, a Barstow-to-Vegas Reunion, a Saddleback Park Reunion, an Elsinore Grand Prix reunion, an Ontario Raceway Reunion and then slip back to the Hopetown event? This musical chair of reunions approach would attract some different bikes and people. I'll keep attending the Hopetown Reunion every year but I'm not sure everyone else will.
Dressed to impress: Vintage motorcycle restoration expert Joe Abbate donned Preston Petty's signature uniform ("I'll probably never wear this again after today."). Preston wore overalls all the time and for any occasion. Preston said he could fly into any foreign airport and walk past customs because officials figured he was a mechanic.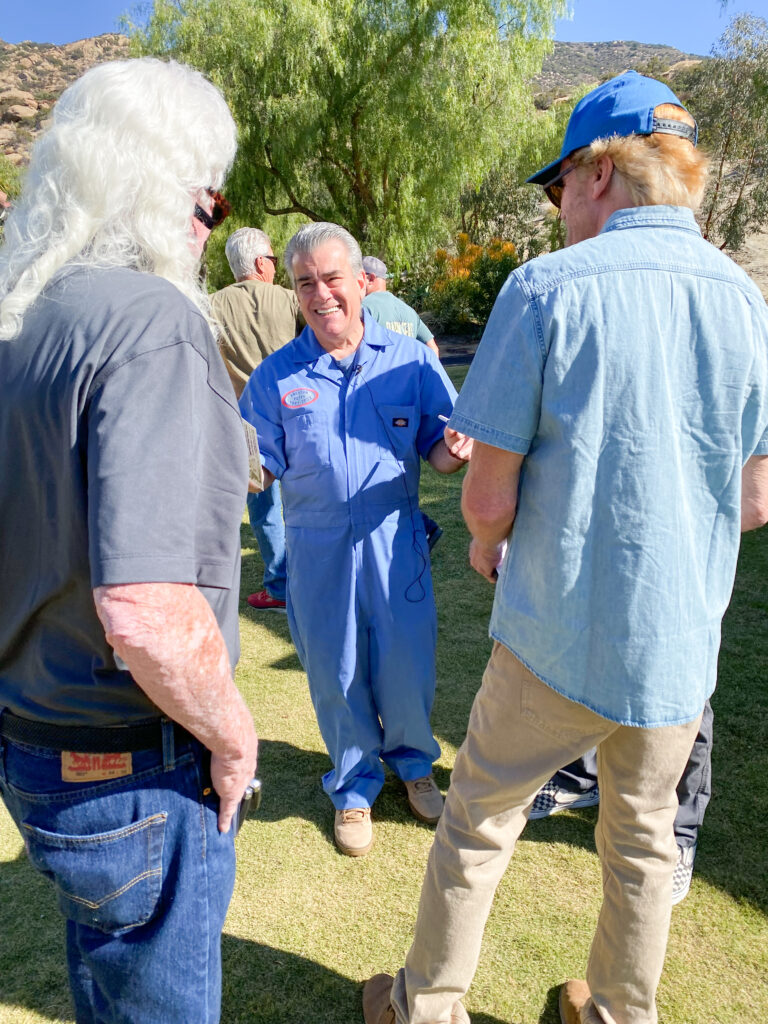 Sealed with a kiss: You've seen this bike before on Jimmy Mac On Two Wheels. The owner sent Preston Petty (who helped develop the bike) some photos. Preston cut the box the photos were sent in, wrote a thank you on the panel and sent it back with a stamp on it. Yes, this was typical for Preston Petty. The current owner is Chris Carter of Motion Pro fame. Click on the photo to read the message.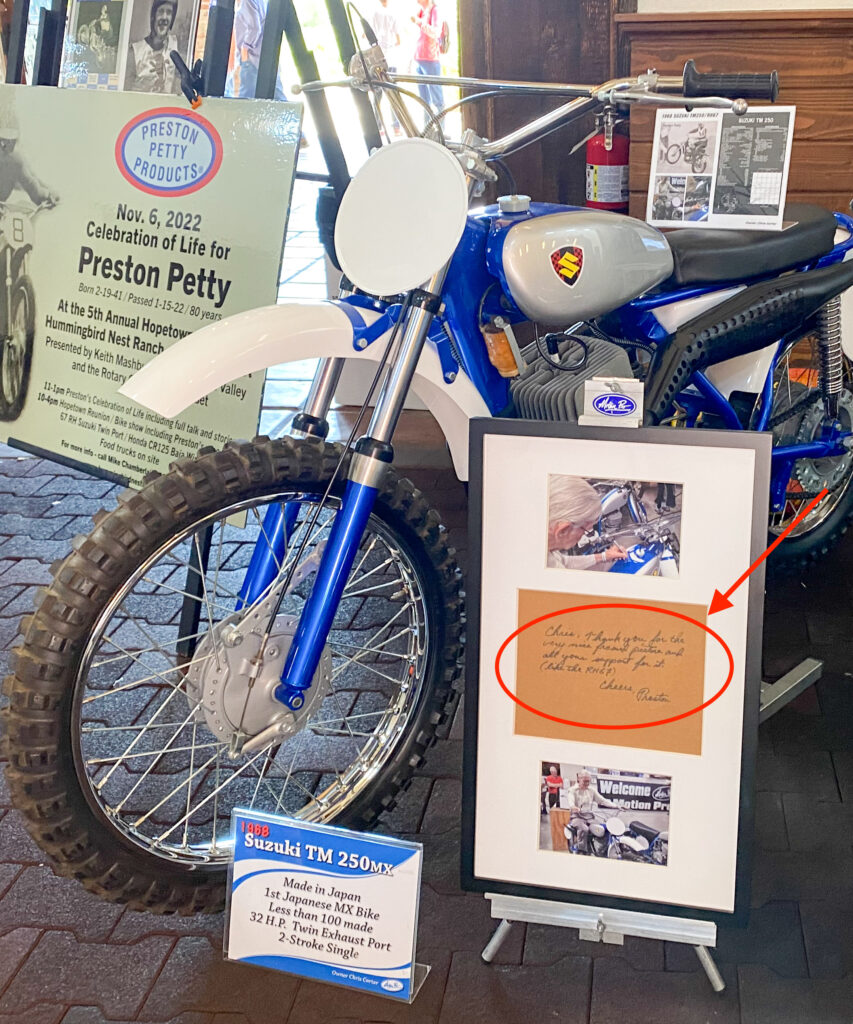 Silent running: If you have never seen the video of Preston Petty coming from behind to win on this bike, stop what you are doing and hit this link. You are going to love this.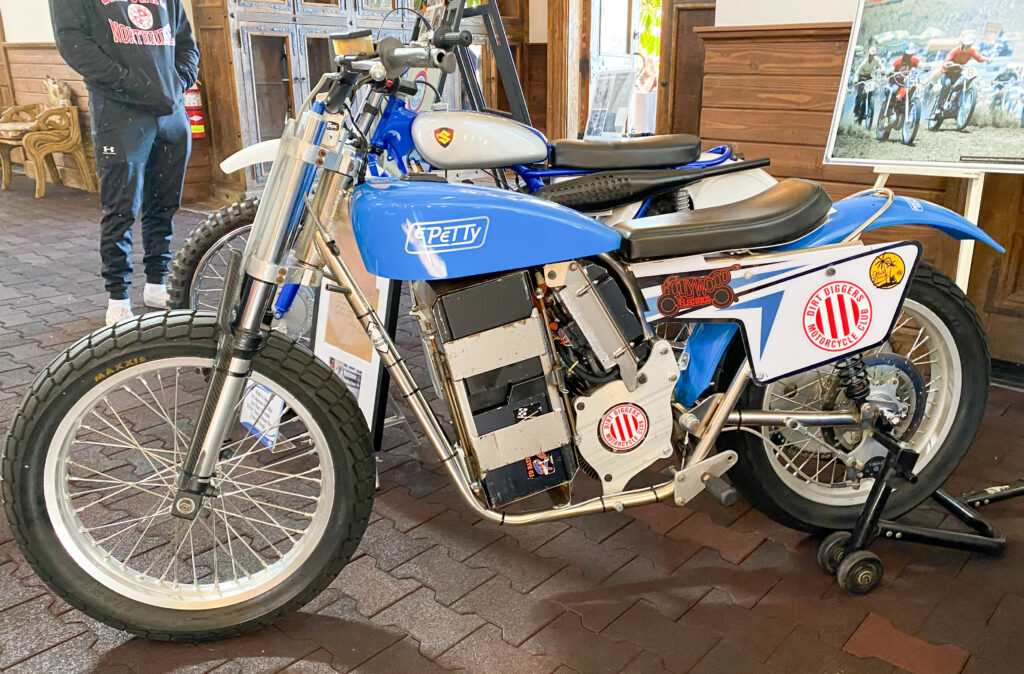 Daily rider: This purdy old desert sled has a headlight and taillight. Guess it is used for racing on the weekends and riding to work the rest of the week.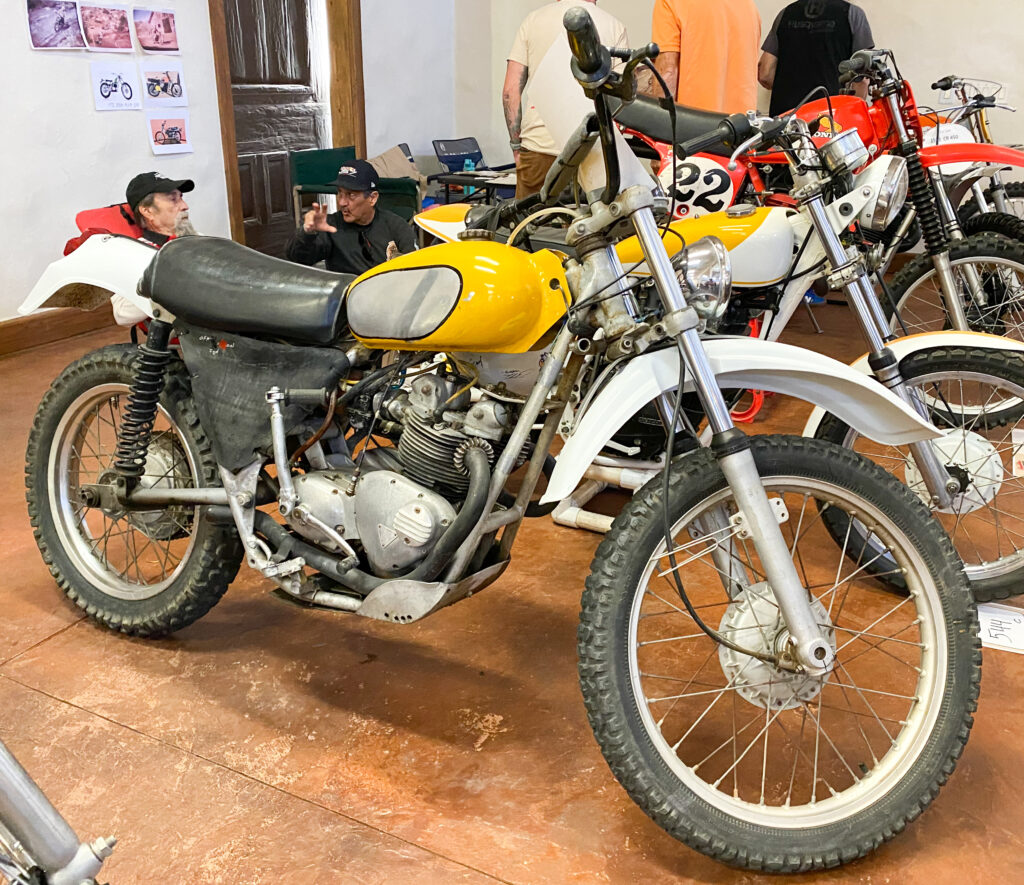 Ready to race?: Come on, already. Let's be honest. Nobody raced a stock Maico. At least not in So. Cal. This is a nice example of what they looked like in the showroom. I take that back. They didn't look this good. A lot of TLC went into this bike.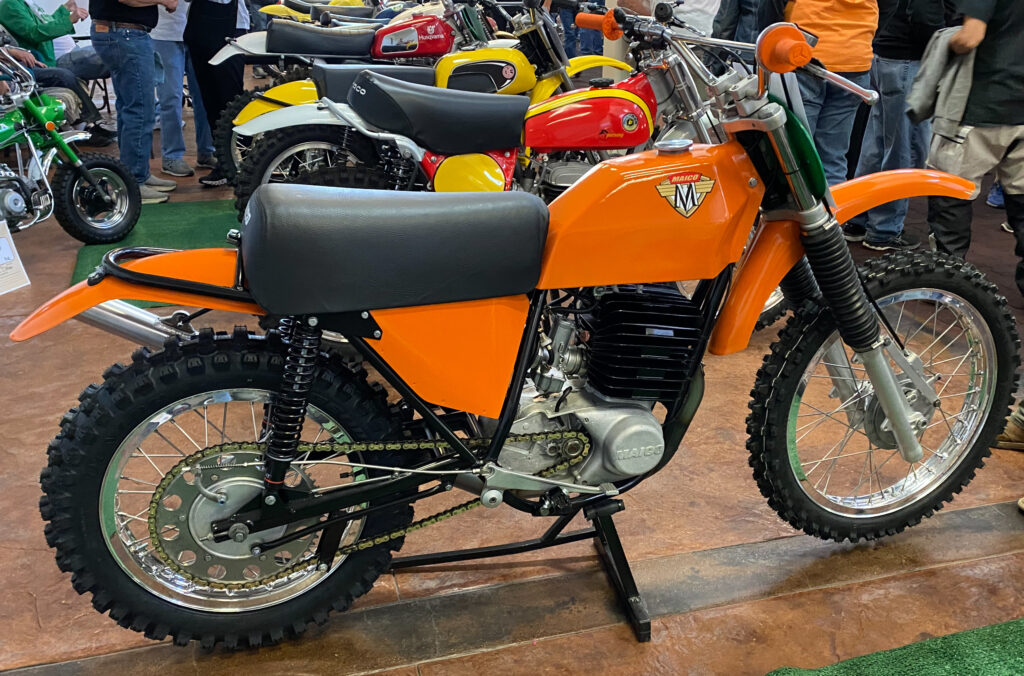 Last of the legend: This is the last great motocross model from the Swedish Husqvarna brand. They made motocross bikes after this year, but they were not as competitive as this one. It looks fast just sitting there 40 years later.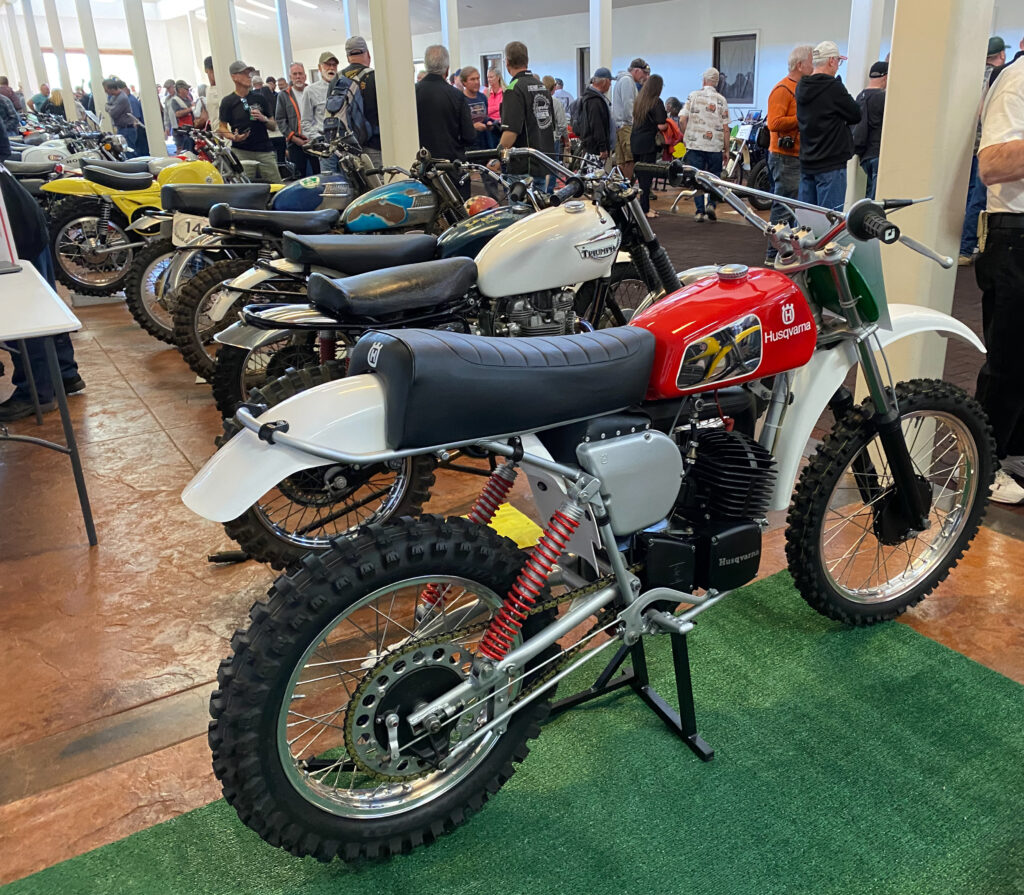 Ridden hard and put away wet: Don't cha just love old Triumphs?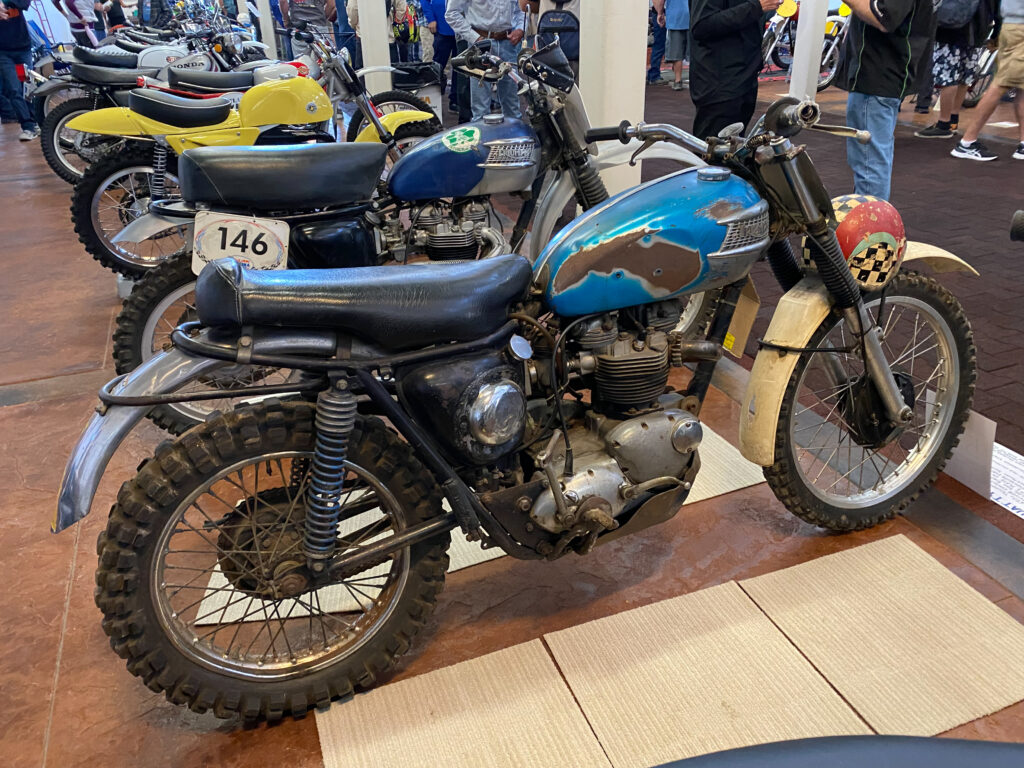 Rare find: Not even my go-to vintage bike source (Motocross Action Magazine) has a write-up on this. It is a Ducati engine inside a Swetland frame. I've seen versions up for auction online but nothing even close to the condition of this beauty.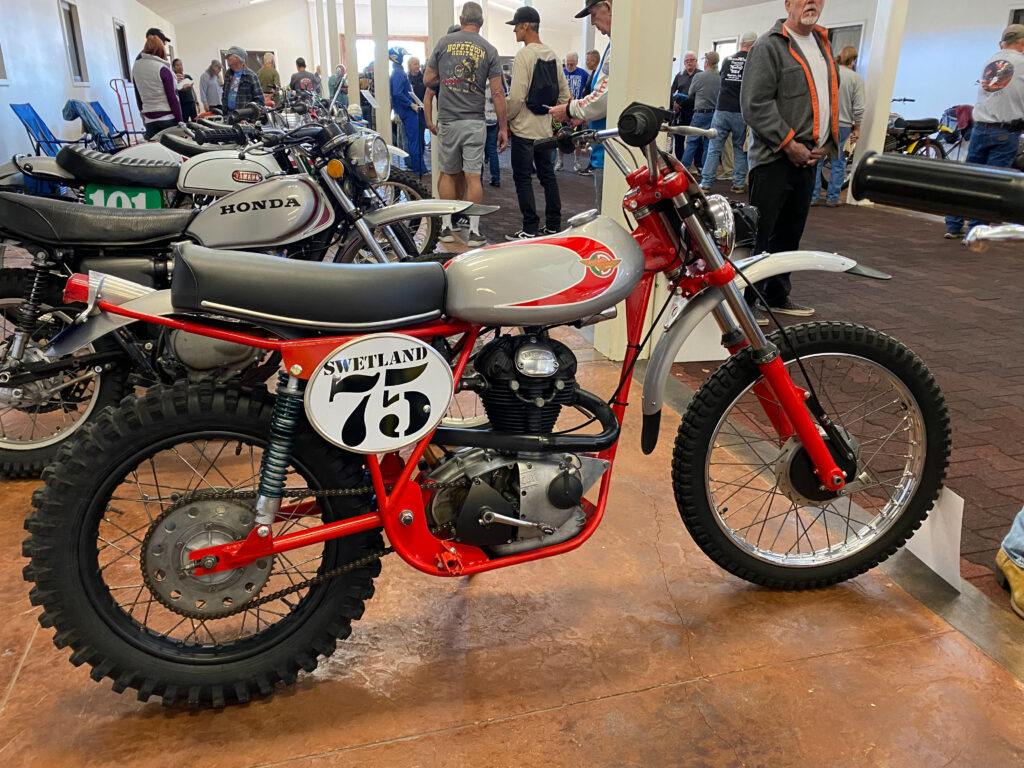 This one is for Norman: The Italian-made Harley-Davidson Baja 100s have become sought after collectors' items. I understand why. It is as good looking today as it was when first introduced. Claimed value is $10,000 to $15,000.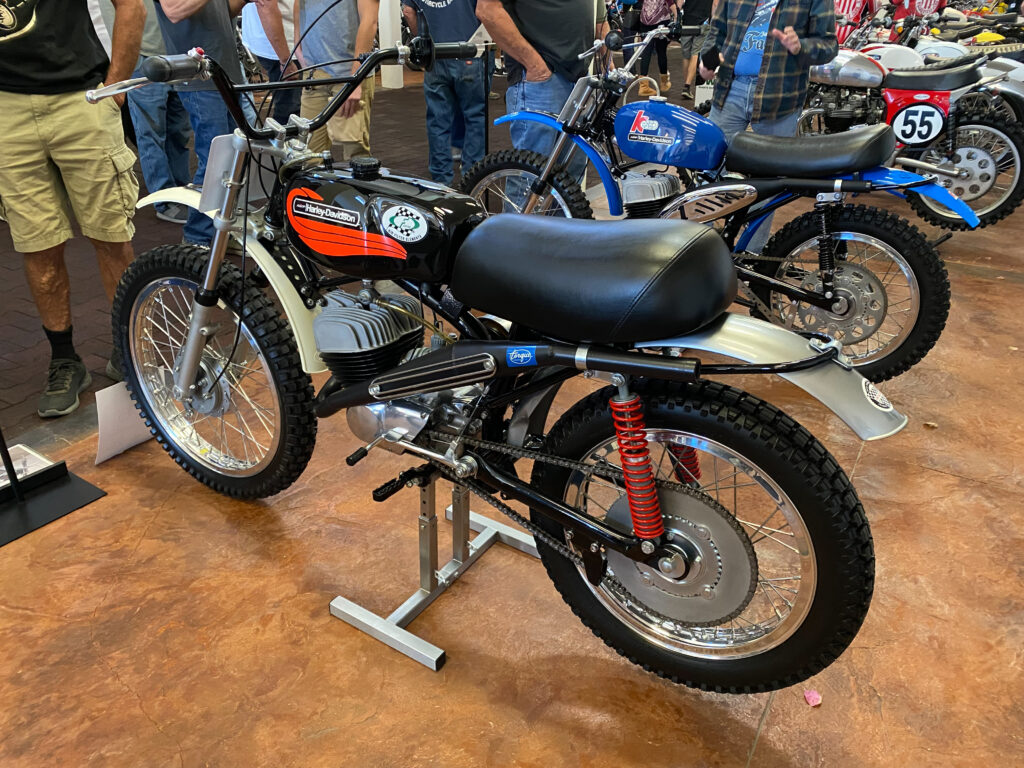 Memorabilia: Old race posters are the best. $3.25 to race! I have to wonder what the spectator fee was.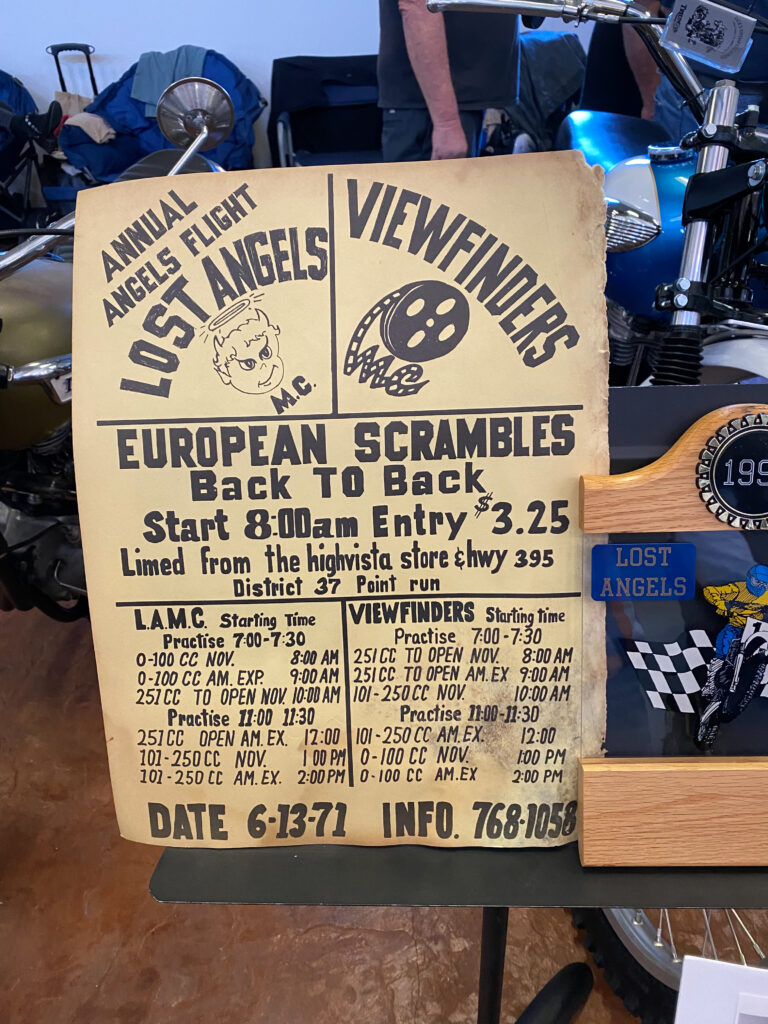 No BSA'ing: I got suckered in by the logo treatment on the tank. The rest of the bike was impressive too. Remember fork boots? They were supposed to prolong the life of the fork seals. Turns out, they did the opposite by holding dirt and moisture inside to act as a valve-grinding compound.
Close inspection: Bike collector Mark Zimmerman (center) and former flat track star and stuntman John Hateley (right) use their phones' flashlights to determine if the cylinder on this Triumph is correct.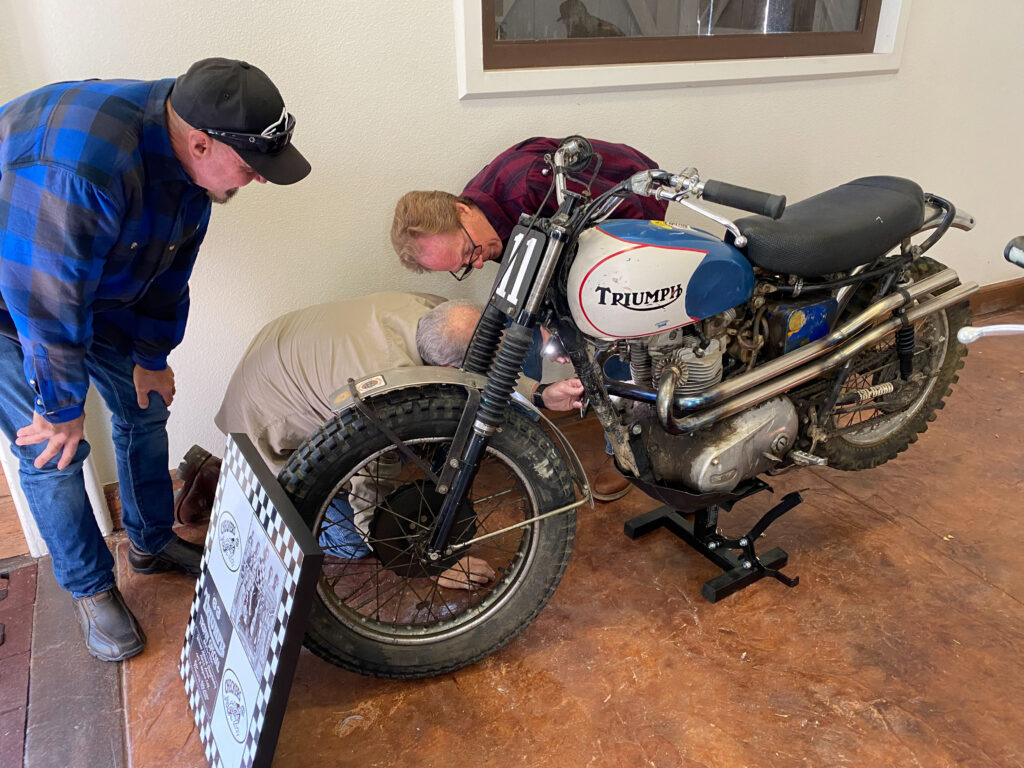 Google research: Twenty minutes later, the two were still at it. I have no idea who won the bet.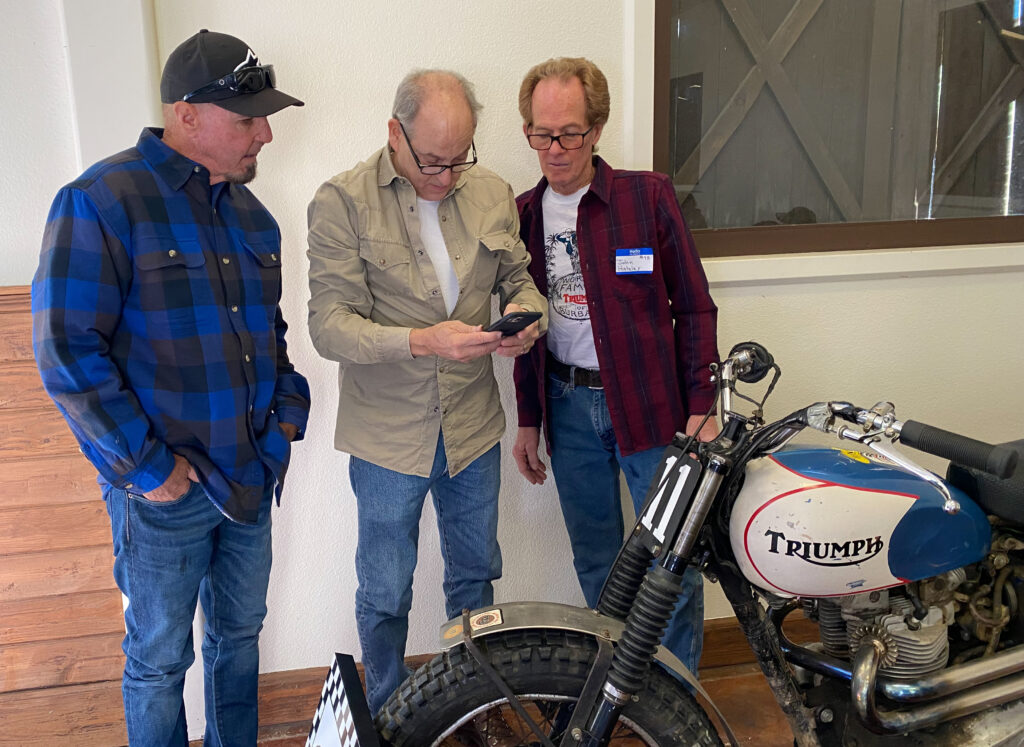 Ask and you will receive: I pleaded for someone to bring a trike out to the Hopetown Reunion. Done! Go ahead and take your time to peruse this trike because there is a lot going on.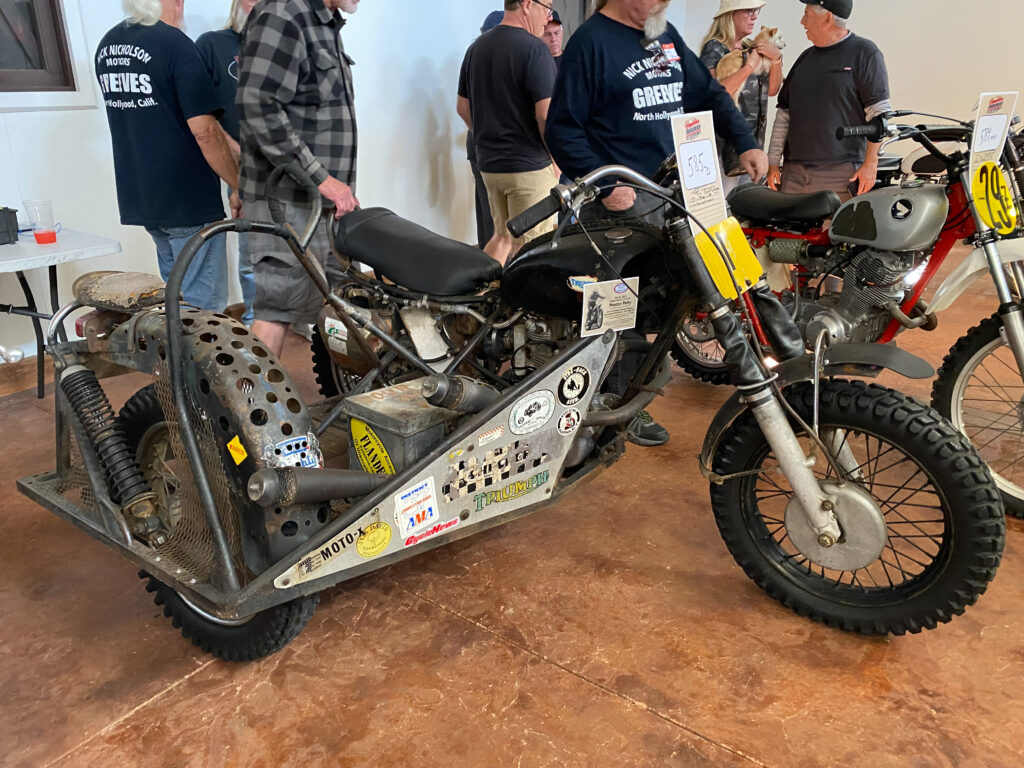 Sliding into first: I don't think ugly guys were ever granted licenses to race speedway. They all look like models! Rick Miller (left) and Sonny Nutter prove my point.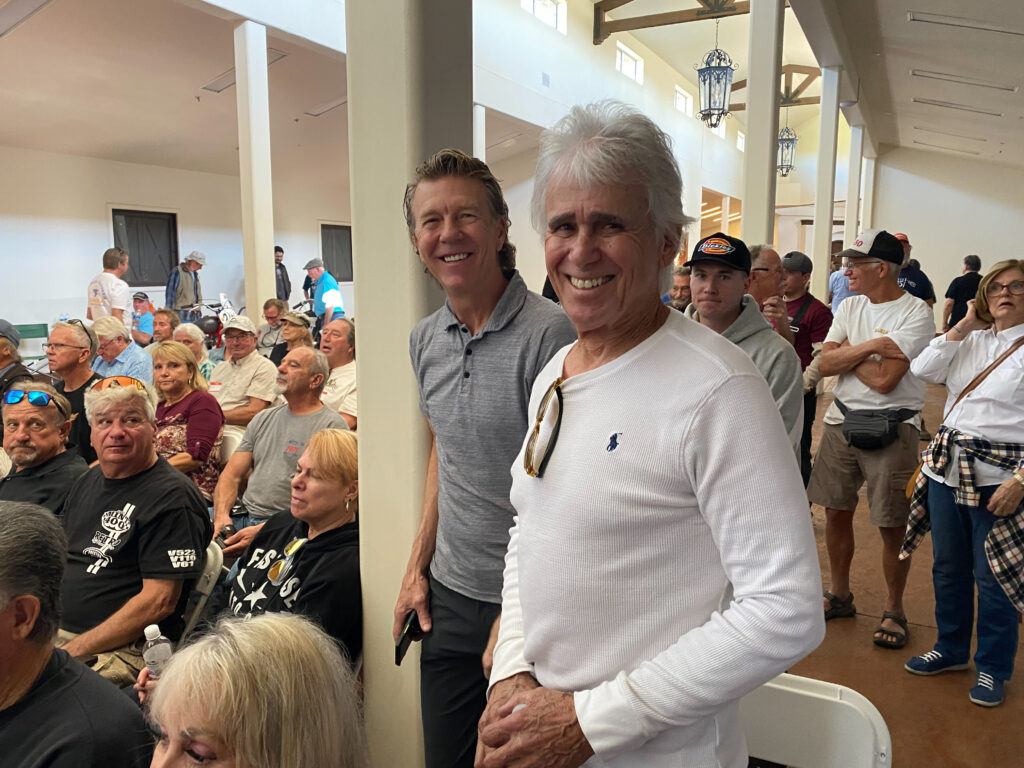 Fitting tribute: Lousy acoustics couldn't dampen the spirit in the room and the stories that people told during the Preston Petty memorial. We will all be talking about Preston for years to come. He is not a guy you could ever forget.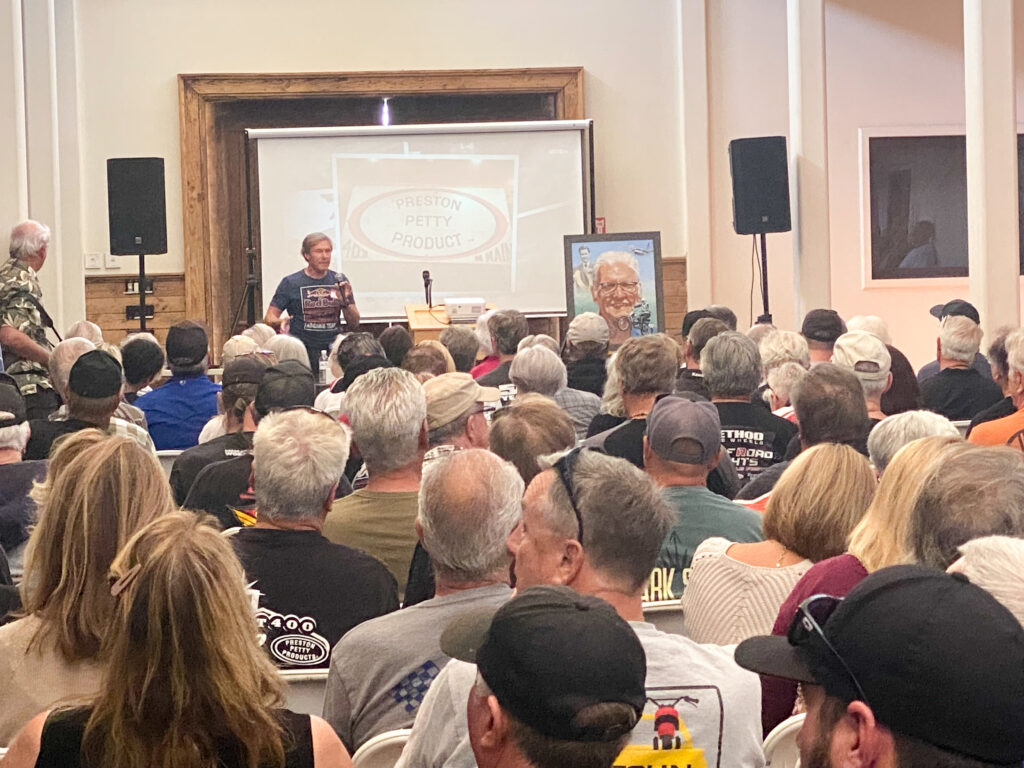 Fast shutter speeds: These two guys have documented the sport of motorcycling for decades with their photography. Chris Hatounian (left) and Jim Gianatsis.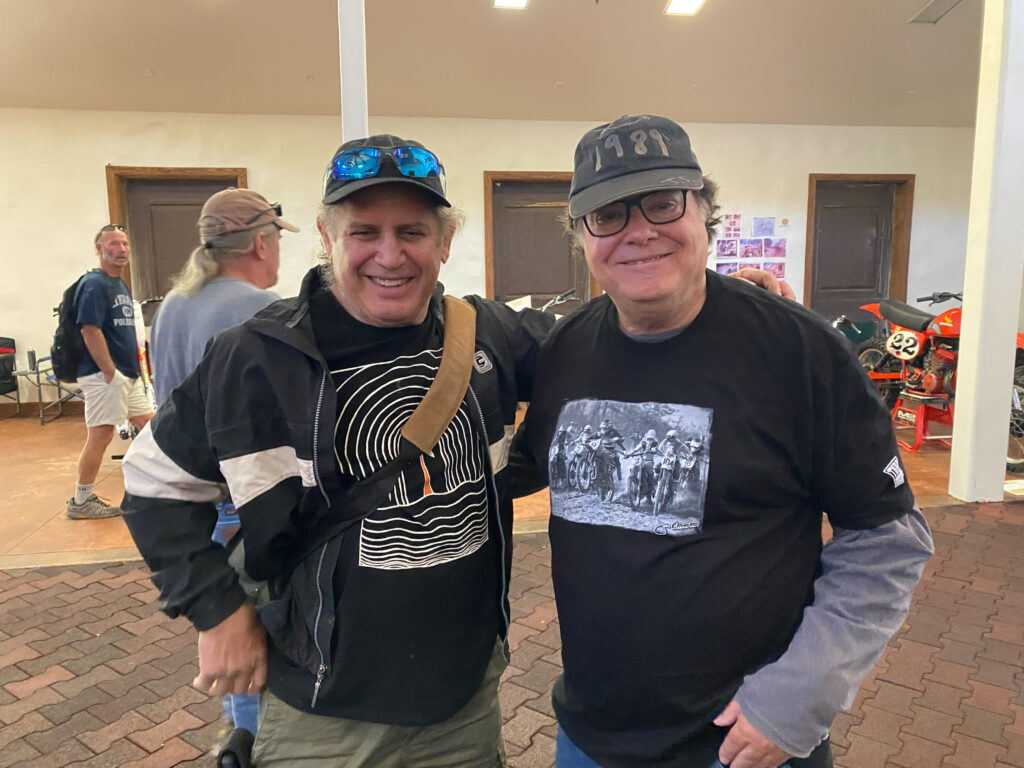 Moto brothers: I met Roy Coe (left) when he worked at East Coast Cycles in Yonkers, New York. I was 16. We raced District 2 scrambles (pre-dating motocross) before I moved to California. I lost touch until I discovered Roy's Cycle Service in Newhall. It couldn't be the same Roy? It was. I know a lot of people in the sport but none of those friendships go back as far as Roy. Life is good!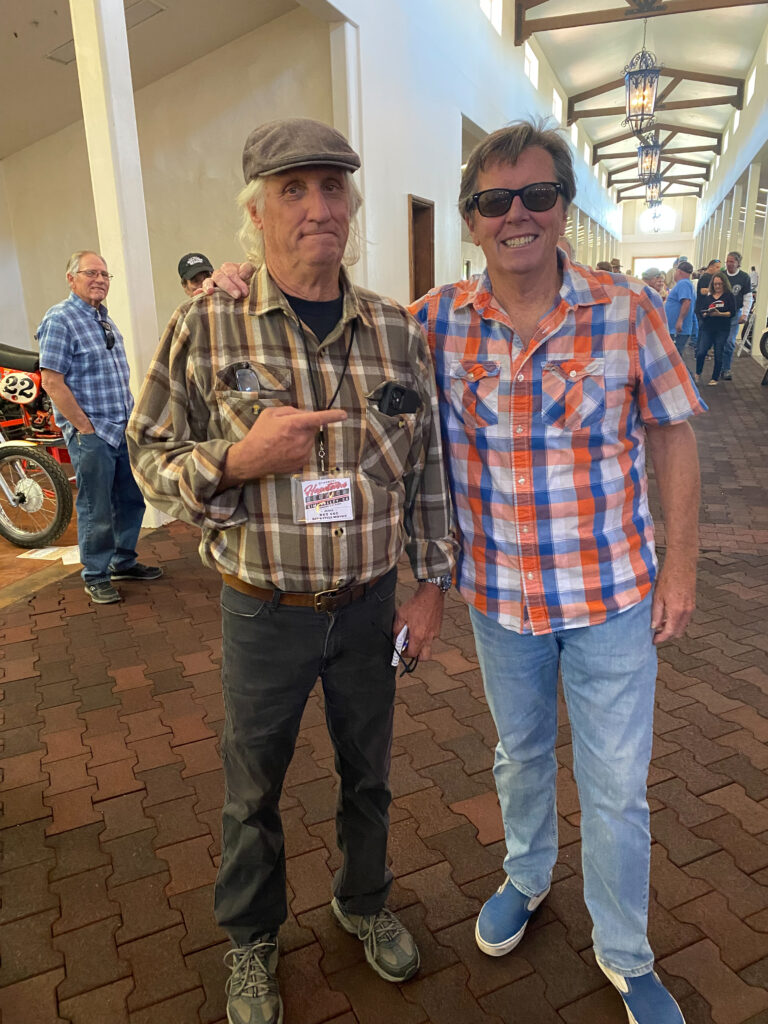 Make me an offer: Photographer, studio employee, motorcycle and bicycle collector, Mitch Friedman has done it all. Mitch was showing his Harley-Davidson Baja 100 to a VIP who was trying to buy it from him. Did the sale go through? I'm afraid to ask.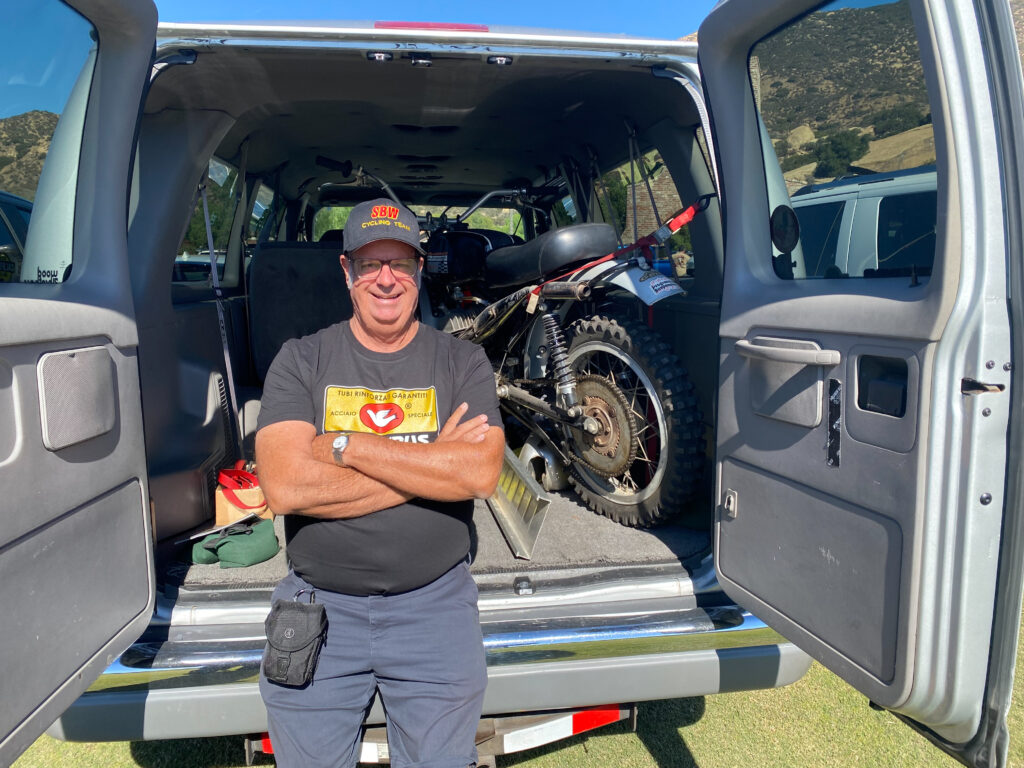 Bad Brad Lackey: The VIP trying to talk Mitch out of the bike was none other than the former World 500cc Motocross Champion, Mr. Brad Lackey (blue shirt). The negotiations were going pretty hot and heavy when I politely exited.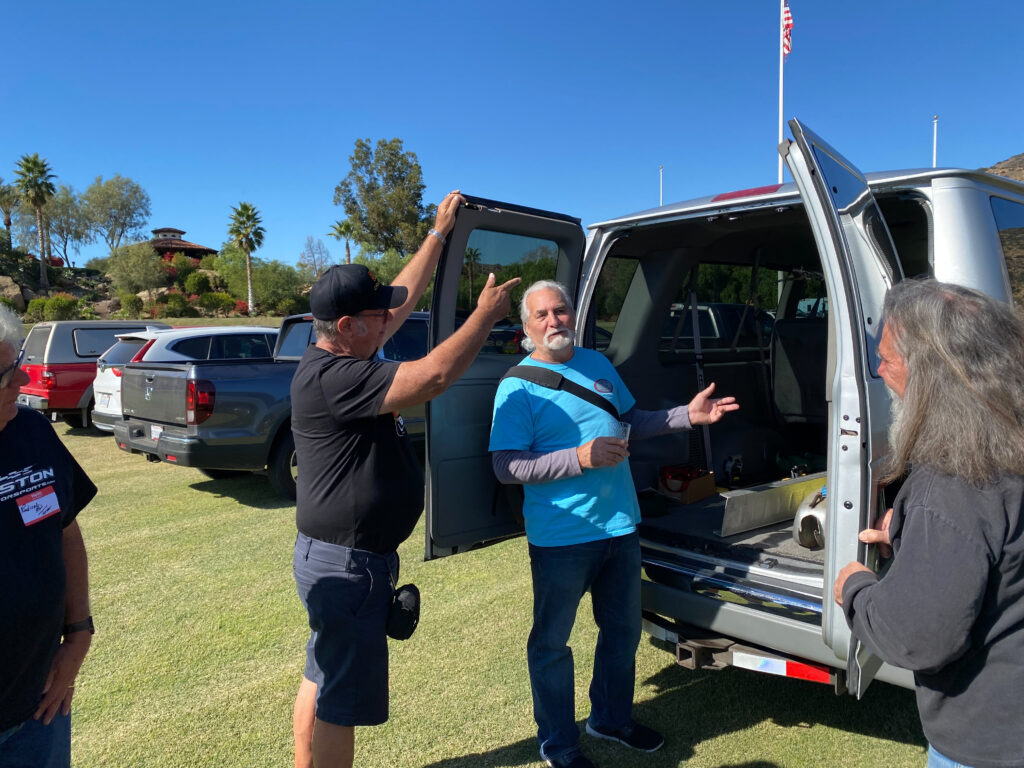 Two favorites: Nice guys can be win. The proof is right here. Jim Holley (left) and Radical Ron Turner.