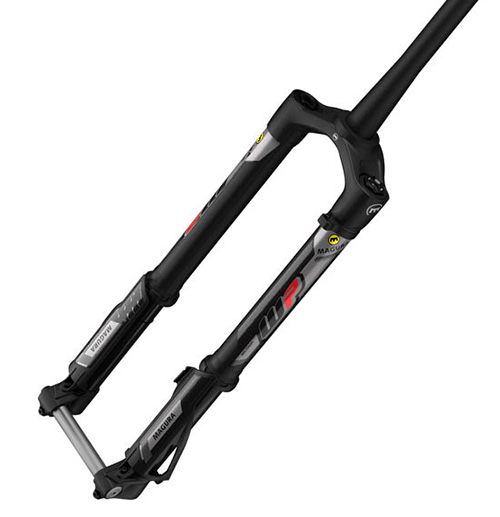 July 28, 2016 – Magura, a German company known for their bicycle brake and suspension components, confirmed today what I have long suspected about the use of standard bicycle components on motorized bicycles; they were never engineered for the unique demands of a motorized bicycle.
Magura developed their new Boltron suspension fork specifically for electric-motorized mountain bikes. The fork was developed with WP Performance Systems, an Austria-based company that specializes in motocross suspension, not mountain bike suspension. Magura stated that modern electric-motorized mountain bikes are ridden at higher speeds and have a higher weight than human-powered bikes, requiring new technologies for increased braking stiffness and optimum absorption of the braking forces.
Michael Funk, director at Magura, says, "Alongside the MT and HS braking systems, which are already well received in the e-bike segment, our aim is to also demonstrate and provide our e-competence in the suspension sector."
Magura claims the Boltron offers 4.7 or 5.9 inches of wheel travel with an adjustable air spring and a 110×20 millimeter axle system. It has post mounts for disc calipers and is designed for 7-inch brake rotors. The inner fork legs are 35 millimeters in diameter while the outer legs are 40 millimeters. Magura is claiming the weight to be just under 5 pounds, including leg protectors and a thru axle. These specifications lead me to believe that the Boltron is not a incremental step up from a conventional mountain bike fork. This is a clean-the-slate approach to the needs of electric-motorized mountain bike suspension.
Magura should be applauded for taking such a strong stance on electric-motorized mountain biker safety. It would not be surprising to see other suspension component suppliers follow suit in the near future.