While e-bike publications claim fires are a rare occurrence, more reports of exploding e-bikes and e-bike fires seem to point to a larger problem. The latest report comes from the Sun, a British newspaper and website. The story includes video footage of the bike burning and exploding. You can read the story by clicking here.
The exploding bike is a mountain bike that appears to have been converted to an electric-motorized bike with the addition of a hub motor. These inexpensive and popular conversion kits can turn bicycles into a fire breathing (no pun intended) electric-motorized bikes that are difficult, if not impossible, to regulate. Luckily, the bike was being operated in an urban setting (instead of on a trail) where emergency services were able to reach the blazing saddle quickly (but not quick enough to save the bike).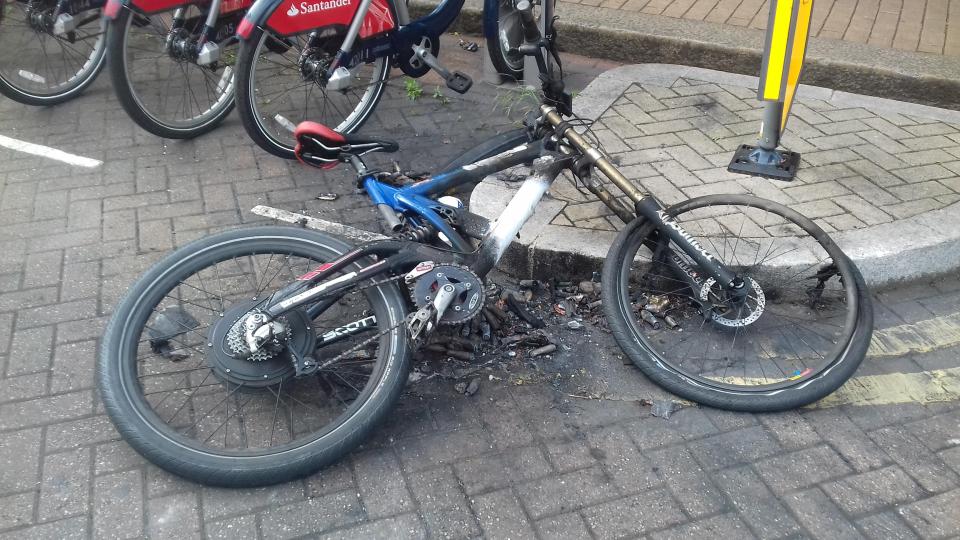 OTHER STORES RELATED TO E-BIKE FIRES:
Battery Charging Fires A Concern For Every E-bike Owner
E-bike fire sends two to hospital.
E-bike explodes in Newport Beach.
Homemade electric bike explodes on street.
Four, including baby, taken to hospital after e-bike catches fire.
Faulty electric bike charger caused garage fire, firefighters say.
Electric bicycle catches fire, sends flames up back of house.