October 7, 1016 – BMW's limited-edition Cruise e-Bike appears to be a wake-up call to struggling e-Bike companies. The $3,900 Limited Edition Cruise e-Bike comes in Protonic Dark Silver, with the same paint scheme used by the BMW i8 with the same name. Good looks aside, what makes the Cruise so inviting is its ergonomics.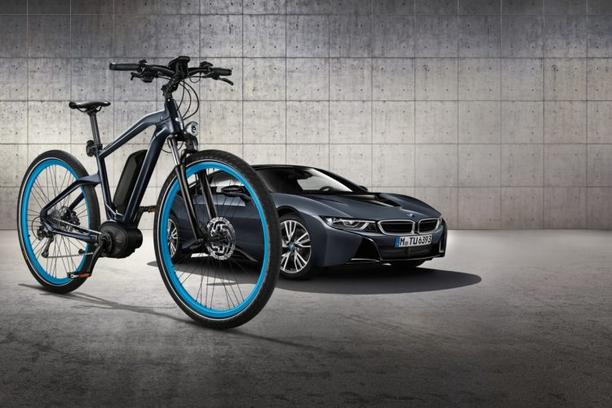 The Cruise offers an upright riding position, Continental Cruise Contact tires (smooth tread pattern and a wider profile than conventional road bikes), a suspension fork, Shimano brakes (you'd think BMW would use Magura?) and a Shimano drivetrain. The two areas that come up short (I haven't ridden this bike so I'm judging based on the photos) are the saddle (only a 100-mile-a-week roadie is going to feel at home on that) and the crazy top tube bend (that industrial-design students seem to love but ruins stand-over height for riders).
So why should other brands take note? Mountain bike's explosion in the 90's was in no small part due to their comfortable riding position (compared to road bikes) and tires that were less prone to flatting. Instead of trying to sell motorized mountain bikes to unsuspecting riders (In California, they are being prohibited by ordinance on many hiking trails), e-Bike makers would be smart to follow BMW's lead of removing the knobby tires and excessive travel suspension in favor of smooth-rolling (quite) tires, comfort-enhancing suspension and upright riding position. The result is a bike that is comfortable, fun and maybe economical to operate on city streets. You can check the bike out by clicking here.