I don't fit in at the David Mann Chopper Fest. I wear a cowboy hat, not a doo rag. My beard comes out red and it is spotty at best. I don't own a leather jacket or vest. I don't have a serape. My wallet isn't connected to a chain. The only ink on my arms is really just old-age bruising from slipping a wrench. My jewelry is limited to a modest titanium wedding band. I don't carry a knife. I did wear a black t-shirt this year to blend in a little, but I was as easy to pick out as Beaver Cleaver at an Agent Orange show.
So no, I wasn't in my element, but it didn't matter. The leather-clad righteous dudes with full sleeve tattoos, belly-length beards and skin toughened from years of riding sans fairings or full-face helmets may look intimidating to the uninitiated but if you are into choppers, there was no weird vibe or attitude. They were stoked that you were stoked. It is easy to keep the peace at the Chopper Fest. Enjoy the bikes.
Because he could: There is so much going on here that the only place to start is with a conversation overheard between the builder and his fans. "After I quit drinking, I put my energy into this." That explains a lot.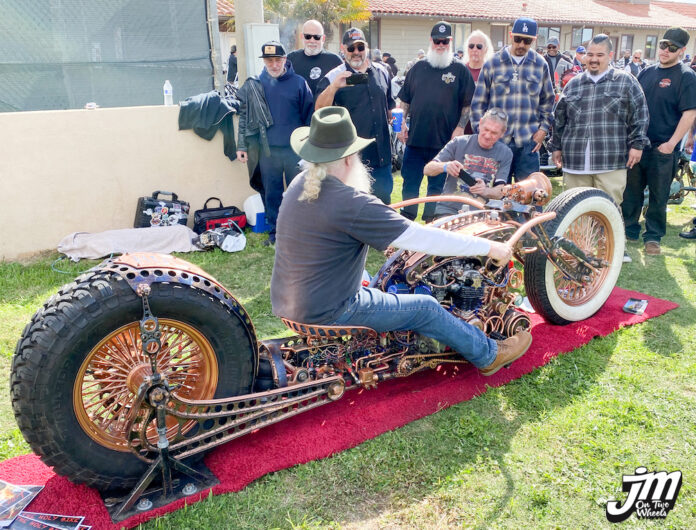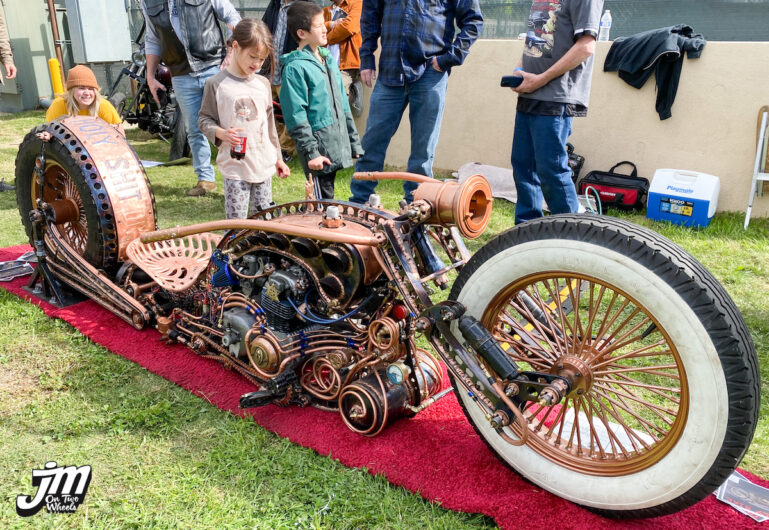 Owner improved: Early ATVs earned the rep as dangerous little vehicles prone to tilt-overs and eating ankles. Looks like these modifications may have solved those issue.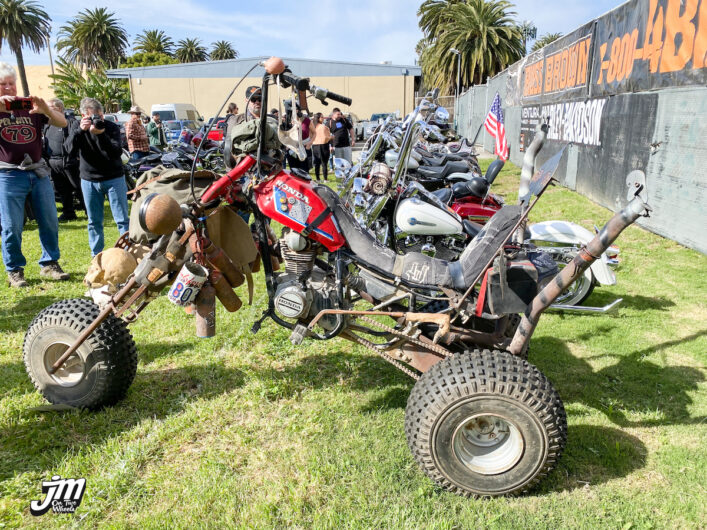 Duck out of water: I fit in at the David Mann Chopper Fest about as well as this bike did. Enough said.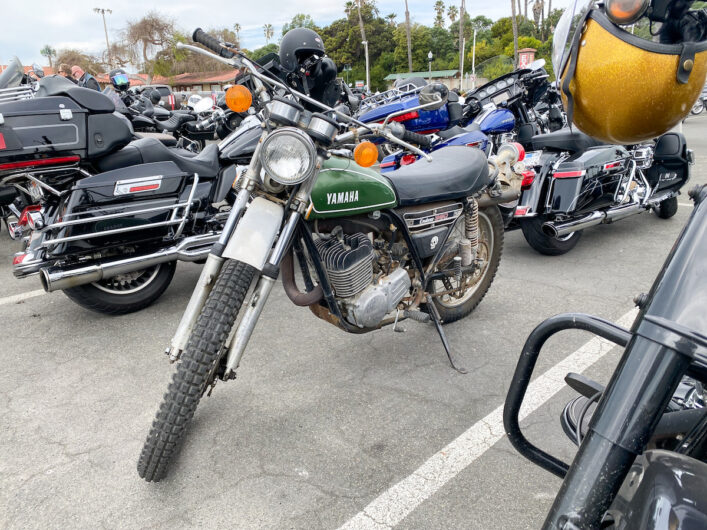 Long-distance Romance: The front wheel rests in a different zip code than the rear wheel.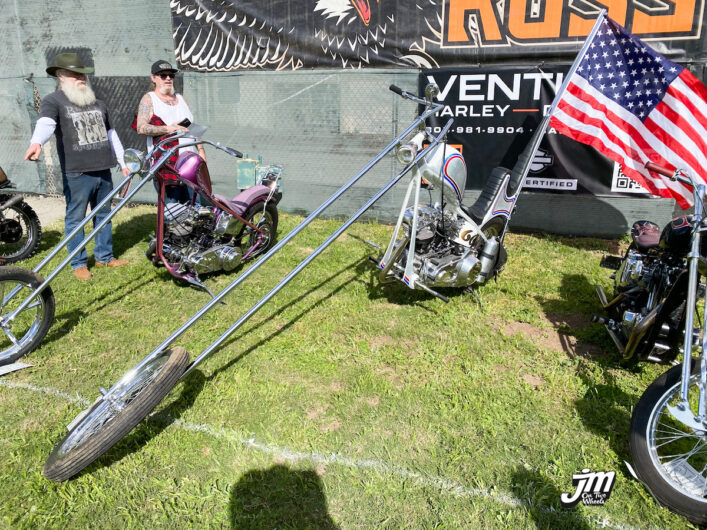 Best presentation: The folks at Sacred Steel Choppers had the coolest display at the Fest. Assembly instructions and glue included. Their builds were awesome too.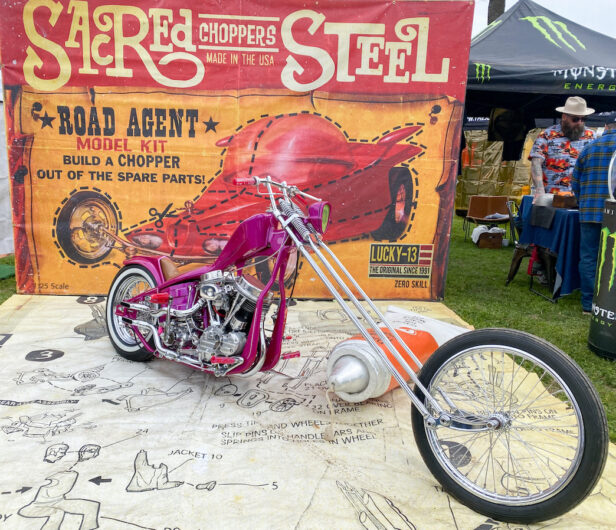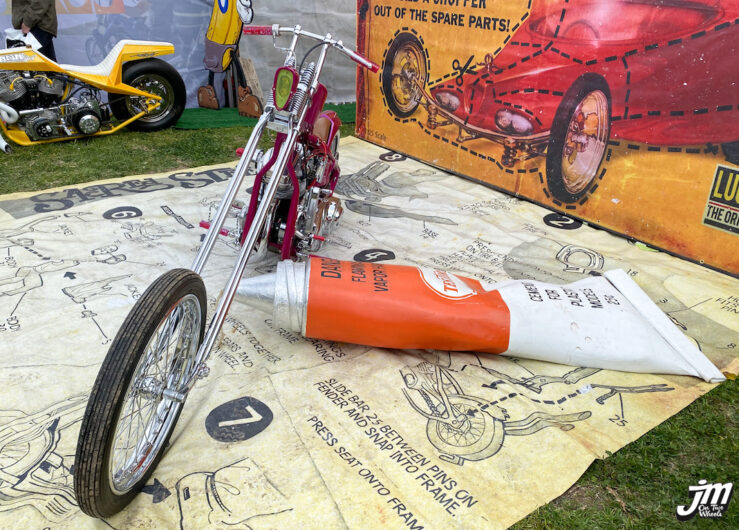 Backwards: Brit bikes with the cylinder on backwards seem to be a preference with chopper builders. I think there were more Triumphs with rearward-facing exhaust than regular configuration.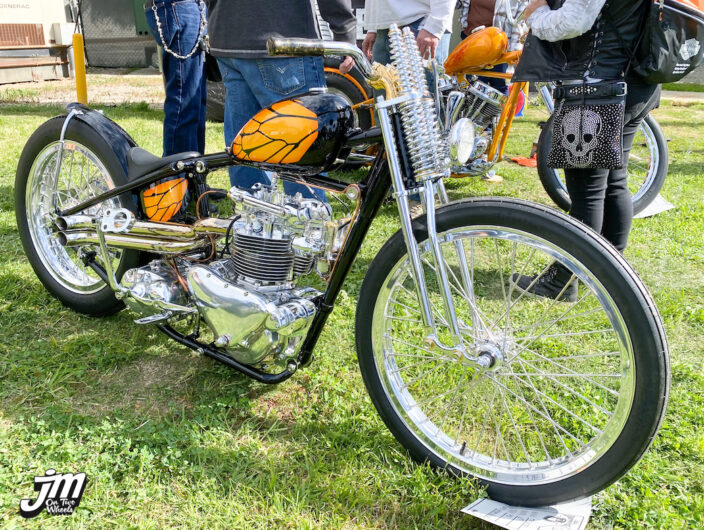 Awesome memorial: "In 1981, my brother died of a drug overdose at 32 and left me with this basket case. In 2006, my sister said, 'Let's get Rick's bike up.' So the project started. My brother's spirit was with us during the whole journey," Respect, sis.
Famous pair: Somebody did a great job of replicating Wyatt and Billy's Easy Rider choppers. Always said, I'd take Billy's over Wyatt's any day.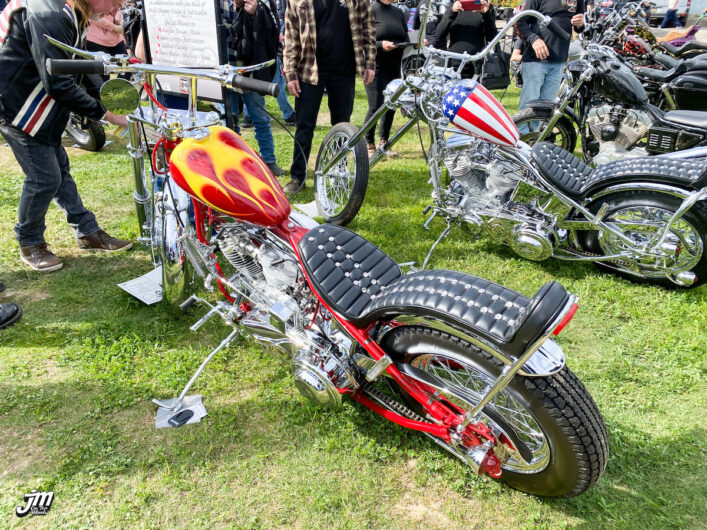 Simply fast: It is hard to beat a clean build like this. Sure, lack of a front brake will get you into trouble unless you ride cool and relaxed. I'll be cool, promise.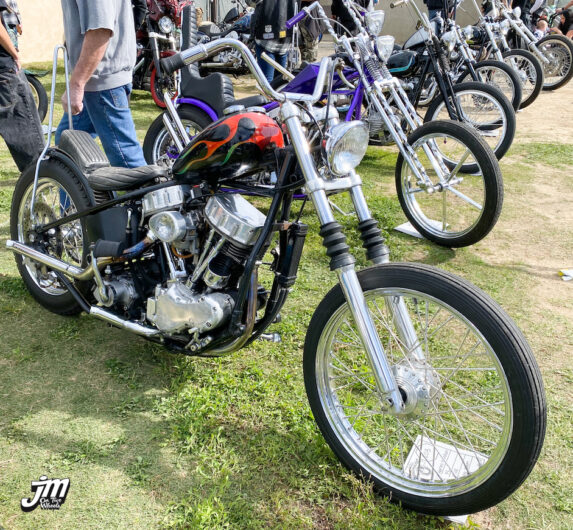 Movie star: This 1936 Harley-Davidson VLD is seen in the Wild Ones in one of the racing scenes. It was ridden by racer/stuntman Don Fera. Is that cool or what?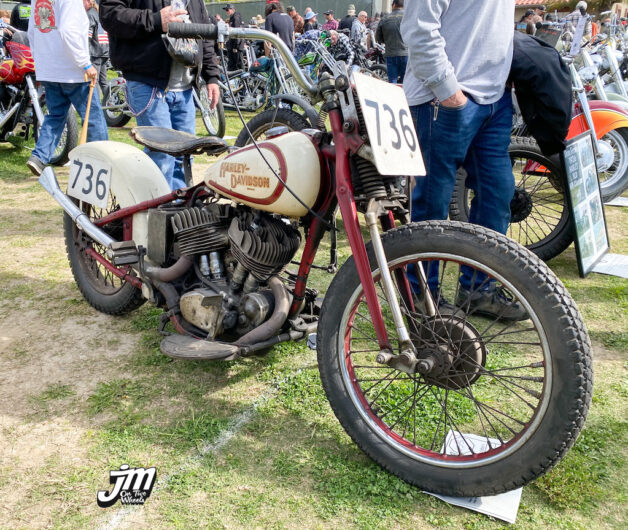 Sell it: Some owners embellish their display area in hopes of catching a judge's attention. I don't know if it worked because I didn't stick around for awards. It got cold.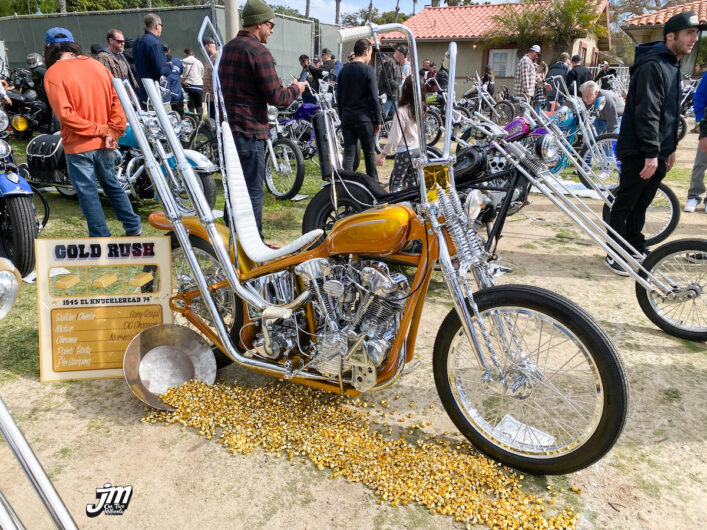 Speaking of judges: Talk about a tough job! How do you pick a winner in a field of winners?
Single shock: To tuck in the pipes as close as possible, this builder removed the right shock. That's one way to solve a design issue.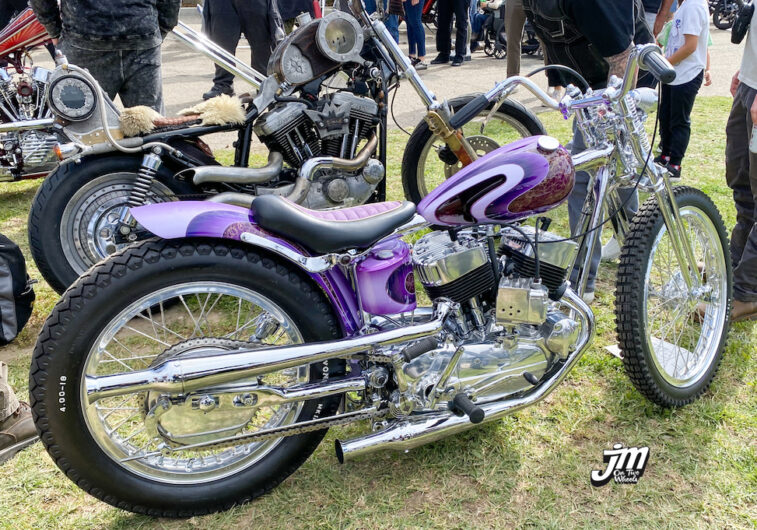 Chopper Fest Fire Department: This red beauty jumped out of the crowd.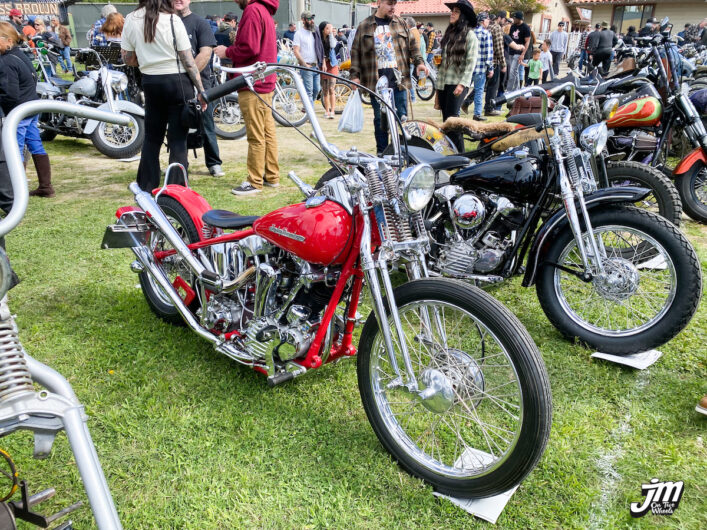 Chopper Fest Police Department: License and registration, please.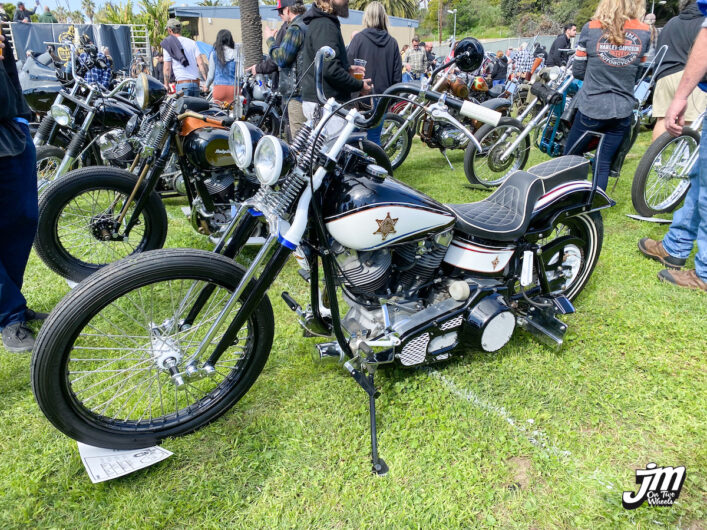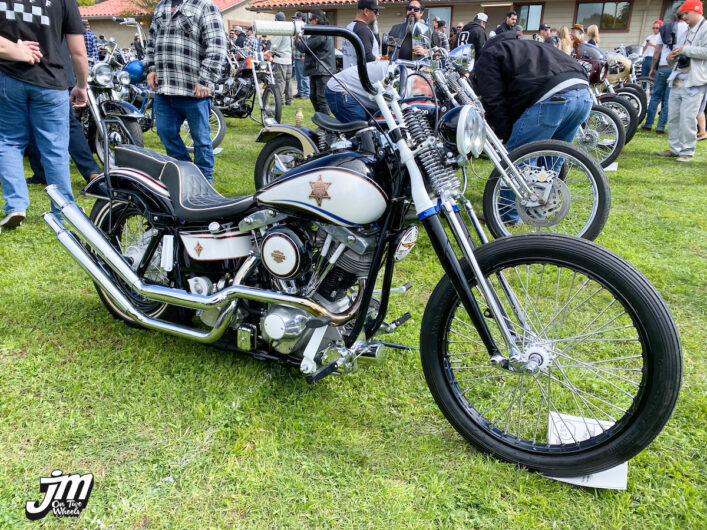 Truth in advertising: Yes, this Harley is indeed supercharged. I'll bet you can bend the bars when the supercharger kicks in.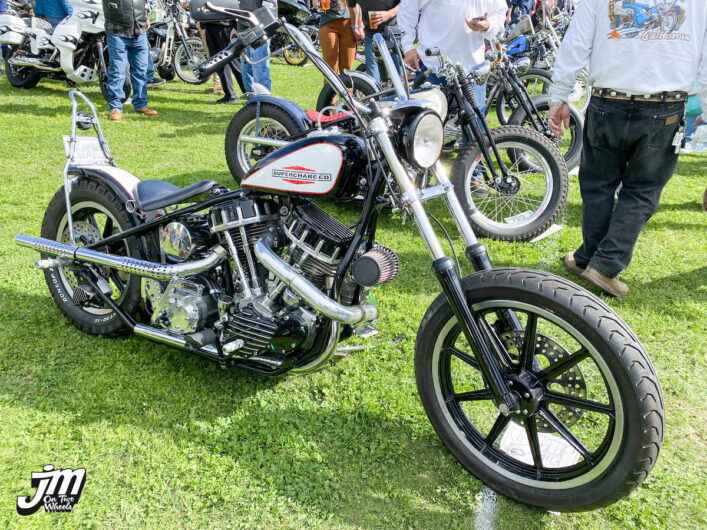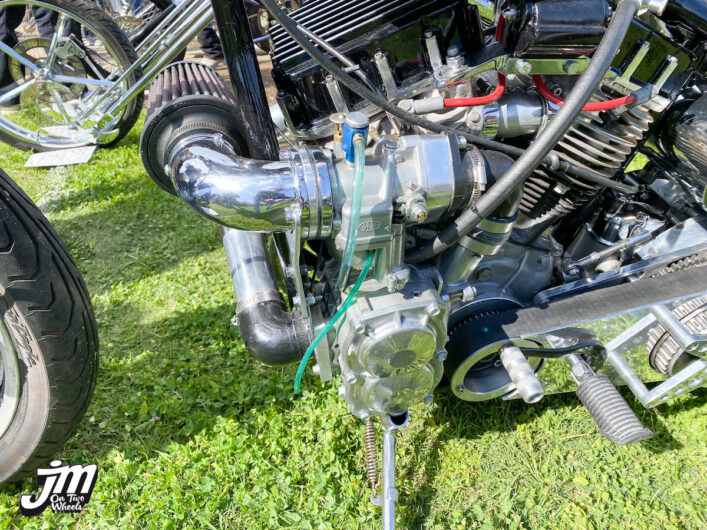 Show stopper: Stacy McCleary (who is Stacy's Garage) hooks me every time I see one of his builds. The guy knows how to build amazing bikes. If I hit the lottery, I'm going to ride a Stacy's Garage bike.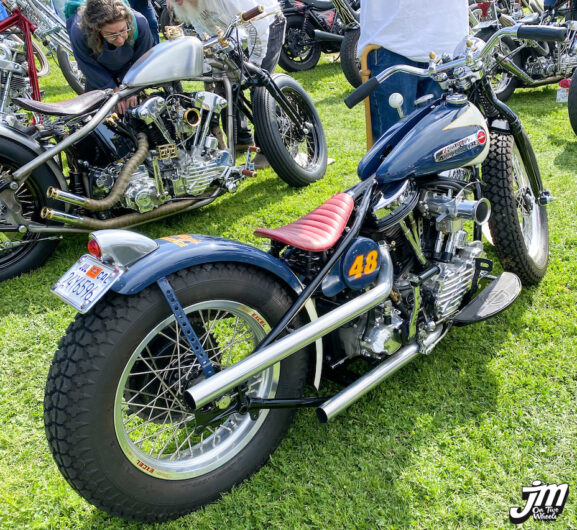 Two vintage choppers: That fan would look perfect behind the bars of this build.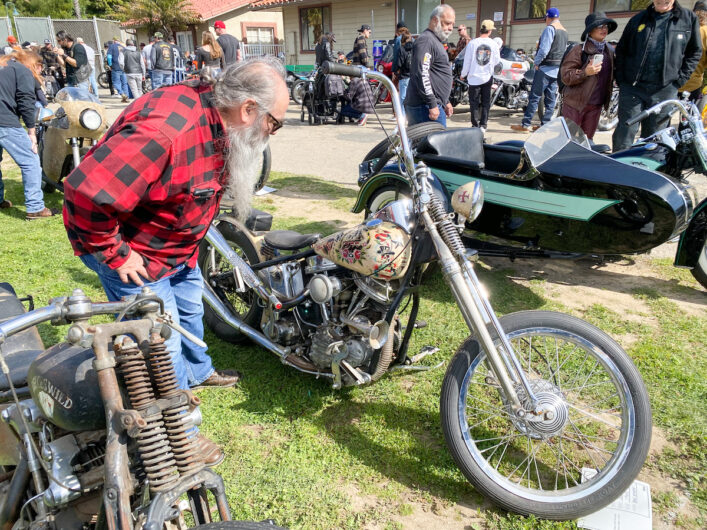 That's a hard pass: Just because you can build it doesn't mean I'd have the guts to ride it.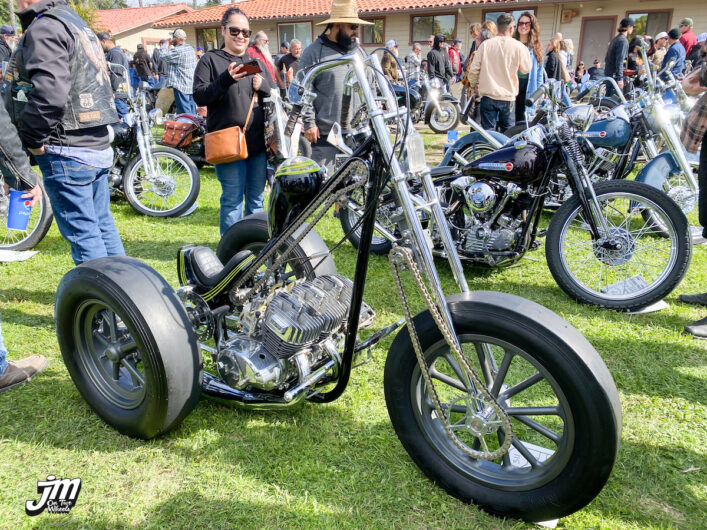 Men in hats: These two guys were selling some unique merch including some wild minibikes. Wish I had got their names. Do you know them?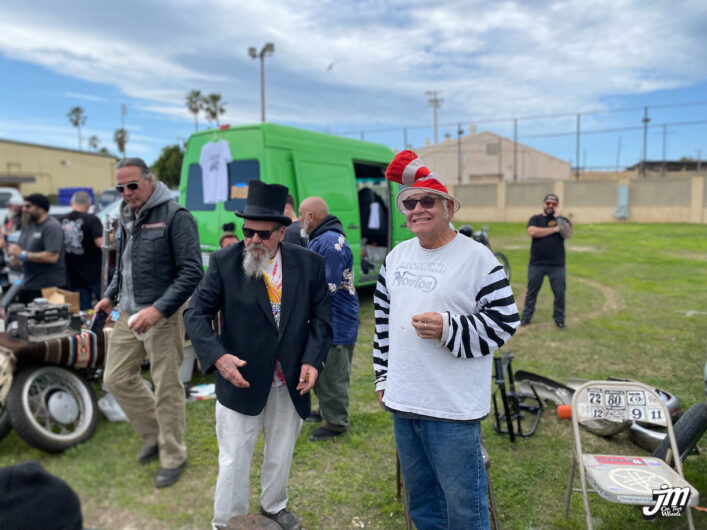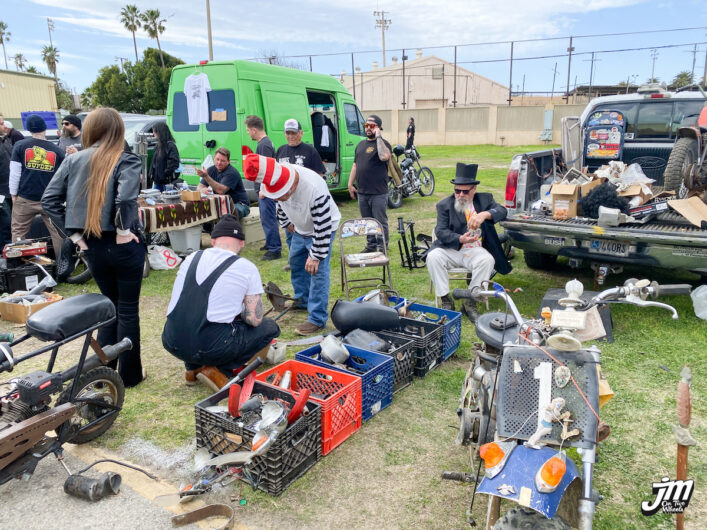 How to not succeed in business: The vendors who parked their personal rides in from of their booths created cred, but it sure made it difficult for anyone trying to buy something from them.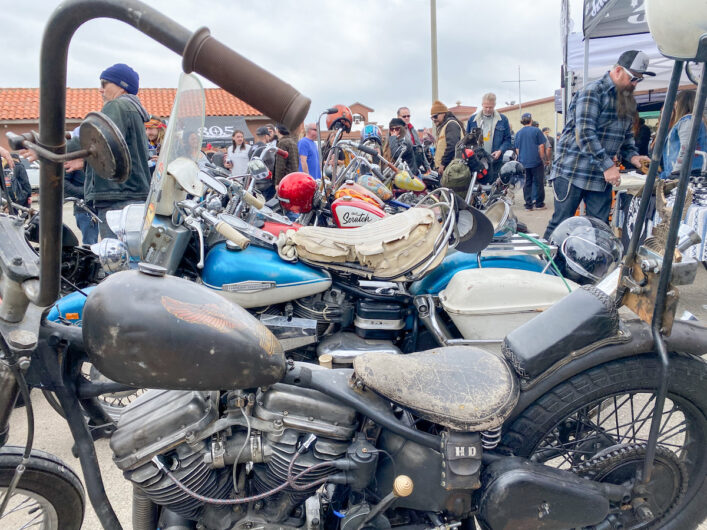 THE PARKING LOT
Walking back to Big Red, there were more interesting bikes, The Chopper Fest's parking lot is almost as interesting as the show.