There are people who like motorcycles and then there are people who think, dream and breath motorcycles. These people don't have a passing interest in motorcycles, motorcycle riding and motorcycle racing. They immerse themselves in the hardware, riding techniques and the culture of motorcycling. Motorcycles become part of their DNA. The late Tom White fell into this zealot category as a connoisseur, aficionado and supporter of everything motorcycles.
Another rider who falls into the motorcycle zealot category is J. Mark Donaldson. He is in Europe on an extended motorcycle adventure and last week he made a special stop to honor the wishes of his close friend, Tom White. I'm very fortunate that Mark gave me permission to share his thoughts on what finally happened on September 2, 2019.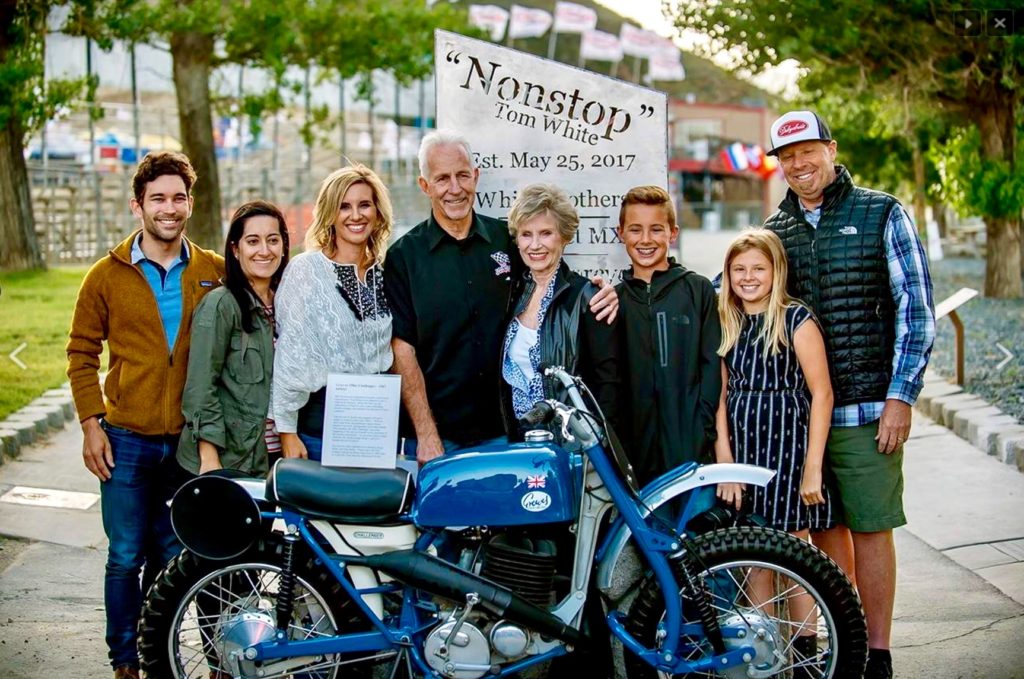 September 2, 2019
We woke up to a chilly morning with a low cloud covering and light rain. It was perfect weather for the solemn feeling for what would be our first stop of the day.
"Hey Buddy, I sent you an email. We need to plan a trip."
Tom White

Tom White (80TW), was first and foremost a dedicated husband, father (his youngest son Brad he a traumatic brain injury and needs 24 hour care) and grandfather. He was a very successful entrepreneur, fellow motorcycle racer, motorcycle collector (he owned about 190 motorcycles in his Early Years of Motocross Museum) and race announcer. The friendly man, always smiling, going 90 to nothing, was hard to keep up with but always had time for you despite the many people he knew. He was three thoughts ahead of you at any given moment. Friend, buddy, pal, Tom had the unique ability to make you feel like you were the most important person in the world when he was focused on you. He had a pleasant sarcastic tone at times that would keep you laughing. A very unique person you enjoyed being in his company. To look at Tom's life from the outside, you would think he had an enviable life (he did, but with hard work and dedication), but life also had it trying times, yet he was always so upbeat.
Tom and I had a lot in common. Motorcycles! We raced together at REM's Glen Helen events. We would attend the January motorcycle auction in Las Vegas, Daytona Bike Week, Barber Vintage and AMA Vintage Days. I was very fortunate to be a guest at Tom's table at many motorcycle events and even at his hospitality suite at the AMA Nationals at Glen Helen. Tom knew so many industry people and I had the good fortune of meeting many of them because of his friendship.
The Invite
The short email (above) had a link, Top Mountain Cross Point, a motorcycle museum in the Austrian Alps. Tom knew I loved to travel Europe by motorcycle and this place had been built since my last trip through the Alps. My answer to Tom was shorter than his invitation…
"I'm in, who else and when are we going?"
Tom was diagnosed with cancer not long after we traded emails. I knew something was up when he missed Daytona that year. Tom called me sometime after I returned from that trip to give me the news. He was going to fight it and continue with life, continue to race (with Jody Weisel's encouragement) and enjoy whatever time he had left. If anyone could beat this, Tom could. During that time he had the opportunity to ride Zach Osborne's 250 Motocross Championship Husqvarna and the Indian FTR flat-track bike he had purchased. Sadly for his family and friends, Tom was not able to beat the cancer. But his memory and his quest for "one more lap" lives on. We as his friends gather and make a toast to Tom's and Kelly Owen's memory (Kelly passed away the previous year from a stroke) at the motorcycle events we still attend.
So, here's to you my friend from the Top Mountain Cross Point Motorcycle Museum. I made it here just because of you and your memory.
Ride swift, you are well missed by many.