Got the chance to see the Schoenewald Motorcycle Collection a few years ago, but there was a catch. Structural repairs needed following a fire on the floor below the collection (no motorcycle was lost in the flames) necessitated the bikes to be stuffed into a fraction of their normal display area. I got to see all the bikes but they were so crammed in, it was hard to fully appreciate the collection. I saw gold, I just couldn't get it to.
That changed today when the Schoenewald Motorcycle Collection was opened to the two-wheeled public. It doesn't happen very often so I decided to make the six-mile trip. That's right, Camarillo is home to the Schoenewald Motorcycle Collection, making it pretty easy for Jimmy Mac On Two Wheels to attend. Heck, I would have driven twice as far. Here are some of my favorites.
Over crowding: The Schoenewald Collection was shoehorned into a small portion of the display area the first time I gained entry. I wanted to see the trees and could only see the forest.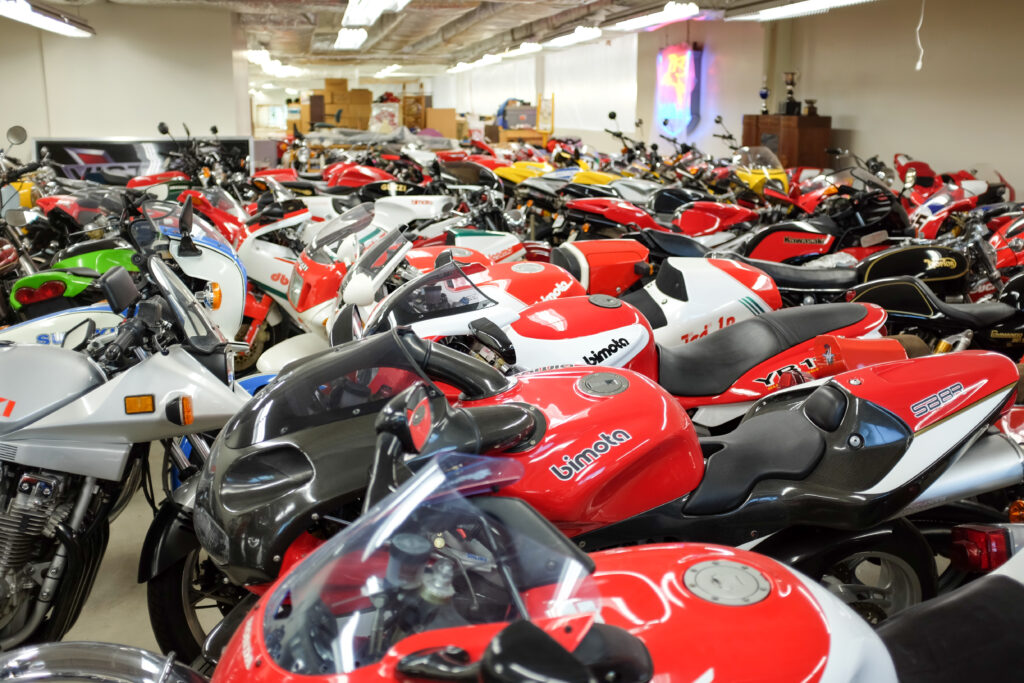 Pick of the litter: There are so many bikes I'd love from the collection (like the Mach III, GT750 or the 750 Commando with the high handlebars). If push came to shove, I'd go for this Norton 750 Scrambler. This bike speaks to me. Sorry, I'm drooling.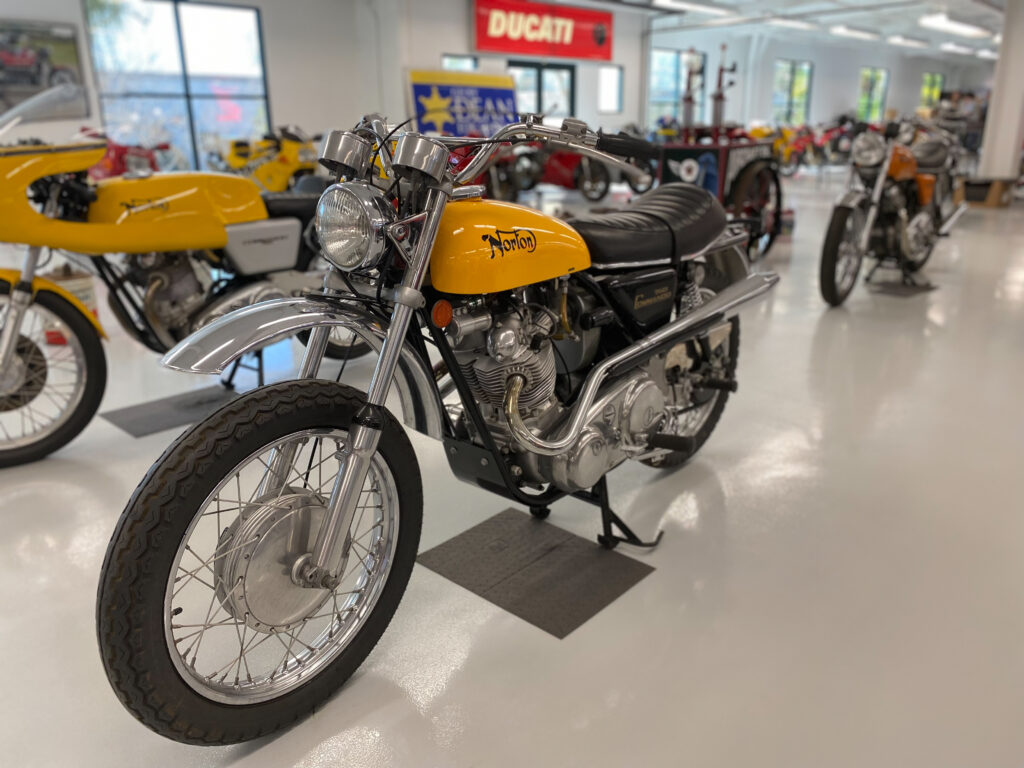 Parking lot collection: Walking the parking lot outside of the collection's building was almost as interesting as what was inside.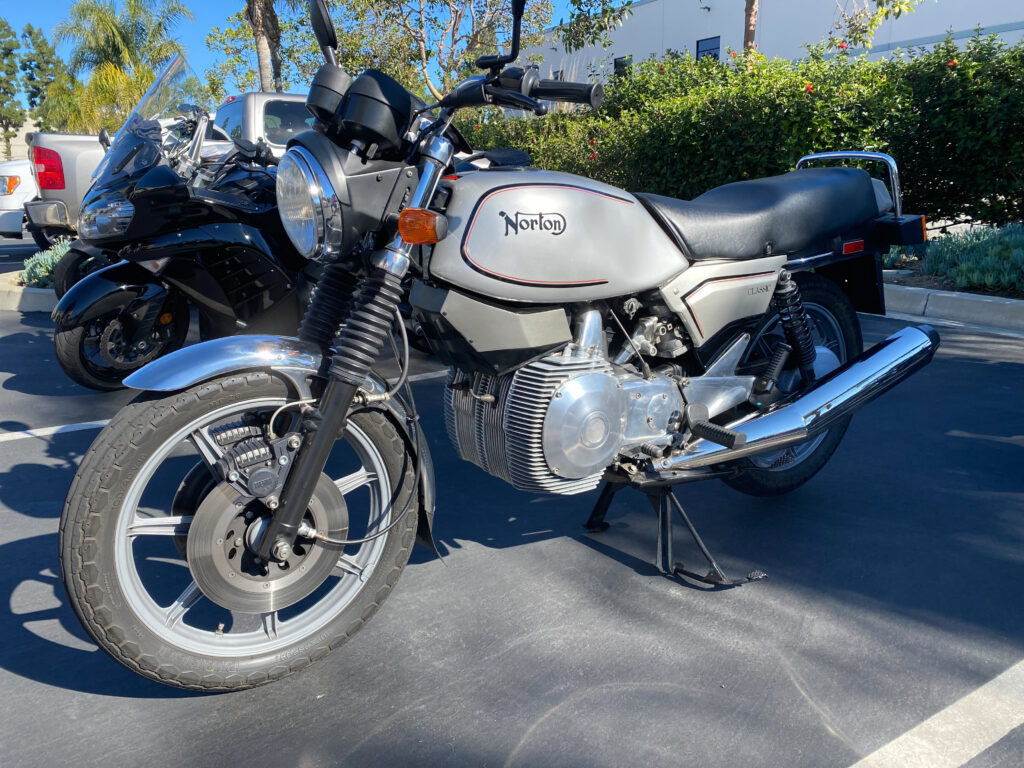 Fast in a straight line: Daniel Schoenewald has a thing for Kawasaki Mach III's and who can blame him. The early models had mediocre brakes, flexy frames and zero-to-sixty-in-four-second performance. What could possibly go wrong? If I can't have the scrambler, I'm taking this one.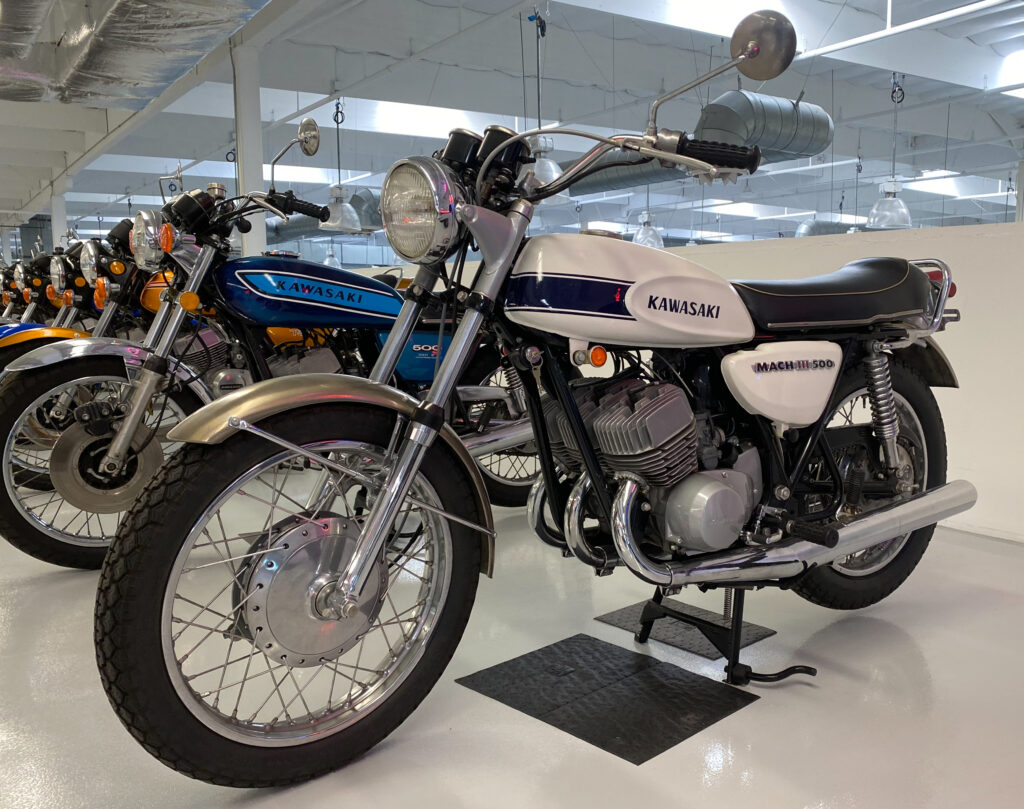 Triple vision: Like I said, Daniel Schoenewald has a thing for Kawasakis.
Blower: I suppose this turbo-charged Kawasaki is faster than the Mach III but it has great brakes and a refined frame. Where is the fun in that?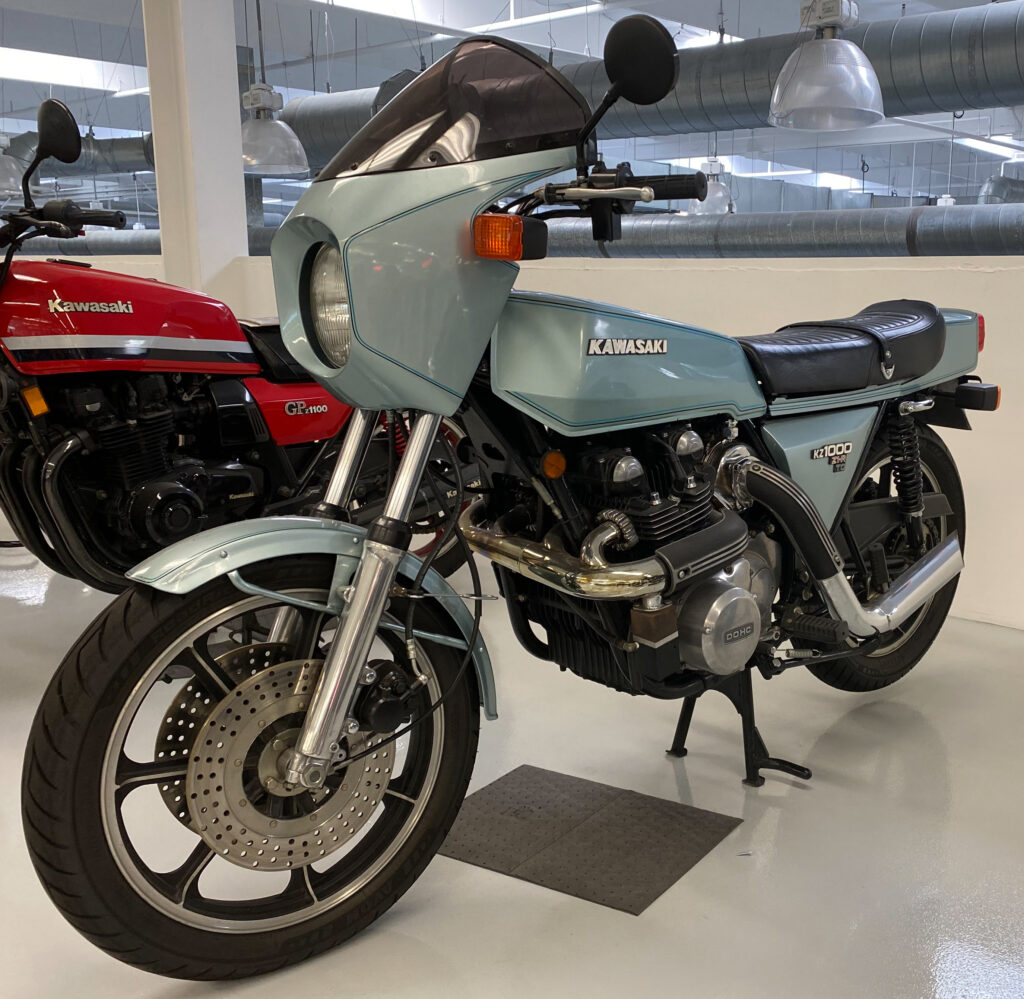 Scooter patrol: I could see taking Gail for a ride on this sano Lambretta as long as she promised to hang on tight (isn't that half the reason every guy bought a motorcycle?). The Schoenewald Collection is mostly big-displacement superbikes. I'm stoked this little scooter made the cut.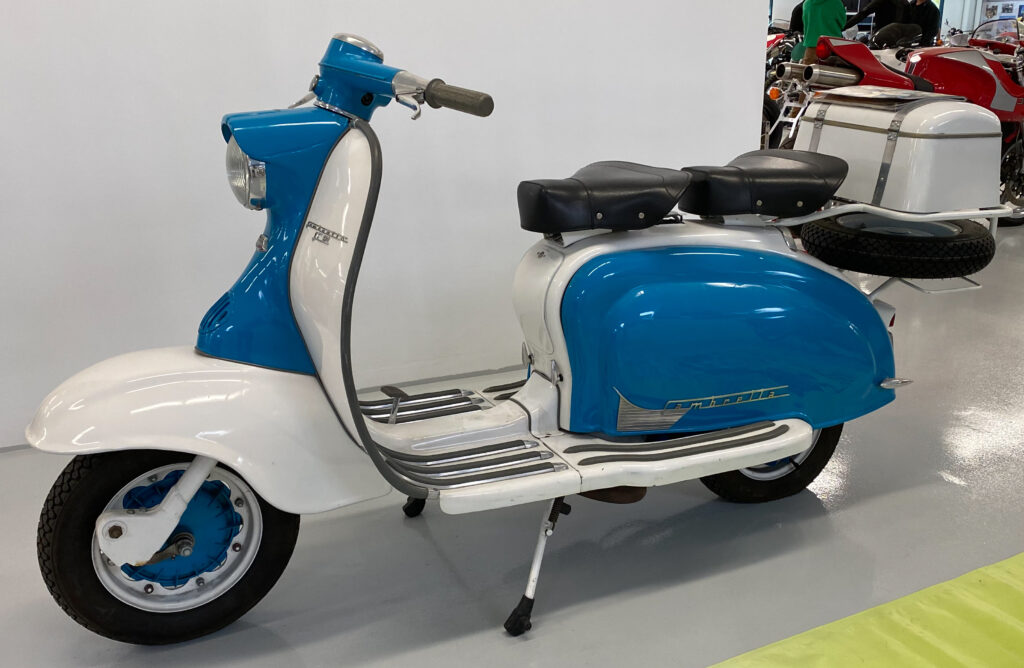 The man, the myth, the legend: Daniel Schoenewald (black shirt) owns this amazing collection. Thanks for sharing.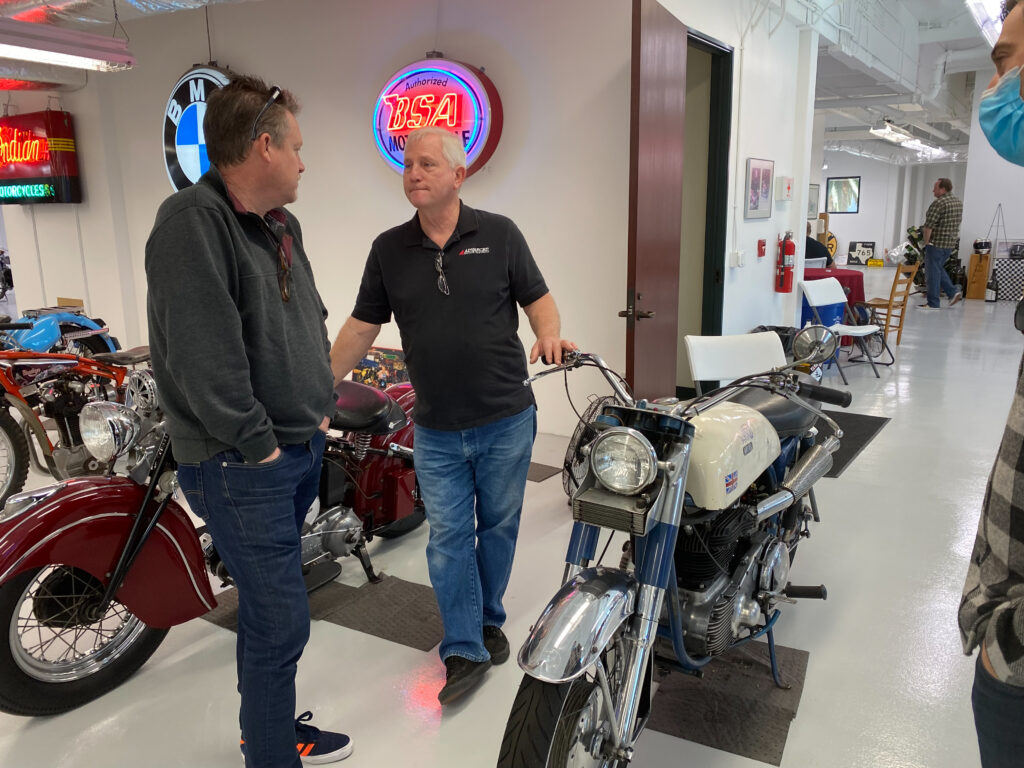 Water Buffalo: The two-stroke, water-cooled, three-cylinder Suzuki GT750 is the smoothest-running motorcycle I've had the pleasure of riding. And it was a pleasure. Four strokes are great and all, but they will never match the flow of bikes like this.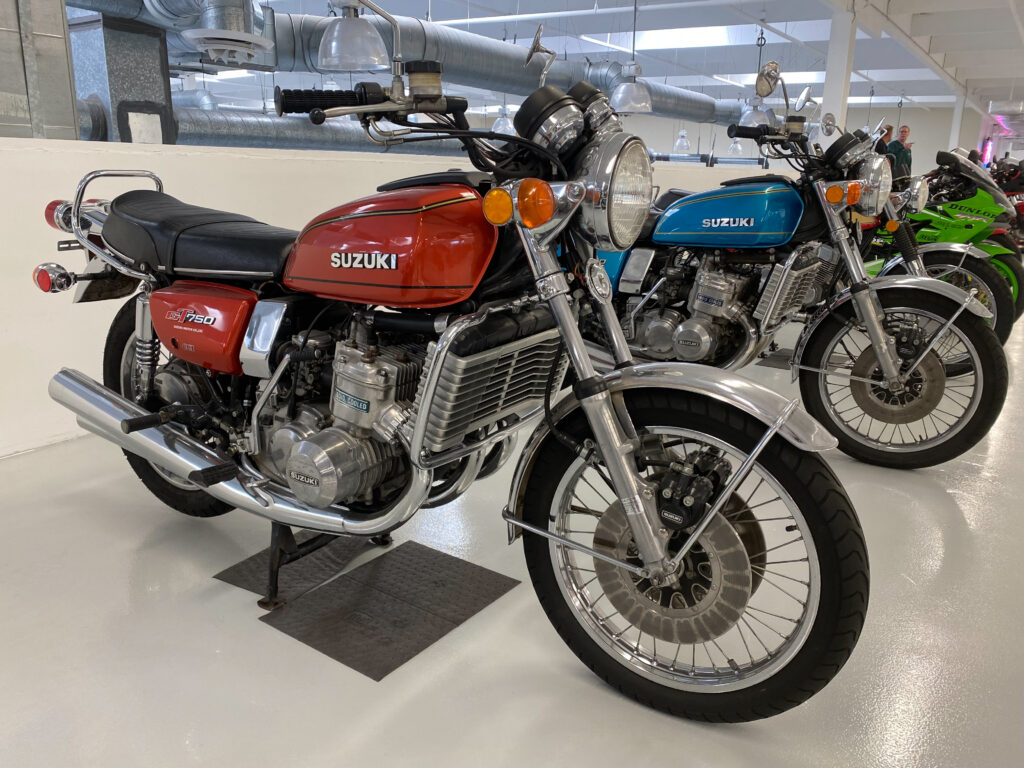 Katana on my mind: The Suzuki Katana styling signaled a departure from traditional motorcycle styling (that I was sad to see go). Today's crotch rockets all owe a debt of gratitude to the original Katana. The styling doesn't work for me. I'm stuck in the 60's.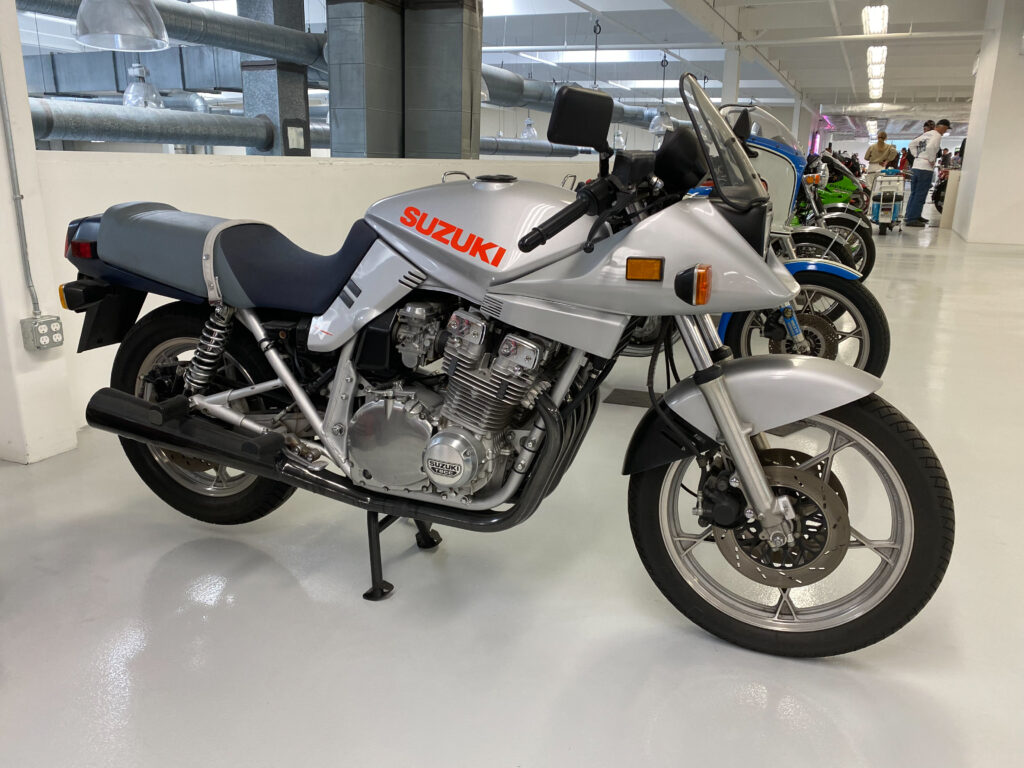 Stacked: Would love to hear this MV Augusta fired up and sucking air into those velocity stacks.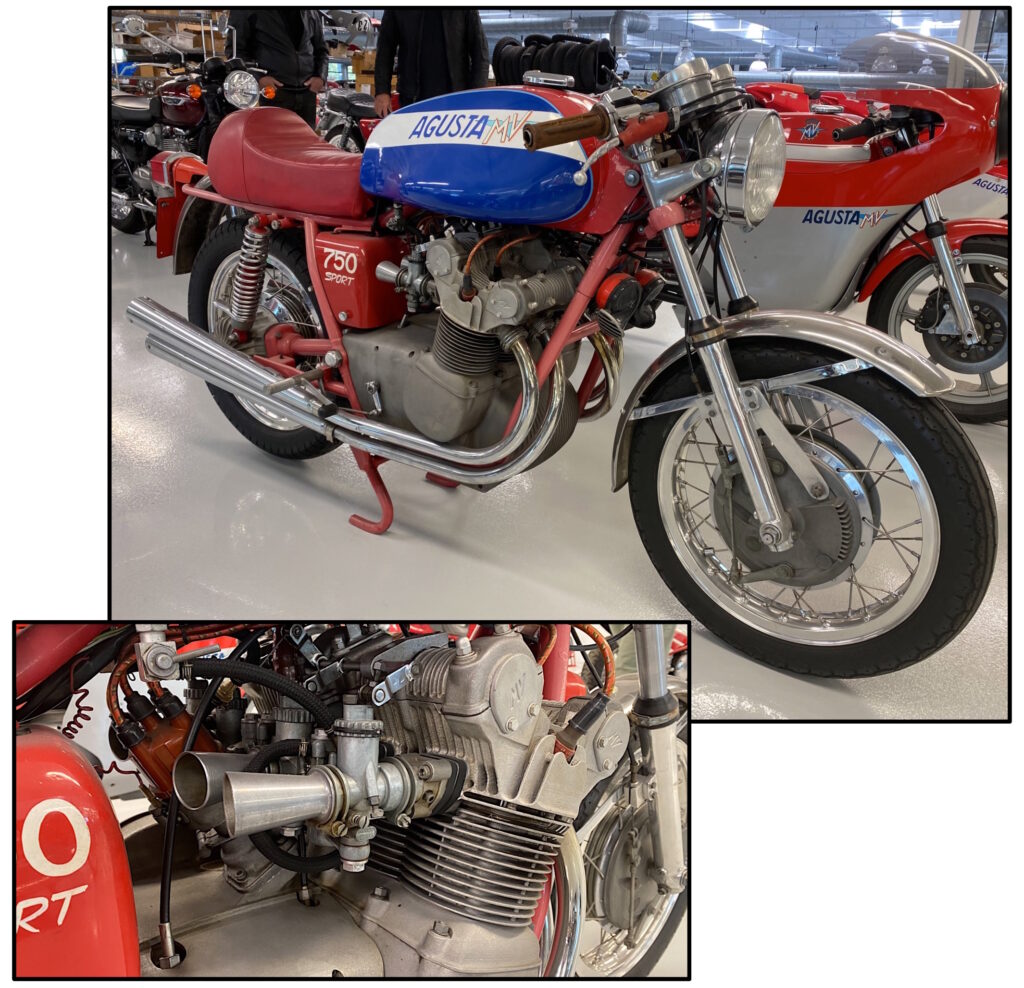 Ultra-rare treasure: The Schoenewald Collection doesn't include many off-road bikes. This '74 Suzuki RL-250 made the cut because it is one of only two pre-production models that were ridden by Gordon Farley and Jeff Koskie (who was in the house!). Talk about collectable!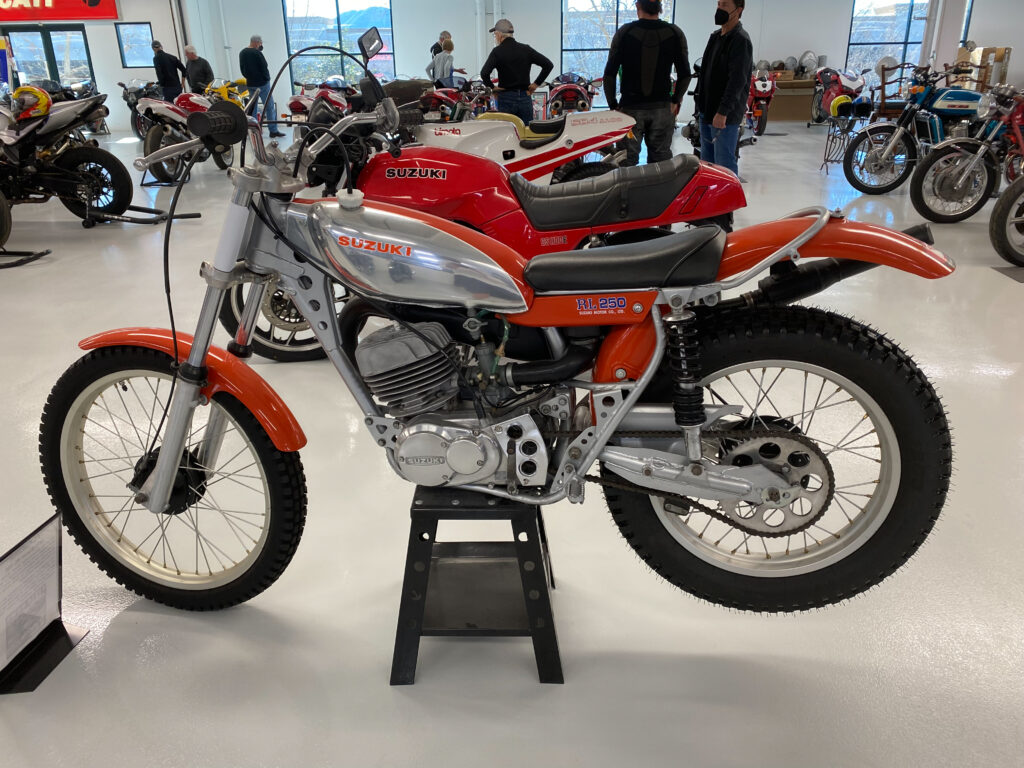 Great investment: I imagine that Mecum Auctions would love to get their hands on The Schoenewald Collection and why wouldn't they? It is worth millions. Wonder if Daniel would give me a shot at that Norton 750 Scrambler before he sent it to the auction block?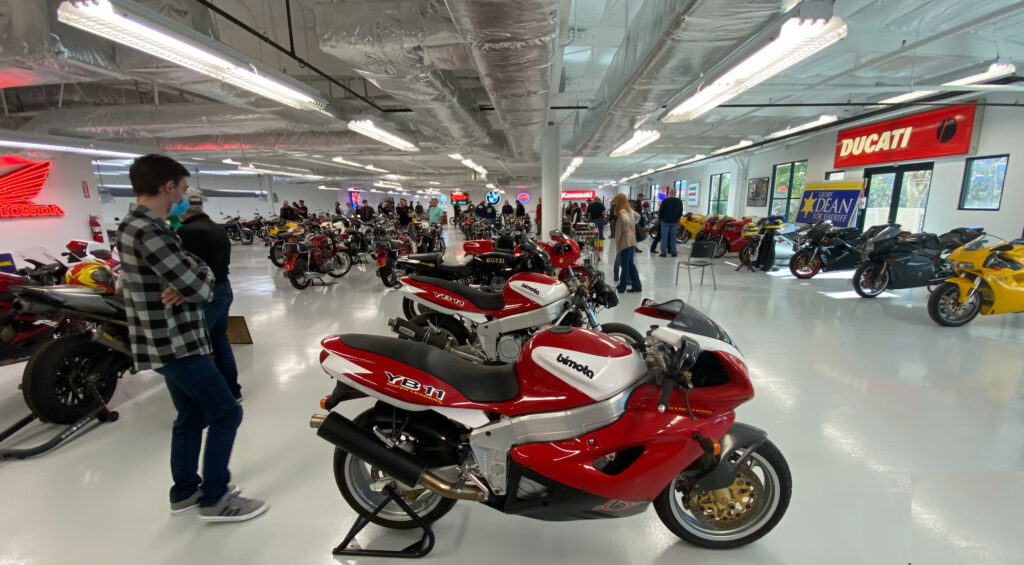 Too much to see: After you finish looking at these two glorious Moto Guzzis, look behind them. An amazing collection of motorcycles that never seems to end. I know I missed some.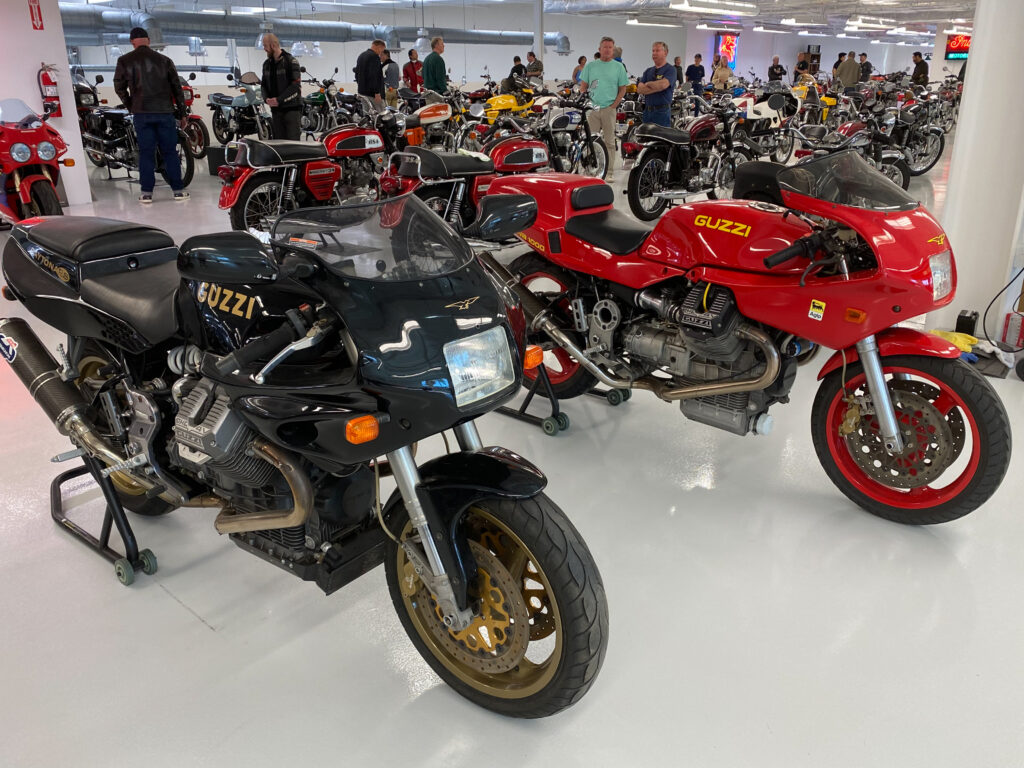 Copy cat: It is said that imitation is the sincerest form of flattery and the Yamaha XS1 650 certainly proves it. It is like a British twin that doesn't leak oil or short out the electrics when it rains. Yamaha did a better job of capturing the British vibe than Kawasaki (or even Triumph) would offer years later.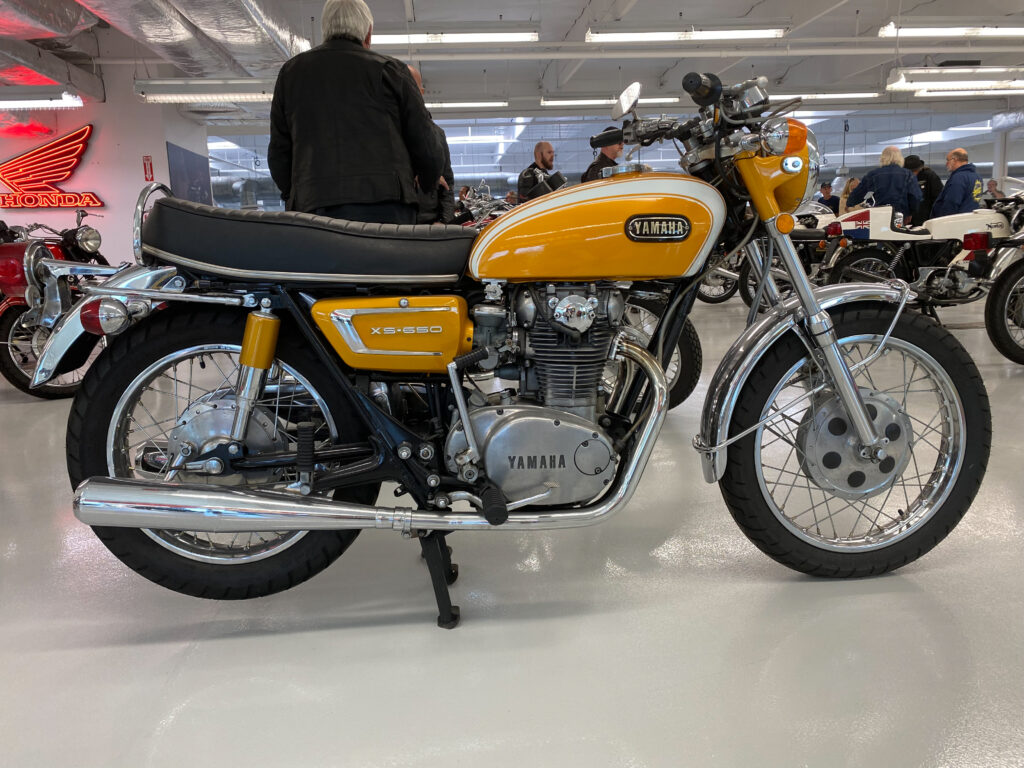 Trade-in: I have a '65 Triumph Bonneville that I'll trade Daniel for this beautiful BSA Lightning. I'll throw in lunch at Snapper Jacks just down the road to sweeten the deal.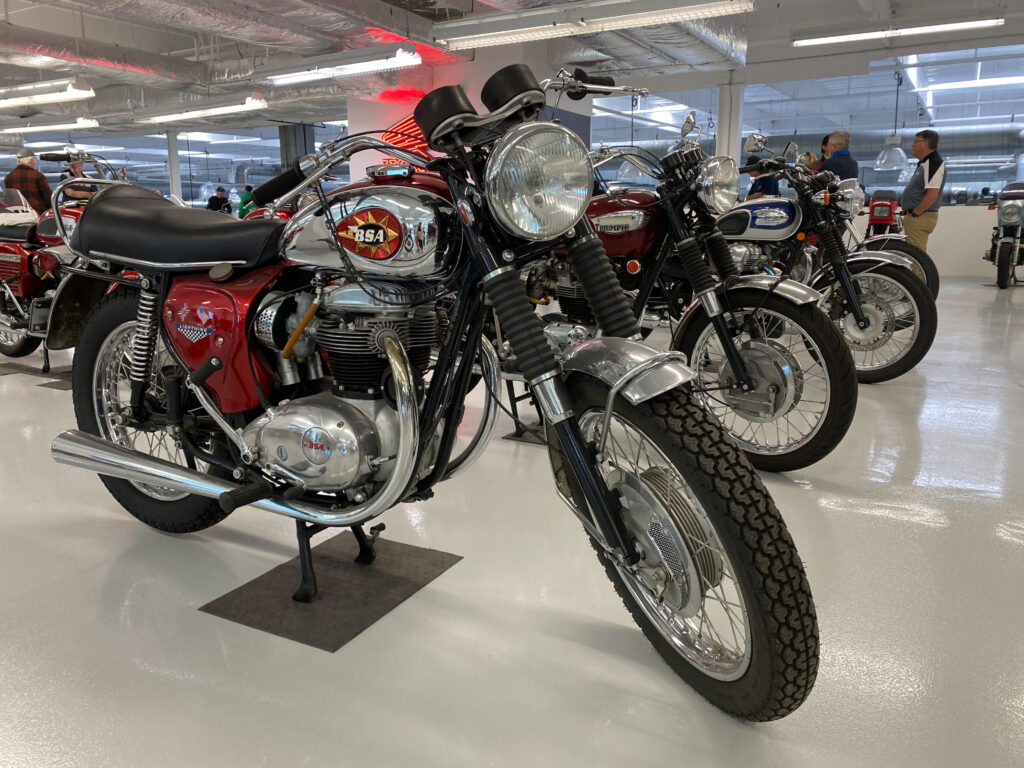 Far out, man: The Norton Commando 750 Hi-Rider was a limited production model (around 1972) that you seldom see on the road today. Jay Leno had never seen one in person until checking out The Schoenewald Collection.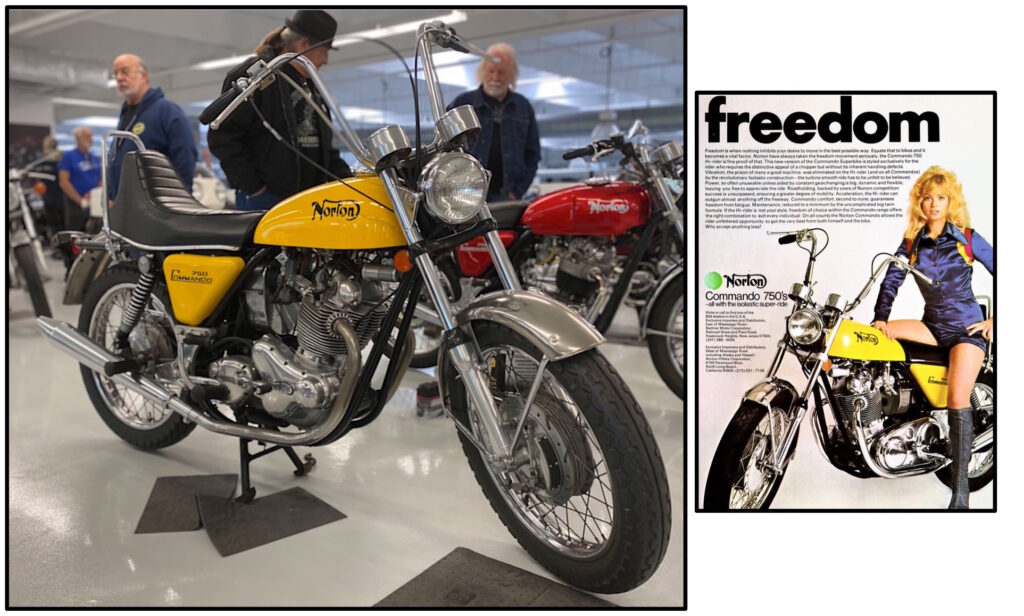 Three on the right: I loved this Craig-Vetter-designed Triumph triple the first time I saw one in 1972. It still looks great today.
Research project: Daniel was too busy today to bug him, but next time I corner him, I want the lowdown on this motorcycle.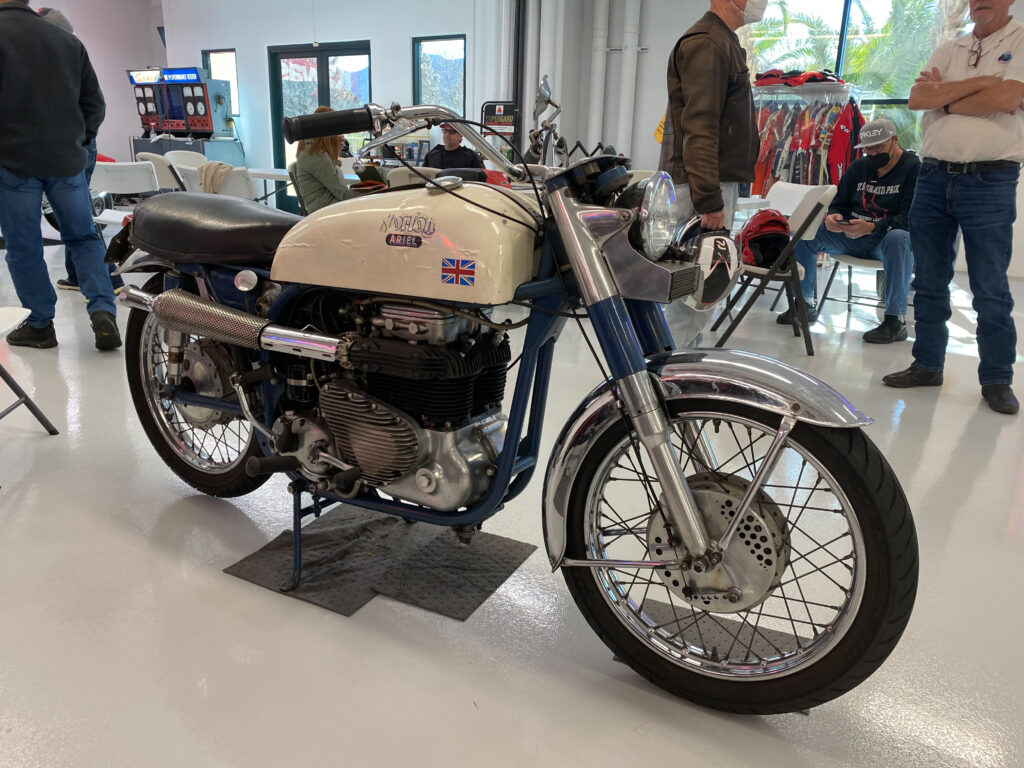 More pistons, more better: The Schoenewald Collection's theme seems to be the more cylinders the better.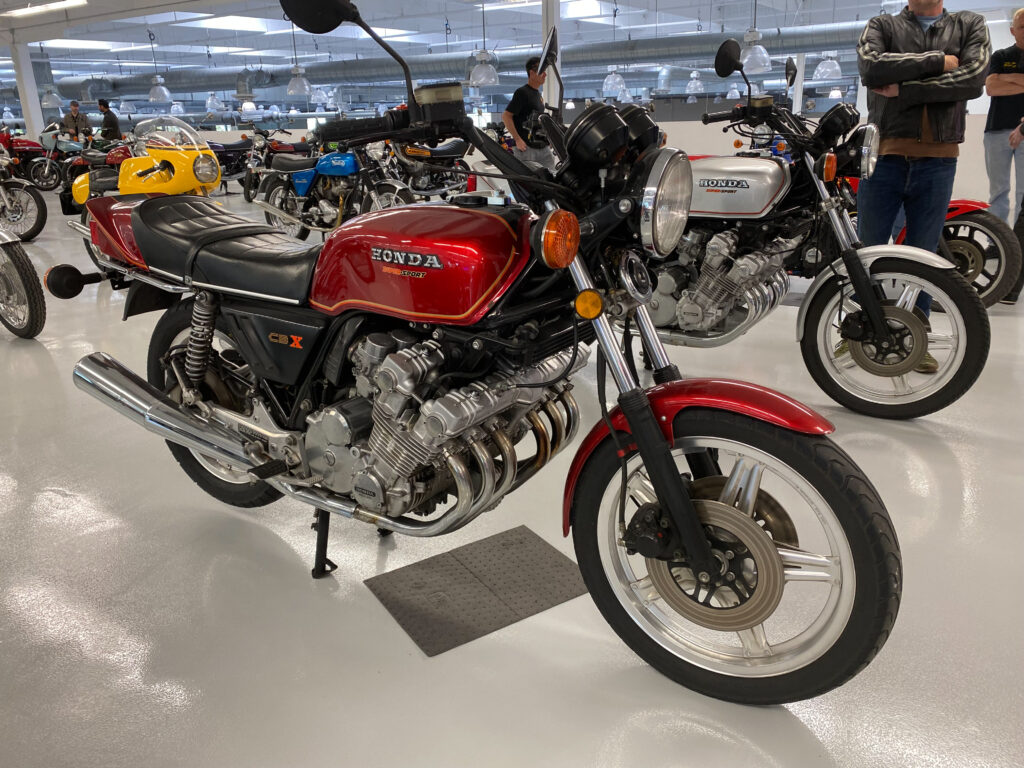 Tuck in and hang on: The John Player Norton looks fast from any angle. My favorite view would be when tucked in behind the fairing and wrapping my fingers around the grips of the clap-on handlebar. This bike is so narrow that it is hard to believe there is an engine in there.