We grew up watching movies depicting Texas as an untamed, expansive land consisting of desert landscapes, coastal plains and the country-dividing Rio Grande river. According to The World Atlas, Texas is the second largest state in America, only bested by Alaska. The geography is so unique and inspirational that it boasts its own music genre (and yes, Bob Wills is still the King). So you might figure that Texas is a dual-sport rider's dream come true. Not so fast, buckaroo. There's a catch.
While the State of Texas is a big place, it ranks way down in 45th place for public lands (a whopping 4.2% of its land mass). Compare that to Alaska (95.8%), Nevada (87.8%), Utah (75.2%) or over-crowded California (52.1%) and it becomes clear that the Lone Star State is slim pickings for dual-sport riders. That doesn't mean you should write the place off. All the public land in Alaska, Utah or Idaho isn't going to do riders much good in December when they are six feet under snow. At least Texas' measly 4.2% public land can be ridden in December.
The majority of that 4.2% public land resides inside West Texas' Big Bend National Park. So we headed down (my third time in two years) to sample the riding missed on the first two visits.
Stretching the trip: It is kind of crazy to drive from Somis, California, to Lajitas, Texas, just to ride so you make the most of the long road trip by visiting far-off friends. In this case, Barry Epstein showed me his latest digs, treated me to his gourmet cooking and almost got us stuck in his Jeep.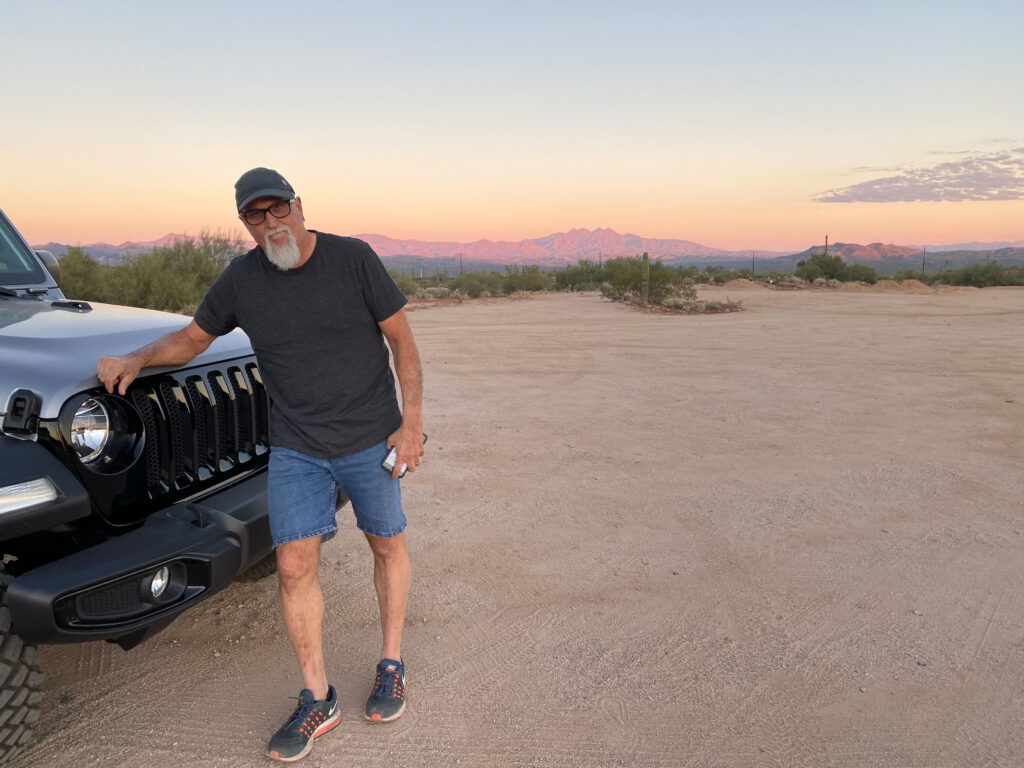 Fueling up: There are stores in Lajitas and Terlingua but it is gonna cost you. Stocking up at Porters in Alpine, Texas, before heading South will save you a few bucks and offer a better selection of food and drink.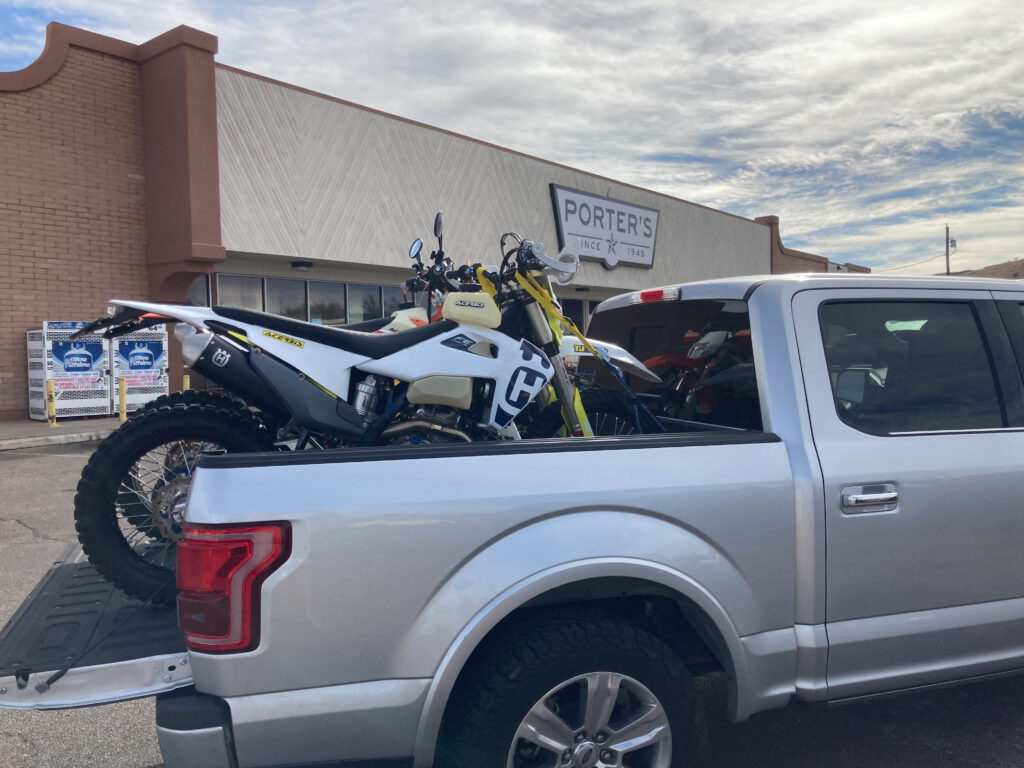 Four-star accommodations: Lajitas is not a town, it is a golf resort. This is a big-buck, luxury resort you wouldn't expect to find in the middle of nowhere, perched on the Mexico border. I didn't stay there.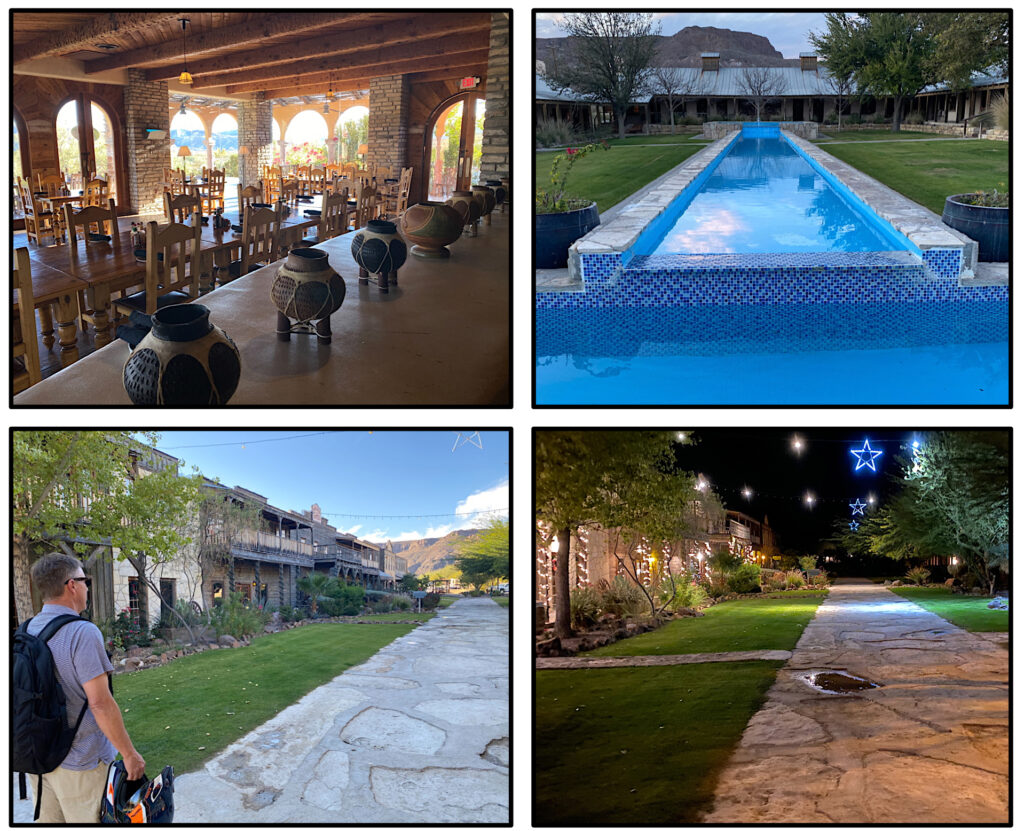 Home in Lajitas: Big Red served as my basecamp for four days while riding from Lajitas. I get a better night's sleep in my Sportsmobile Sprinter (now Field Vans) than I do in any hotel.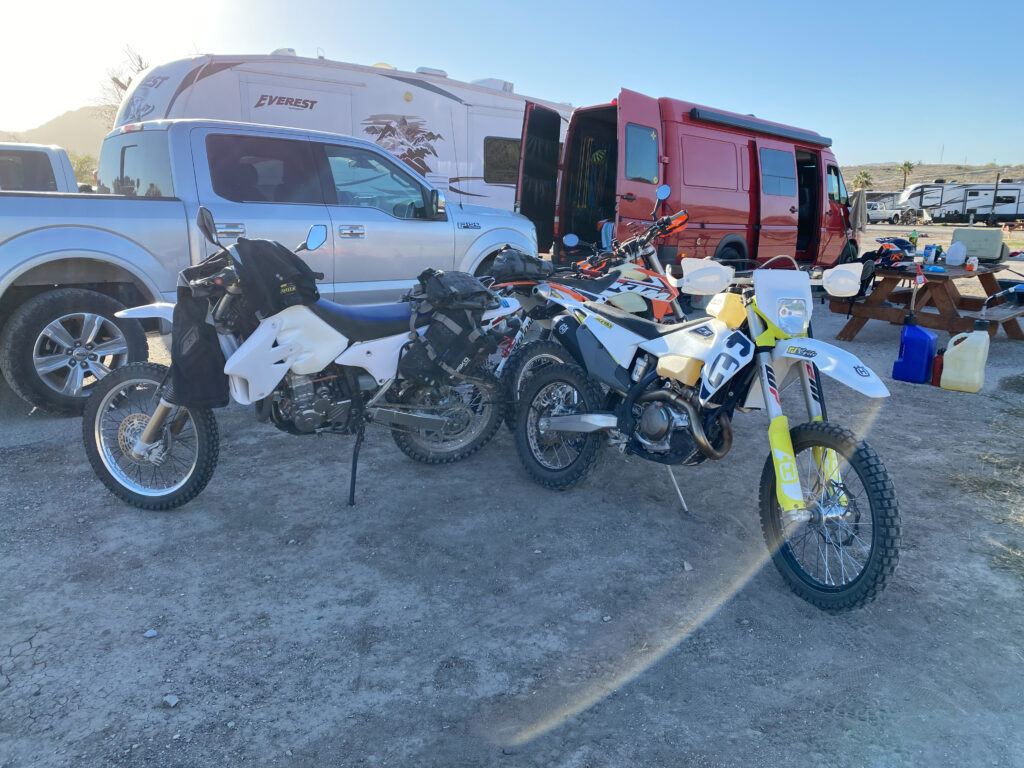 Ride to hipster Marfa: The plan was to ride as much dirt as possible from Lajitas to Marfa. It was tough because while the Big Bend Ranch State Park has plenty of two-track roads, none of them go across the park. They all dead end. On the way to  Presidio (to gas up) we passed Dom rock made famous by the movie (I've never seen) Fandango.
Honest to a fault: I can't lie to my readers even if it hurts some feelings. This place in Presidio served the worst bean and cheese burrito I've ever eaten. The guys liked their burgers, so that's my suggestion when ordering.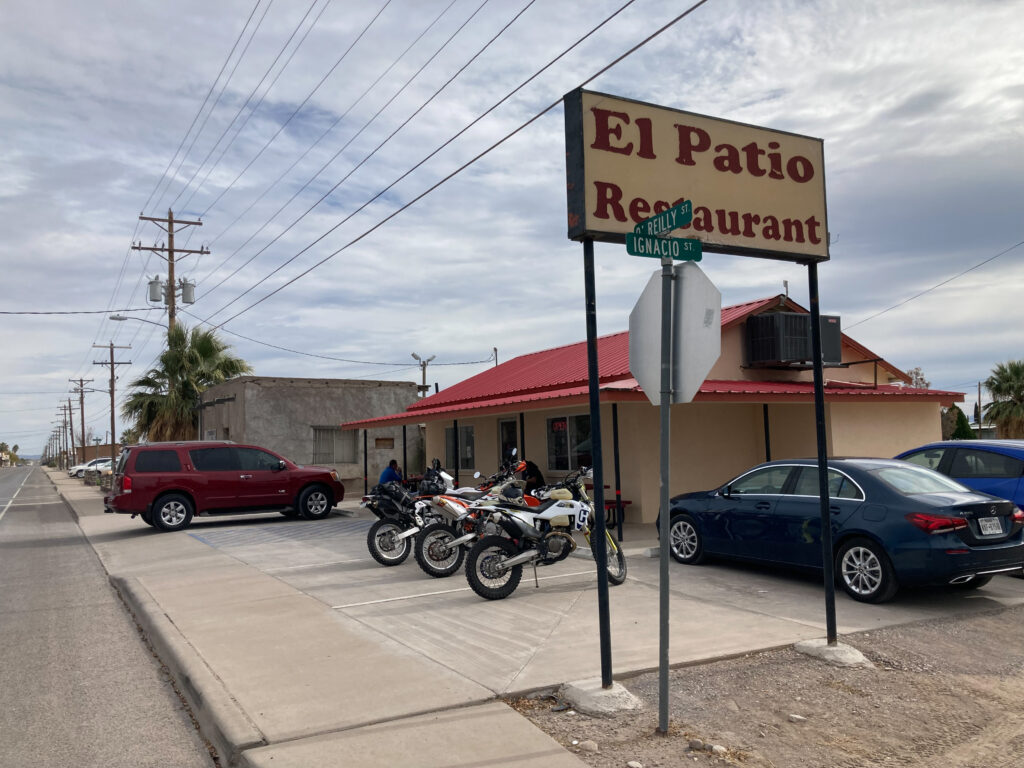 Speaking of the "guys": This adventure was shared with two buddies. I met David Thibodeaux years ago at the North American Handmade Bicycle Show in Austin and while we share a love of bicycles, David is also an avid off-road rider. This was the first time I got a chance to ride with him and it won't be the last. He stayed at the golf resort!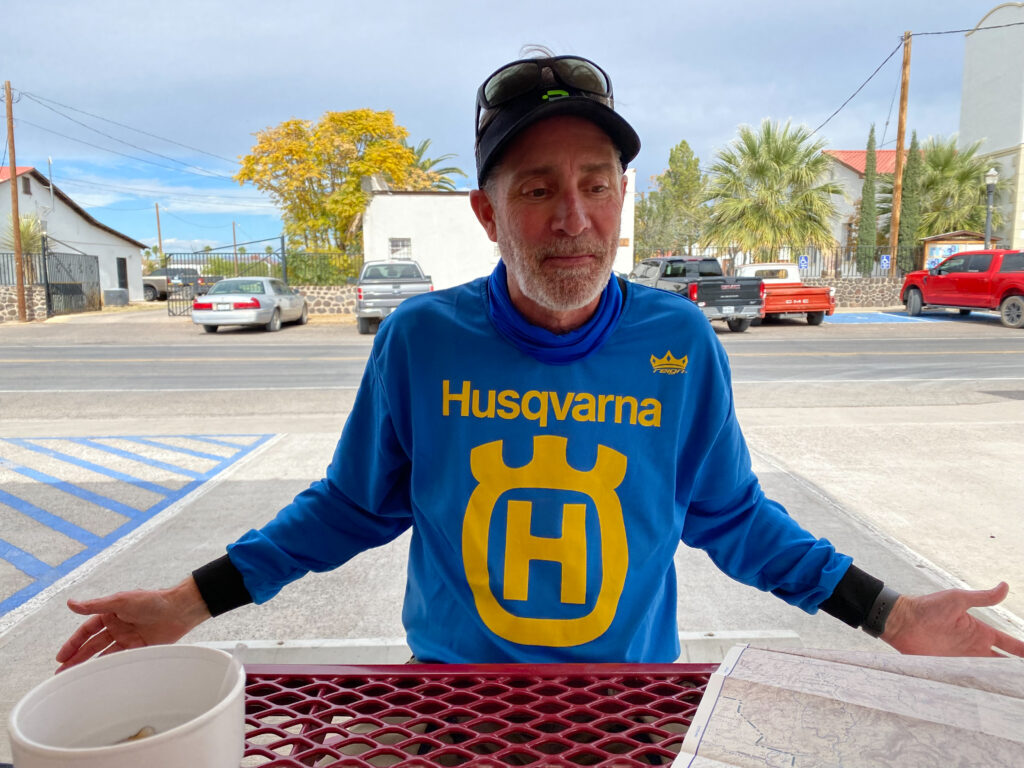 You know this guy: Lance Sallis of Central Texas Restorations is the one guy I can consistently rely on to show up for planned adventures. He is a way better rider and mechanic than I am but he puts up with my slow speeds and parts falling off my bike. Any dual-sport rider would be fortunate to have a friend like Lance.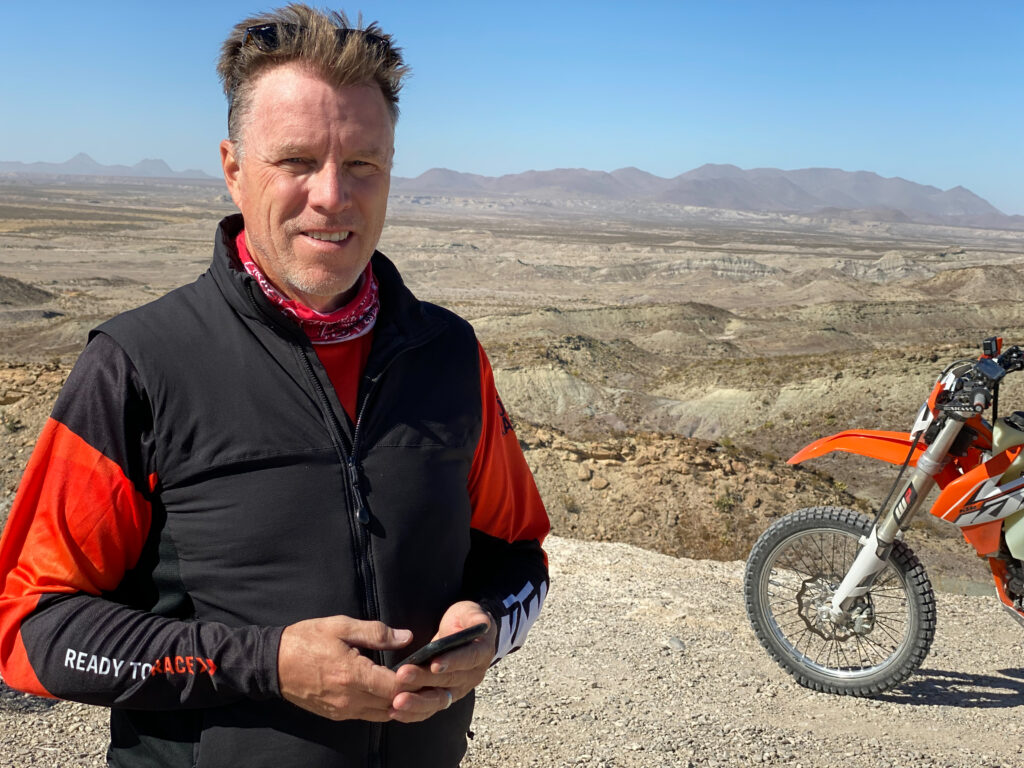 Rest stop: This old adobe off the road to Marfa was stocked with water and food probably left by good folks for the poor souls who might wander these parts on foot. The desert in these parts is unforgiving.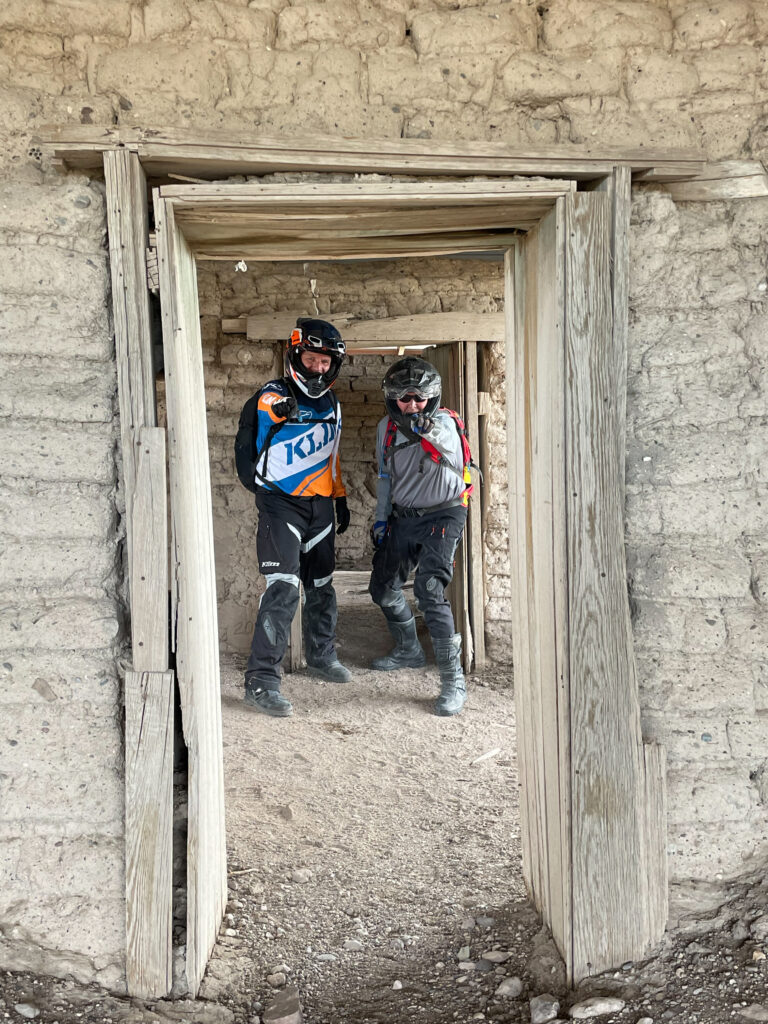 Tent Camping: A cool place to spend the night in Marfa is at El Cosmico. You can stay in a vintage trailer, a teepee or a Safari tent. We chose the tents complete with electric blankets. The place has wood-fired hot tubs but it looks too much like making a broth so we passed on it (plus, it is $80 a dip).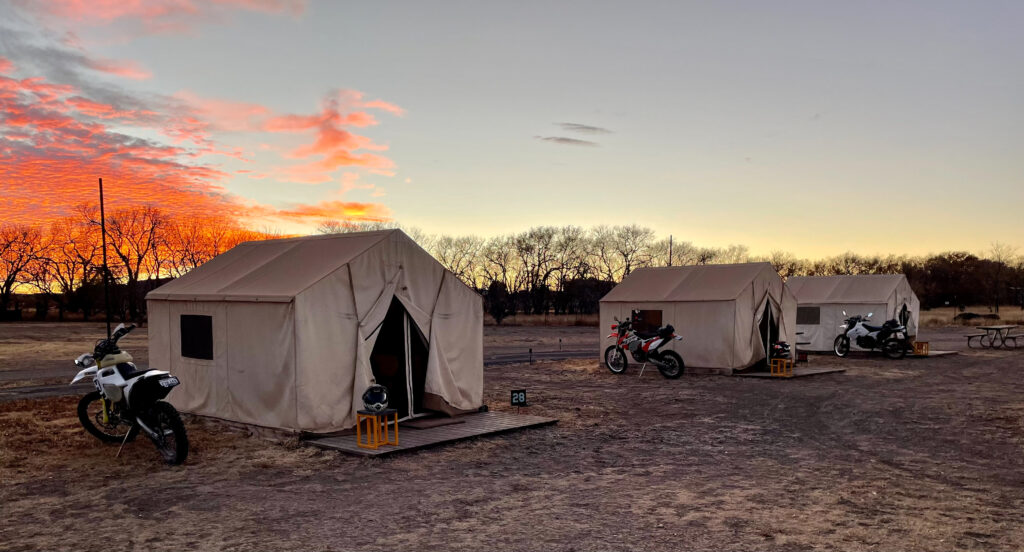 The art of the ride: I lost a chain guard bolt and asked Buck Johnston, who runs Wrong, if I could borrow a tool. She couldn't find it and sent me to Campbell "Camp" Bosworth's studio (pictured with me in front of his hand-carved wooden gun). Buck and Camp were so cool to us. Please take a second to check out this short video.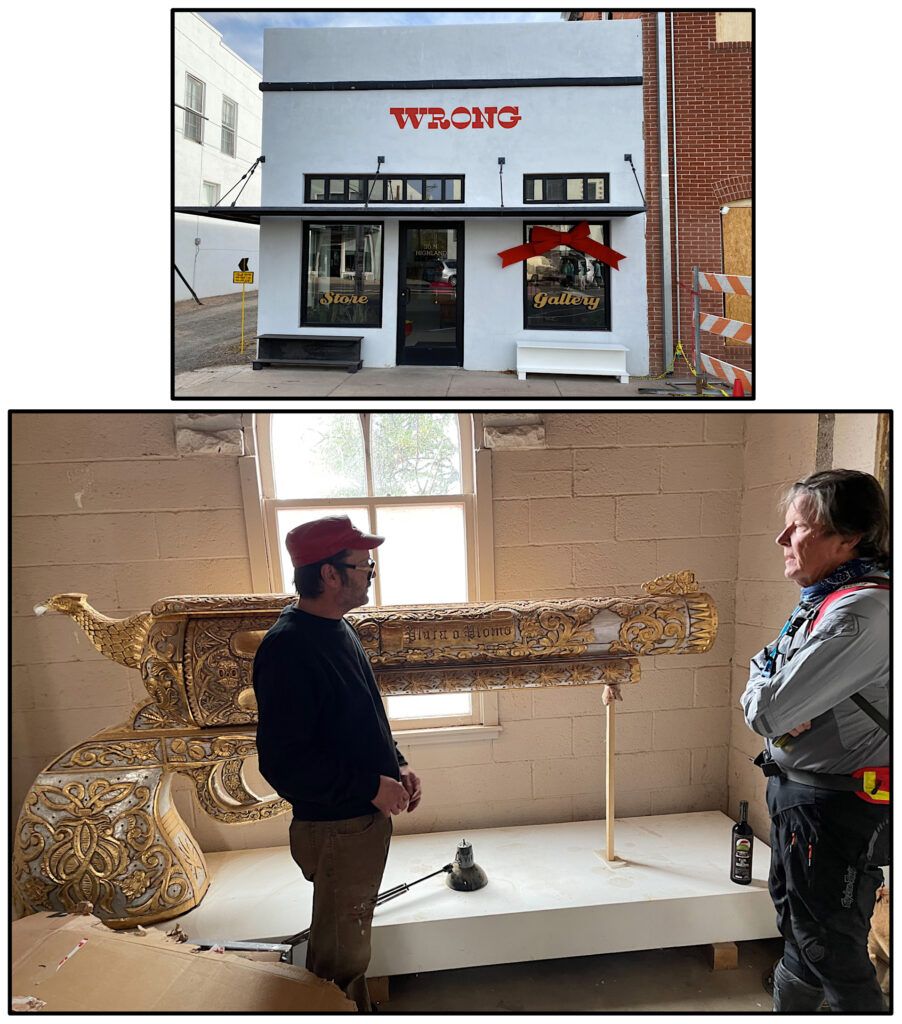 Let the real riding begin: Back from Marfa, we waited for the sun to warm the air on day 3 and entered Big Bend National Park. This is where the best off-pavement riding opportunities await. By the way, there is zero off-road riding in the park. All vehicles need to be street legal and must stay on designated roads. Not a problem. There is plenty of fun to be had.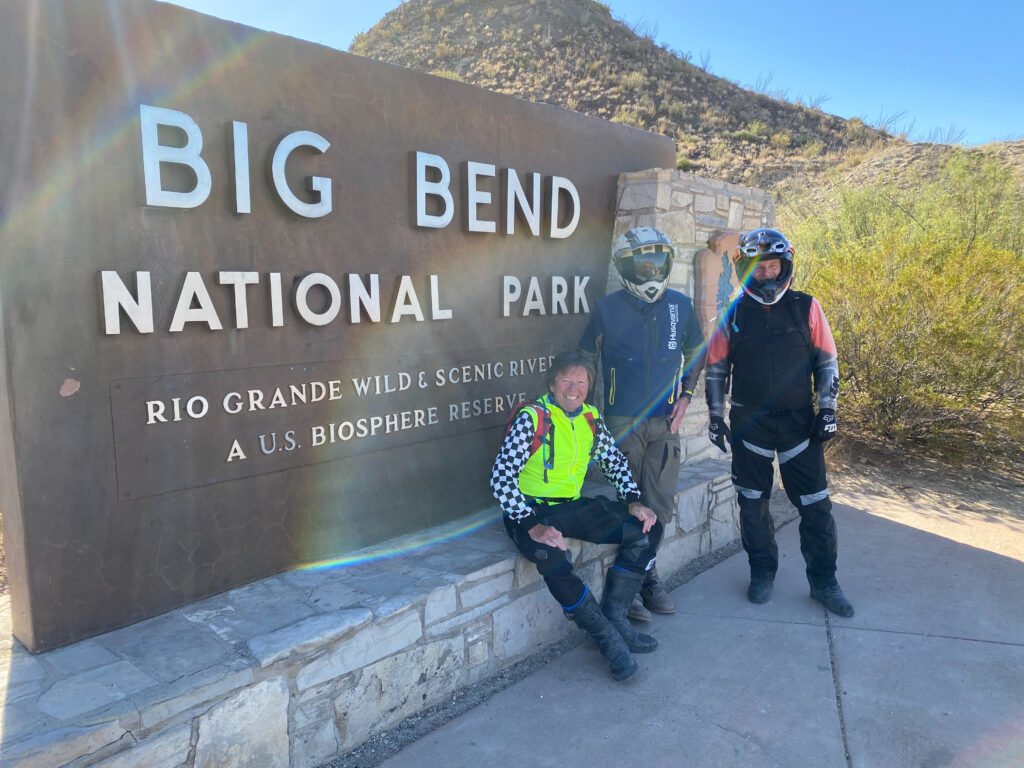 Tricky terrain: The backcountry roads in the park can be smooth gravel, loose rocks, rock slabs, deep sand and even water crossings. There are plenty of turns that sneak up on you and dry river beds to drop into. Riding below your ability is the best recommendation I can give you for riding Big Bend. You are on your own out here.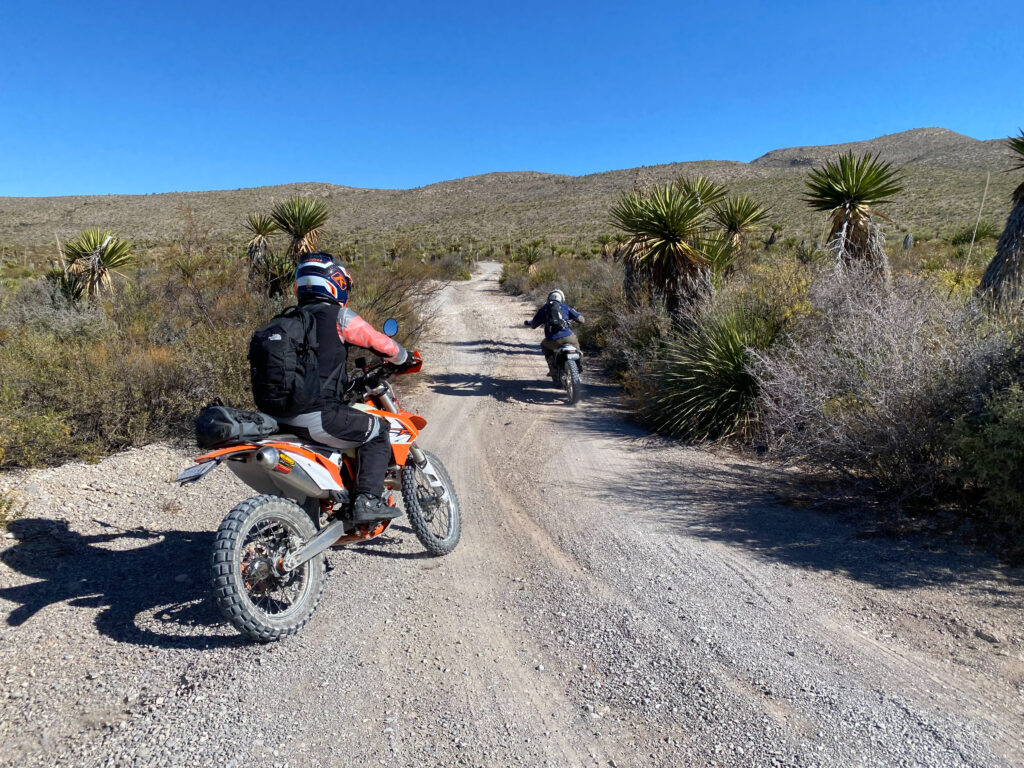 Easier than expected: None of us had ridden the Old Ore Road and were told it was very technical. Turned out to be way less technical (than say, Black Gap Road), but it didn't disappoint with terrain change-ups and distracting views. We always say we are going to stop more often but it is hard once in the groove.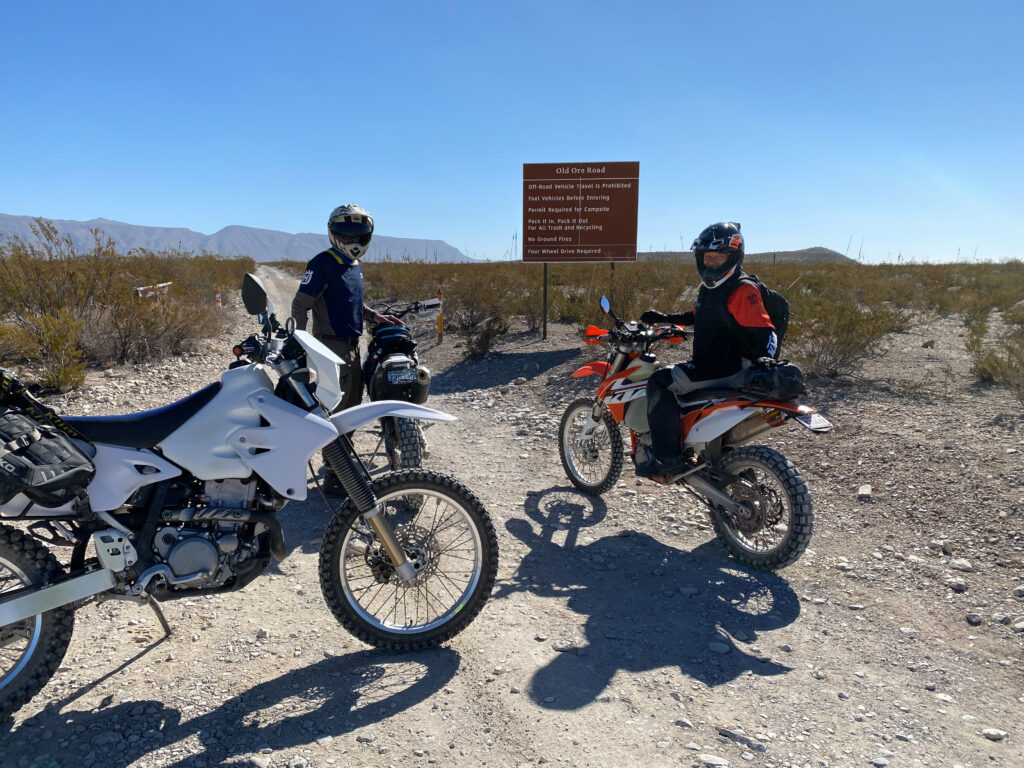 Photo op: I liked this shot of Lance and Thibodeaux coming out of the tunnel near the park's Eastern side.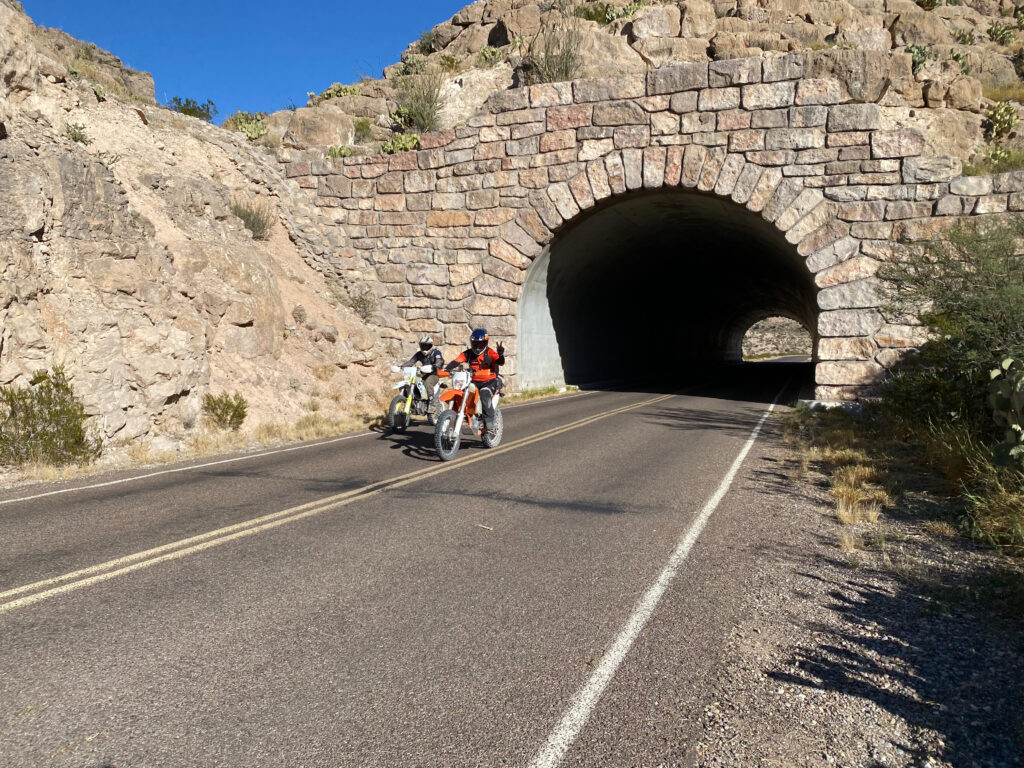 Unlucky finish: Day four started out on Old Maverick Road where Thibodeaux nailed something that punctured his rear tire. He was able to nurse it back to Big Red but his day was cut way too short.
Santa Elena Canyon Trail: Nope, Trump didn't build this wall, mother nature did. Behind Jimmy and Lance lays Mexico.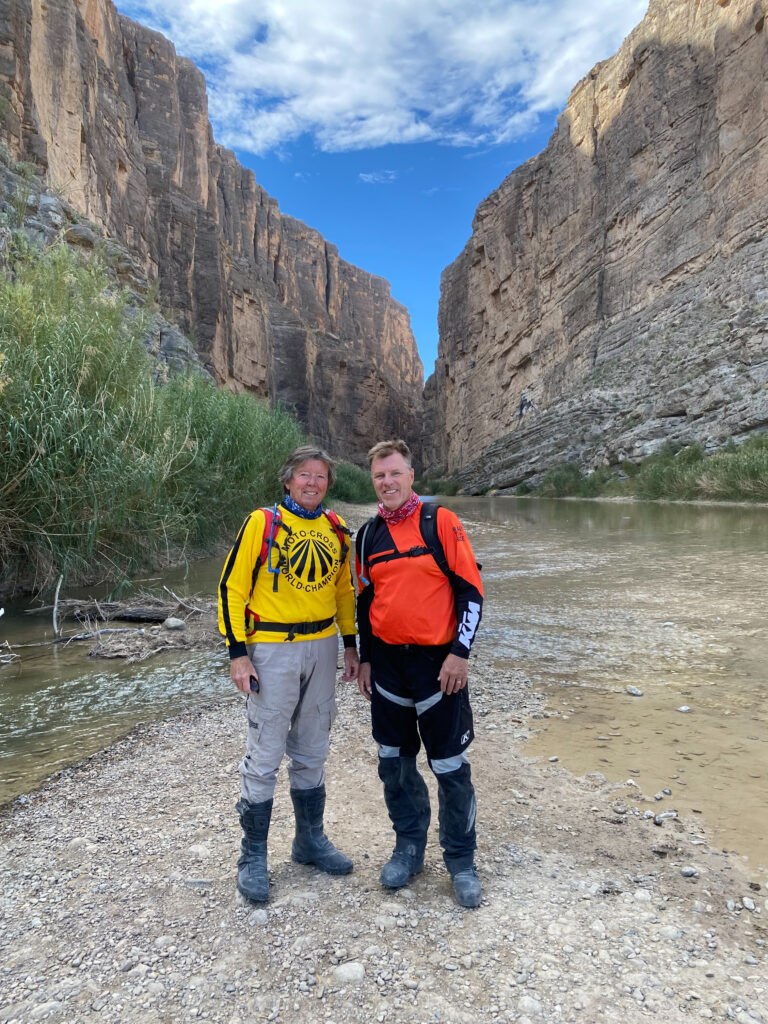 Border crossing: Lance and I crossed the Rio Grande so we could say we visited Mexico on this ride.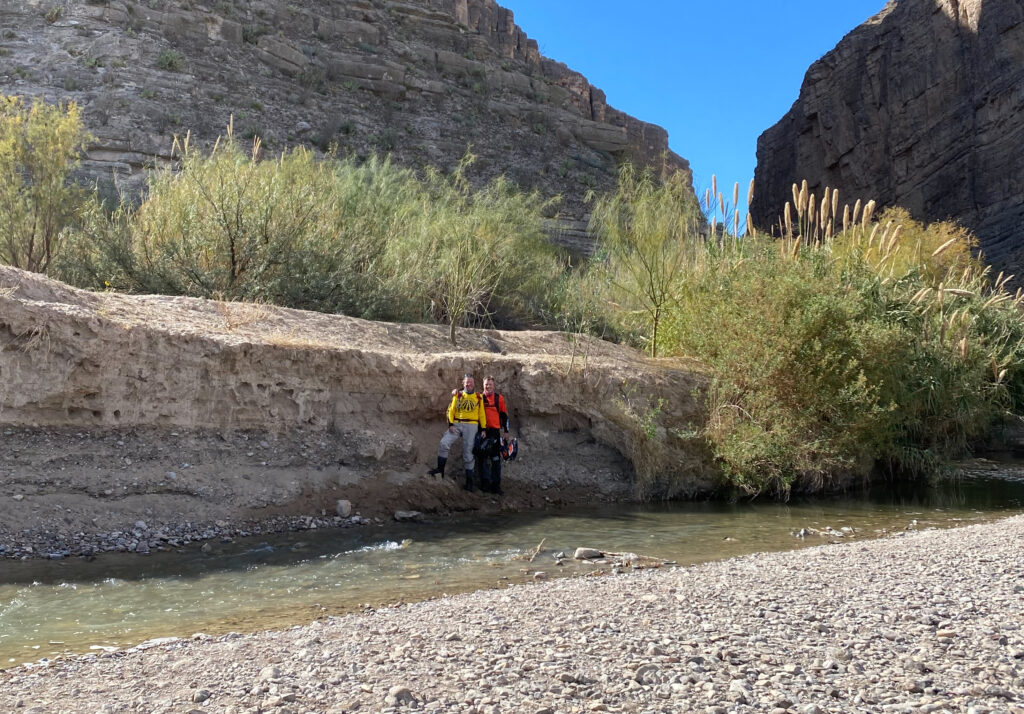 Road closed: We had ridden hours on Black Gap Road before coming to this signage pointing the other way! The jeep guys came from the same direction as we did (there was no signage on the other end). Not sure why the road was closed.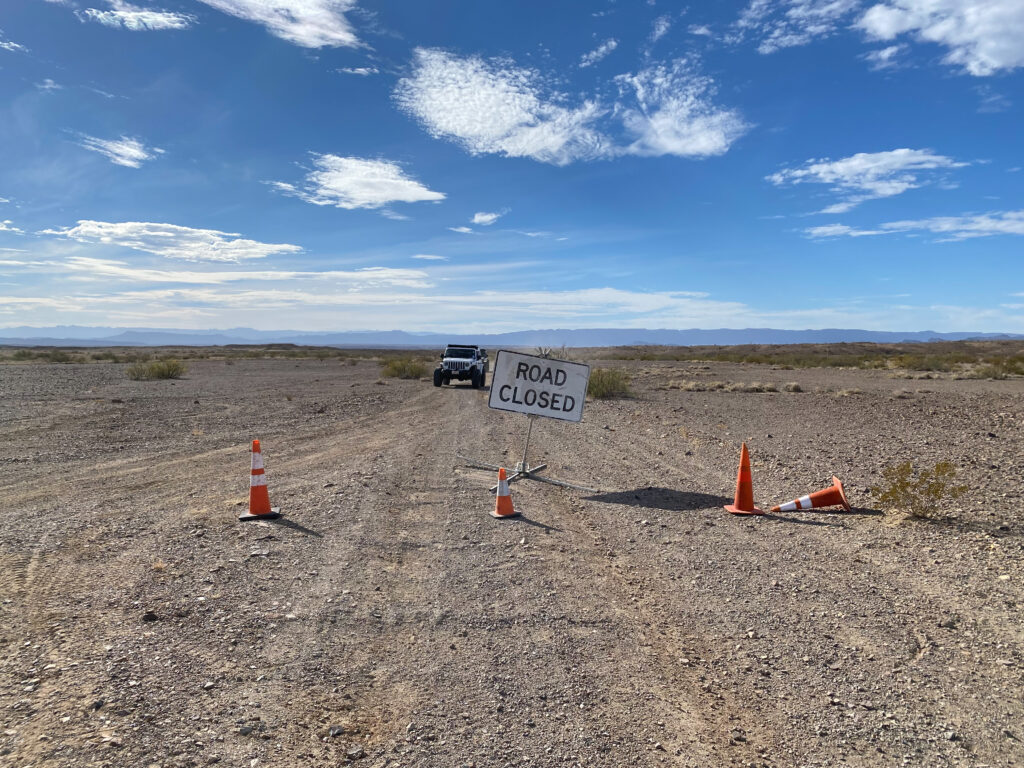 Leaving Lajitas: Blasting out of camp after five days to an eye-popping sunrise. The sunrises, sunsets and night skies are a major benefit to visiting the Big Bend area. It was a nice way to pull up stakes.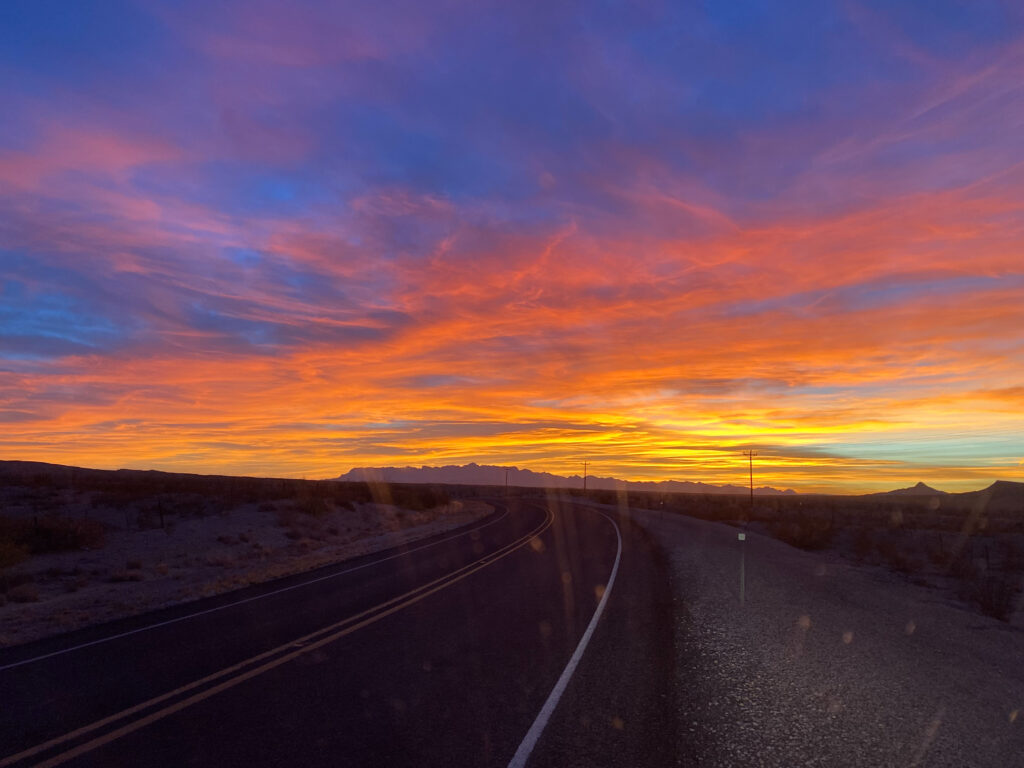 Prada Marfa: The road out of Marfa towards Van Horn is boring until you see a Prada store in the middle of (private) ranch land. The store is an art installation and has become a major tourist attraction.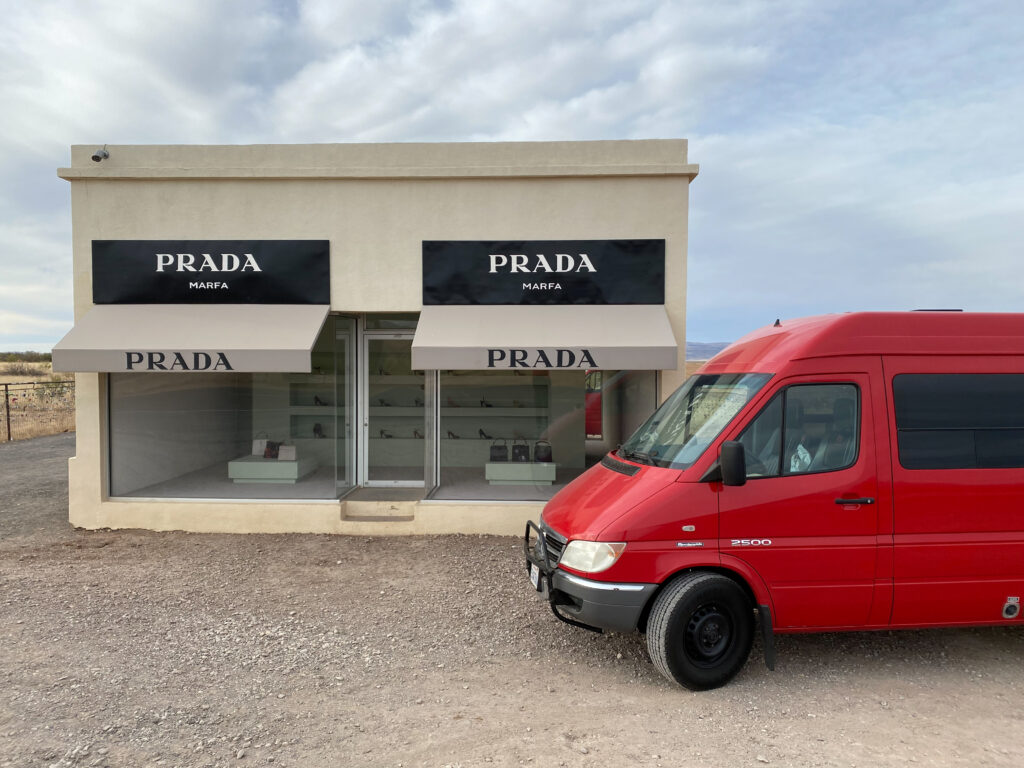 Movie tribute: James Dean, Elizabeth Taylor and Rock Hudson starred in the film Giant, that was filmed around Marfa. This art installation even had its own soundtrack (playing out of speakers disguised as rocks).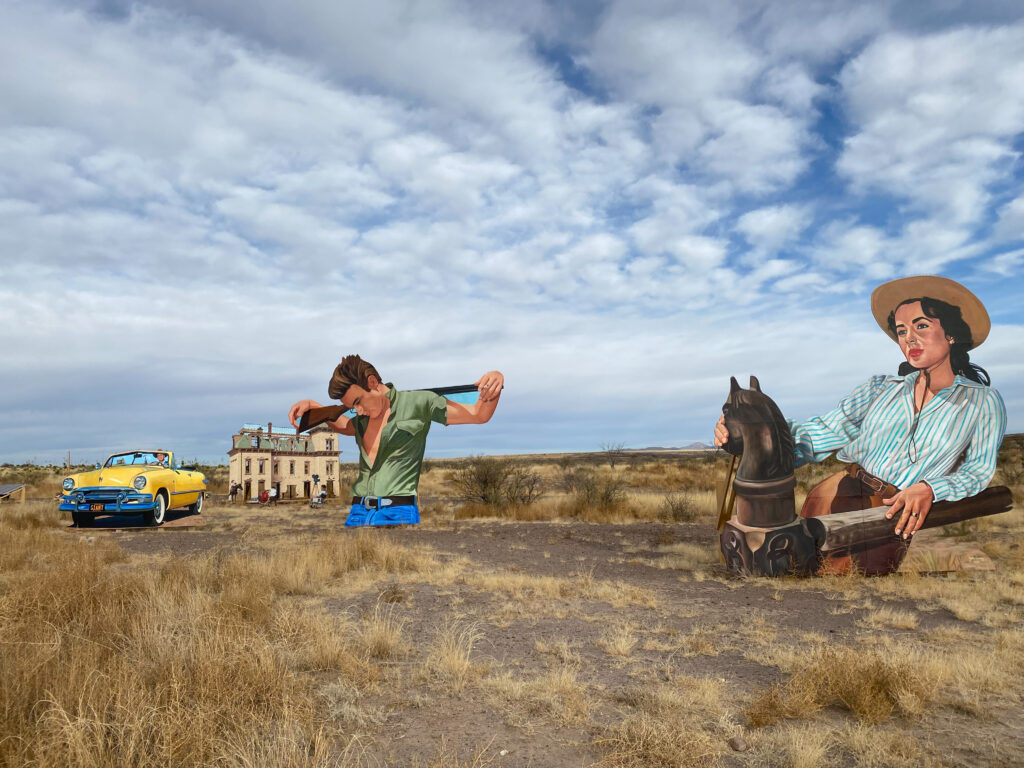 Dream development: The Hill Street School (with its elevated running track above the basketball court) has been empty and for sale as long as I've been driving through Globe, Arizona. If I was a billionaire, I'd transform it to an artist colony or my own Jimmy Mac On Two Wheels clubhouse. I'm sure it will burn down or be torn down. Such a shame.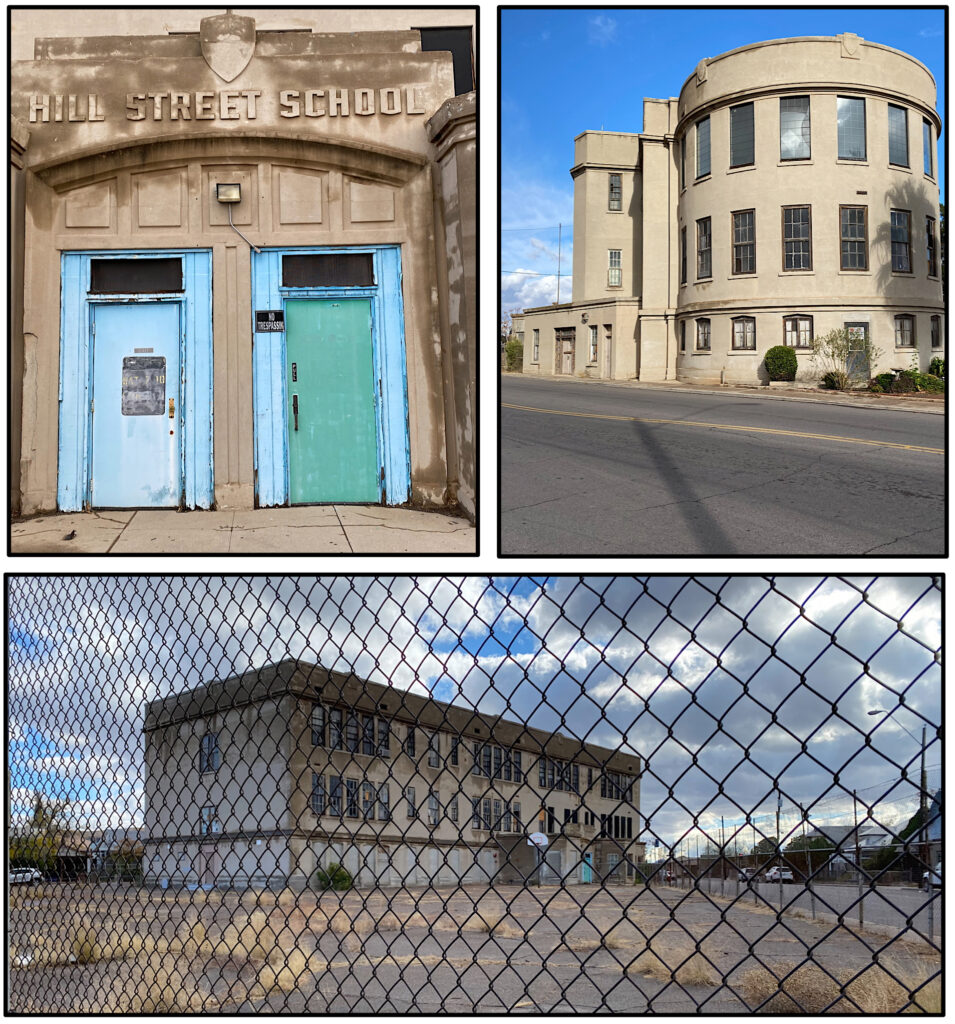 Open by appointment: Military Arms & Antiques in Globe, Arizona, is opened by appointment only. I called and the friendly and informative owner opened the place up for me. I wished it was motorcycle stuff instead of military stuff. This place could be a museum. If you are into military collectables, I think their prices were very reasonable. (818) 846-4509.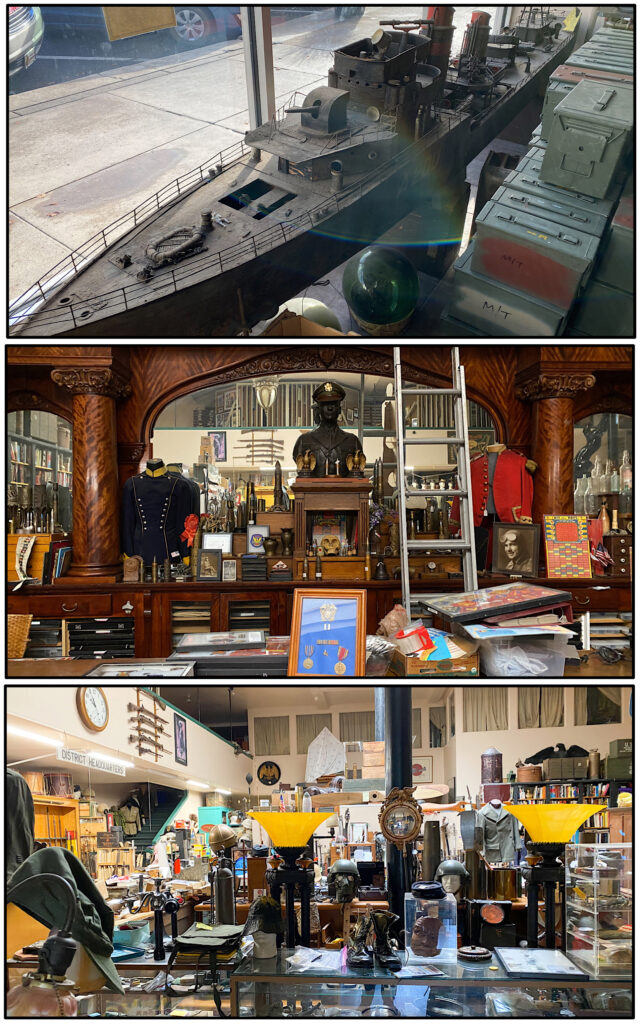 Final stop: I hit up old friend and baja travel expert James Degaine for my final night on the road. James' secret compound is in the desert hills above Palm Springs. You will not find anyone who has logged more off-road miles in Baja (on two and four wheels). Maybe we can talk him into guiding our next adventure?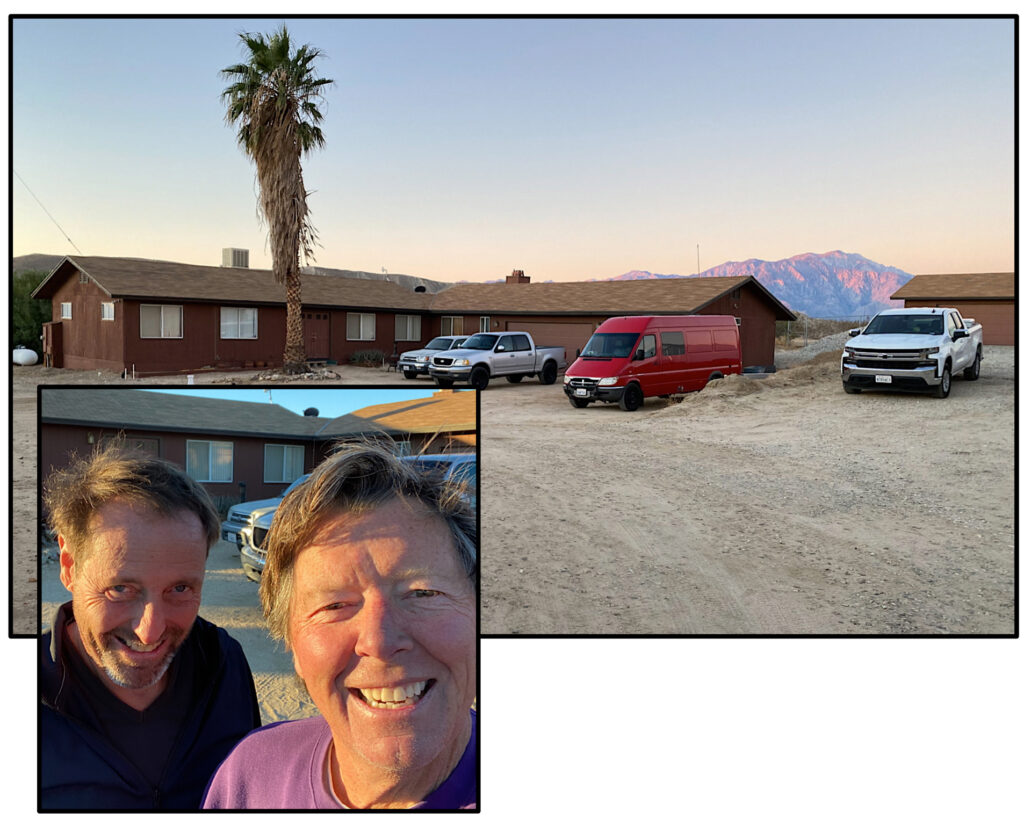 Merry Christmas from the big guy: The Cabazon dinosaurs (off Interstate 10 West of Palm Springs) are in the holiday spirit and about 2 hours from home so they are a welcome sight.