The proposed E-BIKE Act introduced by Congressman Jimmy Panetta and Congressional Bike Caucus Chairman Earl Blumenauer has great intentions. Unfortunately, it is so poorly defined that it invites abuse. If the act passes in its present form, riders who use their e-bikes solely for off-road recreation get the same incentive as riders who use their new e-bike to reduce car trips.
THE GOOD INTENTIONS
Congressman Jimmy Panetta has great intentions with his E-bike Act. "E-bikes are a legitimate and practical form of transportation that can help reduce our carbon emissions," said Congressman Panetta. "My legislation will make it easier for more people from all socio-economic levels to own e-bikes and contribute to cutting our carbon output. By incentivizing the use of electric bicycles to replace car trips through a consumer tax credit, we can not only encourage more Americans to transition to greener modes of transportation, but also help fight the climate crisis."
Congressman Panetta left out that replacing car trips with e-bike use could reduce traffic congestion and alleviate parking issues while better connecting riders with their community. An added bonus is that more riders will experience the fun of riding an electric-motorized bicycle. 
THE CONGRESSMAN GOT SCAMMED
Congressman Panetta's staff relied too heavily on the e-bike industry who saw an opportunity to increase sales of electric-motorized mountain bikes. What Congressman Panetta didn't realize is that his act's tax break extends to e-bikes intended and purchased for off-road recreational. His E-BIKE Act gives up to a $1,500 tax break to the e-bike owner who will load the bike into a car or truck, drive to a trailhead and operate a motorized vehicle on a trail once reserved for non-motorized activity. The E-BIKE Act will conceivably increase car trips and motorized recreation.
IT HAS BEEN DONE CORRECTLY
The Redwood Coast Energy Authority (RCEA) offered their customers a $500 rebate for purchasing an e-bike. The program, kicked off on Earth Day in 2020, was so successful that the program's $41,500 budget was exhausted within a month. 
The RCEA's program approved specific e-bikes for the $500 payment. The RCEA understood that to reach their goal, extending the payment to purchasers of off-road recreational e-bikes would be counter productive. Well done, RCEA. Congressman Panetta and his staff missed this important stipulation. 
PANETTA'S ANTI-BICYCLIST ACT
It is bad enough that the poorly defined E-BIKE Act will fund recreational vehicle purchases, but I believe a larger flaw is that the Act does not apply to bicycle purchases. This tax credit should be available to commuters who ride non-motorized bicycles. These riders are accomplishing all the things that Congressman Panetta wants his Act to achieve and they do so with a smaller carbon footprint than a motorized bicycle.
If you feel that the E-BIKE Act is discriminatory and is too easy to abuse, you can drop a note to your congressional representative and ask for the modifications necessary to better apply the tax credit and to extend the tax credit to non-motorized bicycle purchases. Click this link to find your congressional representatives.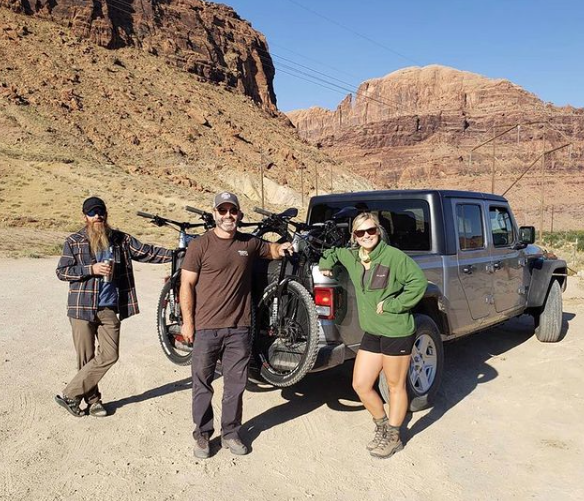 About the author: Jim "Jimmy Mac" McIlvain was Editor of Mountain Bike Action Magazine and Road Bike Action Magazine and a contributing editor of Electric Bike Action Magazine. He has been used as a resource by land management agencies in developing e-bike and mountain bike policy. Jimmy welcomes feedback or questions from land management agencies, retailers and riders who deal with e-bike issues. The Jimmy Mac On Two Wheels website is self-funded.