I collect albums (and CDs and 45s) that have a motorcycle on the cover. I've amassed 100-plus albums and there are more to be added. One elusive release has kept me awake at night (or if I sleep, I dream about it). The Holy Grail of motorcycle albums isn't really an album at all. In 1964 Honda of Japan released a brochure that included a red flexi disc with The Beach Boys' Little Honda and The Jannies & Blue Jeans singing the same song. The brochure/flexi disc was never sold. It was a Honda promotional item for their motorcycles and cars of the era.
I've searched eBay, Amazon, Craigslist, Discogs and hundreds of records shops to no avail (there is a copy on Discogs now if it hasn't sold). I decided to throw a Hail-Mary pass and contacted the amazing Fumitaka "Mission Impossible" Ohyabu.
Fumi traveled from Japan and showed up at Troy Lee Designs one day to present Troy with a hand-made electric guitar (that Fumi had made from scratch). Fumi admired Troy's genius and this was his way to show respect to a master. The memory is still clear because Troy was overwhelmed by the gift. Blown away is a better description.
I don't remember how it all transpired, but it wasn't long before Fumi was working with us and he and I became close friends. Not business friends, but real friends. Fumi moved back to Japan and we have never lost touch. So I thought I'd ask him to keep an eye out for Little Honda. A week later I got this response:
"After I got email from you, I called hundred record shops. I said "Without Jacket one is fine!!" but there were no shops that have it. You know why? That was not record. That was some promotion thing for Honda in 1964 that almost 60 years ago!!!!!!!!!!!!!!! And it was NOT FOR SALE!!!!!!! That's mission impossible. I am not Tom Cruise!
I did remember one guy who was collecting motorcycle catalogs long time. I asked him about it. He said "Too old…Too vintage…maybe no…". I had to find another way to get it. I did sleep to find way in dream so.
Few days later he who catalog lover guy called me and said "I find one." I treated him to Sushi! Jimmy, that is so so rare and I am Tom Cruise now."
Less than a week later, a package from Japan shows up. Inside was the Holy Grail of motorcycle albums (that is not really an album). I am overwhelmed by the gift. Blown away is a better description. Thank you Fumi (or should I say Tom Cruise?).
The package arrives: A well-protected cardboard package arrives at Jimmy Mac On Two Wheels with Japanese writing sent by Fumitaka Ohyabu.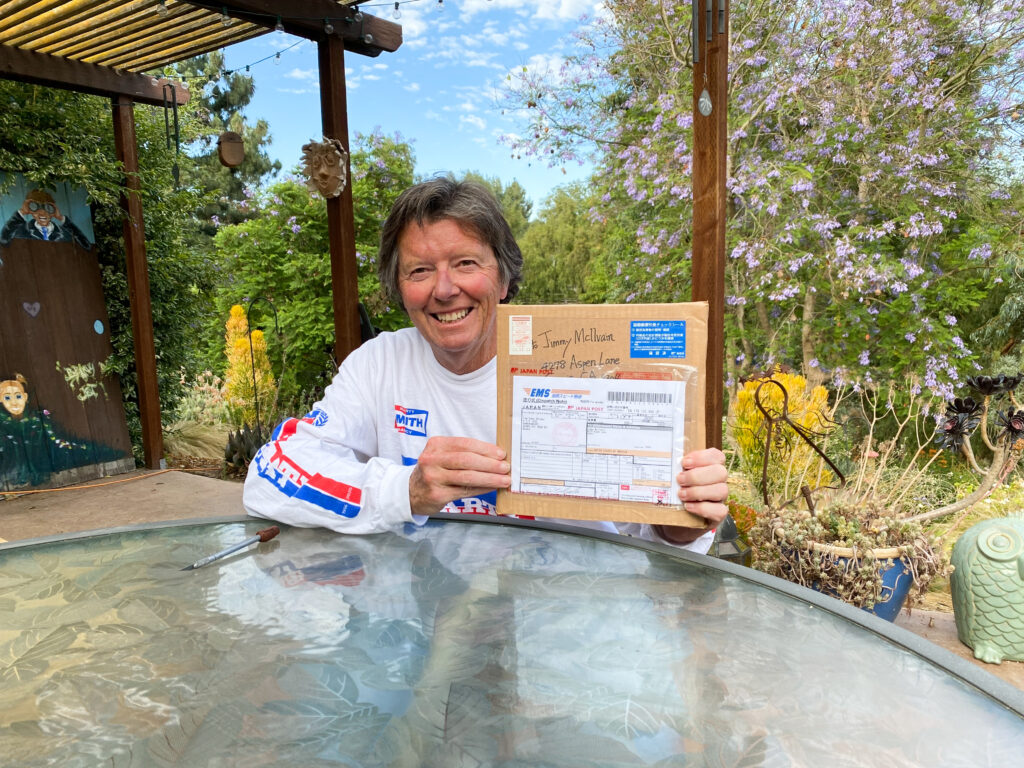 Be gentle: Using an X-acto knife, I carefully cut away at the protective packaging. The contents are rare, priceless and irreplaceable.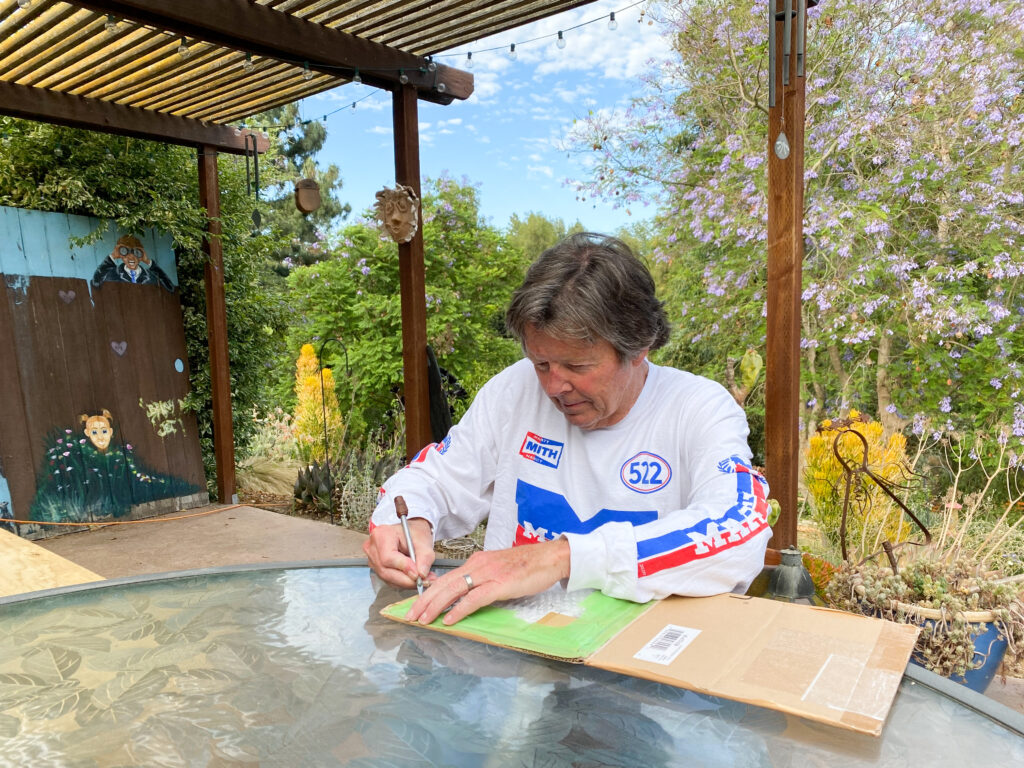 Personal message: Fumi covered the Little Honda brochure with a hand-written note. This note is as important to me as the brochure. I'm not kidding.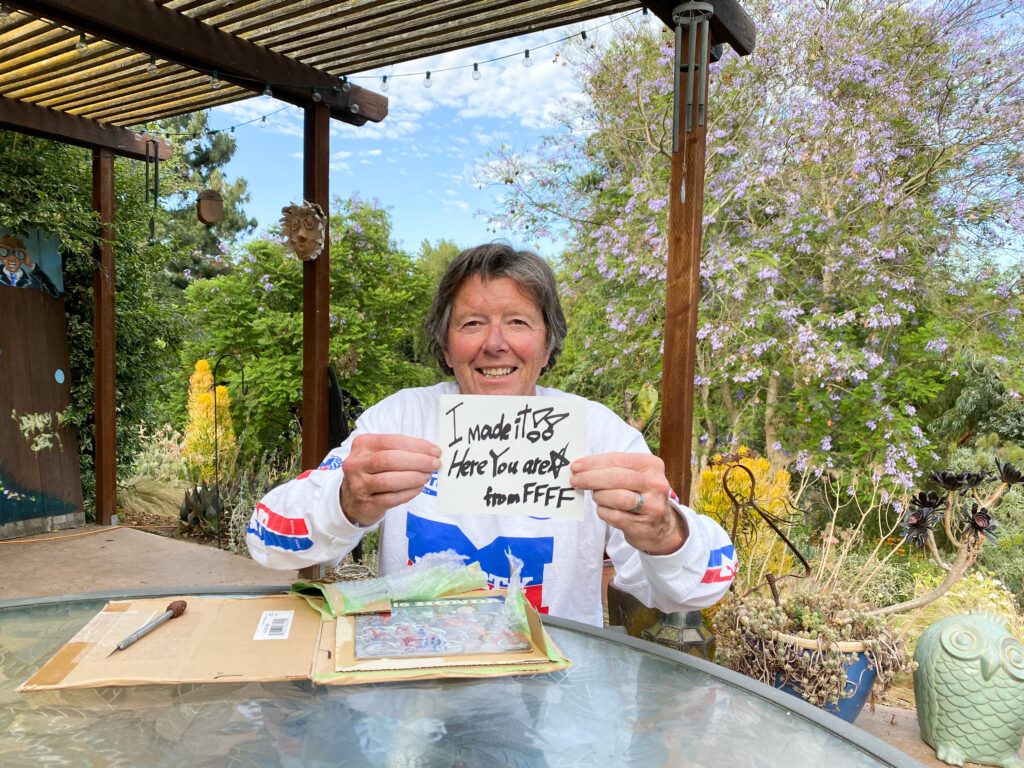 The Holy Grail: I am in shock, overwhelmed and can't believe that I hold in my hand something I've been in search of for over 20 years.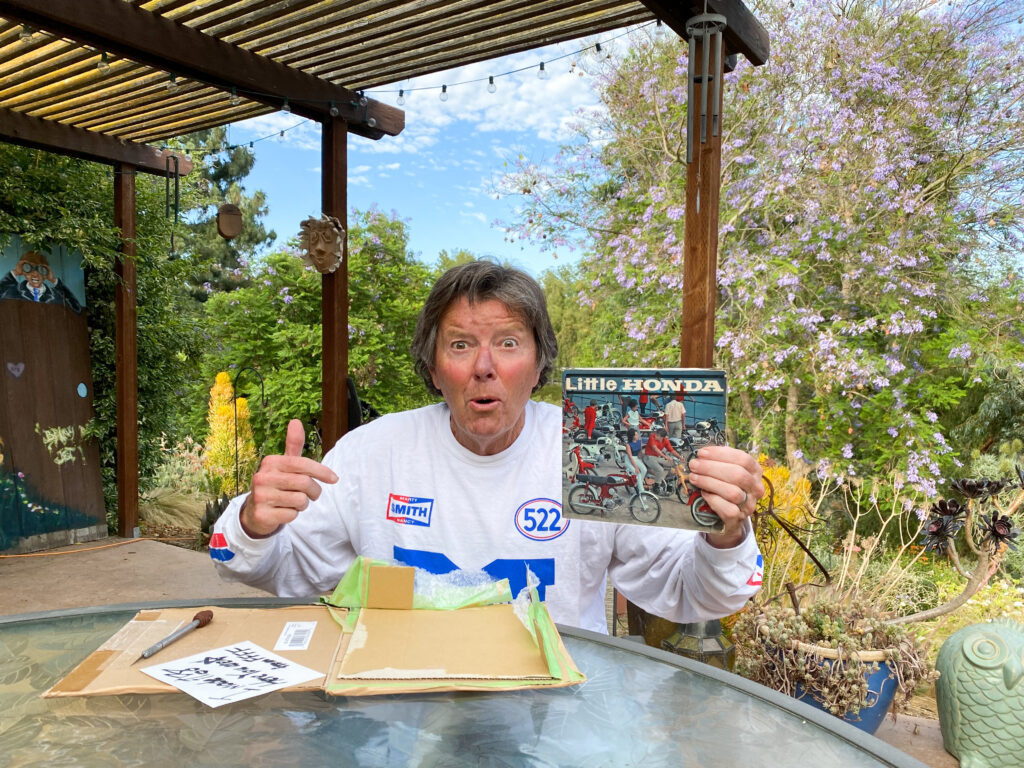 Teardrops ready to fall: I'm covering my eyes so you can't see the tears. Don't bother asking what I'd sell this for. Not for sale. This will be donated to a motorcycle museum upon my passing (that I hope isn't any time soon).
More than music: The brochure holding the flexi disc is pretty cool. Wish I knew what it said. Maybe I can ask Fumi?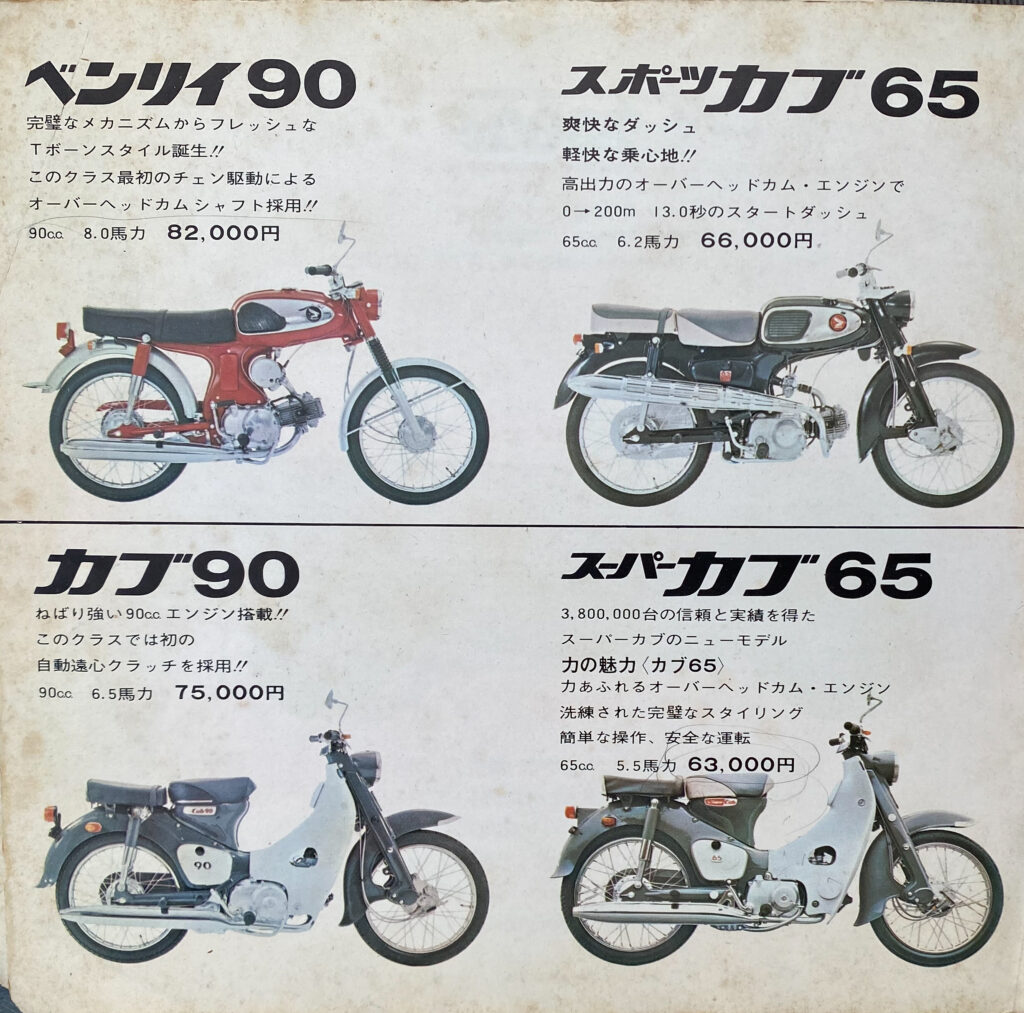 Long-time friends: Fumitaka Ohyabu and Jimmy Mac.