UPDATED JUNE 30: OUT OF THE CRATE AND THEN RESTORED
The opened-time-capsule Husky is still a cool find, but turns out I oversold it. The current owner believed the bike was a 1968 250WR that was removed from the crate and never started. Looking at the condition of the bike, I agreed. 
After speaking to vintage bike expert, John Pavich, (you've seen him on Jimmy Mac On Two Wheel's Mecum Auction story) the story behind the bike began to unravel. In a very diplomatic way, John said, "Maybe it hasn't been started since it was restored, but that is not the way it came out of the crate and it is a '72 model." How can he be so sure? The list is long. Wrong color tank. Wrong design on tank. Wrong tires. Telltale overspray. Tons of wrong hardware. Brake pedal on the right. And he went on and on.
So where does that leave us? It is still a cool bike and would be a worthy trophy to display. The major difference is that it will not fetch the price of a true out-of-the-crate find that I pegged at $20,000. So what is it worth now? I pressed John and even this expert said, "I've given up trying to value bikes like this." 
The J.D. Power NADA Guide says an "excellent" 250WR is worth $3950 and a "good" one is worth $1745. That's a lot less than 20 grand. I'll stick with the wisdom imparted from the late Jeff Archer; "It's only worth what somebody will pay you for it."
JUNE 25: Every neighborhood has a wonderful, uncovered secret motorcycle. You just have to find it. Speaking to a neighbor while on my morning walk, I mentioned my days in the employ of the Husqvarna Motorcycle Company. He said, "I'll bet you'd be interested in seeing something I've owned for awhile." He ushered me into his home where a pristine, never-started Husqvarna 250WR sat on display.
He agreed to roll it outside so I could snap a few shots. Amazing!
This beautiful 250WR has never had fuel in the tank or carb since it was restored.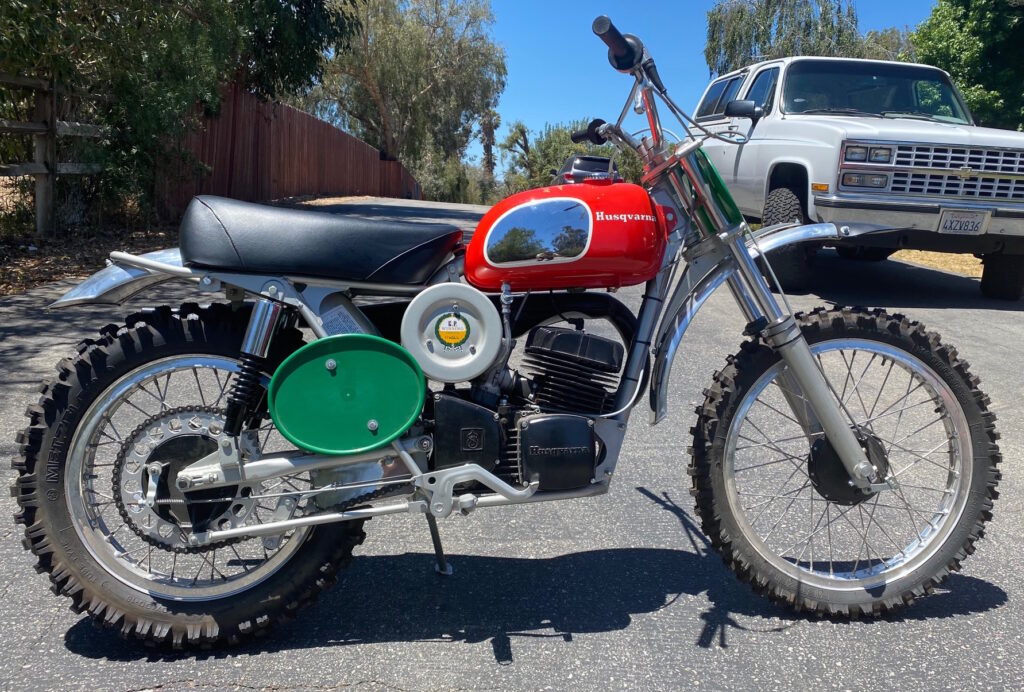 This 250WR Husky is restored and doesn't appear to have been ridden after the job was done. For a true collector, there are too many inconsistencies in the restoration to make this a museum-quality example of a 250WR. It is still a beautiful bike for display. 

The legendary Malcolm Smith signed the fuel tank and mentions my favorite all-time movie, On Any Sunday. Is the bike for sale? It could be. Jimmy Mac On Two Wheels can put you in touch with the owner if you are interested.