While living in Fillmore, California, Squaw Flat Road at the end of Goodenough Road was my escape route. Didn't matter if I was grunting up the climb on a mountain bike (and sometimes a road bike way before gravel bikes were invented) or twisting the throttle of a dual-sport motorcycle, the partly-paved, mostly-dirt road never got old.
I rode it hundreds of times. I rode it on birthdays. I rode it solo and with close friends. I rode it at night. I rode it in the pouring rain. I rode it into the snow. I rode it on 9/11. I rode it after the Northridge earthquake (that knocked down a lot of Fillmore). I even rode it after a landslide destroyed a section requiring a mountain biker to shoulder the bike and carefully, gingerly, find footing across loose decomposed granite. Every ride was challenging and fulfilling. The rides were always good for the soul.
I don't live so close anymore so my visits are less frequent. This week I took a ride up the road to the now defunct California Condor viewing area and it was the first time I finished the ride feeling worse than when I started.
The lower section is strewn with garbage. Not fast food wrappers or beer cans. We are talking electronics, furniture, kid's toys and mattresses. I used to occasionally carry a trash bag to pick up trash (thanks to the suggestion of my buddy Barry) but the current situation overwhelms the capacity of trash bags.
Graffiti graces every rock at the lower section and every other rock as you get deeper into the back country. No road signs or mirrors (used on blind corners) have survived the shotgun blasts. And if you make it to the restroom at the end of the road, it is doubtful that you will use it.
The overseers will use the "our budgets are stretched thin" excuse for the decline of this once beautiful area. Worse, their solution to the problem will be to lock the gate at the entrance. And as much as I hate that option, it may be what is necessary to save what's left of this magnificent back-country experience.
Still amazing: The road affords majestic views of the steep, rugged terrain, the Sespe Creek and the Santa Clara River Valley. Climb to this point and you feel hundreds of miles from civilization. Unfortunately, "civilization" has caught up with this place.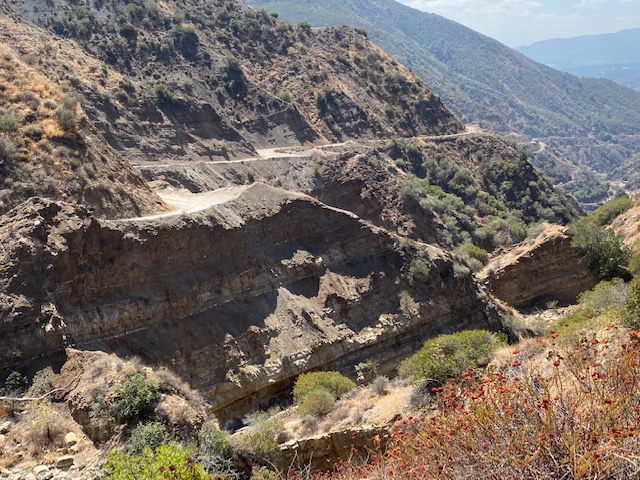 Other options: The sad fact is there is a dump less then 10 miles from this spot that is free on Saturdays. The only reason this is dumped along the road is people's laziness and lack of respect for shared public land.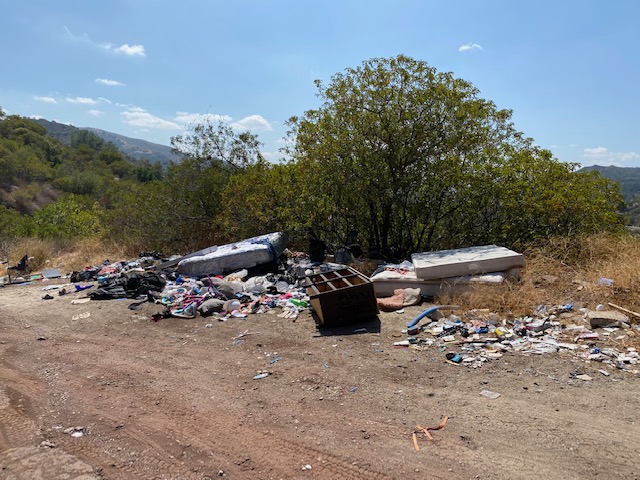 Natural treasure: Ventura County doesn't offer a lot of options for dual-sport/adventure-bike riders so I've always felt Squaw Flat Road should be cherished as the treasure that it is. It is not unusual to see a bear, fox, deer or spider wasp. I'm sure there are mountain lions out here, but I've never seen one. Same goes for elusive California Condor.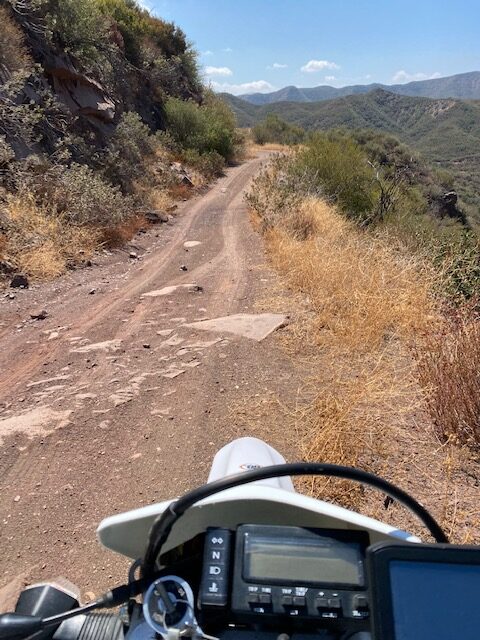 At least there was TP: You'd have to be suffering a dire emergency to set your buns on this throne.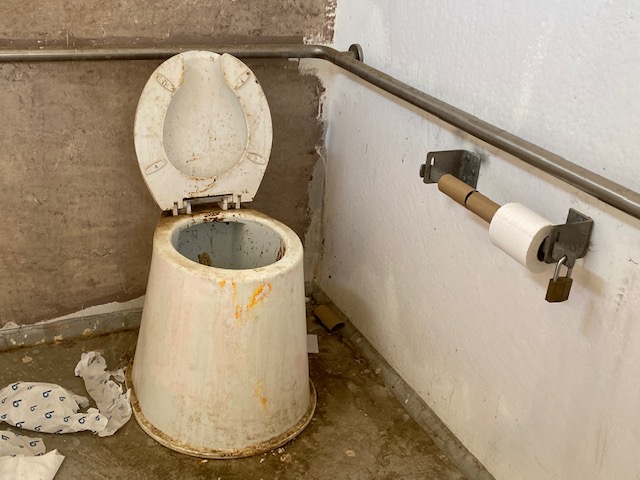 Missing link: It is great that the forest service posts a map at the end of Squaw Valley Road for hikers (mountain bikers are not permitted past this point because it is a designated wilderness area). Too bad somebody used the map for target practice.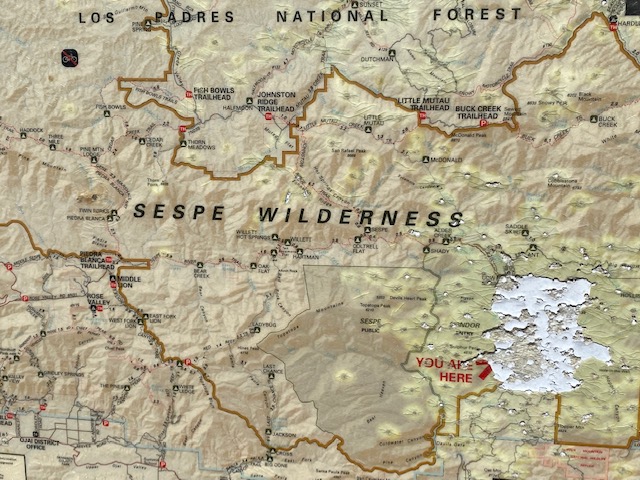 Paradise lost: I'm afraid the only solution budget-stretched land managers will come up with is to close the area to vehicles. That will work because most taggers and trash dumpers are not going to hike or ride a mountain bike to do their damage. Still, it will take away a beautiful experience to many who respect the land but aren't physically capable to walk or pedal it.