The 2021 Hopetown Reunion took place Sunday June 27th under clear skies and hot temperatures at Simi Valley's beautiful Hummingbird Nest Ranch. The turnout, both in number of spectators and bikes on display, was down from previous years, but that was to be expected. Many people are still getting used to the idea of social gatherings after a year of lockdowns. While their concerns are understandable, they missed out on a great gathering of motorcycles and motorcycle racers.
Best in show: I'll get it out of the way right now. Tim Henry's "Outlaw" Triumph Dirt Tracker gets my Best In Show award. The bike has a serious race pedigree and tons of trick components including Cosworth slipper pistons and a custom 3-speed transmission. The bike hit 138.67 miles per hour on El Mirage.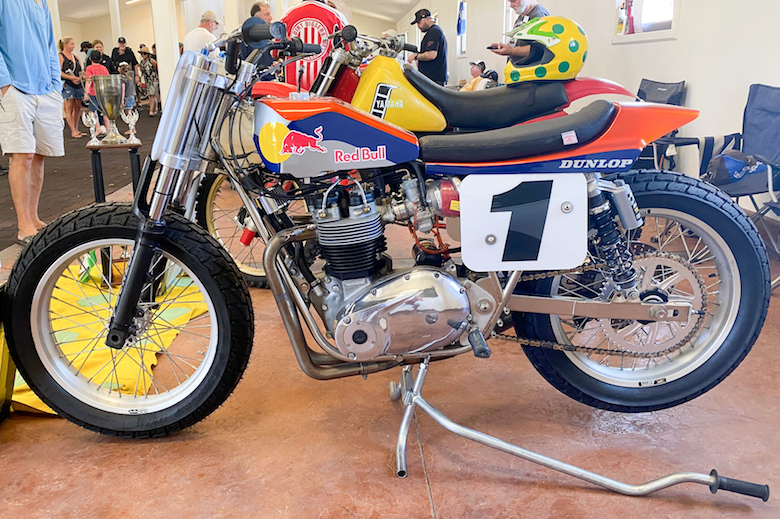 Unique build: This Rickman was sold with a Hodaka motor in 1971. It was later updated to the Sachs 125cc motor that you see in it today. This was not a SIMPLE modification. Glenn Hatzenbuhler faithfully restored the bike to just like it was when raced in 1971.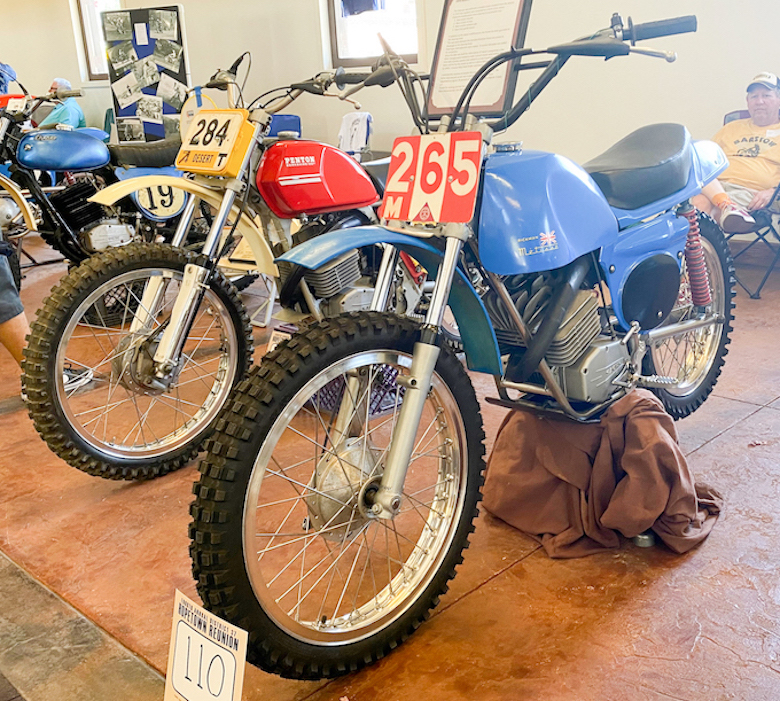 Clean machine: I've got a soft spot for this vintage Can Am because "Tony D" Distefano raced one just like it.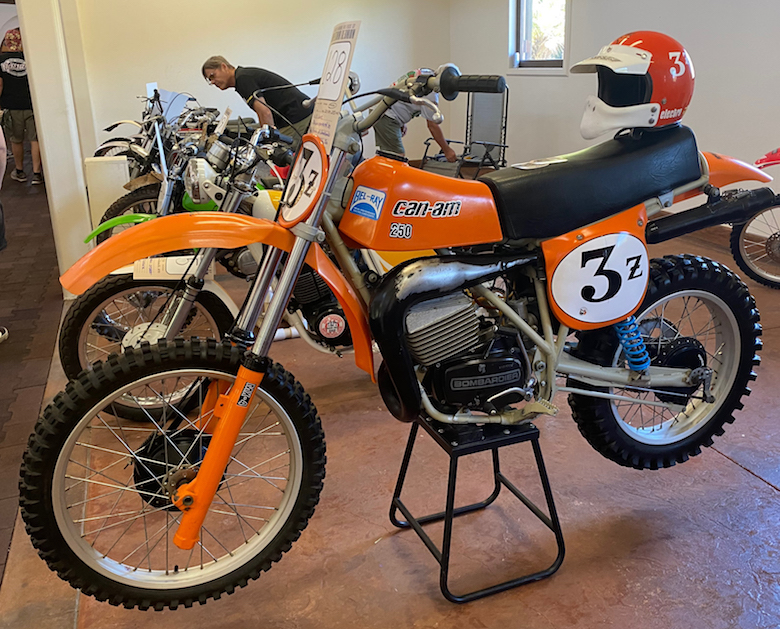 Ridden hard: The stories this old Triumph desert sled could tell. Bonus points for that saddle!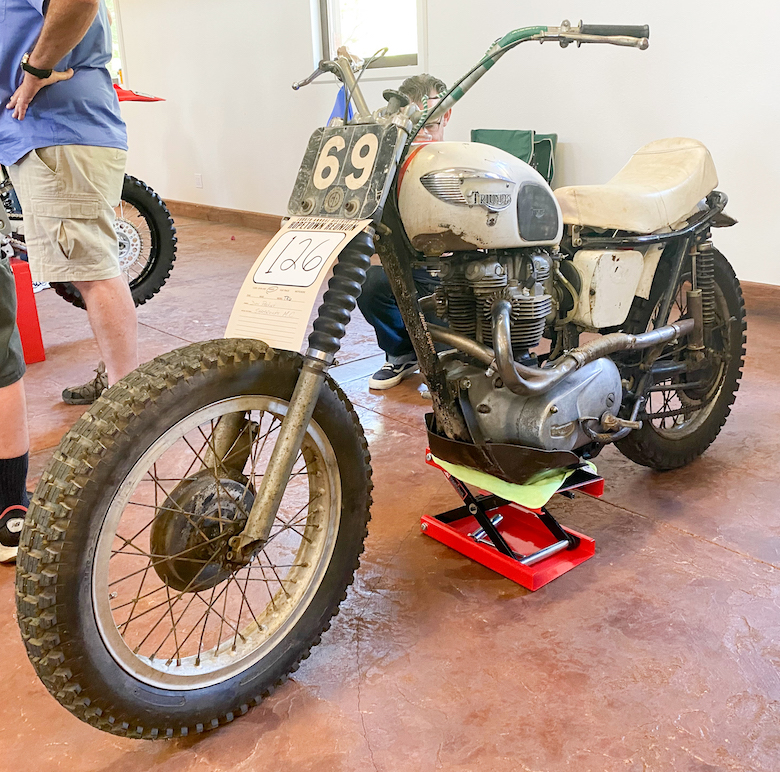 Gone fishing: Sue Fish, who won Hopetown in 1974 and has the jersey to prove it, was one of the many Hopetown racers (including Brad Lackey, Jim O'Neal and Brian Farnsworth) in attendance. Sue had Hopetown racers sign her now priceless jersey. Sue still rides and I hope to get her out for a dual-sport ride.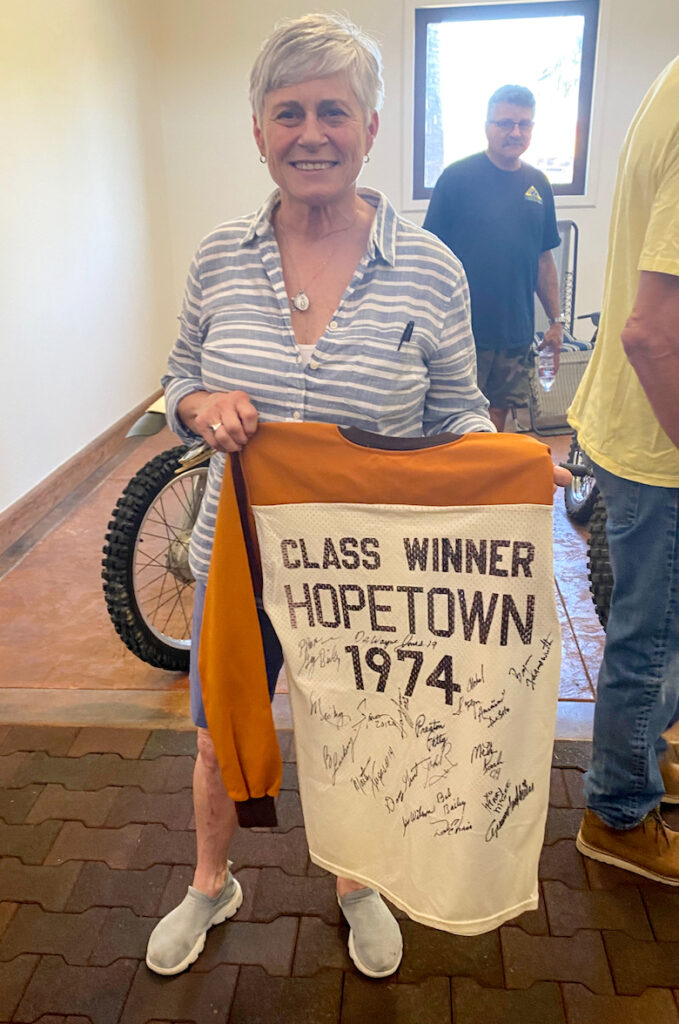 Grumpy: Earning its name from the fact that a Triumph power plant was stuffed into a Greeves chassis, this bike represents the creative spirit of racers in the late 60's and 70's. It was a time of experimentation resulting in victories and failures. Beautiful.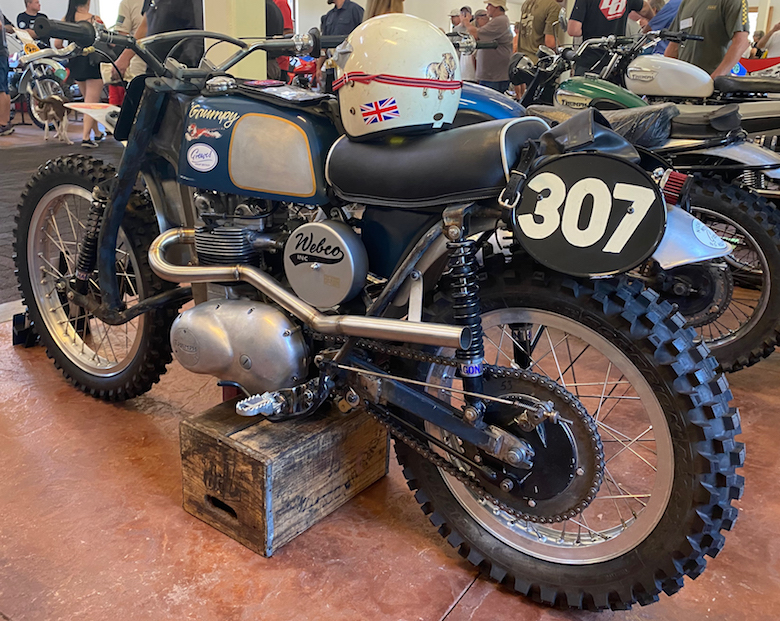 Green streak: The early 70's Kawasaki KX250s were a great-looking motocross bike that still look good today. The production racer was overshadowed by its competition and wasn't a great sales success. The best (and weirdest) vintage Kawasaki story is on Motocross Action Magazine.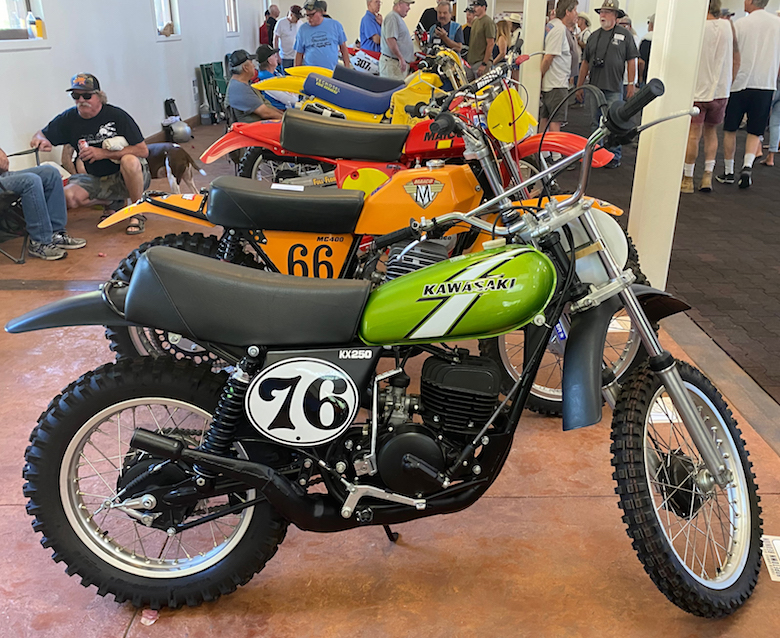 Welcome to the club: Larry Langley is getting a lifetime achievement award at this year's Trailblazer's Banquet. It's hard to think of a more deserving person. If you don't already have a ticket, good luck getting one. The event sells out every year.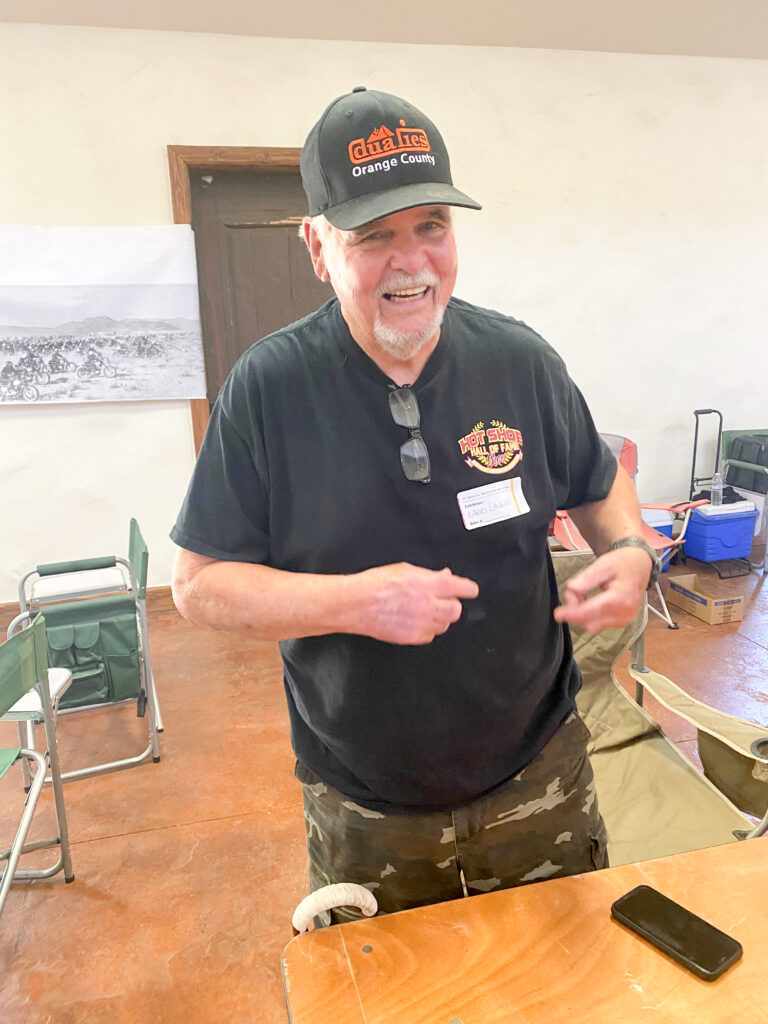 Fast Dudes: Doug Grant (right) apologizes to Gunner Lindstrom for the time he brake checked Gunner in Saddleback's scoring tower turn. Just kidding. I have no idea what the two fast guys were reminiscing about. Whatever it was, it didn't come to blows.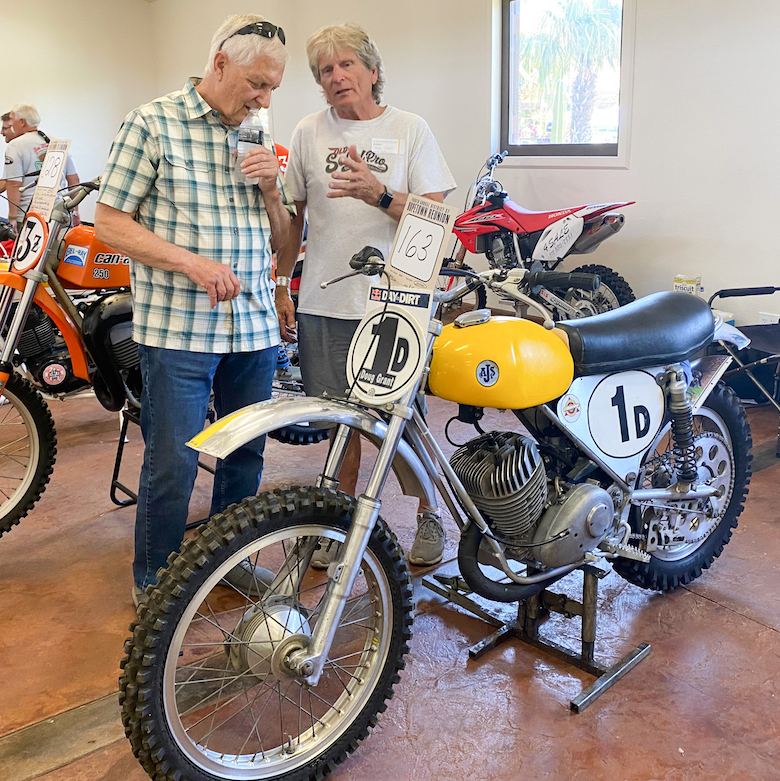 Hunting trophy: Not all the bikes at Hopetown are beauties and that's what makes this one so interesting. The gun pouch is interesting too.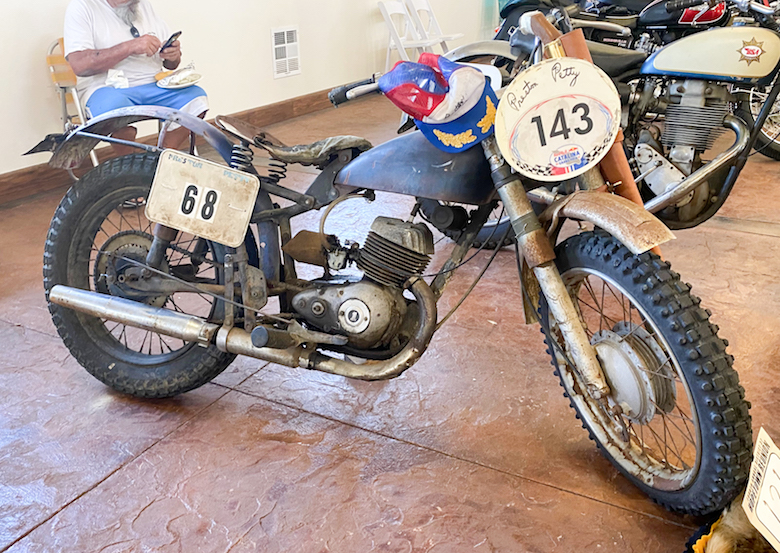 Ground zero: The Yamaha DT-1 created thousands of life-long motorcycle fanatics. It is not uncommon to see them running around today. The things were easy to work on, affordable and great performing little motorcycles. Motocross Action calls it "the best thing that ever happened to motocross."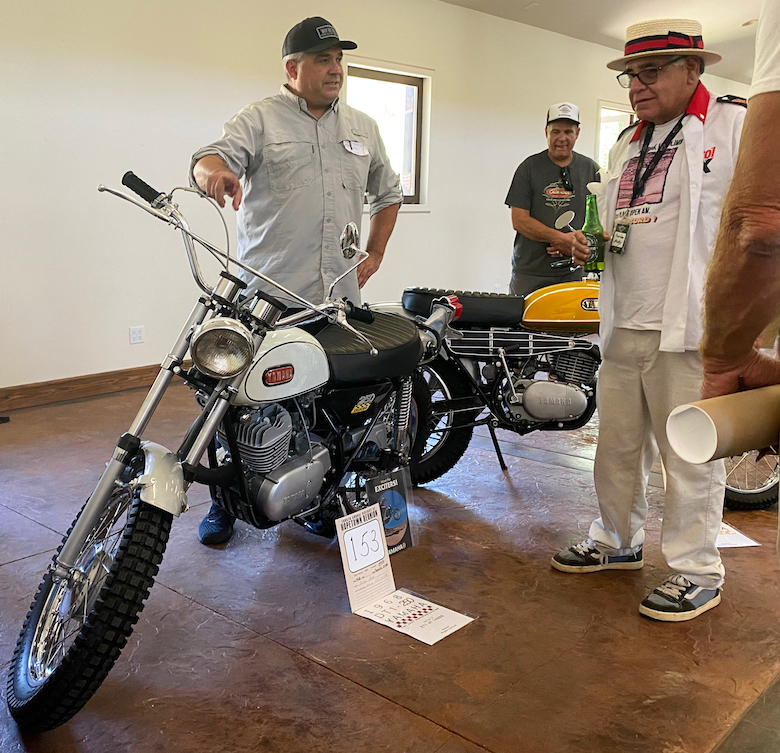 Missing in action: Where are all you sidecar guys? I hope a sidehack is uncovered and dragged to next year's event.