I know it is getting late, but if you need to get something for the motocrosser on your list, I'd like to make a suggestion. Down/Up Designs (run by cartoonist Curt Evans) offers a motocross board game that is won (or lost) with a roll of the dice. It is a great excuse to get the family together and if you get the game, Curt will throw in the motocross coloring book for only $5 each.
The N. Doe MX Game recreates the original game that Curt made in the 70's. The new game is fully remastered (I guess that means fuel injected motocross bikes with electric starters) and is now available for $25. The game includes the track (board), motorcycles (game pieces) and throttle (dice). Full game size measures 24.75" wide x 16.25" high. Folds to about 12.5" x 8". On heavy "duoboard." Originally published in Southern California Motocross Newspaper for Christmas 1974. The images have been scanned and cleaned up, all new typesetting while still retaining all the original elements for authenticity. 
Order a game (or two) at $25 each and you can add the motocross coloring books to your order for $5 each. Everything gets shipped and delivered by the United States Postal Service (sorry, no foreign orders). 
Place your order at:
PayPal: [email protected]
Venom: @Curt-Evans-8
Check: Curt Evans, PO Box 1243, Ashland, OR 97520
Don't forget your mailing address. 
I had them all beat, until: The game is easy to learn and it has become a tradition to play around Christmas at Jimmy Mac's house. The game's best (and most frustrating) feature is how it can turn an over-confidant leader into a DNF'er (Did Not Finish) with one roll of the dice. Just like a real race.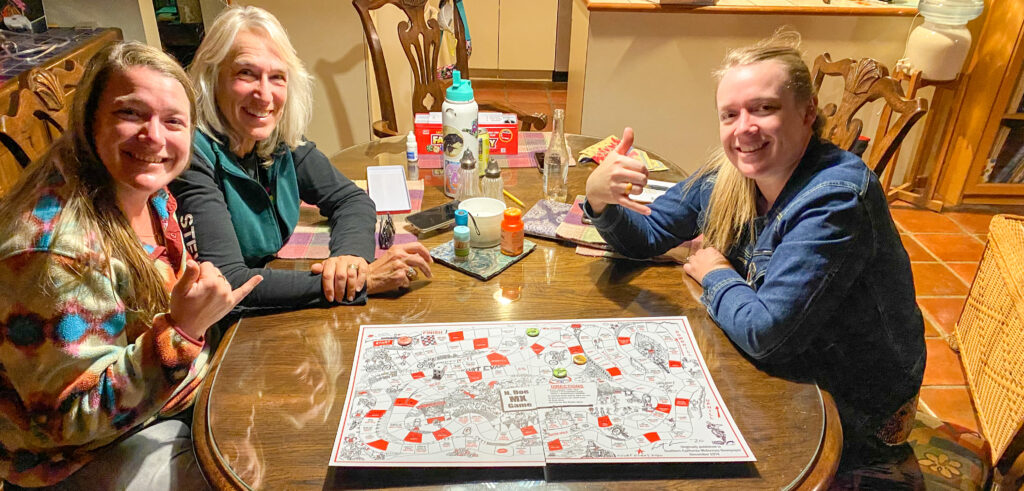 Perfect MX stocking stuffer: When you order the game, you can add some motocross coloring books for just $5 each. Try to beat that stocking stuffer.